By Denny Stephenson

My adventure began with a short text from Racer X's own David Pingree, "I have something cool, hit me back." Before I even get a chance to respond, I get an email from RX's Managing Editor Andrew Fredrickson, "Kawasaki is having their new 2013 KX250F bike launch at Millville this year and we want you to come out & ride the bike for us and let our readers know what you think."
Immediately I think, "Hmmm the last time you rode was Loretta's 2007. That's almost 5 years ya idiot! Are you sure you're up for this old man?" Then I remember the Millville national isn't until July. That means I have a month to get some seat time with some friends before the big ride. I mention this to Andrew and he responds, "No dummy, the National is in July, but the Kawasaki debut is in a couple weeks!" He continues, "Don't worry about it, just come up and have some fun." In a matter of seconds I throw all reasonable caution to the wind and respond, "I'm in! Lets do this."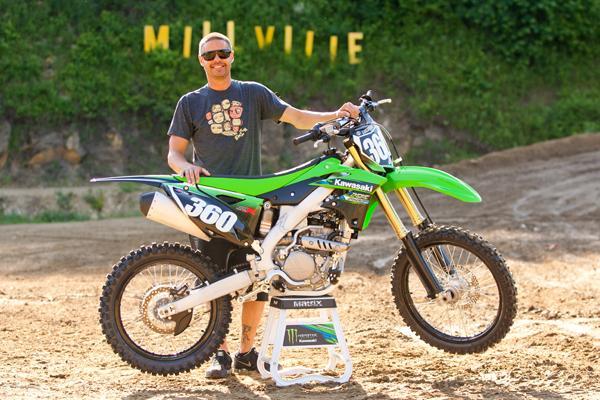 Denny and the 2013 Kawasaki KX250F.
Photo: Andrew Fredrickson
Fast forward to Monday, June 6th and I'm on a flight to Minneapolis, then a car ride to Rochester, and then a bus trip to the beautiful Mayowood Farm. Once owned by Dr. Charles H Mayo, a co-founder of the internationally known Mayo Clinic, the 18th century rustic estate has been renovated for weddings and special events, but for this night it was transformed for the debut of Kawasaki's 2013 KX250F media debut. With an attention to the past success of the KX125 & KX250F, there were the old bikes of RC, Kiedrowski, Wardy, Tedesco and the most recent #15 of Dean Wilson. And lets not forget the obligatory bombshell Monster girls dressed in black and green. Needless to say, Kawasaki didn't miss any details on this night.
One of the highlights of the night, and pretty much the entire trip was seeing my ol' friend Fro. Jeff and I have been friends for about 30 years now, damn that makes us old, and despite not hanging out or talking much in the past couple years, we immediately fell back into that old friendship. When I realized I needed gear for this trip, he was the first person I contacted for some Shift and Fox swag. I figured why not represent some old school style. And with a little help from Rob Salcedo and Beeker, I had a box of CR22 Shift gear delivered to the house within the week.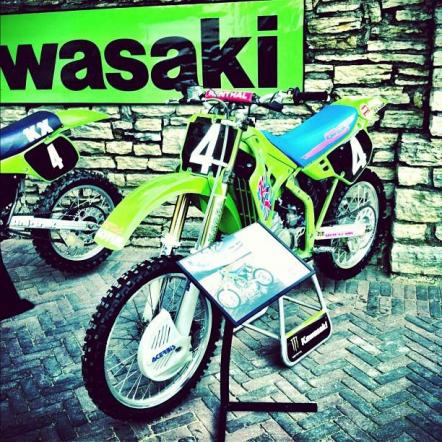 MX Kied's Kawasaki 1991 SR125 on display at Mayowood Farm.
Photo: Andrew Fredrickson
Day two was an early one as Kawasaki got everyone loaded onto the bus with gear bags in hand at 7am and headed out to the track for some moto time on the new bike. With the many media outlets being represented, we pulled up to the Kawi semi to see 11 fully prepped  '13 KX250f's ready to be ran through the ringer on what is the legendary Spring Creek MX track. I was stoked to see the Racer X bike numbered up with my old 360 and surprised to hear how many of these magazine test guys haven't had the opportunity to ever visit the track let alone ride it. So obviously, we were like kids on Christmas morning with brand new bikes and a fully prepped National track sitting and waiting under the tree.
To say I was a little bit nervous would have been a big understatement. Not riding in almost 5 years definitely had me unsure of what to expect, but with nothing more than the bars and levers adjusted I hit the track for my first laps. I instantly felt comfortable on the bike. The numerous things Emig and Destry Abbott discussed at the presentation the night before were immediately noticed. The chassis had been completely changed for 2013 and with the bike being narrower and the seat being a smoother, and a flatter transition to the tank, I was tossing the bike around and jumping everything within a few laps. I was in shock at how great it felt to not only be back on a bike, but on one that was so easy and fun to ride.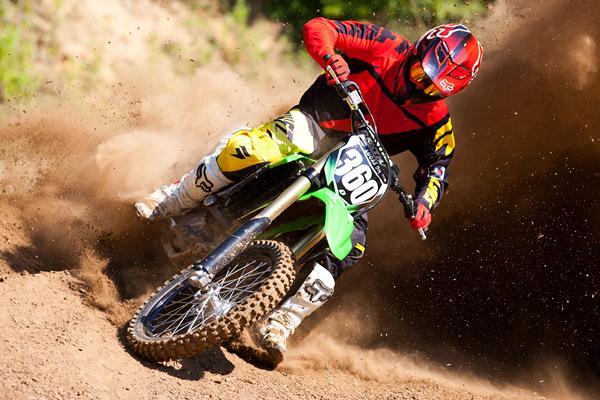 Denny instantly felt comfortable on the bike.
Photo: Andrew Fredrickson
It reminded me of a day out at Perris Raceway many years ago back in the 90's. My dad and I were out testing and practicing when an old familiar face pulls up next to us in the pits. It was The Dogger, Ron Lechien. He hadn't been seen in a couple years due to some trouble with the law back then and he was a much, much  larger machine than in his prime racing days. He unloads a pretty beat up old bike with a clutch that you could barely pull in and a throttle you had to both open and close. Kicks it over a couple times and heads out onto the track. Within a lap you could see his amazing old style and on the second lap he uncorks the monster double that used to sit up against the back wall of boulders. Once The Dogger, always The Dogger. My point is, as they say, It's just like riding a bike.
My first day on the new bike couldn't have gone any better. The track shaped up nicely and didn't get too rough, with the exception of the patented Millville sand whoops (sadly the Whoop-Monster was missing on this day). I shockingly escaped any arm pump despite the long lay-off. But one thing I did know was I better get in a lot of riding on this first day because as anyone can attest to, the first day at the gym after being away from the iron is usually the best of the week. So instead of throwing down a bunch of reps, I was going to bust out as many laps as I could while the body felt good.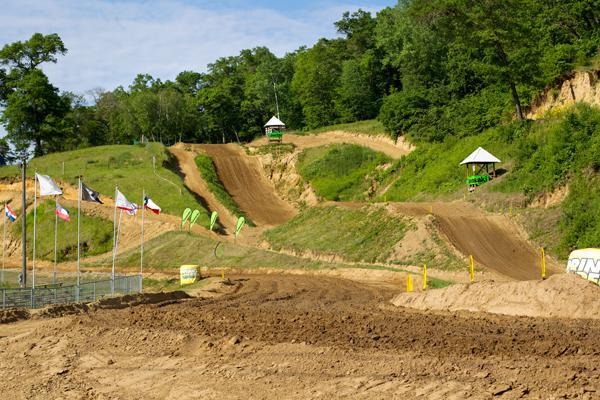 The pristine Millville track.
Photo: Kawasaki
As the day progressed, we messed with the suspension after lunch. Fro had suggested running a little lower ride height so my Kawasaki tech, Travis Murphy and I set the sag from the 100mm it was at to 105mm, messed with the forks and I headed back out on the track. I could feel the bike settling into the corners much better. They didn't turn the track up nearly as deep as you would see it for a national, so the corners were more little berms and edges rather than deep ruts, so it felt like the bike was wandering trying to get it to stick and turn, but with just a little lowering of the bike, I was able to stick the bike where I wanted in the corners.
As my speed picked up and I started jumping further and hitting stuff harder, I needed to stiffen things up. We simply did a couple clicks in on the compression on both the shock and forks and it worked magic. I didn't lose any of the feel in the corners either.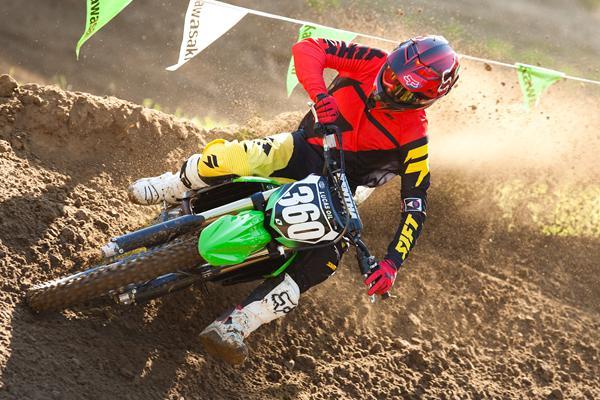 Good form. Looks like Denny still has it.
Photo: Andrew Fredrickson
We wrapped up the first day and headed back to the hotel for dinner and for me, the hot tub. I knew it was just a matter of time before the soreness of off and on riding for 8 hours was going to settle in to these old bones.
Dinner consisted of another night of telling old stories with Fro. We're like an old vaudeville comedy duo. We settle in and start spinning the yarn. From our days on 80's with our intense dads, to those out of control 90s. Definitely always a good time and entertaining.
Day two started with some serious soreness. It hit me about 4am. I sat up in bed and felt everything on my body aching. I was going to be in for a long, although another fun, day. After a thirty minute hot shower of stretching, a hearty breakfast, we were back on the bus and headed out to the track.
The track on Wednesday was a lot different than it was the day before. John Martin and his crew decided to rip it up a lot deeper in the corners and hills. The first couple laps definitely had more of that National feel to the track and although there were only 12 of us on the track instead of the usual 40, the track began to develop. Ruts in the corners with much larger breaking and accelerating bumps started popping up by lunchtime. And with ruts comes the inevitable arm pump. Oh how I've missed you my old friend.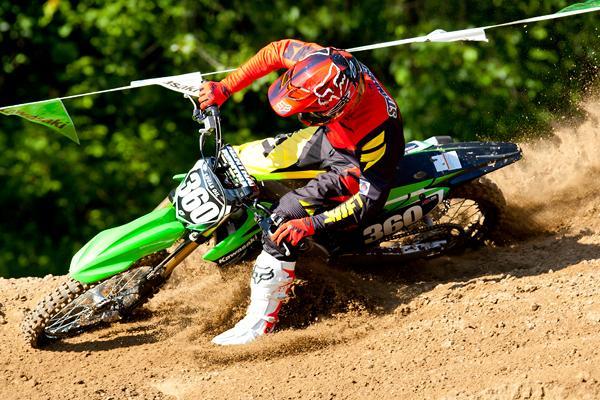 He may have been sore, but was still able to blast through berms just fine.
Photo: Andrew Fredrickson
The one main thing I was excited to test was the coupler system the Kawasaki's have. I haven't talked about the motor or power of the newly designed KX250F, but this was also the first time I've ridden a non-carbureted bike with EFI. The one thing I immediately noticed was there was no hesitation when you turned the throttle. As Fro would say, "Its like the throttle and rear wheel are connected."
In 2012 the KX450F had this coupler system and can now be found on the '13 KX250F as well. By simply changing one of the couplers, you can change the ignition mapping, fuel flow and timing. Within a few seconds Travis had one changed out for another and I was out on the track and within a lap I could tell the difference. This definitely beats the hell out of having to change the pipe or silencer to get those same changes.
Day two ended a little earlier than day one. The old body already had enough and instead of trying to push through and risk cart wheeling myself I decided to leave on a positive note. So I changed into my street clothes and packed away my stuff, uncertain when the next time I will have this much fun again on a dirtbike. I wasn't able to do dinner with the crew on the final night as I had to head back to Omaha and the real world for my job.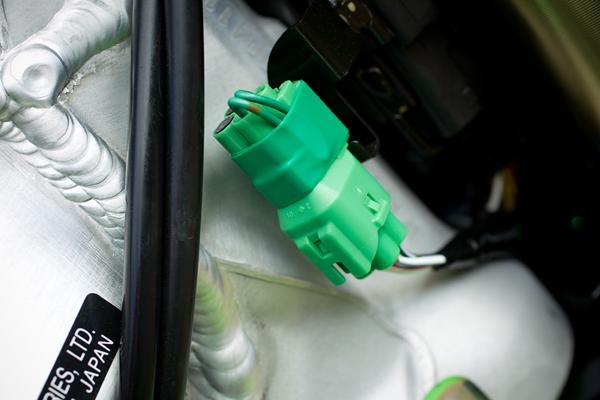 The couplers to change fuel flow, ignition mapping, and timing can be swapped out in no time.
Photo: Kawasaki
I can't thank everyone at Kawasaki enough for this opportunity. I grew up racing for Team Green as a kid, wrapped up my MX and SX career on a Kawasaki with the Great Western Bank team and my last year of racing Arenacross was again on the green machine, so it was a cool honor to be able to debut the new bike. And overall I thought the bike was solid in every area and an extremely fun and easy bike to ride.
Thanks again to Travis Murphy for all his work on the bike, Fro, Rob & Beekdog for the bitchin' gear and Andrew from Racer X for the invite. Although I'm hoping my body soon forgets the pain, I'm sure I wont forget those couple of days any time soon. It's sometimes easy to forget when "real" life kicks in, but at the end of the day, I'm a motocrosser… and I love it.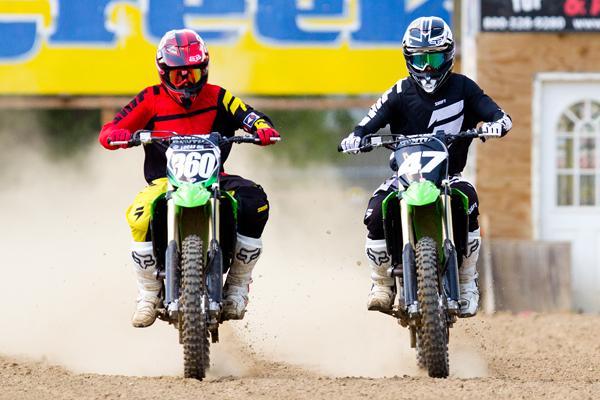 Stephenson and Emig. Just like the good ol' days...
Photo: Andrew Fredrickson