High Point Raceway
Mt. Morris

,

PA
High Point
Lucas Oil AMA Pro Motocross Championship
For professional motocross racers, the Lucas Oil Pro Motocross Championship is capable of delivering unforgettable moments of  triumph and glory in one instant, and soul shattering lows the next. For
James Stewart
, who now trails points leader
Ryan Dungey
by 70 points after leading the series just a few short weeks ago, this is especially true. Stewart, whose contract with Yoshimura Suzuki doesn't officially begin until 2013, made the decision to return to the outdoors for a single reason: he wanted to race. The team had placed no expectations or pressure on him, there were no contractual obligations to fulfill, no big bonuses to earn. Stewart could have just as easily spent the summer dialing in his new ride and getting ready to chase another Monster Energy Supercross championship, a title that has eluded him since 2009, but instead he chose to line up at
Hangtown
with minimal preparation.
Fast forward to the FMF High Point National, where Stewart's presence was questionable after suffering a wrist injury the week before at Thunder Valley, the unfortunate outcome of a chain reaction of ill-fated events that began with a photographer crossing the track directly in front of him as he led the first moto. On Thursday, he finally confirmed via Twitter he would be racing at High Point in an attempt to salvage valuable points in his quest to secure another national championship against fierce competitors like Ryan Dungey, Mike Alessi and more.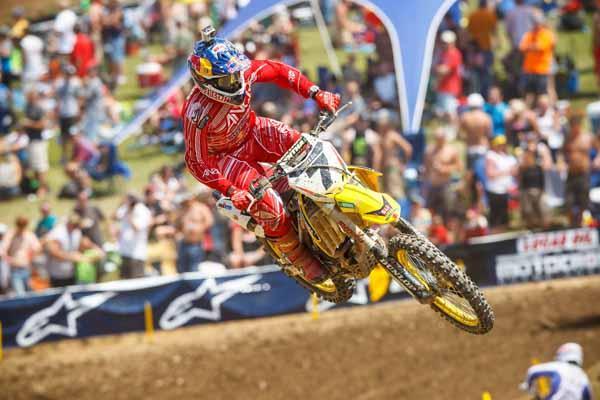 A wrist injury would sideline James Stewart after a fifth in moto one.
Simon Cudby photo
Unfortunately for Stewart, the fans and the entire series itself, his wrist simply wasn't healed up enough to compete safely at the level he's accustomed to. Stewart isn't somebody who simply rides around or gives it anything less than 100 percent, and when his wrist went numb in the first moto, a fifth-place was the best he could manage. It's a good result, but for somebody like Stewart, taking a fifth place at a National without crashing just doesn't happen.
As Stewart rode through the pits on his way back to the Yoshimura Suzuki rig, fans showed their support with encouraging words, clapping and giving the thumbs up gesture. With the realization that his championship hopes were now completely gone, all the dejected Stewart could muster in reply was a weak smile and a subdued nod of his head.
When the gate dropped on the second 450 moto, Stewart wasn't there. He and his team had wisely made the tough decision to pull out and avoid risking further injury; racing with one wrist practically tied behind your back is never a good idea. The fact that he even tried to race in the first place is admirable, and is a true testament to just how important a shot at another National Motocross Championship still is to the must scrutinized man in all of motocross.
It's unlikely that we'll see Stewart return next weekend at the Red Bull Budds Creek National, and at this point, even his return to racing this summer is in question. One thing is certain, however. If Stewart does return this summer, it will be for one reason: because he wants to. He did this for the fans, and he deserves credit for at least trying, and then credit for making the right move for his new team and his career.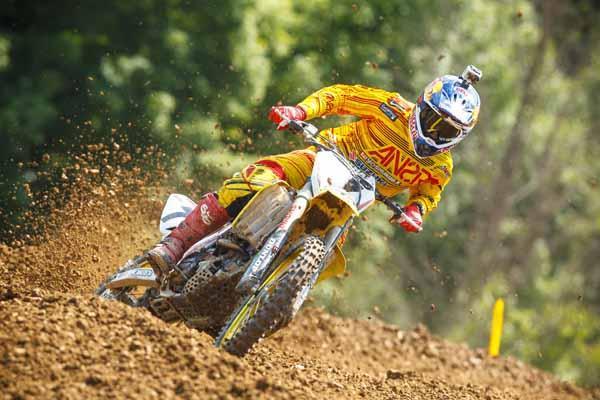 Stewart's status for Budds Creek is still uncertain at the moment.
Simon Cudby photo