by
Chase Stallo
Sign of the Lap Times: Freestone
Wednesday, May 30, 2012 | 9:30 AM
Sign of the Lap Times is brought to you by Motion Pro, the original source for your cable, tool and control needs. Creating innovation and performance for over 25 years. Quality products for every rider and every mechanic, engineered for you.
Tweet
It's quickly become apparent in the early stages of the 2012 Lucas Oil Pro Motocross Championship that James Stewart and Ryan Dungey are a cut above the rest. The two have established themselves as the alpha males of the 450 Class leaving only the hopes of a third place finish in their wake.
Freestone further solidified the gap between Stewart, Dungey and the rest. The dynamic duo was able to distance themselves from the field with a blistering, yet smooth, pace. Using a combination of precise lines and poise under pressure, Stewart held off a stringent charge from Dungey in both motos, bringing his record to a perfect 4-0 in the early stages of the season. Another great ride from MotoConcepts' Mike Alessi was smothered under the Dungey/Stewart headlines, but Alessi was right there to pick up the pieces if Stewart or Dungey were to falter. He scored his second-consecutive overall podium finish.
Redemption was the name of the game in the 250 Class. Both Eli Tomac and Blake Baggett have faltered in the Lone Star State before, one with heat related problems (Tomac), the other with crashes (Baggett), but each left a positive imprint in their wake with 1-2 finishes Saturday. Ken Roczen continues get his American wings under him capturing his second consecutive podium behind Tomac and Baggett.
Moto 2
The pace Stewart and Dungey set at Freestone was remarkable. A matchup featuring the precise Dungey and the unflappable Stewart brought an unmatched level of anticipation and excitement to Freestone County Raceway. It's easy to preach about the speed the pair laid down at Freestone but when the unreal lap times further help define your point, it's elementary my dear Watson.
Not only were their fastest laps two (first moto) and three (second moto) seconds faster than the next closest competitor, their average lap times eclipsed the fastest lap set by anyone else! That's just an unreal statistic that we will further examine later in this weeks Bench Racing Ammo. The two also set their fastest laps on lap 16 and 15… in both motos!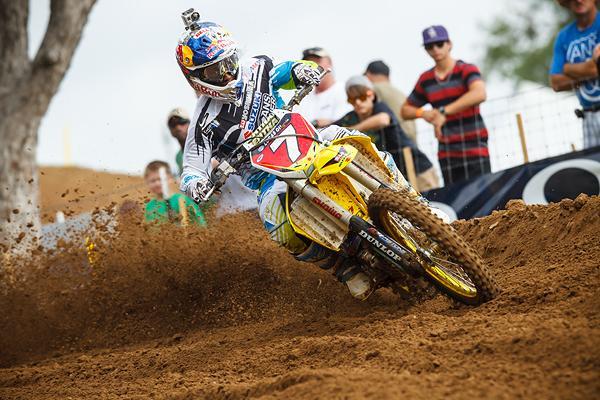 Stewart set the fastest lap in both motos at Freestone.
Simon Cudby photo
250 Class
Moto 1

Moto 2
Not to be outdone by their 450 counterparts, Eli Tomac and Blake Baggett also threw down the gauntlet in Texas. Only four riders dipped into the 2:04 range; Stewart, Dungey and the 250 duo of Tomac and Baggett. What makes this stat even more impressive is that Tomac and Baggett were running the same pace as Stewart and Dungey on a much more rutted, tougher track.
The resurrection of Jason Anderson continues. A hard crash would derail the New Mexico native in the first moto, but the third fastest qualifier in practice turned on the jets once again in moto two. Engaged in an intense battle with Blake Baggett and Ken Roczen throughout the moto didn't hinder Anderson's lap times, as the Rockstar Energy Racing Suzuki rider was able to set the fourth fastest lap of moto two en route to a seventh place finish. As Anderson continues to adjust to the pace that is being set up front look for him to start making a run at some podiums.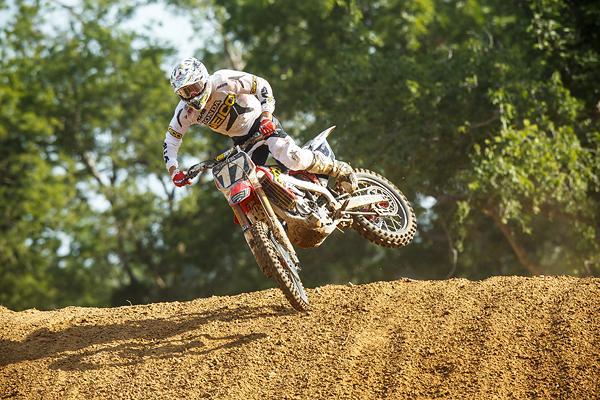 Tomac set the fastest laps in both motos en route to a 1-1 finish.
Simon Cudby photo
WMX Class
Moto 1
| | | | | | |
| --- | --- | --- | --- | --- | --- |
| Lap Rank | Finish | Best Lap | In Lap | Avg Lap Time | Rider |
| 1 | 1 | 2:22.082 | 6 | 2:23.072 | Jessica Patterson |
| 2 | 2 | 2:23.273 | 3 | 2:25.512 | Ashley Fiolek |
| 3 | 3 | 2:23.893 | 3 | 2:26.181 | Meghan Rutledge |
| 4 | 7 | 2:23.901 | 3 | 2:31.653 | Tarah Gieger |
| 5 | 4 | 2:25.609 | 4 | 2:27.576 | Kasie Creson |
Moto 2

| | | | | | |
| --- | --- | --- | --- | --- | --- |
| Lap Rank | Finish | Best Lap | In Lap | Avg Lap Time | Rider |
| 1 | 2 | 2:19.334 | 8 | 2:22.499 | Jessica Patterson |
| 2 | 1 | 2:21.269 | 3 | 2:22.866 | Ashley Fiolek |
| 3 | 3 | 2:21.421 | 8 | 2:23.270 | Meghan Rutledge |
| 4 | 4 | 2:25.034 | 6 | 2:26.792 | Tarah Gieger |
| 5 | 5 | 2:25.330 | 5 | 2:27.017 | Sayaka Kaneshiro |
Jessica Patterson has had her share of bad luck at Freestone before, such as last year when she bumped into the back of Ashley Fiolek while battling for the lead, crashed and lost a ton of all-too valuable championship points. This year, she obviously brought the speed to Texas, setting the fastest time in both motos, but a crash early in moto two set her back. This time, she was at least able to salvage second in the race for second overall.
But Fiolek, despite food poisioning, rode steady and took the overall--and her laps were right in the hunt despite the illness. These girls are tough!
Share this article:
Did you like this article?
Check out MOTO GIFT GUIDE
in our Latest issue of Racer X available now.

Our annual gift guide has something (or maybe even a few somethings) for everyone on your holiday list. Page 146.
Look for the verified symbol
The Conversation