Freestone Raceway
Wortham

,

TX
Race Center: Freestone Raceway
Lucas Oil AMA Pro Motocross Championship
The Freestone National has taken a lot from GEICO Honda's Eli Tomac. In 2010, he won the Hangtown opener and led in Texas early before the heat got to him, and was never the same throughout the rest of the year. He got some revenge this year, though, with a dominant 1-1 performance to take his first National win since that first victory two years ago. After the race he talked about it in the post-race press conference.
Racer X: It's been while, you've been waiting to get another one of these overalls, and now you've got one. How does it feel?
Eli Tomac: [Laughs] Yeah, my 2010 and 2011 outdoor seasons have been a rollercoaster, it's been up and down, to say the least. And in 2010, this place just put the dagger in my season, to come here this year and win the thing, it's just a good confidence booster. To get through the heat and humidity today, I'm just stoked.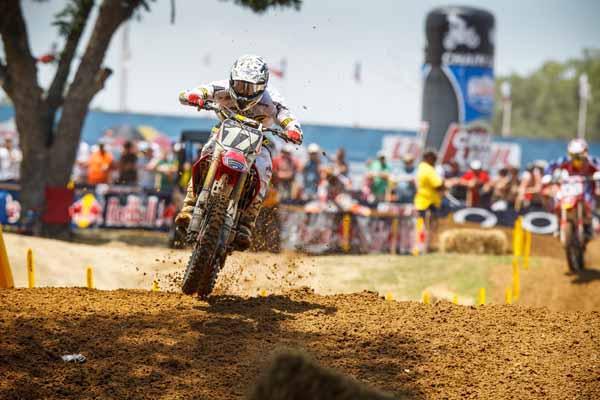 Eli Tomac was a perfect 1-1 on the day at Freestone.
Simon Cudby photo
You've been on the same bike and same program the whole time. What do you think has been the key to get on this roll, first the supercross championship, and now this win.
Well, experience is always key. You know I've been doing this a little while now, this is my third year outdoors, and every year you learn the tracks more and you learn the bikes more. Our bikes are really awesome this year. The bike is just turning unreal. You can just turn it anywhere. It's a package that has just gotten better for us and I'm happy.
Did anything special click for you today? What was the key to doing so well.
You know, I didn't get the greatest starts, I was like fifth or sixth or seventh in both of them. The first corner in both motos I got balled up with a few guys, I thought I could have been a few spots better. I was able to find some good lines out there and make some passes. I had a good rhythm out there, and I felt like I was able to do some things, jump some of the breaking bumps and stuff like that. I just had a good flow all day.
I was first in practice, the first one, and fourth in the second one, and I knew that was going to be slower so I didn't go out there and try to kill myself. The motos, I don't know! I guess I just screwed my head on straight. Hopefully I can do it again.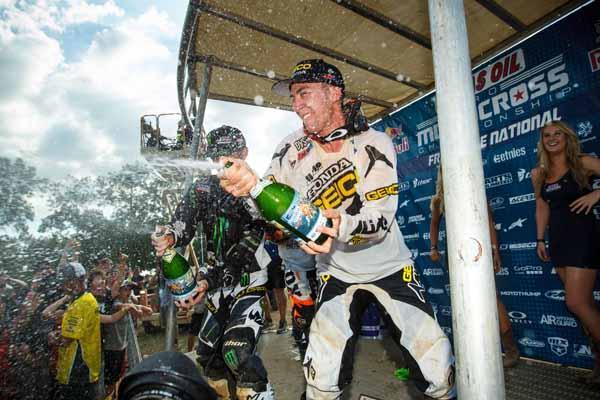 Tomac celebrates his first win since 2010.
Simon Cudby photo
Little disappointed by Hangtown?
Yeah I was. The first moto was fourth, that wasn't bad, but I came off at the end a little bit in the first moto. Second moto was a first turn crash, you really can't do too much about that, it was what it was. It made for a tough race to kind of base your season off of and figure out where you stand, so I'm stoked to get a win now.
We're going to Thunder Valley one of your home tracks, how does that feel?
Obviously that's pretty cool to have Colorado as the third race this year. It's going to be like home for me, I live at 5200 feet elevation at home, so I'm used to the horsepower (loss) thing. The race has been pretty good to me in the past, I got a podium there last year. So yeah, it's going to be fun and I'm looking forward to it.