Hangtown Motocross Classic
Rancho Cordova

,

CA
Race Center: Hangtown Motocross Classic
Lucas Oil AMA Pro Motocross Championship
When is a surprise not a surprise, yet still surprising?
Thursday night before Hangtown, I had an epiphany. Two, actually. First, I figured out how to spell epiphany. Second, I realized I was going about things all wrong trying to make predictions for Hangtown. The more I thought about the race, the more I studied previous results and looked at potential scenarios, the more I realized that supercross results only throw us off coming into the motocross opener. Time after time, we study the indoor results closely to try to find some evidence of how the motocross tour will begin. And, time after time, the predictions we make are wrong, because motocross is a completely different animal.
Witness, of course, the two race winners from Hangtown, James Stewart and Blake Baggett. Hard to figure which rider had a more disappointing indoor season. Yes, Stewart carried the higher profile and higher expectations into 2012, but I talked to Baggett after many a supercross and found him as beaten down, disappointed and frustrated as any rider can be. After winning a Lites SX race in 2010 and then a few of them in 2011, Baggett was expected to take the big leap and duel for an indoor title this season. Instead, he actually regressed, failing to win a race and often coming up way short of the podium.
In the pits after the St. Louis Supercross, Blake unveiled his frustrations in one of the most candid—and shortest—interviews I've done in quite some time.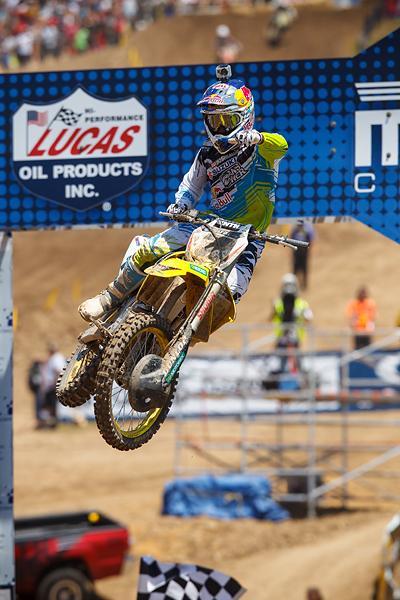 After an up and down supercross season, Stewart came out swinging outdoors.
Simon Cudby photo
Racer X: How'd it go? Good?
Blake Baggett: Yeah… No. Not even close.
Any ideas?
I need to do something.
Are you good? Like are you healthy? Is there an issue?
Nah, I'm healthy.
So you can't really find any excuses, unfortunately?
No. I just got smoked by guys I can normally beat.
So there was plenty of reason to think Baggett wouldn't just turn it on when the Lucas Oil Pro Motocross Championship began. After all, even though he did win Hangtown last year, he also won the final East Lites SX race of the season in Las Vegas, too (a race that absolutely no one remembers). This year, he was starting from a dead stop.
But, he found the magic again. And Baggett magic is not rabbit out of the hat stuff. It's "David Copperfield made the Statue of Liberty disappear" stuff. Went backwards early in the first moto and found himself in eighth. Then turned it up at the halfway mark and started picking riders off. And, once again, here is where I say YOU ARE NOT SUPPOSED TO BE ABLE TO DO THAT! What Baggett does, when he does it, flies in the face of every motocross riders' strategy. You're supposed to win races from the start, not the end, and the fact that Baggett has so much speed in the tank that he can wait 15 minutes into a race and still catch and pass everyone defies all logic. No one does this. No one I can remember, ever. Not Carmichael, not Stewart, not Villopoto…no one waited until halfway through the race to then turn it up, not in the hyperactive 125/Lites/250 class. It's true that Baggett has something very special, but, it's so special that you wonder if it's repeatable every week. It wasn't last year.
So that's what made Baggett's win a surprise. It was, somehow, a carbon copy of the exact same way he won Hangtown last year, same guy, same bike, same track and yet, a complete surprise that it happened. I don't know if we'll ever get used to seeing performances like that.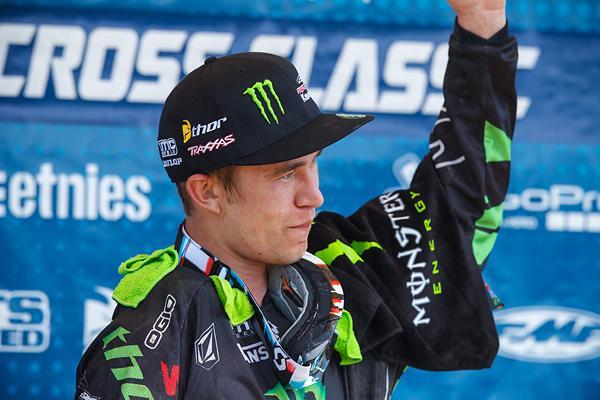 Baggett was on the radar entering Hangtown, but was far from a favorite.
Simon Cudby photo
Stewart was the exact opposite. Even though he had barely even raced since his Daytona supercross win two months ago, and was also debuting a new bike in his Yoshimura Suzuki, and hadn't really put a focus on riding motocross in four years, no one seemed to doubt Stewart coming into this one. He went fastest in both practices and went 1-1 in the motos. It was the least shocking shocking performance ever—I can't imagine another rider crashing and struggling as much as Stewart did in supercross, then making a mid-season change to a new bike, returning to Hangtown for the first time in four years, winning, and yet somehow not really surprising anyone. That's the kind of respect you just have to have for Stewart's abilities.
So, if you're keeping track, Baggett did exactly what he did last year, on the same track and same bike, and that was a shock. Stewart hadn't even raced at Hangtown in four years and was on a brand-new bike and team. But his win was predictable. I don't think everyone expected him to win, but I don't think anyone was completely in shock that he did.
But we still can't make predictions from here. Cautious optimism reigns at the motocross opener. Throughout the day, our TV crew interviewed a bunch of riders about their expectations for the year. From a list of riders including Stewart, Baggett, Ryan Dungey, Davi Millsaps, Tyla Rattray, Andrew Short, Mike Alessi and Justin Barcia, the theme of their answers were the same:
"Just get through the first round. Just use it to build. Improve steadily from here. Be consistent. Make it through all the rounds healthy. Be on the podium or in the top five throughout the year." You could have written up cue cards with those statements and just had the riders read them on camera—everyone had the exact same goal and the exact same things to say.
And why not? Baggett and Stewart, for example, have never lacked in speed, just consistency. While Stewart certainly posses the ability to lock down a motocross title—the 24-0 thing got brought up constantly throughout the weekend—you can also find plenty of YouTube highlight reels of his more spectacular crashes.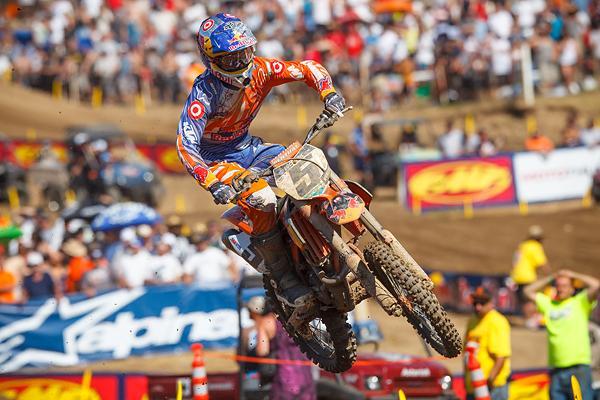 But history tells us not to write off guys like Dungey just yet.
Simon Cudby photo
And Baggett, just as quickly as he attacked last year, would suddenly lose it. His five wins last year were dotted with several motos where he just did not have it. But he is not alone—this week, you're going to hear a lot of bench racing about previous motocross season openers where the winners couldn't duplicate their success throughout the year.
Such as: Chad Reed's performance at the 2009 opener at Glen Helen was forgettable, but he went on the win the title. He then won Hangtown in both 2010 and 2011, but 2010 turned into a disastrous year, and 2011's title drive ended in a massive crash. Baggett fizzled after winning Hangtown last year, and so did 2010 Hangtown winner Eli Tomac. Ryan Dungey pretty much sucked at the opener in 2010 but then dominated the season. Indeed, most recent title drives were ignited in the second half—like Trey Canard and Dean Wilson in 250s the last two years, or Ryan Villopoto finally getting his way when the 2012 KX450F debuted last year at Unadilla.
Coming into Hangtown, the data from supercross tends to lead us in the wrong direction. And, amazingly, the data from Hangtown also tends to lead us the wrong way after the race—there's no way you saw Ryan Villopoto, Dean Wilson, Ryan Dungey or Trey Canard as the logical championship favorites after Hangtown the last two years. It's almost like we have three seasons in one. The Monster Energy Supercross Championship, the Lucas Oil Pro Motocross Championship, and the wacky Hangtown opener in between.
Of course, past history doesn't mean it will work out like that again. But if you're racing Baggett or Stewart this summer, you had better hope so.