The Dodge Motorsports/Sycuan Casino Hart & Huntington team didn't have a great supercross season this past year, with every single rider on the team getting hurt at one point or another. The team still soldiered on with one of the more impressive displays in the pits, including two semi-trucks at many of the races. At the end of the year, the entire team was awarded the Innovation Award by Feld Motorsports at their annual SX Awards Ceremony the Sunday after the final round in Las Vegas.
Team manager Kenny Watson held things together all season long trying to get the sponsors the best return on their investment that he could as well as produce results on the track. We caught up to Watson to get his thoughts on the award, the season and the 2013 season for the team. (And full disclosure here, I co-host a Monday night internet radio show with Kenny and obviously know him well so just keep that in mind).
Racer X: Kenny, your team had a rough year but at the same time you were awarded with an award for innovating so at least you won something!
Kenny Watson: Yeah, there's a first for everything I guess. We definitely had a rough year but then again a lot of people had a rough year. If you had told me that all four riders we had would be injured I would have said you were on glue. But hey, things happen and we had to keep going out there with fill-in guys, show up every week and support our sponsors. We had to be there for the sport and for the people that go to the races, the fans, and do what we did. It was cool, we did our best.
Was there any sort of reason why your guys got hurt, anything you could have done to change it? Tough question I know, but any link to anything?
That's a great question Matthes, is that the first time you've ever asked that?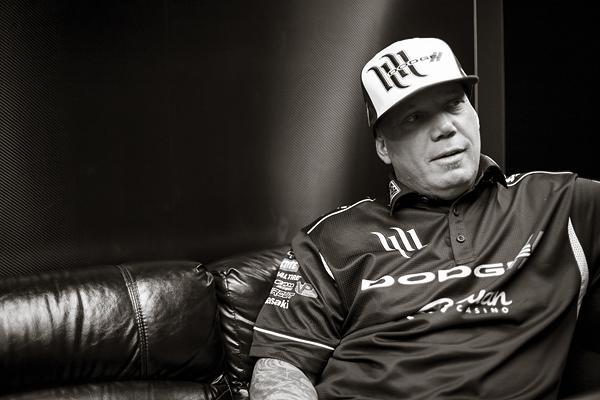 Watson and the Hart and Huntington team struggled with injuries on the track in 2012, but won the Innovation Award.
Simon Cudby photo

No, it's not.
Yeah, I know, guy, because every interview I ever hear or read from you, you ask that same question.
Yeah guy I'm in the media and I like to get opinions from top people in the sport like yourself on why we have had all these injuries this year. I'm curious.
(Laughs) I personally don't have an answer for that question but I think a lot of people have been hurt this year and also in years of our sport. For Ivan's [Tedesco] injury, he was in the wrong place at the wrong time, it was a racing accident and he didn't do anything out of the ordinary. Wrong place at the wrong time. Josh Hill fell in the first turn and got his leg run over, that happens. With [Kyle] Partridge, that was a crash where made a mistake and he got hurt. Josh Hansen put his foot down wrong and tore ligaments in it, and that happens all the time. I do think they need to slow the bikes down, the tracks ten years ago, if they built those tracks it would be better. The guys would be slower, make bigger whoops and the guys will slow down. You slow them down and maybe they don't get hurt.
The game has been raised so high now though, the top ten are going so fast and pushing hard. So that stuff is going to happen.
Off the track, you guys had two trucks at most races and a real interactive deal so you have to be happy with that.
Yeah, every year we elevate it to the next level and what we try to do is also try to build on the H&H experience. It's not just stand in line and get a poster of the rider. We try to make it so the fans get an experience and they can hang out if they want, win some prizes from our sponsors. We even had a band at one race. We did a good job at this year but we can do a better job no doubt about it. Our activation for our sponsors was really good and they seemed to be real happy. It was a success for sure.
There are a lot of teams out there that would be envious of the big sponsors that you guys have, some guys are struggling to get one big outside the industry deal. What is it about H&H's ability to get these that other guys can't?
I think we deliver to our sponsors. We sat down and made a business plan of what we want to do. We activate and get the job done and there's a lot more to it than the results. In the corporate world, they want to see a return on their investment and I think we give them that. Whether it be our photos in the pits, all of our content, the social media that the Wasserman Media Group does an awesome job on. The Facebook stuff, Twitter and all that. That stuff is key and you have to produce it and it makes them feel fuzzy and warm inside. It all makes sense to these guys at the end of the day, we've learned to do the B to B stuff. We can put Loc-Tite in touch with Bel- Ray and we can put General Tires in touch with Dodge and have them put new tires on new Dodges. Sycuan Casino using Dodge cars for giveaways and for their employees.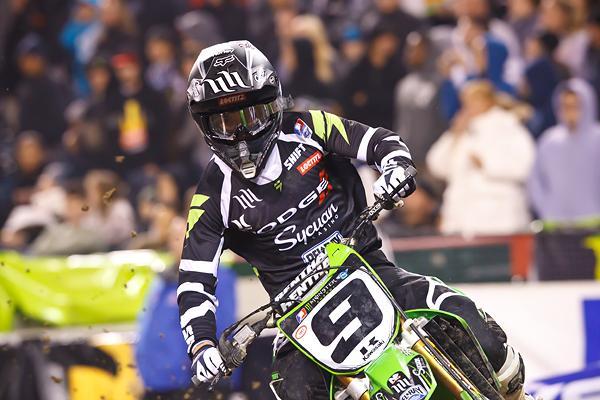 Injuries played a major factor for the H&H team this year.
Simon Cudby photo
It's more than the racing, that's sort of what you guys realize maybe better than others would you say?
I'm not going to talk bad about anyone's program, they're doing what they want to do. Everyone has a strategy and a plan and what works for some people doesn't work for others. We just figured that one of our goals was to help our sponsors out the best way we can. Yeah, when we started we had smoke machines, DJ's, dancing girls and all that but we needed that to build fanfare and get people talking. We learned from that and every year we've grown and learned from that. I can't take anything away from the JGR guys, Butler Bothers or MotoConcepts or any other team that's on our tier level of teams, but every year we stepped up and in the future there's more to come and people are going to be surprised.
What can you tell us about 2013 right now?
It's going to be a very big stepping stone for Hart and Huntington, there are a lot of things in the works and fingers crossed, I hope it works out. If it all comes together, we're going to be a player in this thing.
We like to joke about it, but it is cool you guys won the Innovation award at the awards ceremony.
I was stoked on it, I wasn't expecting it and I didn't really know what was going on. The Innovation Award means we're innovating things, changing things and that's kind of flattering for us. When Carey [Hart] went up there and said that we were just a couple of scum-bag tattoo guys who started this thing, that made me smile. We're definitely innovating off the track because we didn't innovate shit on the track! If you can't do it out there, you may as well be good in the pits. Maybe people can use our team as a platform to build off and stop bitching and moaning that there's no money in the industry. There's money out there in America, go pound the pavement and sell your program.
You mentioned that you're going outdoor racing in 2013?
Yep, 100 percent we're going to do the full year next year.
How's that radio show going that you do on Monday nights?
It has its ups and downs. Sometimes it's cool and sometimes it's really lame. We do our best but it's crazy, when I go to the races people don't come up to me to talk about the H&H thing or the riders, it's always "Hey you're the guy from Pulpmx" and that's cool. My co-host can be a real idiot sometimes though.
Yeah, he definitely can be. Thanks for this.
Yep.