Open Mic: Interviews from Las Vegas
Tuesday, May 8, 2012 | 12:30 PM

KICKER

provides the sound from the Open Mic – since 1973 our concert-like acoustics and gritty design in mobile stereo put us on the map. KICKER Subwoofers and Amplifiers for vehicles and boats are sought worldwide, and now critically acclaimed MP3 Docks, Earbuds and Headphones are shaking up what remains.

Tweet

Interviews by Steve Matthes and Jordan Roberts

Davi Millsaps, JGR/Toyota Yamaha, 2nd in Supercross class

Racer X: Heat race win, second place in the main, what's up?
Davi Millsaps: Same thing as last weekend. I clinched second place in points tonight, so it was cool for the team, for me, and everyone that's been behind me pushing me. It's definitely cool to finish second in the race tonight let alone second in the points. My confidence is good going into the outdoors so we'll see how it goes.

When the season started, did you think this is how things would end up?
Hell no! I started the season off in sixteenth! I wasn't looking too hot, but the more I rode the better I got. I feel really good where I'm at right now, and I think I need to work a little bit more on some things.

What happened with you and Jake Weimer over that table?
I think he made a little mistake and I just had a lot more speed going into that section. I ran right into the back of him. We're lucky I didn't take us both out. It was neither of our fault. It is what it is, and we shook hands after the race and we're cool.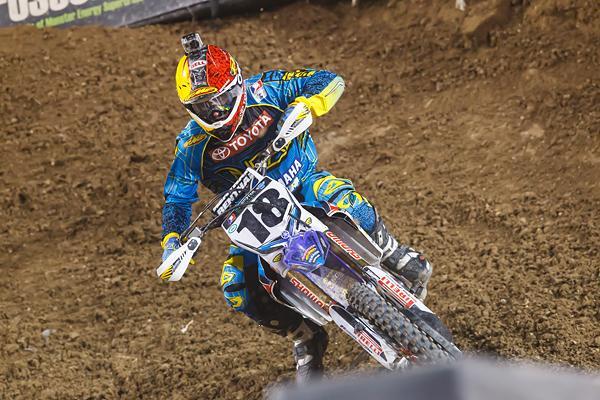 "I clinched second place in points tonight, so it was cool for the team, for me, and everyone that's been behind me pushing me." - Davi Millsaps
Simon Cudby photo
Justin Brayton, Muscle Milk Honda, 3rd in Supercross class
Racer X: I thought you rode really good. You may not be happy with the race itself, but you charged hard the whole race and caught some guys at the end.
Justin Brayton: That was a tough race. It was a bummer because I actually had a really good start going into the first turn. I was a little too aggressive and pushed the front end and almost went down and 5, 6, 7 guys got by me. But that's just being aggressive and I probably wouldn't change a thing. Then late in the race, I caught Davi [Millsaps] and Jake [Weimer] for second and third. I ended up getting Jake with just few laps to go and couldn't catch Davi. He was riding good and it was a little late. Track was tough tonight.
Yeah, how was the track? Rutty? Beat up? Roost everywhere in Monster Alley?
It was tough. Man, it hurts so bad. It feels like you got shot by a gun. You try and take a different line, but you've got to go across the guy's roost at least. Then the whoops were super beat up. I think I had four or five close calls in those all night.
So, third in the points?
No, fourth. Me and [Ryan] Dungey tied. That's a huge bummer, but it is what it is. I'm thankful that I'm even riding. I was really bummed for a while, but there's a lot of positives to take into the outdoors. Almost 100 percent, so have a good outdoor season and come into supercross next year.
Lost out on the top three bonus.
Yeah, that's a lot of money.
And then you think about all those times you could have gotten one more point at a race.
Exactly, all those thoughts were running through my head. When I was on the podium, I was like are you kidding me? To think of the money is hard to swallow, but that's not why we started doing this. I'm trying to look on the bright side.
It's pretty hard at your level to make a lot of jumps and improvements. But, yet again, I think you made another jump up this year on the Honda. Do you agree?
I think so, for sure. I feel like I've really gelled well with the team. Obviously the bike's unbelievable. So I've got a lot of things to be thankful for and, like I said, money's not the reason I started doing this. To even be on the podium at 450 supercross races? Never thought that was even possible. So I've got to take the positives with it and, like I said, have an awesome outdoor season and hopefully come back with Honda next year and keep this relationship.
Things are rolling? Are they addressing the signings yet?
I think so, yeah. We've had a couple meetings and I'm bummed I couldn't get a win for them.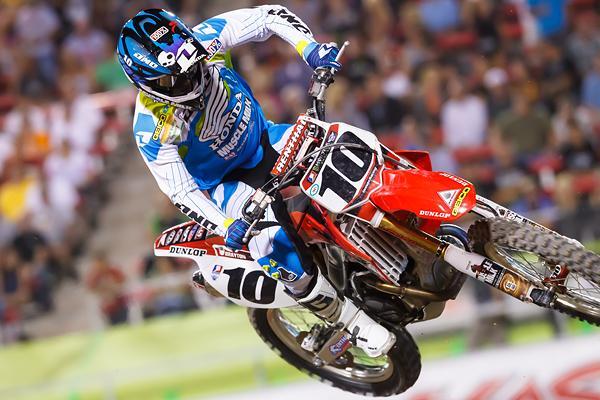 "No, fourth. Me and [Ryan] Dungey tied. That's a huge bummer, but it is what it is." - Justin Brayton
Simon Cudby photo
Jake Weimer, Monster Energy Kawasaki, 4th in Supercross class

Racer X: You probably weren't that happy, but it was a really great race to watch between all you guys.
Jake Weimer: Honestly, it's just mistakes. I did it in my heat race, I did it in the main. I missed the rhythm section a few times. I was struggling in the whoops. The first couple laps were kind of crazy with [Mike] Alessi and [Brett] Metcalfe. I feel like I kind of just got worked up and never smoothed out. So that was that.
How was the track? Was the roost bad again? Typical Vegas? Rutty? Choppy? Crappy? That sort of thing.
I actually thought the track was pretty good. It was pretty technical. I thought it was good. Just too many mistakes on my part, honestly.
Scary moment on that deal going out of the stadium.
Yeah, when Davi [Millsaps] ran into the back of me. That was pretty wild. That's pretty much how my night went.
First full season on the 450's. A lot of good, some bad. Overall, what'd you think? You made it through 17. One main event you didn't make it.
Well that's just it. It was my first full season on the 450 in supercross and, all things considered, it's not easy. It's a tough jump. I'm healthy. Supercross is over now. My goal was to be a podium guy. I think I got five heat race wins. I would have liked to have done better. Overall, I'm happy and I'm glad I'm healthy, especially the way this season has gone. Looking forward to outdoors.
Let's talk about outdoors. How's the riding going? Last year, again, some good finishes, some bad. How do you feel going into your second year outdoors?
I mean, testing's been going really well. I feel awesome on the bike. We're just getting into it, just like everyone else. I'll definitely come in more prepared that I was last year.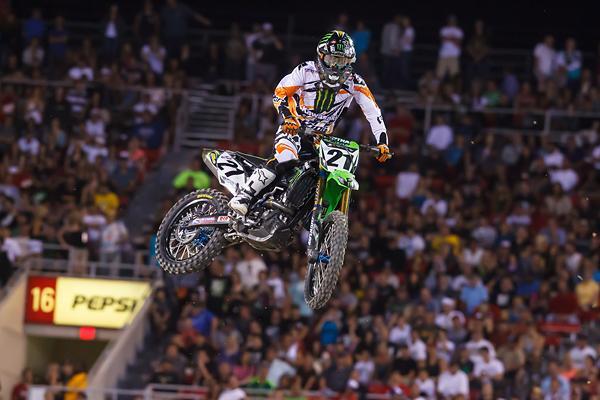 "Well that's just it. It was my first full season on the 450 in supercross and, all things considered, it's not easy." - Jake Weimer
Simon Cudby photo
Ken Roczen, Red Bull KTM, 2nd in Lites East main, 4th in East/West Shootout
Racer X: This is your second East/West Shootout. Last year treated you pretty good. How do you feel about tonight?
Ken Roczen: It was fun, and definitely different. You race against the West guys, and I haven't raced against them all year. I had a crappy start and I came through the pack pretty good. I didn't remind myself to breathe properly so I cramped up really bad. It's not an excuse; it was my fault. I tried to remind myself but it was too late. It's hard to catch up, you know? So I just struggled with that a little bit, but I finished in fourth place, which is good. It's good to finish a supercross season without injury. Now we're fully focusing on outdoors.
You were still running the same pace as the front guys—[Justin] Barcia, [Eli] Tomac, and [Martin] Davalos—in the Shootout.
Yeah, especially the first two laps. I had the fastest laps times. But after that, like I said, I just cramped up. I know I'm there. I just needed the start. The start was so bad. I had to go through the pack really quick, and it just didn't work out so well.
Are you looking forward to outdoors?
Yeah, for sure. I'm excited. I haven't ridden any of those races so it'll be fun.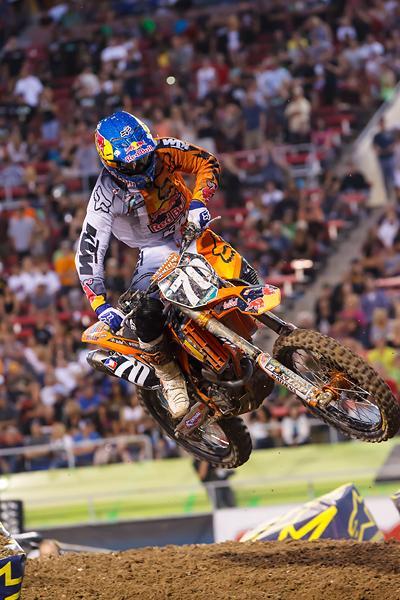 "Yeah, for sure. I'm excited. I haven't ridden any of those races so it'll be fun." - Ken Roczen
Simon Cudby photo
Marvin Musquin, Red Bull KTM, 6th in Lites West main, 5th in East/West Shootout
Racer X: So this is your first Las Vegas East/West Shootout. How did it treat you?
Marvin Musquin: It was a really tough race. The track was really rough, and it got really dry and hard packed. That was kind of difficult. I rode well during the Shootout with Roczen—he was riding really good. We finished out of the podium, but it was still a really good race, especially after some bad news this morning. I had an X-ray at the Asterisk truck and there is a little crack on my hand—the one that I broke last year at Freestone. I don't know what I'm going to do for the outdoors. I want to ride, but I also need to get better.
Was that from last weekend?
Yeah, I crashed during the heat race with [Martin] Davalos. I had a small crash, actually, but it hurt my hand. I raced the main event right after. It hurt a little bit, but during the week I couldn't ride outdoors. I tried to ride and it wasn't possible. I had an X-ray and it didn't show anything, so I was kind of surprised this morning when they said it was cracked. That sucks, you know, but I'll get ready for outdoors.
You still looked pretty aggressive out there tonight.
Yeah, I had a really good start and my KTM rode really good. The first lap, I had a mistake and didn't jump the triple, but when Roczen passed me I got really aggressive. I finished the race well, but it was a short ten laps.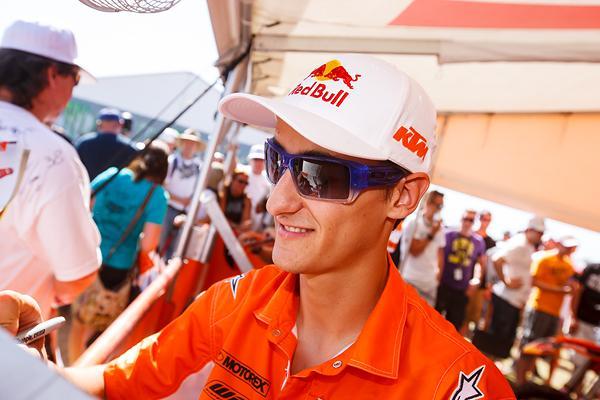 "I had an X-ray at the Asterisk truck and there is a little crack on my hand." - Marvin Musquin
Simon Cudby photo
Mike Alessi, Team MotoConcepts, 7th in Supercross class
Racer X: Nice holeshot out there. It has to be good to know you have that form off the gate going into the Nationals.
Mike Alessi: Yeah, everything is coming around good—the bike, the team. We've come a long way and I think it's a good milestone for us. First things first, I'd like to thank the MotoConcepts team for being behind me and getting our best supercross season ever with a sixth. I know to a lot of people a sixth doesn't sound so great, but for me, it's my best supercross season I've ever had in the Supercross class. I'm progressing and getting better with the help of the whole MotoConcepts team behind me.
Coming off of a supercross season like that, and being more of an outdoor specialist, do you have an added confidence going into the Nationals?
For sure. It gives me some more confidence and I'm 100 percent healthy and ready to go into outdoors. We can start focusing on outdoors now.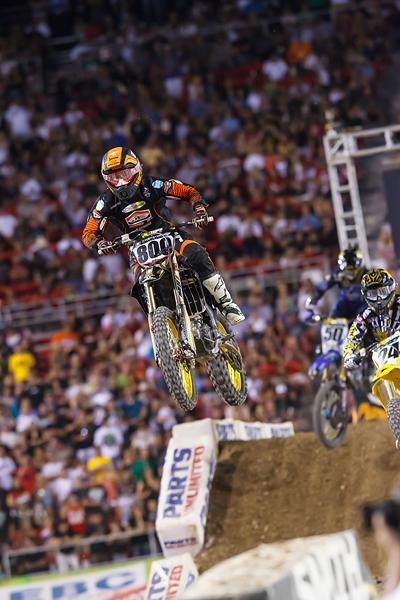 "I know to a lot of people a sixth doesn't sound so great, but for me, it's my best supercross season I've ever had in the Supercross class." - Mike Alessi
Simon Cudby photo
Broc Tickle, Monster Energy Pro Circuit Kawasaki, 11th in Supercross class
Racer X: Good practice times. Good main event until something weird happened and then I don't know. What happened?
Broc Tickle: I think a seat bolt came out, but I'm not 100 percent sure. Other than that, I think in the main, I was riding like crap.
Was that all that was jacking you up?
I think the seat was coming off too. When I gripped my legs and pulled up, it would cause the seat to come up. So it wasn't too good. But if I would have known it was that, I would have just kept riding. I thought it was something else. Other than that, I changed bike setup this morning and I probably shouldn't have. Then I changed it again and it went even further in the wrong way and I was back scrambling, trying to find where I wanted to be.
You had one practice that was awesome.
I thought the opposite of what I needed and it showed. I thought I should have been top five, for sure, and I wasn't. I was in eighth where I was and that's pretty much where I was going to be, I think. With that being said, let's move on to outdoors.
Let's talk about the Nationals. What are you riding?
I'm riding the 450, I believe.
There's all these rumors.
I guess we'll find out in a week and a half what I'm doing.
Let's talk about your first year in [450] supercross. What did you think? What did you learn? What did you learn to do and not to do?
Dude, this sport is so mental it's dumb. It's stupid. We're all bad dudes on dirt bikes, but mentally, you've got to be there. I think a couple races in, I was struggling to even want to be there. That being said, I'm trying to be content and have goals that are realistic and, every year, try to improve. That's my goal. Obviously, throughout the year, I did make improvements, which is a good thing. Looking forward to outdoors, then we'll see what comes for supercross next year and that situation.
Your contract's up this year?
Yep.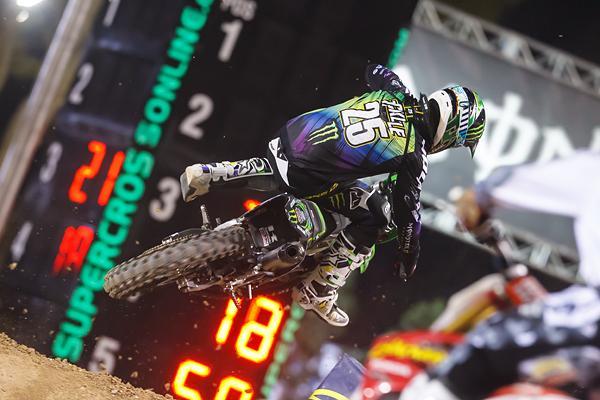 "Dude, this sport is so mental it's dumb." - Broc Tickle
Simon Cudby photo
Billy Laninovich, Lucas Oil Troy Lee Honda, 20th in Lites West main, 16th in East/West Shootout
Racer X: Debut with the Troy Lee Honda team probably didn't go the way you wanted it to, but what did you think?
Billy Laninovich: Dude, the bike's amazing, the team's amazing. I did have a bad night. Probably the worst night I've had all season. But, I don't know, I had a little bit of bad luck. I got a good start and somebody cleaned out [Ryan] Sipes and he ran into me and I fell down.
That was Dean Wilson.
Yeah, and I bent my shift shaft and my shifter, so I had to pull in. We had to change the motor. Did good in the LCQ, almost got a holeshot from the outside and won that. Then in the main event, I was just so far to the outside. And dude, there are so many fast guys in that main event.
But it's a first race with a new team, so maybe you could chalk it up to that?
Yeah, I mean it's a stepping stone, but we'll just go these next two weeks and do some outdoor testing and get comfortable with that and go to Hangtown.
Obviously your privateer bike was working great for you. But talk about this bike. Better motor? Suspension? Overall?
My motor's pretty good in my bike, but my suspension was horrible. We didn't do any testing and that's the only thing we were lacking. But this bike, it's just amazing. The overall whole package. It's a good bike.
Then 450 outdoors?
Yep, 450. We're going to do five outdoors, and then hopefully X Games Best Whip.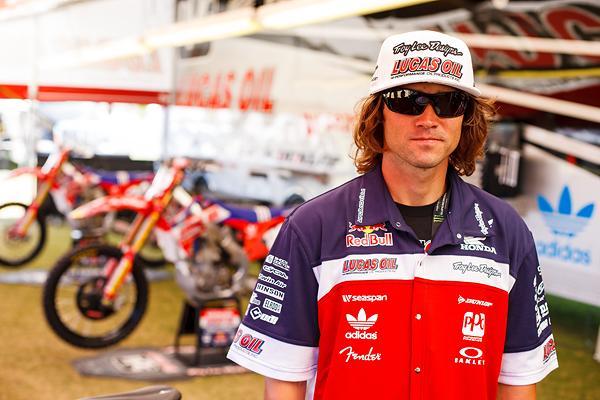 "We're going to do five outdoors, and then hopefully X Games Best Whip." - Billy Laninovich
Simon Cudby photo
Trey Canard, Honda Muscle Milk
Racer X: You did some TV and stuff.
Trey Canard: Yeah, I was a little nervous and rusty off the start, but I think we pulled it together at the end.
I got tweets. One guy said you can see he's a complete rookie. Another guy said you were the best one on there.
There were times when I completely sucked, but there were also times where I did really good. But it's nerve wracking. That's way more nerve wracking than doing the commentating with Ricky [Carmichael] and Jeff [Emig] and those guys. To actually be there with a camera staring you straight in the face and to have to come up with your own content? It's pretty tough.
The shine off Reed's earrings?
Yeah, that shine was kind of a glare in the eyes and on my forehead.
Was tonight tough for you to watch? You're one of those guys where you really don't like to watch.
Yeah, I'm trying to come to terms with it, but honestly, it just sucks. There's no words for it. It's tough. Especially, I keep watching more races than I want to. It was a pretty boring night, though, really. It was cool to see [Davi] Millsaps do good and there was actually some pretty good racing behind the leaders. I was hoping [Martin] Davalos was going to pull it out. I was pumped to see it out there. It was cool to see the GEICO Team…
Let's talk about that. GEICO is having a tremendous year, in case you haven't noticed. Shootout win tonight, both championships.
It's awesome. It's cool to see and, I'm not saying I had anything to do with anything, but it's cool to see that what they invested in me is paying off for them.
You mean with the amateur program?
Yeah, with the amateur program and bringing me up and then with [Blake] Wharton and [Justin] Barcia and [Eli] Tomac and [Justin] Bogle, it's awesome. They're program is continuing to grow and to see the leaps and bounds that they're taking with [Mike] LaRocco. Not that Mitch was holding them back, but now that they're doing their thing on their own, there's more pride and confidence in the thing. It was awesome to see them do what they did tonight.
As far as yourself, how's the recovery coming?
It's terrible, dude. I can't do anything. I just sit around all day.
Really?
Yeah, I've been taking a lot of anti-depressants, reading don't kill yourself books. [Laughs] No, it's going good!
Watching JT training videos.
If you haven't seen that video and you watch it. The best is when you have him climbing that mountain. Dude, I just die when I see that. And the football drills. I don't know why, but that's the funniest thing I've seen.
We don't know why either. It just came to mind. But how's the recovery? When are you going to be back on a bike?
It's going good. I think six months is kind of the time frame they gave me right from the get-go and the fusion takes place is when the fusion is done. I hope that that is the case. It's different for everyone, but I think I'm on track with everything. I feel great. I get a little sore here and there, but I'm basically normal. I did my first road ride this last week. I've been swimming and doing physical therapy. I've been getting after it pretty good. I don't know how much more I can take of watching races and not being out there.
I've done okay with it all these years. [Laughs]
It's tough. But I think it's building something up in me that I think can help me though the next few years.
Your contract's up this year. What's your deal? What's your situation with that? Talks have begun. What are you looking at doing?
I don't really know what's going on right now. We have had discussions and I don't know where that leads.
Discussions with Honda?
Yes. It's hard to say. I think that they've been good to me through this. The last year and a half has been rough. To see that they're still interested in me is a huge blessing and I'm pumped. I feel like I still have worth. I still see it in myself, I just hope that everyone else still rides the same wave with me.
Share this article:
Did you like this article?
Check out MOTO GIFT GUIDE
in our Latest issue of Racer X available now.

Our annual gift guide has something (or maybe even a few somethings) for everyone on your holiday list. Page 146.
Look for the verified symbol
The Conversation