by
Jason Weigandt
Practice Report: Seattle
Saturday, April 21, 2012 | 7:30 PM
Tweet
Practice is complete here at Qwest, er, Century Link Field, here in Seattle, Washington. The weather is beautiful here, with sunshine and mild temps, but there was enough rain earlier in the week to make the dirt soft. The track is already getting rutted out despite a lot of track maintenance, so things are going to get treacherous when the races get underway. Otherwise, the track is pretty basic, we've seen very few options in the rhythm lanes besides one triple into a corner that a few Lites riders busted out. But the track was already too rutted for any of the 450 riders to do it in the next session--and it looks tough to get the inside of the next corner with that triple, so we doubt anyone will use it in the races.
In West Lites, Red Bull KTM's Marvin Musquin is looking stronger than ever, logging the fastest lap in both timed sessions today. Title contenders Dean Wilson and Eli Tomac have been all over the map. Tomac was a disappointing sixth fastest in the first session, but bounced back for the fastest time early in session two. Wilson was right behind him, before Musquin logged a flyer to get the top spot. Then Rockstar Suzuki's Jason Anderson got into the mix with the third fastest time behind Tomac and Musquin. Late in the session, Wil Hahn jumped into the top group, too. Those times stayed the same, until Tomac and Anderson were then penalized for jumping while a red caution light was on. They lost their fastest lap, and dropped to fourth and seventh in the session.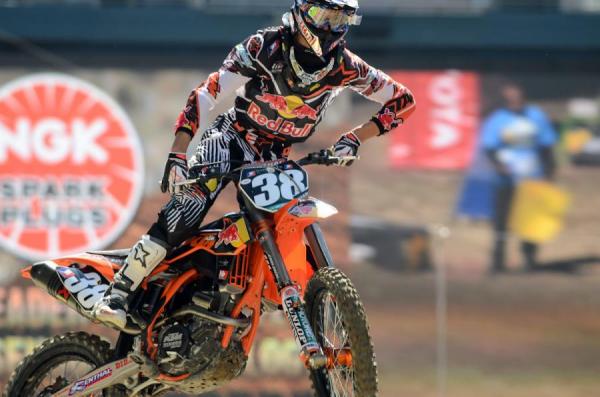 The Marv Attack clobbered both practice sessions.
James Lissimore photo
Overall, Musquin's 54.1 topped Wilson's 54.9, Hahn's 55.0, Tomac's 55.07 and Seely's 55.2. We asked the Marv Attack earlier today if he can win a race before the year is out, and he said, "Yes."
In the SX Class, last week's big surprise was Nico Izzi topping the first timed session. This week's surprise is Mike Alessi, who has been riding better and better as of late. After nearly finishing on the podium last week, Alessi logged the fastest lap of the second timed session today, and his 53.7 was able to hold up as the fastest time of the afternoon. First overall for Alessi! His MotoConcepts team owner, Mike Genova, by the way, is based in Spokane, Washington and their pits are jam packed. So those folks have a lot to cheer for.
Ryan Villopoto will certainly have some fans cheering for him as well, being the home-state boy and the 2012 (and 2011) Monster Energy SX Champion. RV was second fastest. He's doing just fine.
Ryan Dungey looked solid in his first practice back from collarbone surgery, but his fastest time was pulled due to jumping while the red lights were on. That bumped him to sixth, and then he took seventh in the final session.
SX Class Top 20 Overall
1 800 Mike Alessi Suzuki RM-Z450 53.735
2 1 Ryan Villopoto Kawasaki KX450F 54.456
3 50 Nico Izzi Yamaha YZ450F 54.734
4 70 Ken Roczen KTM 350 SX-F 54.975
5 18 David Millsaps Yamaha YZ450F 55.139
6 10 Justin Brayton Honda CRF450 55.226
7 5 Ryan Dungey KTM 450 SX-F 55.280
8 29 Andrew Short Honda CRF450 55.415
9 21 Jake Weimer Kawasaki KX450F 55.583
10 24 Brett Metcalfe Suzuki RM-Z450 55.638
11 82 Justin Sipes Kawasaki KX450F 55.766
12 25 Broc Tickle Kawasaki KX450F 55.899
13 81 Robert Kiniry Yamaha YZ450F 55.932
14 33 Joshua Grant Kawasaki KX450F 55.995
15 11 Kyle Chisholm Kawasaki KX450F 56.227
16 27 Nicholas Wey Kawasaki KX450F 56.256
17 54 Weston Peick Yamaha YZ450F 56.348
18 74 Tyler Bowers Kawasaki KX450F 56.425
19 66 Jason Thomas Suzuki RM-Z450 56.805
20 47 Chris Blose Kawasaki KX450F 56.833
Lites Top 20 Overall
1 38 Marvin Musquin KTM 250 SX-F 54.121
2 15 Dean Wilson Kawasaki KX250F 54.968
3 58 Wil Hahn Honda CRF250 55.000
4 17 Eli Tomac Honda CRF250 55.079
5 34 Cole Seely Honda CRF250 55.298
6 31 Martin Davalos Suzuki RM-Z250 55.651
7 44 Jason Anderson Suzuki RM-Z250 55.722
8 105 Matt Moss KTM 250 SX-F 55.895
9 53 Ryan Sipes Yamaha YZ250F 55.995
10 51 Travis Baker Honda CRF250 56.224
11 232 Billy Laninovich Honda CRF250 56.517
12 59 Vince Friese Honda CRF250 56.556
13 986 Topher Ingalls Honda CRF250 57.559
14 95 Chris Plouffe Honda CRF250 57.626
15 67 Scott Champion Honda CRF250 57.836
16 965 Travis Bright Honda CRF250 57.964
17 132 Kyle Beaton Kawasaki KX250F 58.168
18 976 Josh Greco Kawasaki KX250F 58.678
19 133 Myles Tedder Kawasaki KX250F 59.176
20 84 Killy Rusk Honda CRF250 59.784
21 620 Brad Nauditt Honda CRF250 59.813
Share this article:
Did you like this article?
Check out KING CAIROLI
in our Latest issue of Racer X available now.

Americans know very little about seven-time FIM World Champion Tony Cairoli, but in Europe he's treated like royalty. Page 102.
Look for the verified symbol
The Conversation