Qwest Field
Seattle

,

WA
Seattle
Monster Energy AMA Supercross Championship
Blake Wharton's recent win while wearing #956 (not to mention his new
Racer X
cover!) got us thinking about some of the highest numbers to win an AMA Supercross main in the 125/Lites SX class....
981 Monster Energy/Pro Circuit Kawasaki rider Austin Stroupe won a couple of AMA Supercross races in 2009 while wearing a very big digit—the highest ever to win a main event.
956 Blake Wharton did not score any points last summer, as he was out with an injury, so he lost his #21. He decided to pick #956 in honor of his late friend Jesse Masterpool, taking the number with him to the top of the podium at the Indianapolis Supercross.
934 When David Vuillemin first landed on these shores as a promising young French rider, he wore the 934 on his Yamaha YZ125, winning four mains between '97 and '98. He eventually became DV12, but we old-schoolers still call Le Cobra DV934.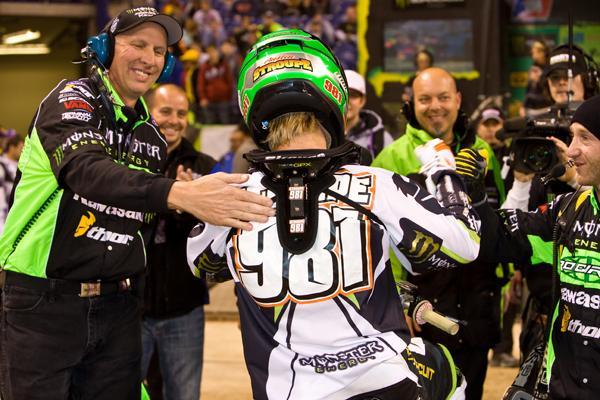 Austin Stroupe has the honor of being the highest numbered rider to win a 125/Lites main event.
Simon Cudby photo
801 Nope, not Jeff Alessi. Rather, it was "Fast Eddie" Warren who ran the 801 to the winner's circle as a Team Green rider in 1985, the first year for 125cc supercross racing. He was one of the fastest men ever out of Michigan, but his pro career fizzled after a couple of good years for Kawasaki, then he moved to Australia.
762 Mike Kiedrowski wore this big digit as a Honda support rider, taking three wins from Damon Bradshaw in the East Region but ultimately losing the title by a single point. But Kiedrowski would avenge himself with that year's 125 National Motocross Championship. (And his teammate Larry Ward carried #971 to a win at that year's Southwick 125 National.)
573 I was thinking that may have been Bobby Moore's number when he won the first 125 West title in 1985, so I tracked him down by email in Italy, where he works with WMG on MotoGP racing. He confirmed it, adding, "If you're looking at photos just look for the kid that was 3 feet tall; the correct size was 4'11" and I weighed 87 pounds.... Really!" Bob reminded me that his teammate that year, fellow California kid Mike Healey, wore #582 and won a couple of races that year too. Both would end up in Europe and enjoy good careers—especially Moore, who landed the 1994 125cc World Championship title.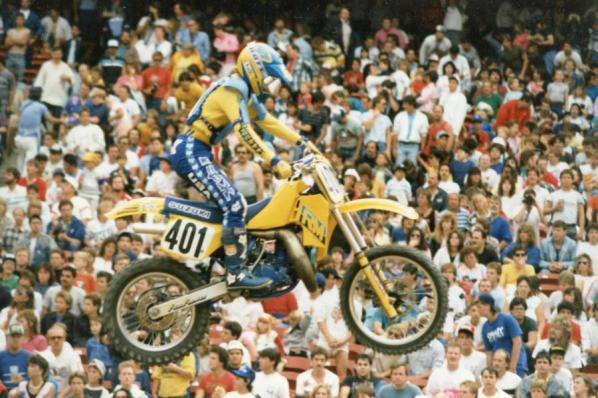 Donny Schmit won four races under the #401.
Thom Vetty photo
401 First as a Team Green rider and then as a Suzuki rider, the late Donny Schmit wore this number in his first two professional seasons, winning four 125 SX mains. He would later earn 125cc and 250cc World Championships wearing #65 and #75, respectively. He died in 1996, just after retirement, from a rare blood disease, but he will live on forever in the hearts of race fans all over the world, including his home track of Spring Creek Motocross Park in Minnesota, where the Holy Schmit jump is named for him.
377 The very fast Frenchman Christophe Pourcel showed up at the '07 Phoenix SX and beat Ryan Villopoto on the #377 Pro Circuit Kawasaki KX250F. He would return in '09 and win his first of two titles in the class with that same number.
338 J-Law! No need to say more … but we will. He is the last winner for Yamaha of Troy, the team founded by the recently departed Phil Alderton. We're hearing rumors here and there about a possible Jason Lawrence comeback, and he was spotted doing some woods racing last month.
332 Honda support rider Keith Turpin racked up some wins in 1986 as a rookie wearing #332. He was the original Damon Bradshaw—a fast, fierce young man from the South—but he snapped his femur in a huge crash at the Pontiac Silverdome and that was that.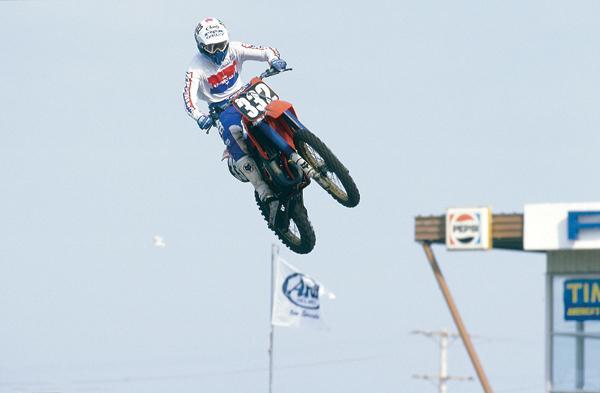 That's Keith Turpin, who as #332 racked up some wins in 1986 during his rookie season.
MotoVerte photo
273 That was Kyle Lewis' number in 1987, when he became the youngest rookie (at the time) to win in the 125cc SX class. He would retain that distinction until James Stewart came along in 2002, wearing....
259 James Stewart's original number wreaked havoc on the 125 class as he set the record for wins in the class on a KX125.
230 "Wild" Willie Surratt was a fast California prospect who won four main events in 1986, only to lose the Western Region title by 12 points to Donny Schmit. The two would end up as Suzuki teammates one year later, and Surratt would win the 125 West.
214 Ronnie Tichenor's rookie number—he, too, won a 125 SX title in 1987, though his came in the East, by a single point, over defending champ Keith Turpin, who was also on a Suzuki that year.
201 1987 was the golden age of three-digit 125cc riders, as Jeff "Chicken" Matiasevich won the first and last main events of that season on his Team Green KX125. One year later he would win the West Region title.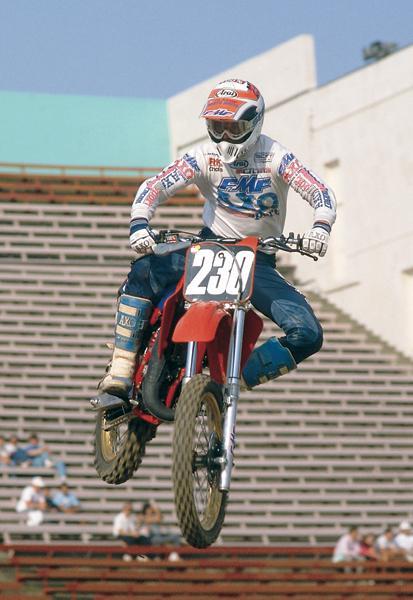 "Wild" Willie Surratt won four main events in 1986 under the number 230.
MotoVerte photo
We'll cap it there, right before the famous #199 Travis Pastrana! Did we miss anyone above #200? Let us know: letters@racerxonline.com.