Qwest Field
Seattle

,

WA
Race Center: Seattle
Monster Energy AMA Supercross Championship
By #124 Ryan Clark
Twenty-year-old Preston Mull qualified for his first Supercross class main event at Houston, riding as a full privateer on a nearly box-stock Honda CRF450R that serves as both his race and practice bike. Preston did something unexpected that night, nabbing the ninth and final transfer position in a very stacked heat race and then went on to a 17th place main event finish.  We caught up with Preston to talk about his accomplishment, and find out what's next for the likable kid from Nor. Cal.
Racer X: Preston, first off congratulations on making your very first main event in Houston. How did that race differ from the previous races this season for you?
Preston Mull: Well, at St. Louis I tore some ligaments and fractured a bone, and I was struggling with getting any bike time. The week before Houston I was able to get back on the bike and train with Lance Vincent and Kyle Regal at MX Underground, and that just helped so much. Plus, I really just liked the dirt and the atmosphere in Houston -– it was great.
We have seen you in a lot of the practice sessions jumping the rhythms that the top-10 guys jump and posting fast qualifying laps, but until Houston, you hadn't made a main event. How do your nerves and the pressure affect you when the gate drops?
The nerves do get me a little bit being in the 450 class. I'm racing with James Stewart and Chad Reed, guys I have looked up to my entire life. It's a lot different than the Lites class, where you are doing fewer laps and the riders are younger and a little less intimidating. I don't have a problem doing all the jumps and rhythms, I can put one lap together no problem. If I see another rider do a jump I just tell myself that I can do it and then go for it, because in my mind there is no reason to be out there if you aren't going to go for the big stuff.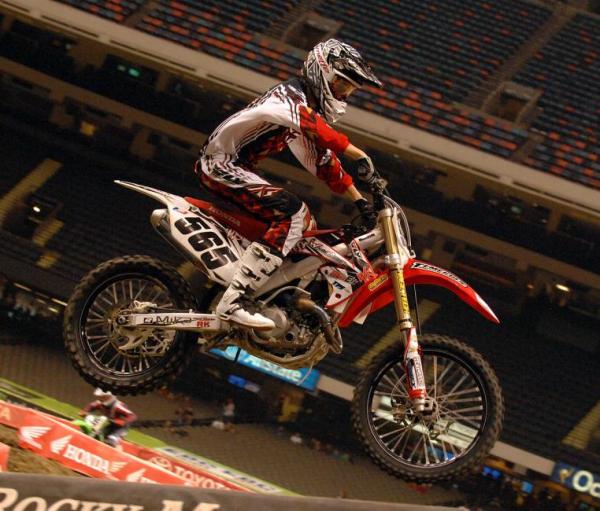 Mull has made one Supercross main event in 2012.
Carl Stone photo
You are riding under Ted Parks' "The Privateer Journey" effort, but you also drive to the races in your own pickup truck.
Yeah, The Privateer Journey is a really cool thing that Ted put together to help out riders like myself. There are about 10 riders who pit out of the rig and Ted hauls our bikes to all the races. After San Diego, my uncle and I just hopped in my Chevy Colorado and starting driving to all the races. Kenny Ries Commercial Fishing bought me a brand new bike, so that was just huge for me. I paid Ted to haul my bike so it was safe and secure when we stay at hotels and so I could have all my tools and gear in the rig.
So you have been on the road since San Diego? It must be tough to establish any type of training schedule since you don't really have a home base.
Yeah, it can be tough. Ideally, I try to meet up with a team and find a track I can train at. It's tough to find a track and work out because there just aren't that many supercross tracks around. It's also tough to have any routine because everything is different from week to week. I only have one bike that I race and practice on, but I am doing the best I can with what I have and really enjoying racing supercross and traveling the United States.
What is next for you? What' on your list of things to accomplish in this sport?
I just want to be one of the top guys. My goal is to win; that is the whole reason I race. I work really hard and I hope to get there one day. My main thing is progression; I just want to keep improving every race, every season. At my first-ever supercross, in 2009, I qualified dead last in timed qualifying and now I made a 450 main. I just keep trying to move forward each week. One day I hope little kids are playing with my toy dirt bike the way I was playing with Carmichael's and Stewart's.
You turned down an academic scholarship to pursue racing. Are you putting all your eggs in this basket or do you have a back-up plan if this doesn't work out?
You only have a certain amount of time to go out and chase your dreams and live out your youth. No matter what happens in life, I will always be able to go back to college but you can't ride a dirt bike forever.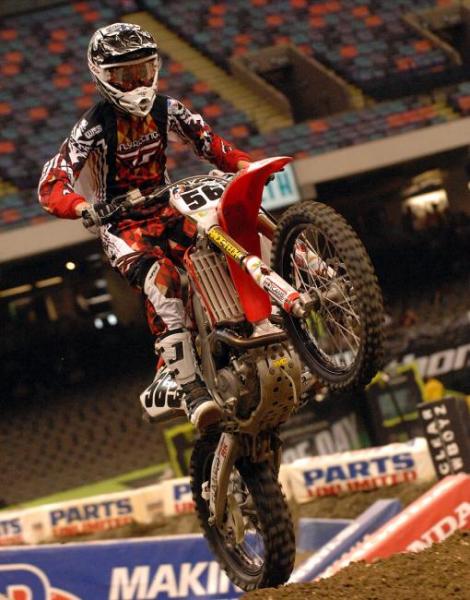 Mull is also hoping for the chance to ride the upcoming Lucas Oil Pro Motocross Championship.
Carl Stone photo
Will you be racing the Lucas Oil Pro Motocross Championship this summer?
I am going to try. I am trying to work out some deals to cover some gas money and plane flights or maybe have someone carry my bike, but who knows as of right now. My funds are limited, but I am hoping that I might get a little help.
How can people get in contact with you if they want to support your program?
You can find me on facebook.com/prestonmull or on twitter @pmull565.
Who would you like to thank for supporting your racing?
The Privateer Journey, Wildside Racing, FLY Racing, Kenny Ries Commercial Fishing, FMF, Brian McDonald Signature Coaching,  JETT Boots, Motivite Nutritional Products, EVS, Race Tech, MotoFX, TiLube, Mika Metals, Excel Wheels and Hubs, Works Connection, Hot Cams, Galfer and Engine Ice.
Any parting words for other struggling privateers?
Just keep focused and work hard, and you will be amazed at what you can accomplish. Stay positive. If you focus on the positives, the more positive things will come your way.