Yamaha Wake-Up Call
Monday, April 16, 2012 | 6:00 AM Tweet

Monster Energy AMA Supercross, an FIM World Championship
Mercedes-Benz Superdome - New Orleans, LA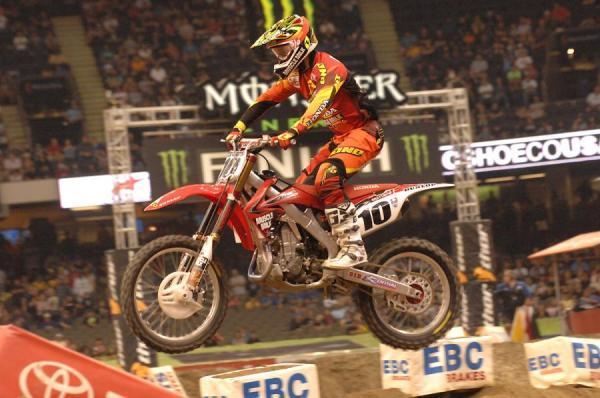 Justin Brayton took home third in the Big Easy.
Carl Stone photo

FIM World Motocross Championship
MX1 Points Standings

Antonio Cairoli 50pts. KTM
Clement Desalle 44pts. Suz
Steven Frossard 40pts. Yam
Gautier Paulin 32pts. Kaw
Kevin Strijbos 31pts. KTM
Ken de Dycker 31pts. KTM
Rui Goncalves 29pts. Hon
Shaun Simpson 23pts. Yam
Tanel Leok 22pts. Suz
David Phillippaerts 20pts. Yam
Xavier Boog 20pts. Kaw
Matiss Karro 17pts. KTM
Marcus Schiffer 14pts. Suz
Christophe Pourcel
12pts. Kaw
Jonathan Barragan 12pts. Hon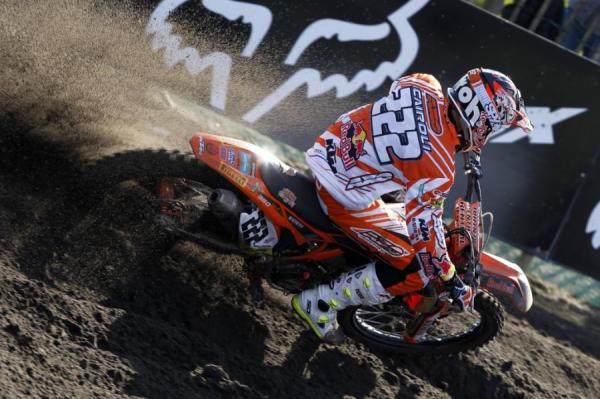 Antonio Cairoli holds a six-point lead over Clement Desalle in the MX1 class after one round.
Ray Archer / KTM Images photo
MX2 Points Standings

Jeffery Herlings 50pts. KTM
Joel Roelants 42pts. Kaw
Tommy Searle
42pts. Kaw
Jeremy van Horebeek 36pts. KTM
Jordi Tixier 29pts. KTM
Jake Nicholls 28pts. KTM
Max Anstie
26pts. Hon
Dylan Ferrandis 24pts. Kaw
Valentin Teillet 23pts. Kaw
Mel Pocock 22pts.Yam
Glenn Coldenhoff 21pts. KTM
Alessandro Lupino 16pts. Husq
Alexander Tonkov 15pts. Hon
Harri Kullas 15pts. Suz
Nikolaj Larsen 9pts. Suz
Can-Am GNCC Championship
Big Buck - Union, SC

XC1 Overall
1. Kailub Russell KTM
2. Paul Whibley Yam
3. Charlie Mullins KTM
4. Thad DuVall Hon
5. Rory Mead KTM
6. Garrett Edmisten Kaw
7. Cory Buttrick KTM
8. Jimmy Jarrett Hon
9. Jordan Ashburn Yam
10. Nathan Kanney Hon
11. Steven Squire KTM
12. Chris Batch BET
13. Toby Price KTM
XC2 Overall
1. Steward Baylor Jr. KTM
2. Andrew Delong HSQ
3.
Jason Thomas
HSQ
4. Brad Bakken Yam
5. Jesse Robinson HSB
6. Jedediah Haines Yam
7. Cody Gragg Yam
8. AJ Stewart Yam
9. Scott Grills Hon
10. Michael McGinnis KTM
11. Jase Lewis KTM
12. Zach Nolan KTM
13. Larry Silvia KTM
14. Lucas Statom Yam
15. Ryan Lojak Yam
16. Dustin Gibson KTM
17. Nick Davis KTM
18. Brad Riley Hon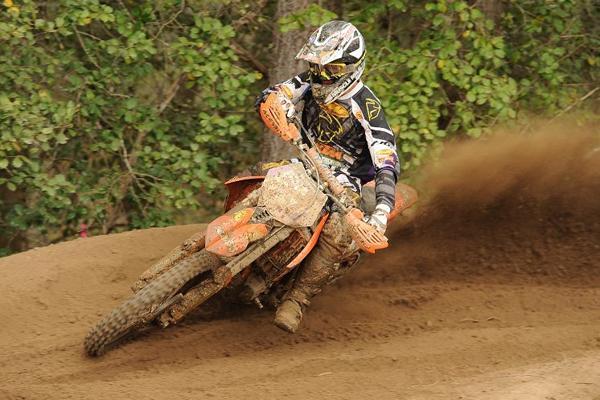 Kailub Russell sits just two points back of Paul Whibley in the XC1 class.
Photo: GNCCRacing.com

XC1 Points Standings
Paul Whibley 101pts YAM
Kailub Russell 99pts KTM
Charlie Mullins 86pts KTM
Thad Duvall 70pts HON
Cory Buttrick 64pts KTM
Rory Mead 60pts KTM
Garrett Edmisten 54pts. Kaw
Chris Bach 48pts BET
Nathan Kanney 44pts Hon
Jordan Ashburn 40pts. Yam
XC2 Points Standings
Steward Baylor 120pts KTM
Jesse Robinson 84pts HUSA
Jason Thomas
79pts HUSQ
Jedediah Haines 64pts YAM
Brad Bakken 64pts YAM
Glenn Kearney 42pts. HSQ
AJ Stewart 41pts. Yam
Cody Gragg 40pts. Yam
Andrew Delong 38pts. HSQ
Scott Grills 35pts. Hon

Monster Energy MX Nationals Austrailan Nationals
Round 2 - Coonabarabran, Australia

Pro Open MX1 Overall
1. Josh Coppins Yam
2. Tye Simmonds Hon
3.
Jake Moss
Hon
4. Jay Marmont Kaw
5. Brad Anderson Hon
6. Cody Cooper Suz
7. Lawson Bopping Yam
8. Daniel McCoy Suz
9.
Dan Reardon
KTM
10. Todd Waters Suz
11. Darryll King Yam
12. Craig Anderson Yam
13. Aden de Jager Yam
14. Dylan Petersen Kaw
15. Dean Porter Suz
16. Calle Aspegren Hon
17. Beau Ralston Yam
18. Billy Mackenzie Kaw
19. Kyle McKedie Kaw
20. Tim Vare Hon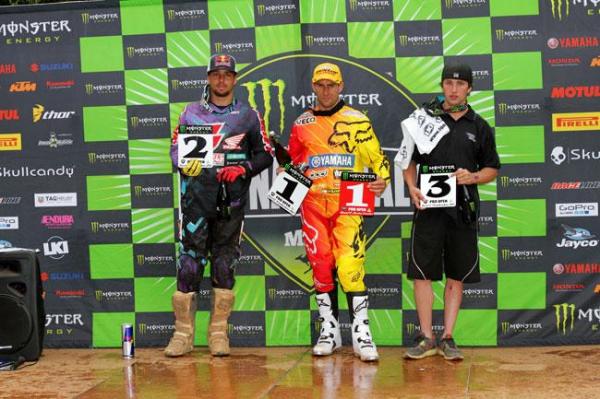 The Pro Open MX1 podium.Simon Makker/Makkreative.com photo

Pro Lites MX2 Overall
1. Luke Styke Yam
2. Kirk Gibbs Yam
3. Kade Mosig Kaw
4. Cheyne Boyd Hon
5. Ford Dale Hon
6. Scott Columb Suz
7. Errol Willis Suz
8. Justin McDonald Hon
9. Ryan Marmont KTM
10. Josh Cachia KTM
11. Adam Monea Suz
12. Lewis Woods Suz
13. Luke Arbon Yam
14. Nick Murray Suz
15. Geran Stapleton Hon
16. Brock Winston KTM
17. Richard Egerton Yam
18. Matthew Phillips Yam
19. Corey Lucas Hon
20. Kody Wheeler
Pro Open MX1 Points Standings

Josh Coppins 125pts. Yam
Jake Moss 101pts. Hon
Jay Marmont 95pts. Kaw

Brad Anderson 94pts. Hon

Tye Simmonds 94pts. Hon
Lawson Bopping 89pts. Yam
Todd Waters 89pts. Suz
Cody Cooper 87pts. Suz
Pro Lites MX2 Points Standings
Luke Styke 132pts. Yam
Kirk Gibbs 119pts. Yam
Ford Dale 110pts. Hon
Kade Mosig 97pts. Kaw
Josh Cahcia 92pts. KTM
Justin McDonald 88pts. Hon
Cheyne Boyd 87pts. Hon
Adam Monea 80pts. Suz
Errol Willis 76pts. Suz
Ryan Marmont 67pts. KTM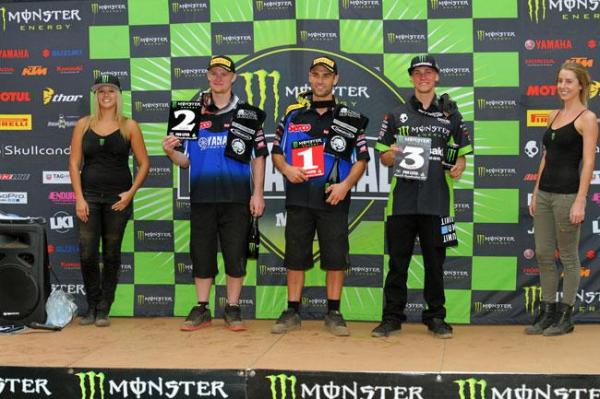 The Pro Lites MX2 podium.Simon Makker/Makkreative.com photo
Grand Prix of France MX3
Castelnau de Levis - Tarn, France
MX3 Overall
1. Cedric Soubeyras Hon
2. Gregory Aranda Yam
3. Jonathan Barragan Hon
4. Miko Potisek Hon
5. Rui Goncalves Hon
6. Martin Michek
7. Gunter Schmidinger Hon
8. Antti Pyrhonen Hon
9. Matthias Walkner KTM
10. Michael Staufer KTM
WMX Overall
1. Livia Lancelot Kaw
2. Chiara Fontanesi Yam
3. Britt van der Wekken Hon
4. Natalie Kane KTM
5. Justin Charroux yam
2012 World Mini Grand Prix
Mesquite, NV
250 Stk. Pro
1. Dillan Epstein Kaw
2. Austin Burns Kaw
3. Mat Inda Kaw
250 Mod Pro
1. Dillan Epstein Kaw
2. Blake Savage Kaw
3. Jeremy Matin Yam
450 Stk. Pro
1. Jeremy Martin Yam
2. Dillan Epstein Kaw
3. Blake Savage Kaw
450 Mod Pro
1. Dillan Epstein Kaw
2. Jeremy Martin Yam
3. Austin Burns Kaw
250 Stk. Inter
1. Matt Bisceglia Hon
2. Brandan Leith Kaw
3. Brady Kiesel KTM
250 Mod Inter
1. Matt Bisceglia Hon
2. Jayme Gardiner III Kaw
3. Brandan Leith Kaw
450 Stk. Inter
1. Hayden Mellross Hon
2. Tyler Enticknap Hon
3. Jayme Gardiner III Kaw
450 Mod Inter
1. Matt Bisceglia Hon
2. Alyas Wardius Kaw
3. Tyler Enticknap Hon
Supermini Thru 13
1. Rookie White Suz
2. Derek Kelly Suz
3. Luke Purther KTM
Supermini Thru 16
1. Justin Hoeft Yam
2. Andrew Pierce Hon
3. Derek Kelly
For full results click HERE
Dade City Motocross
Dade City, FL


Vortex Lites Overall
1. RJ Hampshire
2. Austin Diperna
3. Justin Gant
Maxxis British Motocross Championship

MX1 Points Standings

Kevin Strijbos 131pts. KTM
Mattis Karro 115pts. KTM
Shaun Simpson 113pts. Yam
Gert Krestinov 92pts. Hon
Martin Barr 87pts. Kaw
Marc De Reuver 70pts. Kaw
Dorren Coutts 70pts. Hon
Jason Dougan 64pts. Hon
MX2 Points Standings
Mel Pocock 118pts. Yam
Neville Bradshaw 108pts. Hon
Elliot Banks-Brown 104pts. KTM
Nicolas Aubin 83pts. Hon
Steven Lenoir 81pts. Yam
Bryan Mackenzie 76pts. KTM
Jordan Booker 71pts. Hon
Zach Osborne 69pts. Yam
Stuart Edmonds 63pts. Suz
Graeme Irwin 51pts. Yam
Share this article:
Did you like this article?
Check out MONSTERBALL
in our Latest issue of Racer X available now.

Playing soccer on 250cc motorcycles might sound like a strange form of riding, but in Russia they do it with great passion—and for very little reward. Page 112.
Look for the verified symbol
The Conversation