Reliant Stadium
Houston

,

TX
Houston
Monster Energy AMA Supercross Championship
When GEICO Honda's Justin Bogle entered the pro ranks at the tail end of the 2011 season, scouts heralded him not just for his speed, but for his intelligence, maturity and fun nature off of the track. So far in his rookie supercross season, the Oklahoma native has indeed shown speed, but on the mental end, he's been involved in a few too many controversial incidents. After Malcolm Stewart took him out in Dallas, he slapped Malcolm's helmet. A stall and a crash in Toronto left him yelling and guesturing at other riders both times. And in Houston, he crashed in practice and walked back to the pits without his bike, even though he and his bike were okay.
What's Justin Bogle really like? We talked to him to find out in this week's Between the Motos.
Racer X: Justin, the season was starting well. You had a podium, and pretty much had another except for a crash with a few turns to go. But that seemed to set a pattern—the last few weeks have not been so good.
The last few weeks have not been good, at all. I've been good in practice, my times have been good. But I've been making some bonehead moves in the races, and ended up on the ground quite a bit lately. I don't know.
Is this a rookie thing? Do we chalk it up to that?
[Laughs] I mean, you can call it a rookie thing, if you want. I'm kind of sick of that, to be honest! I'm sick of hearing the rookie thing, I'd rather just get over it and just start doing better. I guess it takes baby steps.
Take me through what happens when it goes wrong. For example, that crazy, gnarly crash with Angelo Pelligrini on the finish line jump last week. What happened there from your perspective?
Obviously, I put myself in a bad position being in the back of the pack. I was trying to make up as many positions as possible, and crazy stuff happens when you're back there. I obviously should have hung out and waited another corner before I tried to make the pass, but I was going for it, and ended up on the ground. I was so mad, emotions were going crazy. I'm just so over ending up on the ground and having stuff not go my way, I was just kind of letting the frustration out.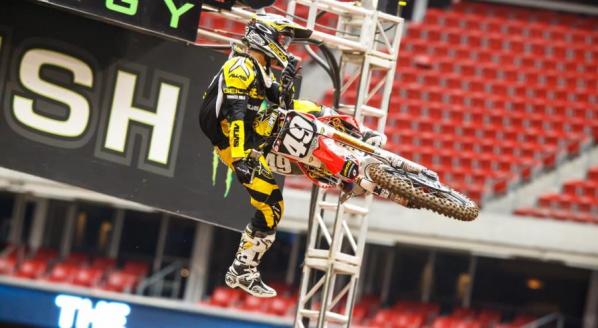 We gotta' throw in some fresh leg swag here.
Cudby photo
We had that in Toronto, we of course had the Malcolm Stewart incident in Dallas. Then we had a crash today where you walked off from your bike. What is going on?
I don't know! I wish I knew because then I could fix it. I don't feel like I'm out of control. I had a pretty good crash in practice today, and I didn't have the best times in practice, but then I won my heat race, so I was thinking, Great, things are going my way now. Then I went into the first corner and got into that sweet first-turn pileup. Not where I want to be, but that's where I have been.
But explain your reactions when this stuff happens. In Toronto, people were asking, "Why is he yelling at Pelligrini? It was his own fault for passing on the outside!" And also last week you stalled, got run into, and got mad. So here is what people want to know—are you just a punk?
[Laughs] I would like to not be thought of as a punk! I stalled in Toronto like you said, and I got hit a couple of times from, well he was behind me so I don't know who it was. But I was kind of wondering why he hit me a couple times and didn't just go around. But, like you said, it was my fault for being in that situation. I was just trying to get going and couldn't. But the thing over the finish line, that was just me being so frustrated, that I just didn't know what to do. Like I said, I'm tired of hitting the ground, I'm tired of not getting the results that I think that I can, it's really been a little bit difficult to deal with. But it's getting better.
But that's just the emotions coming out. That's not the real you, angry all the time?
It's like I said on Twitter the other day, I'm just not going to be a robot. I'm angry, obviously, about not getting good finishes, hitting the ground, and not doing what I think I can do. I've been letting that get the best of me. I'm working on it. But the bad thing is, I'm normally a happy guy!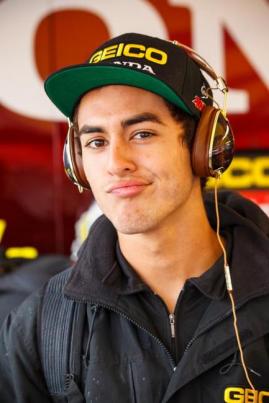 Not angry!
Cudby photo
Well that's the point I'm trying to get at here. When we see you at the track, you don't walk around all angry or trying to fight people!
No! Like you said, I show up to the track happy. I'm a happy guy most of the time! I've had one good race and the rest of the results have not been so good. I know that the team I'm on is one of the best, and they expect results, and I expect results. At least getting into the top five would be nice.
You have experienced guys on your team around you, and you work with Robbie Reynard who has been around a long time. Do they tell you to not get so down on yourself?
I live at Robbie's place, so we talk about a lot of stuff. Obviously, I need to keep my cool. We're working on it.
So you're not rolling into the pits looking for fights?
Not rolling into the pits looking for fights! I really think I'm one of the happier guys around. I'm just getting frustrated at the races. I don't know, I'm going to have to deal with things better.