Author: Alex Gobert/ MotoOnline.com.au
As a former world champion and AMA outdoor winner, Australia knew that Ben Townley's arrival in the Monster Energy MX Nationals would be huge for the sport on a domestic level.
Recently signed to Chad Reed's TwoTwo Motorsports team in the U.S. for the upcoming AMA outdoors, Townley's appearance at the Conondale round of the Australian championship may just be the lone time we see him in the series this year.
Townley was spectacular at the opener on Sunday, lapping around three seconds a lap faster than his closest rivals at times and really asserting himself as the class of the field.
MotoOnline.com.au caught up with the Kiwi to speak about the round, his thoughts on the MX Nationals and also to find out who he thinks can step up and battle for the MX1 crown after he departs.
Racer X:You're not racing the whole season, but you're here for round one. How did it feel out there putting on such a dominant performance?
Ben Townley: It felt great. It's always good to win; I've been doing a lot of winning in New Zealand and without sounding like a broken record, I feel that my form is as good as it has ever been.
Coming here today was a step up from what I have been doing in NZ. If we go back a few months, I raced the Monster Energy Cup in Las Vegas, which was a really big turning point in my career.
I have been working with some people in NZ on my physical and mental preparation, so the Monster Energy Cup was really to see where I was at and if I really wanted to pursue my dreams.
So I got all this done and started working toward racing here in Oz. Obviously things didn't really turn out the way I expected them to, so I committed to racing here and we worked super-hard in the off-season with Yarrive [Konsky] and all the guys.
It's all changed at Carlton Dry Honda Thor Racing and I feel I've brought a lot to them, we've changed some brands and I think it showed the proof is in the pudding really.
It's been a great off-season and I fell like coming here today was the next step up, it's perfect the way it has worked out.
With the situation I now have for my career, it's basically put it fast-forward 12 months and I feel like the way I've gone about it, I couldn't be in a better position going over to America now.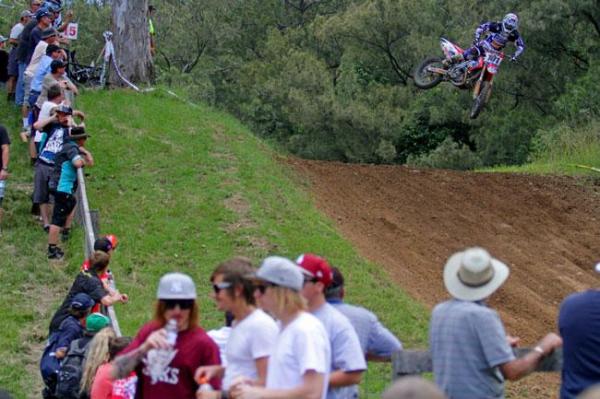 Fans were treated to something special at Conondale, seeing BT at his best on Aussie soil.
Photo: Simon Makker
You led every lap in all three motos today and it seemed like you were charging the whole time. Were you thinking about what you will have to contend with come the first AMA round at Hangtown? Was that in the back of your mind the whole time?
Yeah, we'd had a team meeting and they asked me if I was going to push hard and I said yes, because for my career going forward if I want to be back in America, there's no point me just doing what I have to do to win – I've got to push myself and that's what I tried to do today.
In saying that, it might have looked like I was trying hard, but today was as physically demanding as any GP or national I've ever done. It was absolutely physically demanding and I believe that they need to have a look at the length of the back-to-back formats. It's just far too long in my opinion.
When you've got a 30-minute moto at the end of the day following two back-to-back motos to start with, that's tough. They ended up shortening it.
I complained, I mean I have to be doing long motos, but I also have to be sensible. We did 45 minutes riding time in the first two motos if you add them together, that's a horrendous amount of riding time.
Will we see you at round two, which is the rumour going around? Can you confirm anything right now?
As of right now I can say it's 50/50 right now, it all depends on paperwork for America. I think it's a common understanding that the sooner I can get over there and start testing, the better.
Doing things like this if I can't be over there is great, so I'll just have to wait and see. I'll make some announcements, probably early next week and let everyone know. I had a visa and all my paperwork for America, but it has just expired.
Doing this is by all means awesome preparation, so if I'm here and at Coonabarabran it's a good thing, or if I'm over in America testing it's a good thing, either way.
I know that when you came to Australia to watch Cody Cooper race a couple of years ago you were impressed with Australian motocross and it's obviously grown since then. What were your thoughts on the actual series, apart from the motos?
I've started to speak quite open and honestly lately in my career and I think from the outset coming here, I believe that the teams and industry put a lot of money and resources into what they are doing.
To be honest I was a little bit disappointed with the track. I thought it would be better, just from the banners and preparation – I was disappointed. The track was great with the layout, but I thought it was too fast.
On a 450 you can go way too fast on a track like that. But I think that the whole team side of things that they do a great job, I'd just like to see the tracks come up to that same level.
Finally, now that you're not going to be here for the whole season, who's your pick for the MX1 championship?
It'd be hard to go past Josh [Coppins]. I always say Cody, but something… he's my practice partner and we ride all the time together. Last week at one track he was taking time off me and other tracks we went to he was not that far off me at all.
But yeah, something seems to happen when he gets on the big bird and heads over here. So it'd be hard to go past Josh and Jay [Marmont] also, after today depending on what physical state Jay is in.
My Carlton Dry Honda Thor Racing teammate Brad Anderson was also strong today in the first two motos finishing second, so no doubt he has what it takes to challenge for this championship and the team's ready for it.
The big thing after coming here and racing today, it's honestly physically demanding and you can't go past the Lizard [Coppins], man – he's an old salty dog and he'll be there until the end of those motos.
Okay, well thank you and congratulations mate. It's been awesome watching a world-class guy get it done.
Cheers, thank you.