Reliant Stadium
Houston

,

TX
Houston
Monster Energy AMA Supercross Championship
It was not a great night for the GEICO Honda team.
Lites kids Justin Barcia and Justin Bogle showed that they are still, indeed, kids, with emotional outbursts that will tarnish their rep for awhile. For starters, Barcia did it with his post-race meltdown after losing the Lites race in, "he had it so close to wrapped up, everyone had already tweeted that he had the race won" fashion.
I'm in no way condoning Barcia's actions or saying there's any excuse whatsoever for what he did. He was way out of, and way over, the line. But I did write a 250 Words column on the incident yesterday, not to say I agree with his actions, but to explain the reasons WHY I think he did it. And for him, it just boils down to how badly he wants to win, and how mad he was that he lost. That lit the fuse that led to everything else.
After the race, Barcia pounded on his handlebars while riding up to the podium. I was happy to see that—we've all complained that today's riders are too robotic and don't show enough fire and emotion. I was glad to see the loss made Barcia mad, however, I had no idea what was coming next. After pounding on his bars, Barcia turned around, rode over to the downed Vincent, yelled at him, and treated him and Dr. Bodnar to a face full of roost.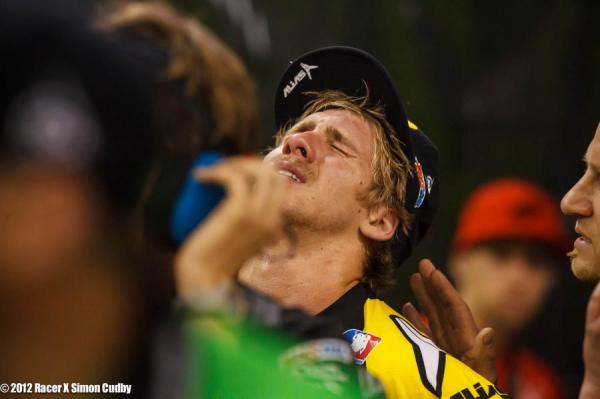 Justin Barcia after a tough loss in Houston.
Simon Cudby photo
As for Bogle, he had another strange reaction in Houston practice. Bogle started the season with his slap of Malcolm Stewart in Dallas. In Toronto, he stalled his bike in a heat race, and when another rider ran into the back of him, he lost his cool and raised his hand at the rider—even though Bogle caused the incident by stalling. A few laps later, he tried a crazy pass on Angelo Pelligrini on the outside of the finish line jump, and crashed. He yelled at Pelligrini, even though, again, Bogle was just as much to blame for trying to pass on the outside.
In Houston's practice, Bogle crashed on the on-off jump in the rhythm section. He then got up, walked back to the pits, and left his bike on the side of the track. The bike was not broken, and Bogle was not hurt. He was just frustrated. But in racing, you don't leave a perfectly good machine behind if you or the bike are not broken. You just don't.
Bogle is a really nice guy. He's not some spoiled punk/brat trash talker. So why is he reacting so unprofessionally the last few weeks? The genesis is that he just wants to win races, or at least get some better results, and he's mad that it's not happening. Barcia was mad he didn't win. These guys will have to learn how to deal with such frustrations better, because they'll go through them time and time again.
For example, the SX Class presented some heart break for the rider who has been at this game the longest: Kevin Windham. You could tell K-Dub was inspired for this race. He rode to his limits in practice, scoring the fastest lap times in both sessions. And in his heat race battle with James Stewart, you could tell he wanted the W badly. As the wise veteran of the tour, Windham could have accepted a close second and regrouped for the main event. But he wanted the victory, and wanted to put one back on Stewart. So he pushed hard through one last section to try to re-pass Stewart, and….went down hard. Now Windham is out for the rest of the season, which is the one piece of news no one wanted to hear. Everyone likes K-Dub!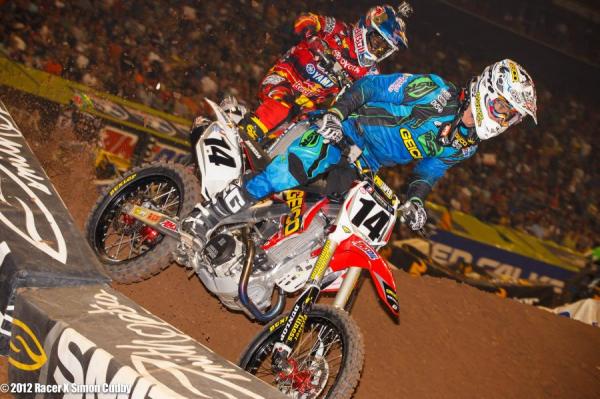 Houston was a low point for Kevin Windham, after a crash in his heat race cost him the rest of the season.
Simon Cudby photo
Windham's result was worse than his young teammates, because he doesn't even get to come back and try to win at the next race. But he's been through such heartbreak before, and he'll be back to try again somewhere down the road.
So, yeah, big bummer of a night over in GEICO Honda land. But they're just joining the ranks of just about every team this year—save one. With injuries and disappointments to the riders comes equal disappointment to the teams. Poor TwoTwo guys losing Reedy. Poor Honda guys losing Canard. Poor KTM folks losing Dungey. To say that the JGR/James Stewart experiment has not gone to plan would be an understatement. Heck, even the mighty Pro Circuit squad hasn't had the results they expected.
All of this disappointment goes back to the same thing. Going to the races is fun, racing is fun, dirt bikes are fun. But even when a rider says he's just at the races to have fun, he's lying. He's at the races to win races, and he's only saying he wants to have fun because having fun helps him relax, and staying relaxed helps him win, which is the real goal.
Why did Windham crash? He wanted to win that heat race. Why did Chad Reed crash in Dallas? He wanted to win. And James Stewart? You don't get the rep of crash-or-win for any other reason.
It brings me back to my ReduX column from weeks ago, where I wrote: Racing is absolutely the cruelest game of all. It's a test that's so fair, it actually becomes unfair at times.
And so, we often see two things happen: Someone wins and is happy, and someone doesn't win, and is much less happy. Maybe they shouldn't get as mad as Barcia or Bogle, and hopefully they don't end up beaten and battered like Windham, but they're not going to be happy, regardless until they finish in a spot up to their potential.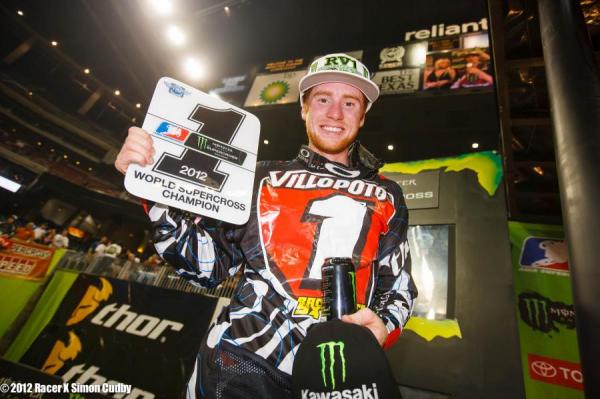 Ryan Villopoto celebrates his second straight SX title.
Simon Cudby photo
Meanwhile the Monster Energy Kawasaki team is happy because their man Villopoto took the title in record time. But they're not only happy about winning the SX title early, they're also happy because they get a jump on prep for Lucas Oil Pro Motocross Championship, which means they will improve their odds of winning more races.
They've been on the other side. Just two years ago at this time, Villopoto was getting carted off the track in St. Louis with a broken leg. The injury hurt, but Villopoto probably felt even worse knowing that as he was getting loaded into an ambulance, Dungey was staking his claim to the SX title. Then, a week later, the tour visited Villopoto's home race in Seattle, but Villopoto was out hurt, and Dungey officially wrapped the number-one plate. That hurts!
The ups and downs of sports can really take a toll on those involved in it—let alone the fans. Luckily, the experienced types know what racing really is, a series of ups and downs. You can't get too high off the highs or too low from the lows, because you're going to have to deal with both.
As for Villopoto, once again the Monster Energy SX Champion, he gets to celebrate the ultimate high point. But he knows all to well the lows that came along the road to such success. That's racing for you. Right now, a couple of the younger riders on the circuit are figuring that out, and they won't be the only ones.