Reliant Stadium
Houston

,

TX
Houston
Monster Energy AMA Supercross Championship
Interviews by Jason Weigandt and Jordan Roberts
Kyle Cunningham Rockstar Energy Star-Valli Yamaha, 9th in Lites Class
Racer X: You were showing some speed at times, but it doesn't look like it turned out quite like you wanted.
Kyle Cunningham: Yeah, we did a lot of bike changes today. I had about 40 minutes of riding last week. I didn't even really plan on racing until Monday, and then we had press day. So we had to hop on a plane Tuesday night. You know, obviously I want to do better than ninth. We rode good tonight, but got in that first-turn pileup again. That's been what's killing me. I mean obviously, I had the injury at Dallas and I have been riding with a fractured wrist, which I found out like two weeks ago. Then I ended up hitting my head [in Indy]. So it's been a lot of downs, but tonight we rode a solid 15 laps after I got up and we made our way back up to the front. I know I have the speed, we just have to get out of the gate and put it up there and hopefully we have that happen in New Orleans.
Was that wrist injury from that crash like in the first start straight in Dallas? Is that when that all happened?
Yeah, I got together with Blake and my front brake lever went right into his back. Sent me packing. I went through three weeks of therapy. Didn't really get any x-rays or MRIs. I thought it was fine, just sprained it. Then I ended up finding out two weeks after that, five weeks in, that it was fractured. It's a bit of a bummer to start that way, whenever you're preparing for four months and you stay healthy. On the bright side, we're still here, we're still racing. The team tonight, the Star/Valli Yamaha team, they had one of the best nights. Bob [Kiniry] rode awesome and Nico [Izzi] put in a great race and [Kyle] Peter's got his feet wet and ran up front a little bit. Like I said, we're just looking forward to New Orleans. I'll probably take a week off after this and let my wrist heal up a little more and see what we can do there. We've got two supercrosses left and I like Vegas every year. So I'm looking forward to that and getting back into the outdoors, where we really showed some speed last year.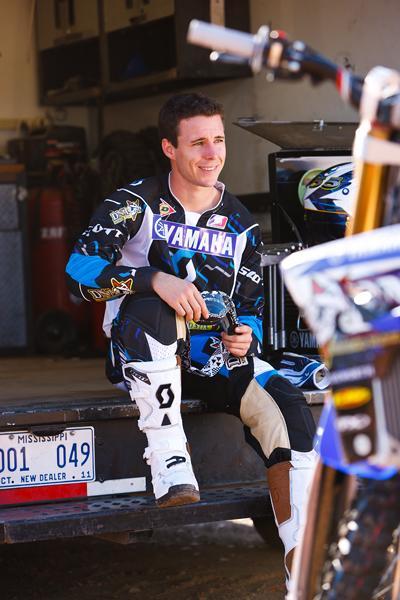 "We rode good tonight, but got in that first-turn pileup again. That's been what's killing me." - Kyle Cunningham
Simon Cudby photo
Justin Bogle, GECIO Honda, 8th in the SX Lites class
Racer X: What happened in the first turn of the main event? There were quite a few guys down with you.
Yeah, me and some guy got together and he got his handlebar stuck in my jersey and it kind of whiskey throttled it. I was kind of one-handed down the start straight and got hung up in that. I came back to eighth. It is what it is. I'm kind of tired of that stuff though.
What was it like trying to snake through everybody?
It's always hectic trying to get through the guys in the back of the pack. It's kind of sketchy, but it's kind of my fault. I put myself there. I got a good start in my heat race and got a heat race win, so I'm trying to get it turned around—baby steps. So hopefully we take another step in New Orleans and get a podium
Alex Martin, Eleven10 Mods, 6th in SX Lites class
Racer X: Ok, let's start off with your heat race. You were out front right away. Can you take us through that?
Yeah, actually we had the first start of the heat race and they red flagged it. I was bummed because I was right behind Barcia in second. But then we started back up again and it was an identical start. I was in second there for a little while. I felt like I should've finished second. I had a pretty steady hold on it, but I kind of had a brain fart on the last lap through the rhythm section and messed up. Roczen was able to get around me there. But I definitely felt like it was a confidence booster in the heat race. I'm just happy not to go to that dreaded LCQ.
Did you like this track? It was definitely a fast track.
Yeah, I don't think we've had a track quite like this yet on the East coast. It had really similar dirt to St. Louis a couple weeks ago. I really liked the layout. It was fast, like you said. There wasn't really much for passing, but it had good flow to it if you're riding by yourself. The whoops just really got blown apart tonight. It was fun though.
How did the main event go for you?
I was really hoping to get a better start after how good I did in the heat race with a good start there. I don't know if I had a slow reaction time or what. I'll have to check it out this week to see what I did wrong on the start. I think I came out around sixth or seventh, and then passed Kyle Peters. Then me and Phil Nicoletti basically just duked it out the whole race. We were probably two, three seconds apart. We've been out in Pennsylvania together practicing, and it was kind of like being out at the practice track during the week. I was hoping all that Ben and Jerry's he's been eating would slow him down on lap thirteen or something, but he was holding strong. Phil rode a great race and we we're both riding strong. It's pretty cool to see two guys out of a box truck placing top six, so I'm pretty happy with that.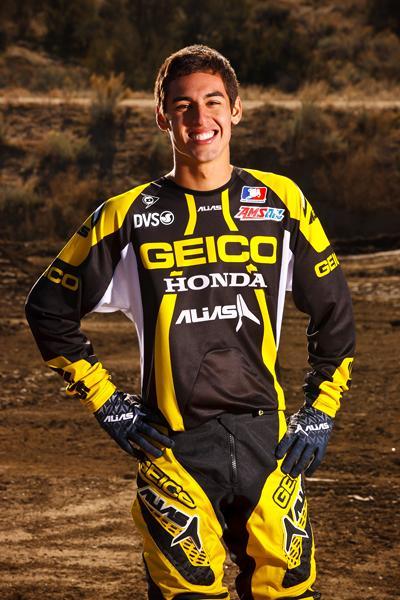 "Yeah, me and some guy got together and he got his handlebar stuck in my jersey and it kind of whiskey throttled it." - Justin Bogle
Simon Cudby photo
Mike Alessi, Team MotoConcepts, 4th in the Supercross class
Racer X: You got fourth in the main tonight—pretty good result. How do you feel about it?
Yeah, it was good. I definitely had to work hard tonight coming from the LCQ. I had a heat race crash coming together with Wil Hahn. The bike was pretty beat up. We had to get it back for the LCQ, and luckily I holeshot the LCQ and won. In the main event, I got a good start in third place and was there for a little bit. Weimer was going pretty good and got by. I was just trying to pace with him and got fourth. It was another good result for me and the whole MotoConcepts team, and JT, FMF, Dunlop, We All Ride. Everybody is working real hard and it's showing. It's paying off. We're inching up there in the points and clicking off a couple good rides this season.
You were one step away from the podium. Is that something you really want to push for?
I do, man. It seems like I'm right there. It's coming; it's definitely coming. The whole team is working hard—my mechanic Chris and everyone at MotoConepts.
Nico Izzi, Star Valli Yamaha, 8th in the Supercross class
It was good. I got a tenth in Indy a couple weeks ago and I've been trying to take a step forward. I know I can do good. My speed has been there in qualifying practice. I've been close to top five.
I'm still getting used to the twenty laps. It's a big bike and that thing wears me out. Twelve, thirteen laps in I start to get wore out. I'm just trying to stay smart, stay healthy, stay off the ground, and keep plugging away. I did that here tonight and got an eighth, so I can't complain about that in the 450 class.
Racer X: Are you trying to do anything different during the week to get used to the twenty laps?
Yeah, I mean, I'm doing twenty lap motos. I can do them pretty well in practice, but racing is always different when you've got twenty dudes around you. The intensity is way higher. All I can really do to fix that is keep racing and gaining that race intensity. That's the only way you're going to get it.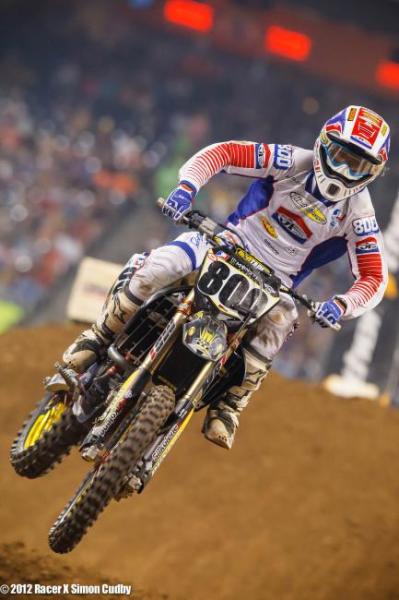 "Yeah, it was good. I definitely had to work hard tonight coming from the LCQ." - Mike Alessi
Simon Cudby photo
Bobby Kiniry, Star Valli Yamaha, 6th in the Supercross class
Racer X: Let's see, how should we start this off… Bobby Kiniry, sixth place!
Yeah, I'm just excited! We've been building during the week. We've been fourteenth for a while and got ninth last week. I got a lot of confidence out of that. I've been riding a lot of outdoors lately and that's also helped my confidence coming into the weekend. I feel all of my hard work is paying off and it's showing. I'm putting in the homework and I'm getting the results. I've got a good team—the Rockstar Yamaha behind me—and I'm just excited for this opportunity to keep putting it up there for them.
Do you think you can keep this rolling into next round?
Yeah, definitely. I feel like I can even do better than that. I've been in front of a lot of these guys before and I feel like I belong in front of them again. I've been putting in more work than anyone; I'm convinced of that.
And you said you switched it up to outdoor training recently?
Yeah, I've been switching gears looks toward outdoor. I really enjoy outdoors and it comes natural to me. It puts a lot of time on your bike, and being that I'm on a newer bike… It's a good way for me to put hours and hours in on my bike and not have the risk of endoing on a supercross track or something. It's been good, and the confidence I have in outdoors is starting to carry over into supercross.