Rogers Centre
Toronto

,

Canada
Toronto
Monster Energy AMA Supercross Championship
Hello, everyone, and welcome to the Rev Up. Six rounds remain in the 2012 Monster Energy AMA supercross season and we're faced with an air of discontent. A lot of the boys have been taken out this year, and it's melancholy in a couple ways. First and foremost, the weight pressed on the riders and their families in wake of pain and injury. There is nothing worse.
Equally potent is the sting we feel in our progress. We've seen record fan attendance, unprecedented live coverage, and a global level of motor sports synergy. A vast window of opportunity was ripe to capture, but the cruelest aspect of our sport decided to prevail. We crash and we get hurt. But, the only way to keep moving to the top is to always look ahead. Just like going fast on a dirtbike. Keep that head up and aim your charge at the exit of the corner, not the rut in front of your fender. Think forward and move forward. That's what we're going to do this Saturday night. We've got a couple gates to drop.
The theme is clearly crashes and injuries, so I want to expound and offer my perspective.
As a young racer, I can account that there were riders that crashed more than others. When I reached the national level it was Robbie Reynard, Kevin Windham, and then guys like Robbie Skaggs, and Clint Latham that were the heat in my region. Each of those guys could win on any given Sunday, but for some reason Latham always seemed to have those scary crashes. The kind that were on parts of the track that you thought to yourself, "No matter what, I'm not crashing here." I used to come around to those sections about five seconds behind the aforementioned and see #179 laying in a yardsale. Flaggers, parents, and medics all around. No matter how sharp your focus, you cannot block out the haunting thought of, "I can't believe what it would have been like to crash there." There were also guys like Jason Sybert from Florida that had "that speed" but after a few years, if he holeshot, you could pretty much bank that he would go down. He had no fear.
I remember trying to tie a connection to a pattern, but the common thread was simply that it was all around.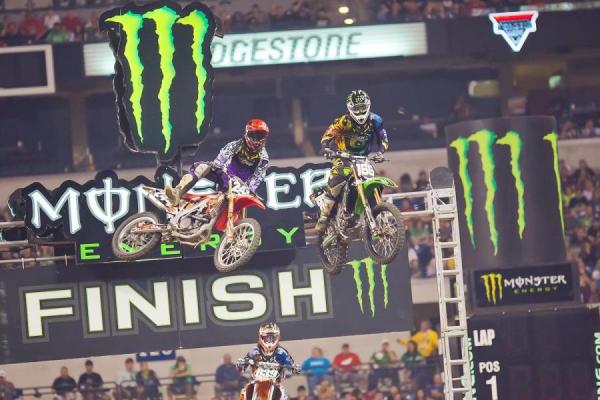 Ryan Zimmer and Dakota Tedder letting it all hang out in Indy.
Fredrickson photo
Ahead of us, guys like Jimmy Button, Buddy Antunez, Brian Swink, Chad Pederson and Jeff Emig ruled the world. That said, every year come Ponca City, one of them would be hurt in some regard. One year Swink broke his femur and it sent ripples through the BMX filled hangout spots by the game room. Then there was Jeff Dement and Ezra Lusk. Those two were so fast that they would post the fastest lap times of the weekend on their 80cc machines. But then they would suffer awful crashes. Time and again. Concussions, broken necks, and femurs. They were fearless. I grew up watching pretty much all of my heroes get hurt in ways that truly affected my prowess. I was fast enough to beat everybody except the guys that took to that level. In a lot of ways, I regret it every day. I didn't want to get hurt and I was afraid. I was one of those guys that squeaked out a few amateur titles, but it was when I was at the top of my age bracket and I never really had the right stuff. I had a lot of fear.
I also never knew what it was like to break my femur, or snap my wrist at 14 years of age. In fact, the first broken bone I had was a collarbone when I was 14. I was more terrified of the thought of getting hurt than the result the actual injury produced. Clavicles are bad, but not that bad. The worst part was being at the hospital and the way they treated me when I came in wearing my motocross gear. That was the first time I heard the word "murder cycle." I couldn't believe the way the doctors treated me because I was a motocross racer.
The tales of pain go on and on. One of my best friends, John Fox, told me a story about his Pops, Geoff, who was out racing the early forms of the Vet Nationals in Utah. The father of four was out on his own just racing for fun and glory. John told me about the time he was 16 years old and saw his Dad stumble in through the front door of the house with a broken clavicle, foot, and ribs. Geoff drove to the race solo, and drove home hurt, and solo. The patriarch of the Fox Empire had carted huge and had to load up his shit and drive eight hours home to his family. Alone. Transversely, one of the reasons I'm close with John is our affinity for self-preservation, and our marvel at those devoid of fear.
The marvel of watching those devoid of fear is why our boys are racing in front of packed houses in 2012. I've exasperated the notion that this is the last true sport of gladiators. Why did 1980's motocross t-shirts have girls in bikinis on them? The old MSR slogan said, "She tells me if I go riding one more time she's going to leave me. I'm going to miss her." Perhaps masked in that cheesiness is the fact that that line is as pure as they come. Because the passion we have for motocross is as such. There is no room for weakness in our trade. You put your balls on the gas tank and let it fly. What level you take that notion defines your career on a dirtbike. Some take it further than others, some are luckier, but what remains is the fire. That spark which ignites inside your heart the first time you held your Y-Zinger wide open. From that point it is, "Do you have enough talent, will you catch enough luck, and will you be scared?"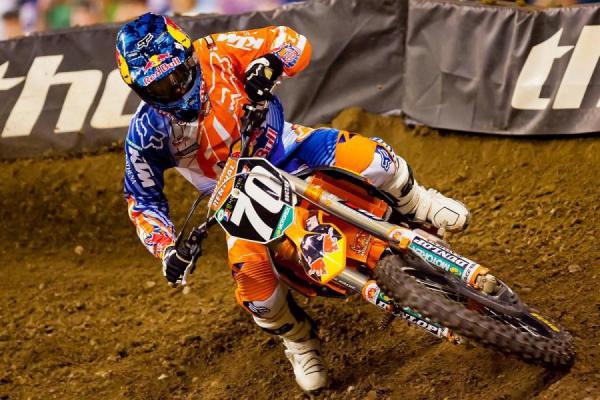 Every fast rider knows the consequences of going fast. But he chooses to ignore them.
Fredrickson photo
Ain't a damn rider on the gate this Saturday night that isn't afraid. But, at the professional level there is no room for fear. They carry it, and drop the damn hammer. They've seen them come, watched them go, and they are ready for the show. This is American Supercross, ladies and gentlemen. Every rider letting the clutch out on Saturday night has a little fear. Just like we all do. But they're going to put their boots on and push their bikes to the line. It's that special fire that makes them special. It makes them gladiators. Nothing more, nothing less. I remember the time in my career when I conquered my fear. Shortly after came the worst feeling I've ever felt as I was being wheeled off of an international flight with my jaw wired shut and my leg broken. My Mom was the first person I saw. She didn't cry. She said, "It's OK, son. I'm proud that you went for it."
Thanks for reading, see you next week.