Hailing from quite possibly the nation's biggest hotbed of motocross, Corona, California; it was only fitting that Jake Canada would grow up to become a pro motocross rider.  After capturing attention as a privateer last year racing the outdoors on a 450, the 21- year-old was soon selected as a fill-in at the MotoConcepts Team.  Later team owner Mike Genova would extend that contract into the 2012 season where Canada has been a regular top ten guy; recently breaking into the top five this past weekend at the Indianapolis Supercross – where we caught up with him.
Racer X: Jake, you turned pro back in 2010, and I've noticed your results since then, but it seems this year that you've turned it up a notch.
Jake Canada: Yeah, 2012 has been totally different for me. The first couple of seasons I didn't have a trainer, didn't have very good bikes, or anything like that.  This year I have really put my head down, and taken it much more seriously.  I now have a trainer, Charles Dao, and the MotoConcepts Team has been awesome – they have really backed me a lot.  I feel that I've actually always had the potential to do well, but maybe I just never had everything needed to put it all together.  Now I have it all together, and am finally getting the results that I want to see.
You first rode for the Moto Concepts Team mid-way through last year right?
That's true. I had ridden a national on a Kawasaki 450, where I later talked to David Vuillemin (then MotoConcepts Team Manager) after the race.  He called me up the next week, and signed me up for finishing out last year with the team, and then this year.
I've always thought of you as a 450 guy, but it's obvious you can ride a 250 well!
You know, I've always wanted to be on 250s, and do well in this class.  The only reason I rode 450s last year in the outdoors was because I had old bikes from racing the supercross season.  Just prior to the motocross series starting my dad and I were talking, and we decided that it was just smarter for me to buy a 450 because you didn't have to put as much effort, and money into it.  If we would have bought a 250 we would have had to put a lot of money into modding it out – and it still wouldn't be even close to what the factory team bikes are.  So, we bought a 450, put a pipe on it, had the suspension done, and considered it good!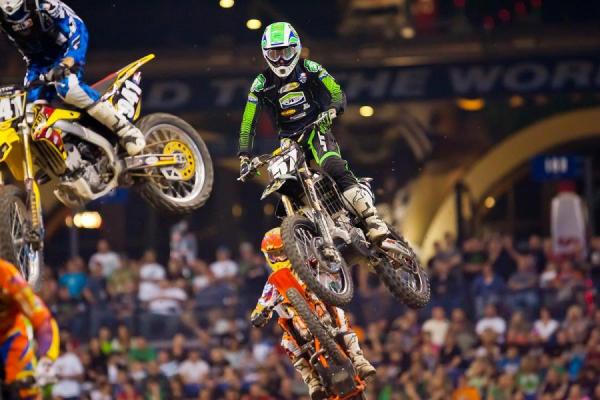 Canada logged his best ride yet in Indy.
Fredrickson photo
So far in 2012 Supercross you've had a couple sixth place finishes, and now a career best fifth place in Indianapolis. You must be pretty happy?
Well, coming into the season, my goal was to try to get into the top five, but to definitely be in the top ten. But yeah, with a couple races now under my belt, a few sixth places, and now this top five; this is where I want to consistently be.  Top five is where I should always be. If I get a good start the podium is where I want to be.
The structure of Moto Concepts has changed quite a bit since last summer when you first raced for them; how is the environment within the team?
Well, I still somewhat do my own thing that I did before, but it's been really good being teamed up with Mike (Alessi). He's very good at giving me pointers, and helping me with my riding when I have been riding at his tracks in California and Florida.  Before the season started I rode a lot with him in California, and that was really good for me.  Then last week before Daytona I was in Florida riding with Mike at one of his tracks, and that definitely helped me for the different style of the Daytona track.  Being with Mike and his family has been very helpful, and they've been very good to me.
I know that you are still focused on Supercross, but what are your plans for the Outdoor Nationals. Will you stay on the 250?
Yes, I'll continue racing the 250. As I said, the only reason that I chose the 450 last year was because it was easier to be competitive, and a lot cheaper that maintaining a 250.  I want to stay on the 250, and actually be on a 250 again next year.  I want to reach my peak in this class, then I'll move up.  At this point I have not really thought a lot about the outdoor series, but I want to be top ten for sure.  I'll just try my best like I always do, and hope that puts me top ten.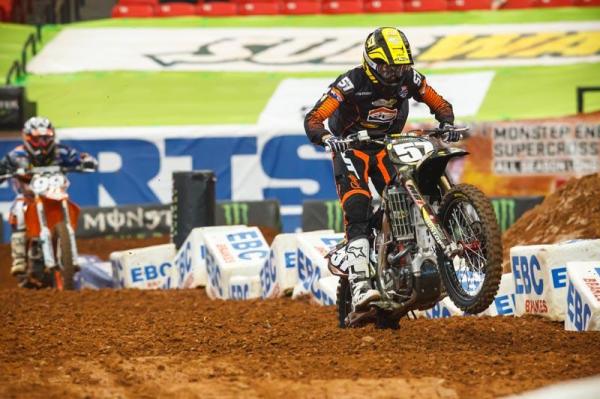 Canada goes to Canada this weekend.
Cudby photo
That may be a good way to wrap this up Jake, but do you want to add anything?
I really want to thank MotoConcepts for giving me the opportunity to be on the team this year – it's been a great year so far.  Both Mike (Genova, owner), and Tony (Alessi, Team Manager) have been great.  I also want to thank my mechanic Derek, and my sponsors JT Racing, We all Ride clothing, Silkolene, Dunlop, Pro Taper, the guys over at MB1 Suspension, Alpinestars, FMF, and obviously my mom and dad- and the rest of my family.