Lucas Oil Stadium
Indianapolis

,

IN
Indianapolis
Monster Energy AMA Supercross Championship
Monster Energy Kawasaki's Ryan Villopoto is getting really, really good at turning the potential for bad news into the opportunity for good. At Daytona, he overcame a first-lap crash to salvage solid points with a fifth, and at Indy he overcame a subpar start on a very difficult track to snag another win. Meanwhile, his championship competition continues to crash out around him. Matthes caught up to him after the Indy to race to get his take on a variety of topics.
Racer X: Great race, took awhile to get in your groove, but once you did you caught those guys.
Ryan Villopoto: The track was…unreal. Tough. The whoops were so rutty, and then the rest of the track was so, so slippery. Like, by far the worst one all year.
Were you taking it easy?
No, I wasn't taking it easy, I was trying to pass those guys, but the track just wasn't there where I could push, and ride the way you wanted to ride. You were kind of at the track's mercy. Any time it would open up, it would bottleneck down to the next turn, and you couldn't really drive it in anywhere.
A couple of crashes today, one in your heat and one in practice. Just slick?
Yeah it was slick, and everyone had problems today with crashes. The track was real  hard and technical.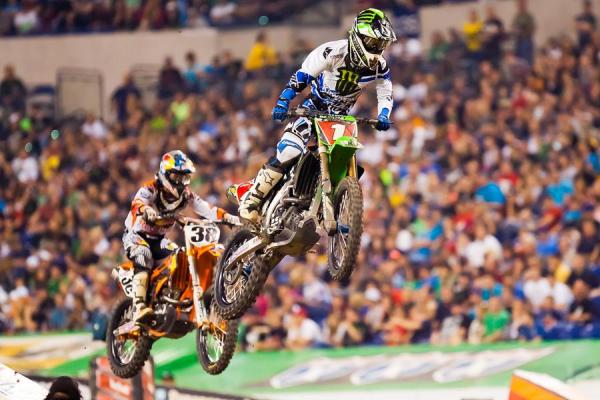 Villopoto came through traffic to get the Indy win.
Fredrickson photo
I talked to Brayton and he said you were a little more aggressive than him coming out of the turns. Do you agree?
I don't know. It's hard to say. It was maybe a little bit everywhere, I guess. He was blitzing the whoops still, and I think at that point in the race jumping them was a little bit better. And fitness wise, obviously, jumping them is way better than trying to blitz those things like that. I was just trying to tippy-toe around the track but go fast. It was hard.
One time by the mechanics area you did like a sideways slide the full 100 feet.
Yeah it was slippery there, and the next turn, the rut going into there. Every turn was slippery, really.
Were you trying to do anything with tires?
No, pretty much sticking with the same thing. We were running a new compound that Dunlop had, but other than that, same tires we always run.
Kind of a weird night, huh? Nick Wey and James Stewart crashed out, and the 250F riders had to do a staggered start.
Yeah, it was. The track wouldn't let you do what you wanted to do, and it made it really technical. It was really easy to make mistakes.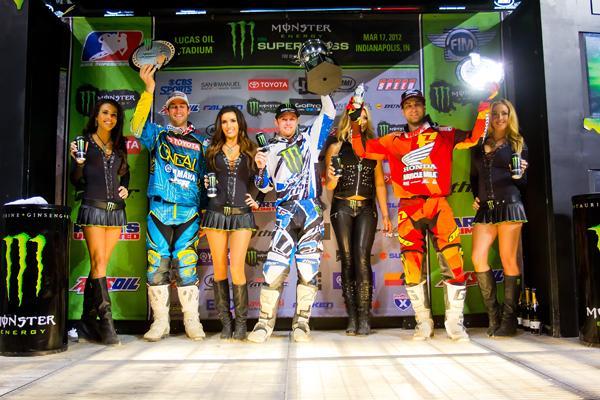 His familiar podium rivals are out, so RV will focus on racing just the same as if they were there.
Fredrickson photo
I think I know the answer to this, but I have to ask you anyway. With James going out in the heat, was there at all a lack of motivation for you? Did it make things different for you in anyway?
No, not really with how the how technical and slippery it was.  But I don't care who you are, what kind of racer you are, when you get put in that situation, you're starting to think, "Don't take any chances." Your brain starts to wander, you know? And that's the easiest way to make a mistake. So my goal is stay put, stay in the same mode, just trying to win races.
Were you down there when they did the staggered start?
Yeah I was. It was pretty crazy.
Had you ever seen that before?
Not really! In the rulebook, Mikey [mechanic Mike Williamson] said it was because it was four laps into it….I don't even know. I don't even know! Obviously if you're the guys in the lead, it sucks big time, but at least they did a staggered start, and you're still in the lead. If they had lined back up on the gate, that really sucks if you're in the lead.
Let's go back to Daytona. Happy with the ride considering what happened early on?
Yeah it was a good salvage for sure. Last to fifth in those conditions. It wasn't great. We made a little bit of a tire choice that we know now we wouldn't have done. Nothing major. The track was tough. I had fallen on the first lap, and I don't care what tire I had on, falling on the first lap wasn't good.
Is fifth the best you can hope for laying on the ground on the first lap?
In those conditions, yeah. Even Mikey said, when you were halfway through you were tenth, and that was good, and then we got fifth. To get top five in those conditions and with how spread out the field was, it was good.