When Ben Townley was officially unveiled as a rider for Carlton Dry Honda Thor Racing in 2012 during last year's Brisbane Supercross finale, Australian fans were excited to see one of the world's best in action on our soil all season long.
An incredible pre-season in New Zealand, where he wrapped up the MX1 title with 11 wins from 12 starts, had BT as the favourite for our Monster Energy MX Nationals series, on target to deliver Yarrive Konsky's factory-supported Honda program its best chance yet at a premier title.
But that has all changed now with Townley this morning announced to be joining Chad Reed's TwoTwo Motorsports team aboard a Honda in the upcoming Lucas Oil AMA Pro Motocross Championship. It's a great opportunity for Townley, as well as TwoTwo, which will ultimately deny Aussies the chance to see the 101 battle for our domestic crown.
But it's not all bad for Aussies however, with Townley still looking to do at least Conondale's season opener on 1 April in Queensland, and he's still scheduled to compete in the Australian Supercross Championship for Honda at year's end.
Our friend Alex Gobert of MotoOnline.com.au spoke to the 27-year-old New Zealander about his 11th hour switch, what it feels like to be Chad Reed's first contracted rider at TwoTwo, where he'll be based in America, what we can expect for him in the AMA outdoors, plus more.
By Alex Gobert --www.motoonline.com.au

Racer X: The cat is out of the bag now, so to speak, you're officially a TwoTwo Motorsports rider… Can you believe it?
MotoOnline: Well when I got the first phone call about the opportunity, I guess that it came as a bit of a shock. Especially when Chad got injured, there were a lot of people talking about it and everyone kept bugging me about it. Chad put out a lot of Tweets that said he wasn't intending to do anything and obviously I was focused on my season.
Things changed and Chad got in contact with Yarrive, team Carlton Dry Honda Thor Racing, and they talked it over with Honda. They looked at the possibility of me doing it and that's how it all started out, really. It all moved pretty quickly from there.
When Chad was injured and in doubt for the rest of the year, the first person who came to mind to replace him outdoors for a lot of people was you. When did it begin to get serious?
Yeah, it only started last week. It was something that, like I said, it hadn't been on the cards at all. A lot of people thought that it might happen, but it only started just over seven days ago, really. We've been working on making it happen and it's a very delicate process, handling something like this. It's not easy at all on all parties involved.
Obviously on my side it's a great opportunity for me, but in saying that I was in a great position where I was at. I had set myself up for this season to use it as a building block for my career, so for me personally, it's fast tracked something that I wanted to be doing in 12 months.
In saying that, I was very mindful and respectful of the position that I was in for my team in Australia, being that I'd committed to doing something there. Chad went about it the best way possible in contacting them first, talking it through with them and giving them some time to think about it before we discussed it.
Everyone discussed it openly and my team has taken a huge step, just letting me take this opportunity. I've got a lot of respect for them, allowing me to do that. As a team they've got sponsors onboard, contracts in place – it's changed the whole ballgame for them, going forward for 2012.
It was a massive thing to try handle in a short amount of time, because for my team in Australia, the season is less than three weeks away now. For them, it was a major time to really have to stop and work out something like this. It was tough timing on the Australian team's side.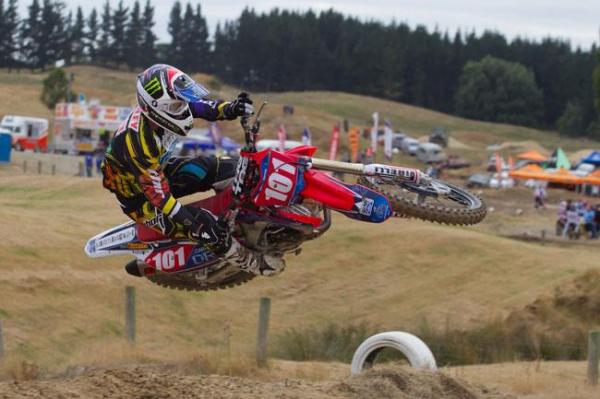 BT101 packs a MX2 GP Title and a Lites East SX Championship in his bags--and his 2007
Lites MX battle with Ryan Villopoto was incredible.
Shayne Rice photo
We'll touch on the Australian team's situation again shortly, but for you personally, what's the plan from here? When do you travel to America?
We really haven't even got that far down the track since we just finalized things. The biggest thing right now is getting all the paperwork sorted for me, living in America again – we're working out Visas and just the logistics, as we speak.
At the moment the intention is to get over there at the right time, because obviously there's going to be some big changes with the team setting up for me now and switching over to outdoors after they've been in supercross mode. There's no rush, we have time on our side and at the moment, and we're also looking at the possibility of doing the first round in Australia.
One of your best seasons was battling with Ryan Villopoto for the 2007 AMA outdoors, but injuries have played a big part in your career since then. Is this your best chance yet to challenge for a title in the U.S. again if all goes to plan?
Yeah, I don't see any reason why it can't be, when you put it into context like that. The 2007 season was the best form of my career, the way I was in physical and mental shape. I spent a lot of time with RC at that time where I was based and it won't be too dissimilar, really. I will be based in Florida again and I'll have one of the greats of our sport to lend a hand in my riding.
I feel that right now where I'm at in my career and the direction that I chose to take just short of 12 months ago has all lead to this. I took some time to step back with my wife and family, to work things out for my career. I've really laid a good foundation with sort of nine months now of solid work.
I've been able to become a lot physically stronger in all areas, which I've seen massive gains from, like doing the physical work, then seeing the gains on the bike. Mentally I've been working with someone to really, I mean I had a lot to overcome after that head injury, and I haven't been shy about that at all. It was just something I had to deal with and I have. I really feel that I'm back on track in all areas off the bike.
As far as on the bike, I've had a lot of time to work on my technique because I've been in a pressure-free situation now for a long time. I haven't had any commitments apart from being able to ride outside my door whenever I wanted.
I've been able to go and basically have an almost carefree approach to racing, but in the back of my mind I've been able to work on all of those things and I believe my riding form is at the best it's ever been. It's obviously very easy to sit here and say that, but I've ridden a lot of races here in New Zealand and it's all been going to plan.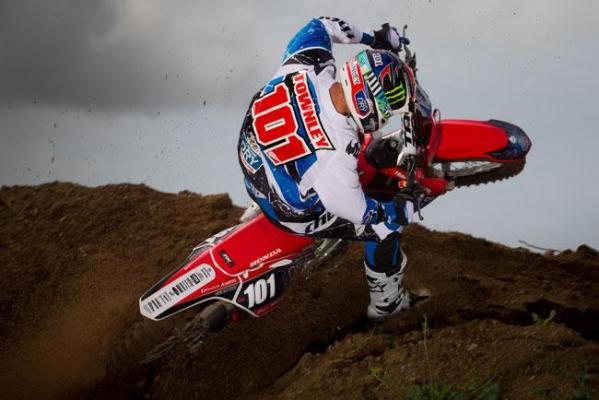 BT101's TLD/Honda/Pro Circuit bike from 2010 served as a base for the early TwoTwo
Motorsports efforts.
Shayne Rice photo
You mentioned Chad in there, and you're in the unique position as being the first person to actually ride for TwoTwo apart from Chad himself. What's your take on that? He's a good guy to have in your corner!
Yeah, without a doubt. It's not the situation that he wanted to be in, as far as adding another rider to the team, but it is reality right now and I'm in a position where I've been able to take this opportunity. We're from a similar background and I've known Chad for a long time since we grew up in our Junior days racing in New Zealand and Australia.
Our paths have crossed over time, so we know each other fairly well and I think that entering into this, Chad's in a new position now. From what we've all seen from the outside looking in, he's really thriving on having his own structure and it looks like it's done great things for him.
I'm really interested to see that from the inside myself. There are great people in place around him and he'll obviously be one of those key people around me as well – it'll bring a lot to the table. As people know, he's very particular about the bike set-up and it will be great for me to be able to bounce things off him.
Being based in Florida will be great for me during the week to be able to work on things as the season progresses.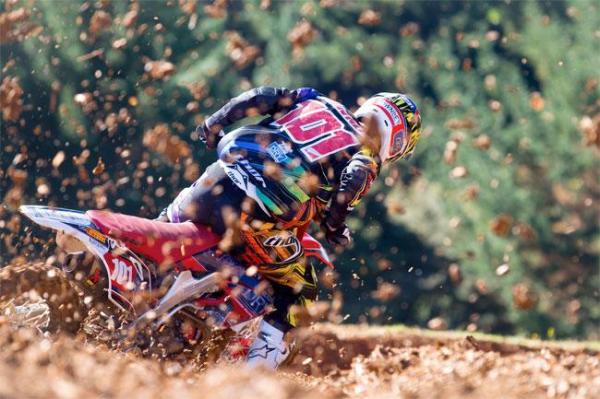 Townley was a solid podium guy the last time he raced in the U.S.
Shayne Rice photo
Even though you won't be here racing for Honda in Australia outdoors, it seems you have left a pretty positive impact on the team, just with your experience and knowledge. Do you feel that's the case?
I said from the outset, going into 2012 when Yarrive and I spoke – plus Mike Landman and Lee Walker, who are also key people involved – I said we need to put things in place with different products and ideas that we had. Before if I was to stay in Australia for the rest of my career and not go back to international racing again, those were the things I thought I needed in place to win.
I think that they've made some big steps in the right direction, the next step to win, and that was obviously always my intention to be in a position to win in Australia. They've taken those ideas that I'd proposed and I think it will put them in better steed, going forward.
I'm not totally out of the equation for the whole year, because I'm here for half of the season and all of those things will be vital for me one supercross rolls around in Australia.
So there are plans for you to race supercross in Australia as originally scheduled?
Yeah, definitely. I'm able to take the opportunity with TwoTwo and I'm very, very grateful. To race supercross for Honda in Australia is a chance for me to repay them and at the time when I got the contract to race in Australia, I didn't feel that racing 10 motocross rounds was enough.
I really wanted to carry on racing for the full time, although obviously in the position I'm in now, things have changed. That's a part of life though, things change and you've got to roll with the punches.
You're recognized as an outdoor guy, but people seem to forget that you won that East Coast Lites AMA Supercross title in 2007. Would you consider racing AMA Supercross again next year if you can get momentum on your side?
[Laughs] it's hard to say, to be honest. Everything has moved quick and I've sort of been put in a position where I am 12 months ahead of schedule. I'm not really sure yet, to be totally honest.
I really wanted to use this season getting back to racing full time in Australia as a stepping stone, then use supercross in Australia to see where I am at. Like you said, I have won in the past and I believe I still have the supercross skills to do so, but I haven't been racing enough and I need time on a supercross track to find out whether or not I would. It's really too early to say.
Yeah, that's the plan. I mean, at the moment there's no rush to leave and there's still logistics to sort out in getting over to America. The people I'll be racing against will be behind the start gate, although it's going to be indoors, leading into Hangtown.
I want to use my race craft going into there as well, so at least round one is on the cards for me. We'll just see from there because it is a big change in direction and I'd like to repay the people who committed to me for this year.
I'd like to repay the fans and everybody involved in Australian motocross, so it would be nice to see people face to face and be able to explain why. The writing's on the wall, it's a great opportunity, but I just would like to see them face to face before I head off.
Final thoughts?
I just want to really thank the whole Carlton Honda team and their sponsors. It has been very unchartered waters this situation, you often see people leaving teams at stages in a season and all on bad terms. This has been a very a great opportunity that has come up, but I have not turned my back on these guys at all.
We have all been open and discussed the whole thing together – I wouldn't have done it if I hadn't had the support of Yarrive, Mike and Lee to go ahead.
These three guys, along with Jimmy and Blair, my New Zealand crew, have put in a lot of hard work and time ever since Super X finished back in November last year and it has really showed in my bike set up and how comfortable I have become, which has translated into great form and speed.