Lucas Oil Stadium
Indianapolis

,

IN
Indianapolis
Monster Energy AMA Supercross Championship
Is it just me or is Daytona International Speedway cursed right now? Two weeks ago, in the strangest crash in the history of NASCAR, the much-delayed Daytona 500 was delayed again when a car driving alone down the backstretch locked up, spun up the embankment, and hit a track-drying truck filled with jet fuel. And then last weekend, at the Daytona Supercross by Honda, a rain cloud drifted over the speedway and just stayed there for forty-eight hours. Parts of the rest of the Sunshine State were just that: sunshine.
It was a mess, and while the track crew did all they could, the place isn't laid out to drain the water off the infield grass; the infield grass is there to be the drain for the speedway! So after a sold-out Georgia Dome race (covered building) and a nearly sold-out St. Louis race (domed), and the week before what will certainly be a packed house at Lucas Oil Stadium (domed), the wettest day of the year in Daytona is the one day they hold a round of the Monster Energy AMA Supercross Championship!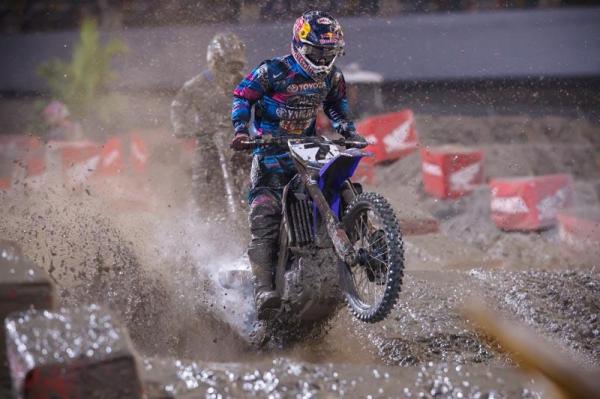 James Stewart led a 1-2 sweep of the podium for the JGR Yamaha team at Daytona.
Cudby photo
Fortunately, Monster Energy AMA Supercross goes back indoors tomorrow night with the Indianapolis SX at Lucas Oil Stadium. The race will again air live on SPEED (and the whole SPEED crew, like the riders and track crew themselves, deserve a pat on the back for the great work they did in the horrible conditions of Daytona last week). The races start at 7:30 p.m. Eastern, live on TV. And Lucas Oil Stadium will probably be filled to the brim!
Indianapolis may be the U.S. capital of cool motorsports, with a smorgasbord of big races that stretches from the Indianapolis Supercross to MotoGP, with NASCAR, Dirt Track, go-karting, and of course the Indy 500 all right there. RedBud is right up the road and across the border in Michigan, and one of the biggest GNCC races of all if the Ironman in Crawfordsville, just went of Indianapolis Motor Speedway. Add it all up and there's a plenty of racing memorabilia to go around, including this Evel Knievel bike that CBS/SPEED TV director Chris Bond spotted last night while checking out a museum exhibition called Steel Ponies.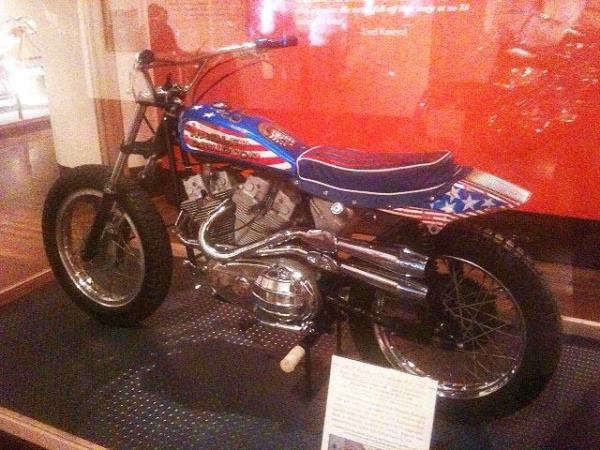 That's one of the steel ponies that used to belong to the King of the Daredevils, Evel Knievel
Bondo photo
So what will the win in all that mud and water do for James Stewart at Indy this weekend? How quickly can Ryan Villopoto bounce back from missing the podium completely at Daytona? Can Davi Millsaps carry this new momentum that he shares with Stewart and the whole JGR Yamaha team? And can Blake Baggett or Ken Roczen or anyone pull it together over the course of fifteen laps to keep Justin Barcia from going undefeated in the East Region? Remember, the last person to get close to the perfect Lites SX season—James Stewart in 2004—threw it away at Indy's old RCA Dome with a big practice crash. And Travis Pastrana threw away his shot at winning his first race back in 2000 when he crashed several times in his debut at Indianapolis.
Last Saturday night Barcia got some real pressure from Baggett, of the Monster Energy Kawasaki team, and he rode with authority and patience at the front. Even a near-crash on the last lap was not enough to rattle Barcia, who looks more and more like the complete package as the season wears on. (Clip-and-save: I would give Justin the early nod as Team USA's MX2 rider for the sandy Motocross of Nations coming up at the end of the season, based on what I've seen not only at Southwick in the sand but under the pressures of competition.)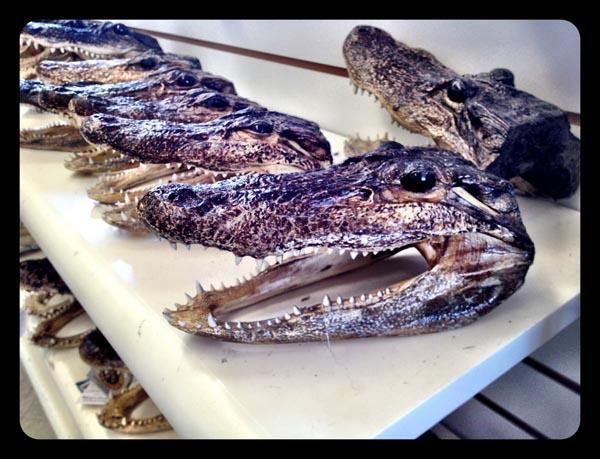 It's just not a true trip to Florida until you see something like this....
Daytona always has something weird or special going on, whether it's crazy weather—Windham's '08 win, or Ricky Ryan's bizarre victory back in 1987—or just pure random strangeness (Carmichael did twenty-one laps when he won his first SX back in 2000 after the flagman missed him with the white flag the first time around). And what about Jason Lawrence's last big day (likely) as professional, when he led the AMA Supercross main just a couple of years ago and almost brought the blogosphere to its virtual knees?
By the way, Lawrence looms large in the piece Steve Matthes put together for this week's List, a tribute to the highlights of the late Phil Alderton's Honda of Troy and Yamaha of Troy teams. Working with longtime YOT man Dean Baker, Matthes rehashes some great days for "The Fifth Dragon." If you missed it, check it out.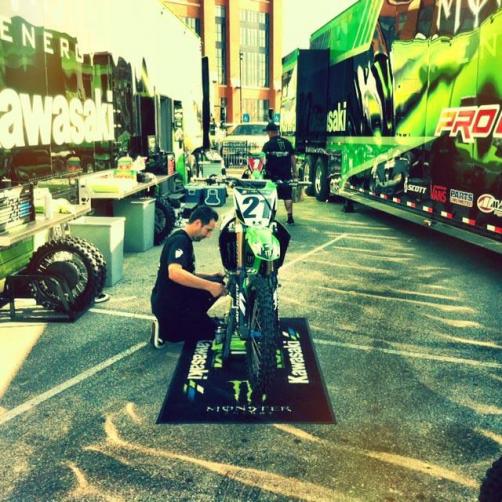 Wrench Dana Wiggins putting Jake Weimer's bike together in the Indy pits today.
Canfield photo
Among the strangeness this time was the lap counts (twelve and sixteen rather than the customary 15/20), the shortcut taken by/black-flag given to Josh Hansen, Ryan Villopoto's almost-save, the simple fact that Stewart rode a flawless race, with Millsaps better than he's been in years, and Marvin Musquin finishing a career-best fourth in the 450 main.
But if you really want to see something peculiar, CZ over at MX Sports spotted this gallery of a very old-school Daytona race, this one going back to the days when they raced on the beach. Even though it got extremely rough (considering the suspension back then) it was basically the Daytona 200.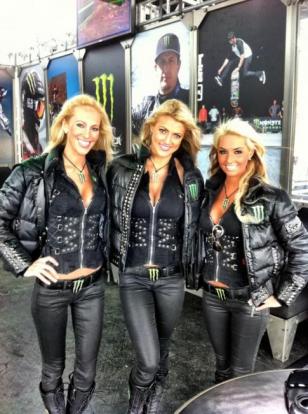 Having Monster Girls at the Daytona Amateur Supercross was a new addition.
After the Daytona Supercross by Honda, it was time for the Monster Energy Ricky Carmichael Daytona Amateur Supercross, and fortunately, the rain let up for that one. By the end of Monday's racing, the track was absolutely perfect, and the nearly 800 amateurs who came out to race all seemed to have a really good time. It was also cool to work alongside Ricky, who was there from press day on Thursday through rolling up all of the banners and putting away the hay-bale covers on Monday. RC takes the event at Daytona very seriously, and he and his manager, JH Leale, were everywhere—he even jumped out in practice with the 450 guys on Saturday. He's a former champion who still loves to be at the races, at any capacity.
Cool thing about Carmichael: When Harold Martin showed up at Daytona with a box of Moto Playground magazines with the GOAT on the cover, Ricky grabbed one and shouted, "That's so cool! I can't believe I'm still getting covers!" That's what 150 wins will do for you....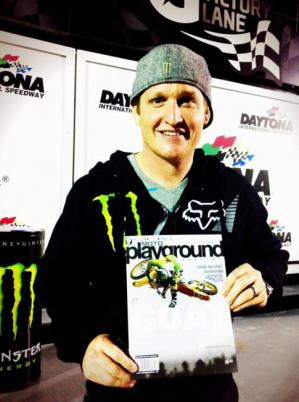 Ricky Carmichael with his new Moto Playground cover.
Wow, I wonder how many covers RC really has gotten over the years. Or Jeremy McGrath? Stefan Everts? How about Roger DeCoster?!! Might be a fun story for Eric Johnson or Larry Lawrence to get to work on....
Time to turn it over to the always-busy Jason Weigandt for a few nuggets of moto-knowledge.
Josh Hansen's heat race course cut certainly got some attention on Saturday, so before the LCQ, I asked Hanny what happened. He shrugged and then fully admitted that he cut the course. Hanny figured that when he started the heat in dead last after getting bumped off the track in turn one, there was no way he'd come all the way back to a transfer position in the mud. "I was going to end up going to the LCQ anyway so I figured I'd try cutting and see if he could get away with it," explained Hansen. He got away with it for a few laps before finally getting black flagged. I know a lot of people have been giving Hanny crap for cutting, but I applaud his honesty!
Hanny's move was just one of many wild ones throughout a crazy night in the rain. This Daytona was probably only half as bad as the 2008 monsoon race, but it was tough. In fact, a few riders from the Can-Am Grand National Cross Country Series were on hand to watch, and they commented on how hard Stewart, Millsaps and Windham were charging through the mud. The GNCC guys may be the most experienced mud racers in the U.S., but even they have to tip their hat to Stewart and Millsaps launching the finish-line jump and charging wide open down a muddy, rutted straight into the next corner in a battle for the lead. At that point, they were charging just like they would have if the track were dry.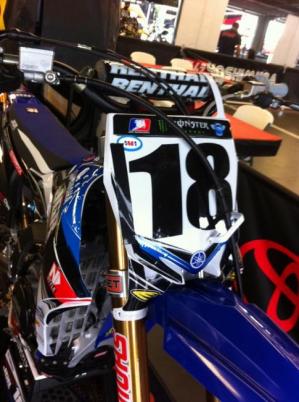 After Stewart placed #259 on his bike, old-school, the guys on his JGR team decided to hook up Davi Millsaps with his old #118 via black tape.... Whatever, it worked for both!
During the SPEED TV show, you probably noticed the Monster Cam that sped along the side of the track keeping up with the riders. During the SX Class heat races, I hopped on board to see what it looked like in person. (The cam is actually a Yamaha Rhino, piloted by GoPro's Cliff Nobles, with a cameraman on the back). Incredibly, the Rhino tops out at 47 mph, and at that speed, we could not keep up with Stewart or Windham over the triple and the finish-line jump! So that means those boys were hitting over 50 mph while jumping big gaps in a driving rain. Unreal!
After the race I talked to GEICO Honda's Justin Barcia, and he explained his goal is to win the title and not win every race. He said he would have gladly taken a fifth at a muddy race at Daytona if that's what it took to preserve points. I then pointed out that, a few weeks ago on the Matthes' PulpMX Show, Dean Wilson said Barcia is willing to win or die trying. Barcia said that's actually not his strategy, and he'll take a consistent finish if needed, but he then pointed out, "But that's only because [Wilson] isn't racing East. I do usually race that way when I'm racing him, so that's probably why he thinks that!"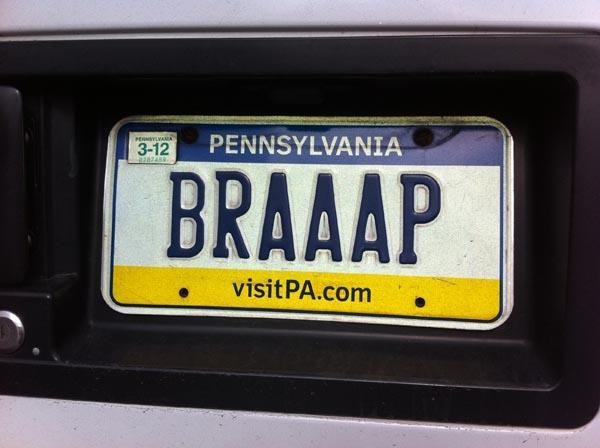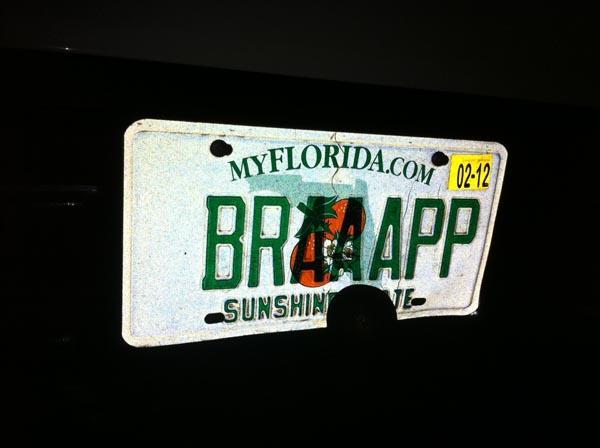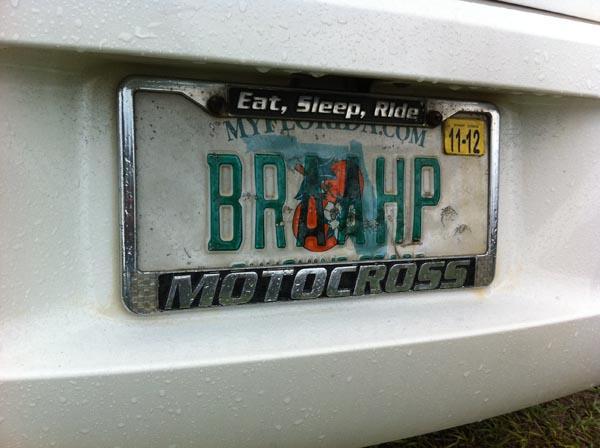 These three plates were spotted within a day of each other at Daytona...
Thanks, Weege. Remember the rumors from two weeks ago about the TwoTwo Motorsports team kicking around the idea of reaching out to James Stewart? Turns out it was being discussed as a long-shot possibility, but it's just not going to happen. Stewart is winning again (at least at Daytona) and he and Chad are back to throwing virtual elbows on Twitter, so all is back to normal with the longest, deepest rivalry SX has ever known. And if you missed it, checked out the feature "The Constant Rivalry" in the brand new Racer X Illustrated. Both James and Chad—as well as Larry Brooks—go deep on their thoughts about one another, what may (or may not) be between them, and how they could maybe be friends in another life. It's a very interesting story.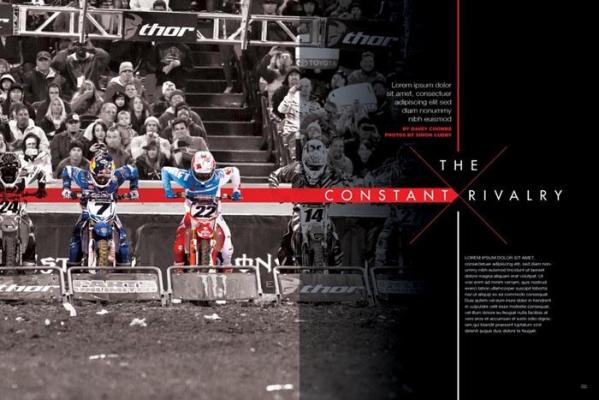 Check out "The Constant Rivalry" feature in the new Racer X.
Here's a note from Ping, the world's fastest medic (sorry, Doc Bodnar!):
Someone sent me a link on Twitter to a bunch of gossip rags that are suggesting Teen Mom's star (did I just type "teen mom" and" star" in the same sentence?), Maci Bookout, is dating Kyle Regal. They met up in Daytona and she is coming to California while he does some testing with the H&H team. Yep, big news in the motocross world!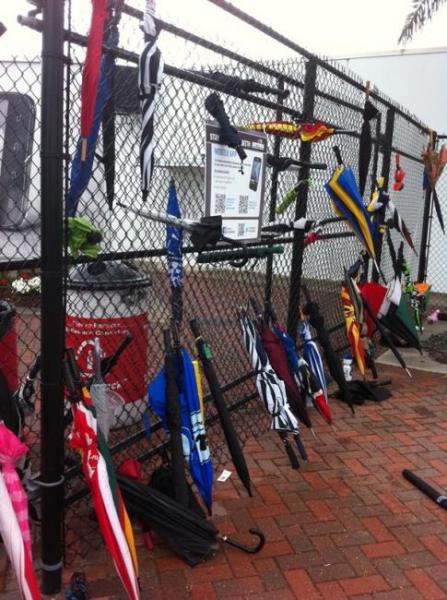 The Daytona International Speedway umbrella collection grew immensely, as no umbrellas were permitted in the Sprint Fan Zone....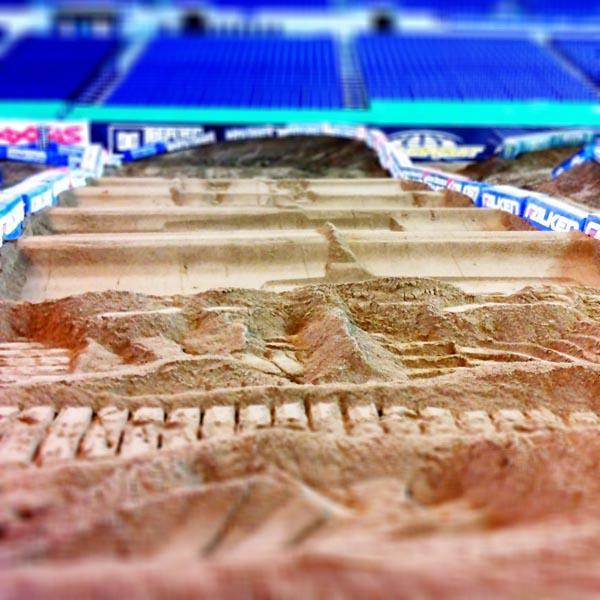 Here's a cool view of the sand section being put together this weekend at Indy.
Canfield photo
Here's some notes from Aaron Hansel:
I hope I'm not jinxing anyone here, but the injuries seem to have slowed down a bit. For a while it seemed like I was adding three or four names to our Racer X Injury Report every week, but (and I say this with respect to Ryan Dungey, Kyle Partridge, Ben LaMay, and Josh Hansen) lately it's mainly been just chasing updates on existing injuries. In fact, we've got three guys—Josh Grant, Sean Lipanovich, and Taylor Futrell—coming off the injury list this weekend in Indianapolis. That's a good thing, and hopefully it's a trend that continues for the rest of the year.
Also, check out the Between The Motos piece I did earlier in the week with SMS Racing's Brian Storrie, the man behind the bikes of the Violation1.com/Shea Racing/Passportworld.com/National Switchgear team. This is Storrie's first year building bikes to compete in supercross, and the team has already had a top-ten in Atlanta with Shane Sewell. It's a pretty neat story coming together there.
Okay, here's some more news from around the world...
Over in Europe the warm-up races are well underway before the start of the FIM World Championships next month in the Netherlands. We spotted this Tony Cairoli video as the reigning MX1 world champ prepares for another title defense:
http://www.youtube.com/watch?v=cEG5H2JOuro&feature=player_embedded
MX2 title contenders Jeffery Herlings, Tommy Searle and Zach Osborne prepared for their respective runs for the championship in Holland and Britain last weekend. We spotted this film from Nick Janssen of round 2 the Dutch Championship that features Herlings and Searle. The Maxxis British Championship kicked off last weekend as well with Zach Osborne taking the win in the MX2 class. Mikey Rutherford did a wonderful job of capturing the action—check it out here.
I ran into some guys in the pits with a rather familiar-looking logo on the front of their shirts: Blogger X. Turns out they are from Argentina and have a popular site down there based on motocross. Pato Marelli is the main guy and they actually gave me a T-shirt (which I am running today). They also sent me their GoPro video of the trip to the race: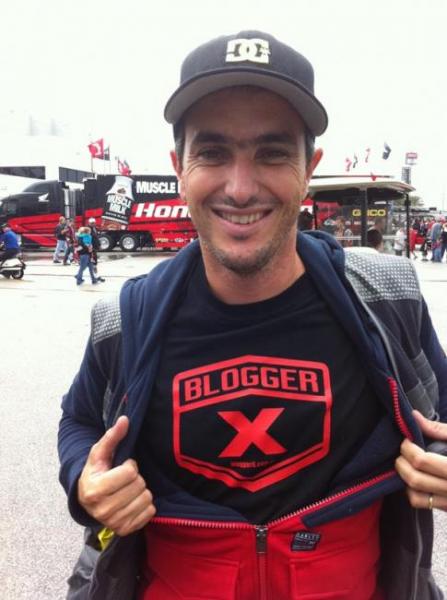 Pato Marelli of Blogger X road-tripped to Daytona with friends from Argentina.
Here's a look at the opening round of the Can-Am GNCC Championships, which took place on Monday and Tuesday and, in a great sign for the industry in general, saw a measurable uptick in both rider and spectator attendance.
Carey Hart and his Hart & Huntington team have a new Network A series that follows their exploits through the 2012 Monster Energy AMA Supercross tour. They sum the program up in three words: "Ink. Rock. Moto." (The cool kids' version of rock/paper/scissors). This first installment is about how Carey brought the whole team together, plus some updates on the injuries to Ivan Tedesco and Josh Hill:
http://www.youtube.com/watch?v=85oUuUeTciw
Make sure to check Network A every two weeks for new videos, and for more Hart and Huntington and Network A action, they're on Facebook here and here.
We spotted this photo of former Miss Motocross Leticia Cline on her Facebook page. It's from a photo shoot with Andre' Rowe and, well, wow!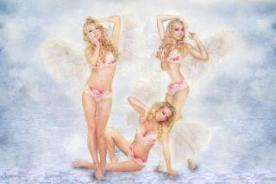 This also has nothing to do with supercross right now (Detroit), but check out this really well-done video by Mandroidmusic called "The Ghosts of Detroit:
http://www.youtube.com/watch?v=Ly2xMmJ5uHs&feature=related
Northwest Vintage MX racer Dallas Nyblod sent us this photo of the bike he has prepared for Damon Bradshaw to ride in the upcoming Racer X Inter-AM in Boise, Idaho. The event is scheduled for March 31st-April 1st weekend. For more info and lots of photos from last year go here.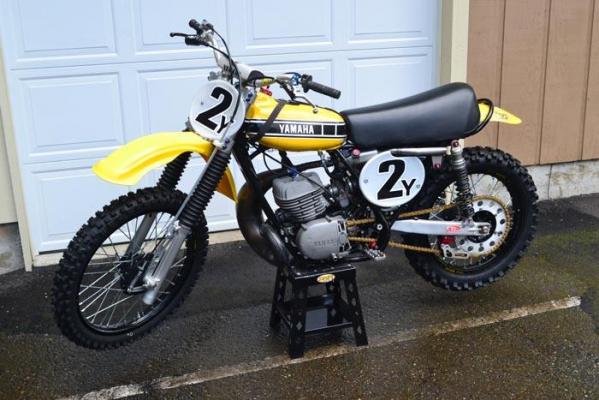 Bradshaw's new/old race bike.
Speaking earlier of the OMC track in Boise, If you look in the Vault you'll that OMC hosted an AMA National 40 years ago. They are also hosting a Monster Energy Road to Mammoth Series' Qualifier on April 15th. For additional information about this event, please see www.omcracing.com.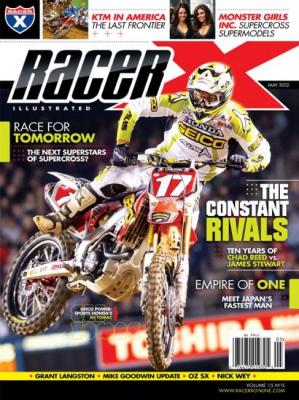 That's Eli Tomac on the cover of the brand-new Racer X Illustrated.
Before I close, I would like to talk more about Phil Alderton for a moment.
Unfortunately, tomorrow marks the memorial service for Phil in Dayton, Ohio. Last week I mentioned the tragic situation of his passing. This time I want to tell you a little bit about what he was like before things went sideways. He was always very funny, extremely generous, and a total motocross fanatic. He was a smart businessman, too, at least until his generosity got the better of his decision-making. Phil advertised with Racer X way back when we were called The Racing Paper, and he looked at our little publication as a microcosm for his ambitious plan: to take on the big factory teams that used to rule the sport. Starting with Todd DeHoop, and then later Erik Kehoe, and then guys like Mike Brown, Brian Swink, Larry Ward, Mike Kiedrowski, Mike Craig, and more, he rocked the foundations of the sport in the early  and mid-nineties.
Yet he never lost his sense of humor. He used to send me random notes and photos and stories that we published in the newspaper, including the time he met an adult film star at a nearby strip club, explaining that he thought she was "The Corn Queen" and not a porn queen. "I've loved corn my whole life, so I was really excited to meet the Corn Queen. Boy was I surprised when I walked into that place...."
Another time he offered to make Racer X a sponsor of his team, but only if we came up with some cool mud flaps for the big rig. I asked him why mud flaps were so important and he said, "That's how I roll." It was the first time I ever heard someone use that term, and I can still hear him saying it. I was stoked to be invited to help out "The Fifth Dragon" but still passed, knowing it might make the big West Coast magazines mad. Phil said he didn't care what they thought, though I knew he did—by then he and Jody Weisel had become good friends (and in the years of turmoil to come, Jody always stood by Phil and tried his best to help him get straightened out, giving him a bike and support when he had nothing, so he could at least do a little racing at REM).
As Alderton's life got messier and messier and he drifted further and further away from motocross, I lost touch with him, just like most folks did. But at Hangtown two years ago I was walking around the track picking up rocks when I spotted my old friend Michael Rigdon on the inside of the old second turn, sitting with a couple of older gentlemen. I was stunned to realize one of them was Phil, because he had aged greatly since I'd last seen him. Rigdon was always there for Phil too—they grew up in motocross together in Ohio—and I was shocked that neither had pit passes or any access whatsoever. I helped them out, though in hindsight I think maybe that's the way Phil wanted to be that day—off to the side, away from everyone else, including his old riders and mechanics. He looked happy to be back, yet miserable to be noticed. Like his hero Elvis Presley, maybe that's why there are so few photos of the last few chapters of his life.
I never saw Phil Alderton again. I heard stories, I talked to mutual friends, I hoped for the best for him. Maybe that's what he got after all.
I knew Phil from racing. He was a pro when I was growing up, and I watched him at races like the Inter-Am at Mid-Ohio, the Trans-AMA at Honda Hills. By the time I finished school and started the newspaper he was doing quite well with Honda of Troy, along with Scott Paul. He was adamant about building a team his on way, with his own people, to race against the factories, as he told me the first time I really interviewed him, maybe twenty years ago. I remember he had a Mohawk haircut, which was odd for someone of his stature, but he didn't seem to care what anyone thought about him or his dreams. When the interview was printed in the newspaper, we called him "The Windmill King," because he seemed less like a successful businessman than a Don Quixote-esque character, slaying dragons...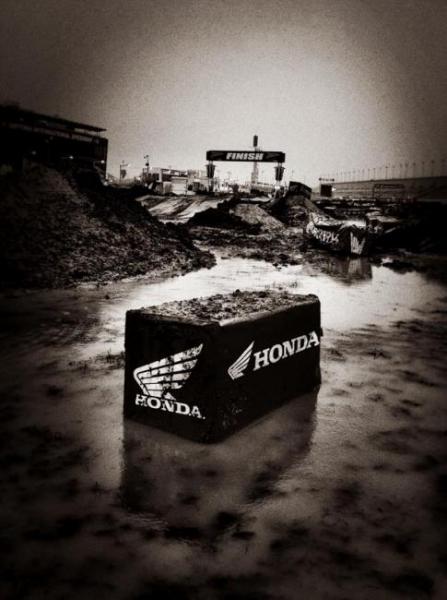 Godspeed, Phil Alderton.