Daytona International Speedway
Daytona

,

FL
Daytona
Monster Energy AMA Supercross Championship
Justin Barcia is on absolute fire right now. He has won four races in a row to begin his East Region Lites title defense and is showing no signs of slowing up. Barcia finally felt pressure in Daytona, but was able to weather the storm en route to another victory. We caught up with Barcia after the race to talk Daytona, and if an undefeated season is on his mind.
Racer X: The track was really rutted and one lined. What was it like?
Justin Barcia: It was like slot cars today.
How gnarly was it?
One a scale of one to ten, ten for sure.
Really?
For real. It was so mentally demanding today, it was unbelievable. Holeshots were key and luckily I was able to get my bike out there and get holeshots, but the rollers were filled to the top with water, so you had this two feet of room to get on top and if you didn't get on top of them, you were bogged down in the water. So it was tough on the bike and also on the rider. It would just suck you up, that water, so that was hard.
Yeah, you were bouncing off the top of that.
Yeah, if you didn't bounce off the top of those, you were pretty much done.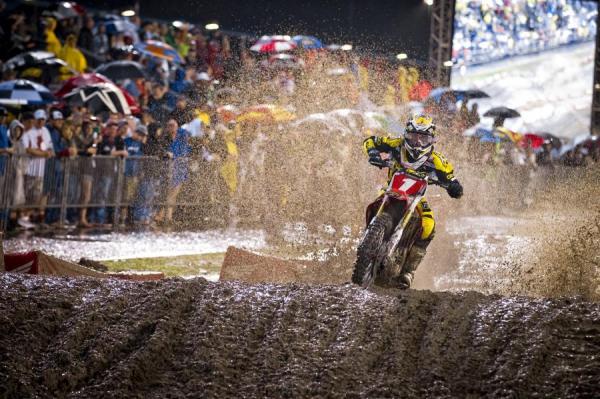 Barcia en route to his fourth straight win to begin the season.
Photo: Garth Milan
Did you miss it at any point? Did you go in?
Yeah, I did miss it a couple of times and it sucked me up. I know [Blake] Baggett was hitting those pretty good because he was on me. It was just a really tough race for me because obviously he was on my tail pretty much the whole race and it was tough because I was trying to ride as smart as I could because I was thinking ahead. Just thinking of the races to come and just trying to be on the podium. The deep ruts almost bit me towards the end, I did a little no lights scrub off one of the things last lap and it almost cost me the race. But I was lucky to hang on and do it.
Now you said something interesting. You were thinking about podiums. You were thinking down the road. Are you not thinking win at all costs?
No, especially tonight. Tonight was like get on the podium, get top five, just get out of here safe and get points. Points tonight were the biggest thing. I mean, obviously, I want to keep winning in a row, in a row, in a row, but it's kind of unrealistic.
Well that's what I was getting at here. A lot of people are like whoa, he's proving he's the fastest guy, is he going to win every race? Is that even on your mind?
I mean, obviously it'd be so awesome to win every single race. Is it possible? Yes. Is it a priority? No.
If something's going wrong, will you say "I got to take what I can get? " If the time comes, you're not going to go all out no matter what?
Tonight was one of those nights where, if I'm going to lose, I'd just take it because that track was so tough and everyone was riding so good. So to keep four in a row was just insane. And to keep going for a fifth in a row, if it happens, so be it. But if it doesn't, we'll be happy with a podium.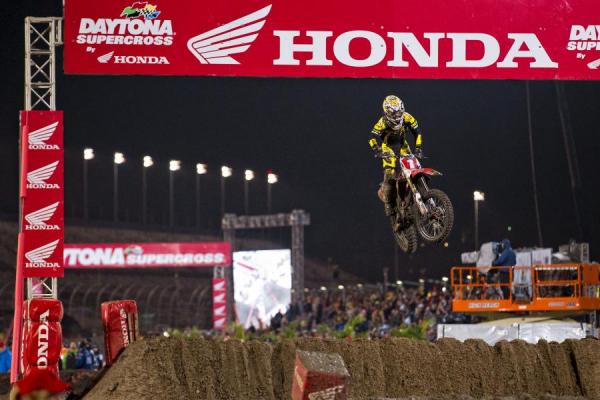 "Yeah, I was so focused today because it's a big deal. I was riding a Honda at Daytona by Honda, it's pretty awesome," Barcia on winning at Daytona.
Photo: Garth Milan
Do you guys change much when it's this muddy and rainy? Is the bike a totally different version? Or is it just tires?
We ran a paddle tire on the back, a Dunlop paddle tire. That was sick. It worked so good out there. Then, obviously, my mechanic had to tape everything up and do all kinds of crazy stuff to keep that mud and water out of the bike. But besides that, it's the same bike we race each weekend. We softened our suspension up a little bit, but all in all pretty much the same.
You have not won Daytona until now. Was that a priority?
Yeah, I was so focused today because it's a big deal. I was riding a Honda at Daytona by Honda, it's pretty awesome. So for me to do that is awesome. It was really tough for me to get the win tonight and to get it, I had to work my butt off. I'm just pumped on that.
Speaking of working the butt off, your guy, six-time Jeff Stanton, won here a lot. Was he extra adamant about you proving yourself at Daytona? That was his race.
I don't know. No. He called me this morning and we talked for a little bit. But after the race, he texted me and was like 'man, that was a crap show.  Man, that was a disaster, but awesome job.'
You impressed him.
Yeah. Maybe a little bit. I don't know. He's a good dude. We work good together, so it's cool.
Ok, so the goal here is the title. You're thinking big picture. You're not out for blood every weekend. You're trying to ride smart.
I mean, of course I'm out for blood every weekend. [Laughs] No, we just want to be in the title hunt and trying to get another championship. That's our main goal. If we keep winning races, so be it. But just be smart and safe every weekend.