Open Mic: Interviews from Daytona
Monday, March 12, 2012 | 4:30 PM

KICKER

provides the sound from the Open Mic – since 1973 our concert-like acoustics and gritty design in mobile stereo put us on the map. KICKER Subwoofers and Amplifiers for vehicles and boats are sought worldwide, and now critically acclaimed MP3 Docks, Earbuds and Headphones are shaking up what remains.

Tweet

Interviews: Jason Weigandt and Jordan Roberts

Davi Millsaps, JGRMX/Toyota Yamaha, 2nd in SX class

Racer X: The adjustments that James is making to the bike, is that helping you as well? Is that why you've made improvements the last several races?
Davi Millsaps: I don't know how to answer that question because I truly don't know. I haven't tested that much really. I just like my bike the way it is. I kind of just leave it alone. I don't know if they put things on my bike that he tests. I can't answer that. He's definitely making the bikes better and if he hadn't come to the team, our bikes wouldn't be what they are now. So it definitely affects me in part.

What's been the difference in your improvement?
Just the last couple weeks, I've really just put my head down and worked super hard. I built somewhat of a Daytona track at my house this week and I swear I had a mini supercross going on there. Everyone was calling me, 'Hey, can I come ride? Can I come ride?' Even the guy that splashed me, that wouldn't get out of my way was there. But no, it was definitely fun and the week went great. Even last week, I got a good start but faded, but I rode good during the week and I rode a good first half of the main event. This weekend I just wanted to finish on the podium. I was one, two, three, and I knew there was a pretty big gap back to fourth. Either way, I knew I was going to be on the podium, but I just rode smart. That's pretty much all I was trying to do for this race and get up here.

Talk a little about the run tonight. You got a good start, your early battle with James and how things went.
I'm definitely not going to complain about that start. No one in front of me, I had a clean track. But, obviously, James was going a lot faster. I'm just pumped to be up here. Like Kevin said, that puddle section back there got me pretty good and whatever lapper it was, man, they would not get out of our way. He just landed right in it and I was like 'Well there went my gloves.' But I held in there and did my best. This is the first time I've been on the podium since 2010 in supercross, so it's special to me, especially because of it being here in Daytona and how the conditions were and all my family and friends coming to this race. That was definitely good luck for me.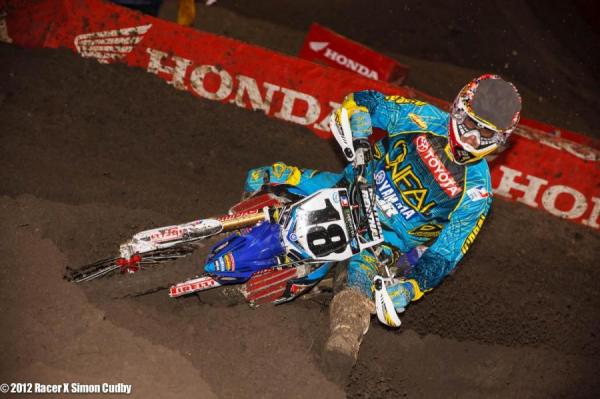 "This is the first time I've been on the podium since 2010 in supercross, so it's special to me, especially because of it being here in Daytona.." - Davi Millsaps
Photo: Simon Cudby
Kevin Windham, GEICO Honda, 3rd in SX class
Racer X: Take us through your night.
Kevin Windham: It was a good night. I was excited from the time the rain came and I thought we had a good shot at it. Behind the gate, things were going well. I was in a decent position. Davi and me were just kind of cruising along. There was really a tight gap between all three of us, just kind of waiting on anybody to make a mistake. It was real wet in some of those roller sections and Davi got blasted by a lapper right after I got blasted by both of them. It was funny. It was just like a weight in water and mud all over us. And these are the kind of races where anything can happen. The team worked really hard to get us out there today and get us on the podium. First one of the season, so it feels good.
What was the worst part of the track for you guys out there tonight?
The track wasn't nearly as bad as it looked. It just was going down and once you got a good rut, you just kind of stuck with it. There was one main line where, I think by the end of the race we were dragging footpegs, but we were still able to do pretty much everything that we wanted to do from that one line, provided that we weren't tied up in lappers or whatever. But from that aspect, if you could stay in that one groove the entire track, you were fine until you got to the mud bog.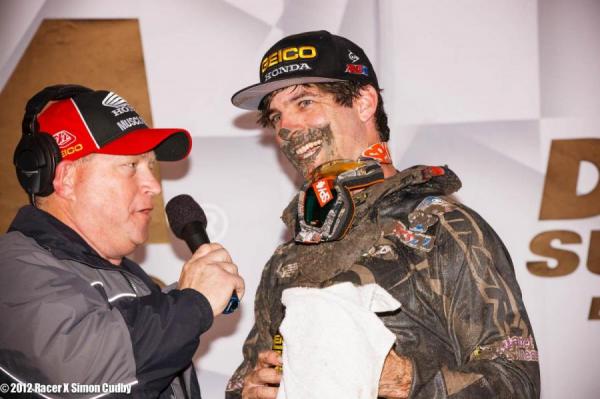 "The team worked really hard to get us out there today and get us on the podium. First one of the season, so it feels good." - Kevin Windham
Photo: Simon Cudby
Blake Wharton, Rockstar Suzuki, 5th in SX Lites class
Racer X: It was obviously a gnarly track out there tonight and you managed a fifth place finish. How did that go for you?
Not too good. I had a good start in the main but I had some bike problems. That's the truth and the track was gnarly; it really was. Daytona is always gnarly, but with the weather we had… it was tough. It was tough to keep everything together—and a lot of water. I got some water in my bike. Fifth, that could've been a third. That could've been a better ride. For that issue, it wasn't too bad for a bad night but it wasn't good enough to get on the podium. That is my goal. I want to win races and I want to do good, you know? I have an expectation of myself and it's pretty high, and I know I can do it because I've done it before. The competition is steep and the guys are good, but that doesn't matter. I know where I'm at and I know what I'm capable of. So I'm going to go into next week and have no problems, and just try to do my best race and really get up there. It's about hallway through the [East] season and there's a lot of racing left, so [I'm] not worried.
Marvin Musquin, Red Bull KTM, 4th in SX class
Racer X: You had a fourth place finish tonight, which is good. It's definitely one of the higher finishes for the 350. How do you feel about that?
It's great. Today I wanted to do good because Ryan Dungey is out, so I really wanted to do good for the Red Bull KTM team and also for myself. So yeah, I did good—third in the heat race and fourth in the main event. We made some changes on the suspension and we changed a tire for the main event. I had a really good feeling with the bike. I had fun, actually. The track was pretty gnarly and really hard, but I rode good and smooth. And then I finished fourth, which was really close to the podium because I saw Kevin Windham not far from me. I had a little crash with two laps to go, but I got up and stayed fourth.
So what does that mean for you and the KTM team—to be able to put the 350 so close to the podium?
I think it's good. I'm a 250 rider so this bike is really good for me. I'm really happy to put this bike in the top five again. Andrew Short has done it already last year. I'm showing that this bike is a good bike and I feel good on it.

"I'm really happy to put this bike in the top five again." - Marvin Musquin
Photo: Simon Cudby
Broc Tickle, Pro Circuit Kawasaki, 8th in SX class
Racer X: It was pretty hellish out there tonight. How did it go for you?
Tonight was pretty good. It's something to build off of for sure, because I've kind of been struggling lately. I'm looking forward to Indy. I've been getting good starts and have been working with Kyle Lewis on that and some other stuff. I feel like I'm getting stronger and going in the right direction. I feel like I should've gotten fifth tonight, but with two laps to go I kind of got together with some lapped traffic and got splashed. I couldn't really hold myself together with my bike all slippery and stuff. I lost some positions the last couple laps. We'll take it; it's an eighth. We're going into next weekend looking for a better result than that.
Ken Roczen, Red Bull KTM, 4th in SX Lites class
Racer X: It was a tough night out there for everybody. How did it go on your end?
No good man, no good. I don't know; it just didn't feel like me riding out there. I didn't jump the jumps—it was horrible. I think what I need to change coming into the next couple of rounds is to put some more intensity into my riding. I always just do long motos, but the speed they're putting out there… I have to pick it up myself. I'm always riding tight. This weekend's race kind of doesn't count—it's something different. My riding was not good again and last weekend I got sick. So I don't know, otherwise there are not many things to change. I feel like my fitness is good and I just have to improve a little bit on my riding and like I said, put more intensity into my riding and attack more. And also, the biggest thing that matters is the start. If you have a good start you can go out there and win, and this is what I'm trying to do for the next races.
So where do you want to be at when Indy rolls around?
To be honest, the only thing I want to do is get a frickin' win. It really bugs me inside to see him [Barcia] winning every weekend. But he is on his peak right now and he's riding amazing, and it's not just a luck thing. He's out there all the time and all he does is good start and put in some solid laps, and he's right there. With me, rough starts all of the time. I can do better, I know, and we all know. But it's always good, after a weekend like this, to talk to Roger, Ian, and the mechanics because they give you confidence. I just hope for a good week now and the best next weekend.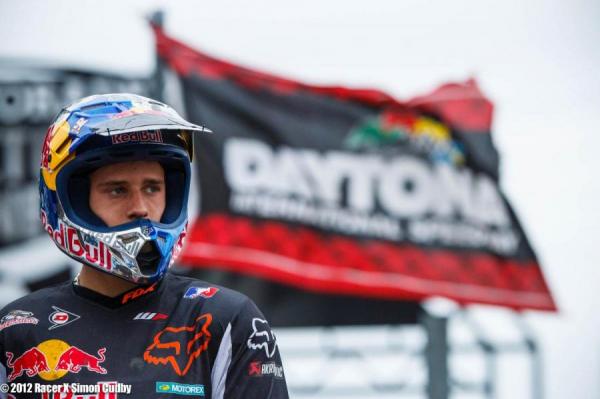 "To be honest, the only thing I want to do is get a frickin' win." - Ken Roczen
Photo: Simon Cudby
Phil Nicoletti, Eleven 10 Mods, 20th in SX Lites class
Racer X: So how was the evening?
Phil Nicoletti: It was no good after the heat race. I ended up third [in heat race] and then went back to the pits and did some bike work. You know, bike work took a little longer than it was supposed to and I missed my gate pick, so it kind of screwed me up real bad and I had to start way on the outside. After that, just did kind of a downward spiral. I moved up to like ninth or tenth, then on the third lap my bike quit. So three DNF's, three races in a row is not good.
You rode well in your heat. Were you feeling it, the mud experience?
I don't know. I've always been a good mud rider, so I kind of like it. But it was good to get up there with Barcia and Wharton, even though they did kind of check out a little bit. But it was just good to be up front with those guys and I'm learning every time I get up there.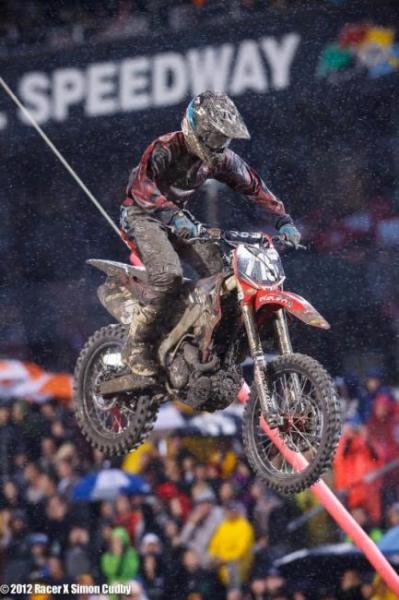 "I don't know. I've always been a good mud rider, so I kind of like it." - Phil Nicoletti
Photo: Simon Cudby
Matt Goerke, BTOSports.com Suzuki, 9th in SX Class
Racer X: Alright, what happened? I saw you up there. And then, all of a sudden, right at the end, something happened.
Matt Goerke: Yeah, I was feeling good, passed a few people, got into fifth and I was riding good. Then I just cased a jump and just stalled my bike and it took me a while to get it started. I got ninth, but I felt good.
Was it the Florida sand/mud that was helping, or do you think that your riding's coming around a little bit too?
I think it's more my riding. I mean, I've been living in California for two months, so I haven't ridden this in a while. But I've been feeling more confident every week. I've gotten better every week, too. I was confident before it even rained. I just felt good out there.
So even with a ninth, you're feeling like you can get up there again?
Yeah, definitely. I've been training my butt off; so next week will be even better.
Darryn Durham, Monster Energy Pro Circuit Kawasaki, 3rd in SX Lites class
Racer X: Alright, Double D on the podium from pretty far back.
Darryn Durham: Yeah, I didn't get a very good start and I just kind of rode smart for like the first five laps. I didn't fall. Then I started picking guys off and made it up to third pretty good. Barcia and Baggett were gone by the time I got there, so there wasn't much I could do.
The second half of the race it seemed like you were moving pretty fast.
Yeah, they said my lap times were the same as the leaders the second half, so once I got a clear track, I was moving. But you can't do it from the back in the mud.
Is this any different from the track being overwatered at Steel City for practice? Did that lend into your experience at all?
No, but I'm a PA mud guy at heart, so I threw that lens on the visor real PA-style about it, and just went out there and, feet off, going for it.
Alex Martin, Eleven 10 Mods, 13th in SX Lites class
Racer X: How'd it go? You were up there.
Alex Martin: Yeah. I think for six or seven laps I was up there, just kind of riding my own race and feeling pretty good, got a pretty good start. I actually got a terrible jump, but I was able to cut down on the inside and make a good start out of it. I was just riding up there, feeling really good. Then I went around a corner right before the finish line and my hand came off the handlebar and I tipped over and that's when Double D [Darryn Durham] got around me. Then after that, I actually had a very spectacular crash in the rollers and I actually just face planted into the mud. Everything was covered. So then, from there, it just kind of went downhill. But I was able to come out with thirteenth. It was pretty fun.
Your dad could give you some tips. He used to ride that crazy stuff. Didn't your dad used to ride all Enduros and everything? So he's like a super gnarly guy.
Yeah.
You should compare your endo in the water to what he did.
I would just like to add in there that I want to take out Phil Nicoletti in one of these races.
You want to take him out?
Yeah.
Your teammate?
Yep.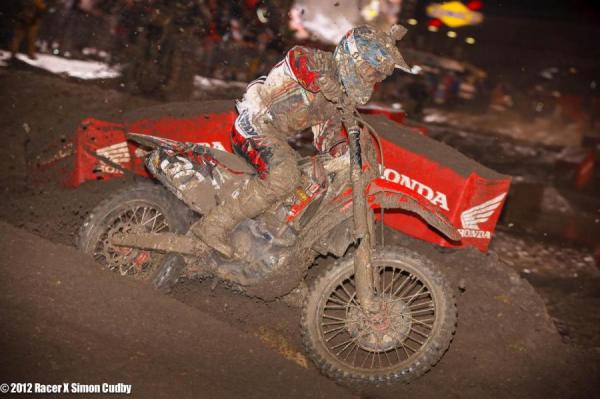 "Then after that, I actually had a very spectacular crash in the rollers and I actually just face planted into the mud." - Alex Martin
Photo: Simon Cudby
Jake Weimer, Monster Energy Kawasaki, 7th in SX class
Racer X: Pretty good ride, it seemed like, for most of the main. Was there a problem late?
Jake Weimer: There was a problem on and off the entire time. No, I mean, I actually felt like in different times throughout the main, I was riding well. But I think I fell at least three times, maybe four. I can count three for sure, but I think I fell four.
Were you losing positions? Or was everybody falling and you were staying where you were?
No, every time I lost positions. And then I'd get some back and crash again and get some back and crash again. I think I would go from like fifth, then I'd go back to like seventh or eighth, then I'd get back to fifth, then I'd crash again back to seventh or eighth. But there were different times throughout the main where I felt like I rode well. I just made stupid mistakes.
This is the first time you've ever raced here?
Yep.
Wow, that's crazy. What was it like? I mean, it's really weird compared to any other race, right?
It's tough. It's not easy. I mean, it's way different. I don't know if it's really supercross. It's more just like flat outdoor with some triples. I mean, it's definitely different, but I enjoyed it.
Share this article:
Did you like this article?
Check out MONSTERBALL
in our Latest issue of Racer X available now.

Playing soccer on 250cc motorcycles might sound like a strange form of riding, but in Russia they do it with great passion—and for very little reward. Page 112.
Look for the verified symbol
The Conversation