Daytona International Speedway
Daytona

,

FL
Daytona
Monster Energy AMA Supercross Championship
The JGR/Toyota Yamaha MX team has roots in NASCAR, so it seems fitting that their team would log its best-ever AMA Supercross performance at stock car racing's most storied grounds—Daytona. James Stewart and Davi Millsaps logged a 1-2 finish for the squad, but the race conditions were unlike anything seen at a NASCAR race. Rain may have delayed the Daytona 500 a few weeks ago, but it did nothing to stop the top supercross riders, who put on a great show on a muddy track in a constant day-long downpour. Fans were just as thrilled to see Kevin Windham log his first podium of the season on his GEICO Honda.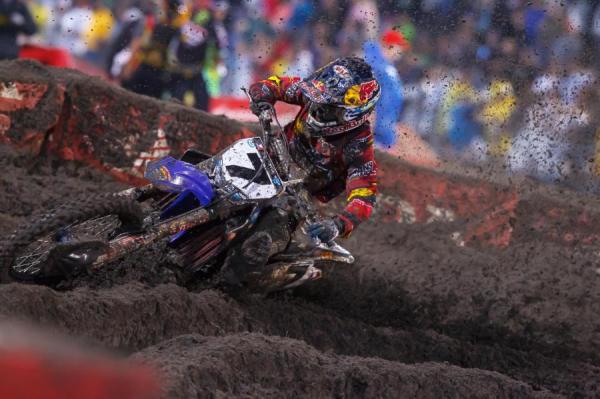 James Stewart snagged his second win of the season in a Daytona mudder.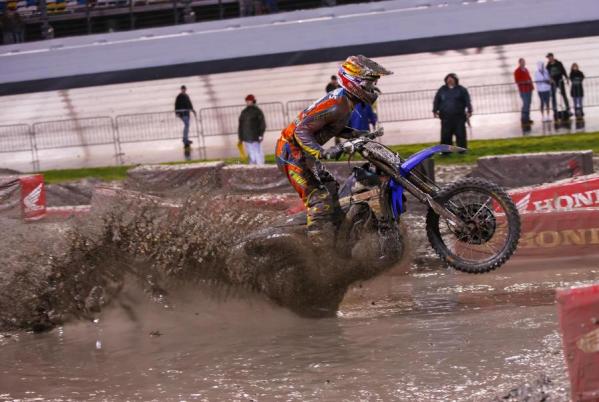 Stewart's teammate Davi Millsaps grabbed the holeshot and yielded to his teammate, but held on to second.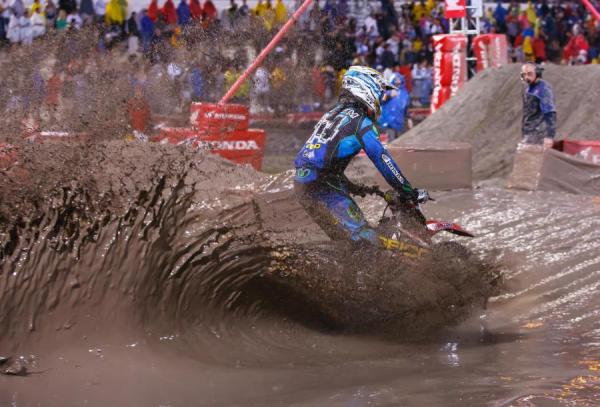 Windham was a popular third.
Cudby photos
Meanwhile championship points leader Ryan Villopoto saw his two-race Daytona Supercross by Honda win streak end. It happened with a stroke of luck similar to what Stewart has been dealing with lately. The Monster Energy Kawasaki rider got a bad start and then crashed in the third turn, leaving him dead last at the beginning of the rain-shortened 16-lap main. He fought, scratched and clawed his way back to finish fifth and salvage valuable points. Considering his closest championship competitor, Red Bull KTM's Ryan Dungey, had to miss the race with a broken collarbone, Villopoto's title hopes look better than ever despite the tough night at Daytona. Red Bull KTM's Marvin Musquin finished fourth.
In the Lites class, GEICO Honda's Justin Barcia kept his perfect season going with a fourth-straight win, barely holding off a fast closing Blake Baggett. Baggett's Monster Energy Pro Circuit Kawasaki teammate Darryn Durham took third.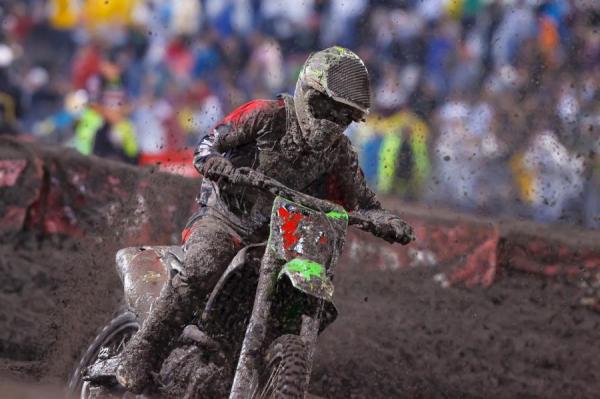 Villopoto fought back from last to fifth.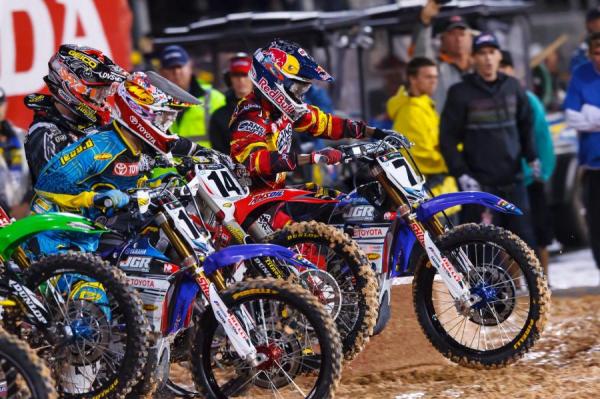 No problem with Stewart's start this time....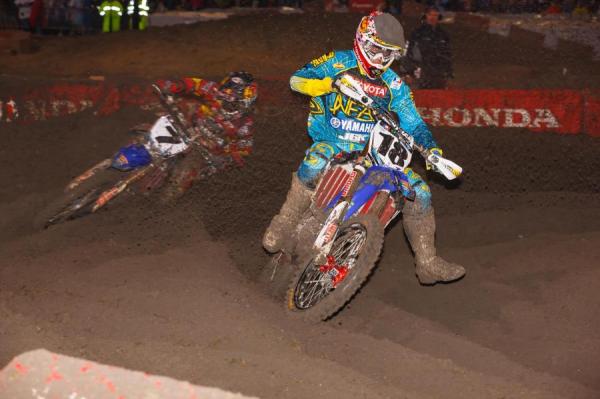 Millsaps and Stewart headlined the JGR team's best ever night in supercross.
Cudby photos
In the SX class, now desperate for another title contender after Dungey's injury, Stewart will now gather some attention for getting the win. But he's still a massive ____ points behind Villopoto in the standings. His day started with a nod to the old school, as Stewart ran the #259 on his bike in free practice (his old amateur and original pro number) and was hanging out with old friend Tony Haines throughout the day. With his #7 bolted back on for the timed qualifying session (there was only one timed session as rain led to a cancellation of the first timed practice), Stewart logged a lap nearly three seconds faster than anyone. Then Windham established himself in the heat races, winning the first heat and logging a faster lap than Stewart did when he won heat two. However, the rain kept coming and coming, so all bets were off heading into the main event.
Stewart had been struggling with starts lately, but he had an almost guaranteed good start in the main due to his good gate pick. The Daytona gate favored the inside gate on every start, and since Stewart's heat race was fastest (Windham had the faster lap but Stewart had the faster complete race time) he lined up on the inside. But then Millsaps ripped the holeshot, with Stewart right behind him. They battled before Millsaps secured the lead, with Windham third.
Millsaps led the first two laps. The muddy track had become one-lined, but Stewart tried a few tricks to get around. It came down to a teammate drag race down a straight into the second turn, and Stewart barely got to the spot, shut the door, and took off with the lead. Millsaps then came under pressure from Windham, but they both got roosted bad in a water hole by some lappers. Windham got blasted enough to where he had to back it down, and Millsaps hung tough for his first SX podium since 2010.
Musquin rode a smart and steady race all the way on his KTM 350, never really challenged en route to fourth. At one point, BTOSports.com/BBMX rider Matt Goerke looked set to get a fifth, but he stalled late and dropped to ninth. Jake Weimer was also in the hunt for a fifth, but he crashed late, and Villopoto took advantage of the carnage to take fifth.
Motoconcept's Mike Alessi took sixth ahead of Monster Energy Kawasaki's Weimer, Monster Energy Pro Circuit Kawasaki's Broc Tickle, Goerke, and Yoshimura Suzuki's Brett Metcalfe.
In the Lites race, Barcia once again nailed the start. He sprinted away for the first few laps, but then Baggett started putting on a hard charge. He closed to Barcia's rear wheel but then crashed, putting him about 10 seconds back. Then Baggett gathered himself for another charge, digging super deep to close in on Barcia again. He got back to Barcia's rear tire again, but ran out of time in the rain-shortened 12-lap main (and with Daytna's long lap times and the brutal, muddy conditions, the race was still way longer than a typical 15-lap Lites main).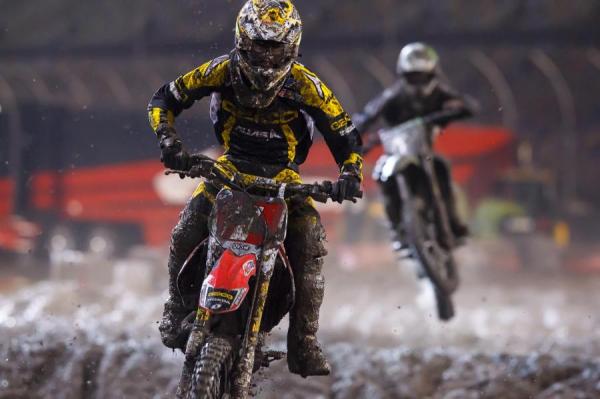 Justin Barcia led Blake Baggett by a small margin at the end.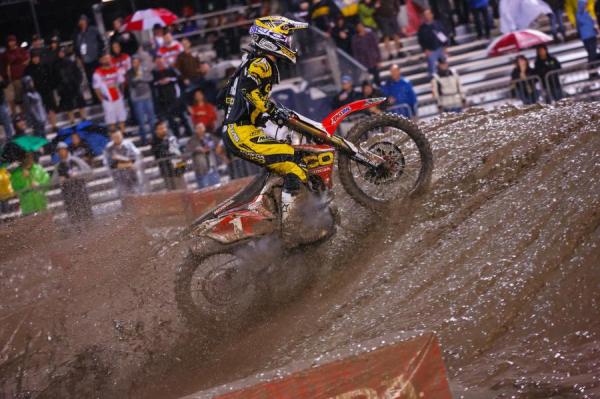 Yup. It was muddy.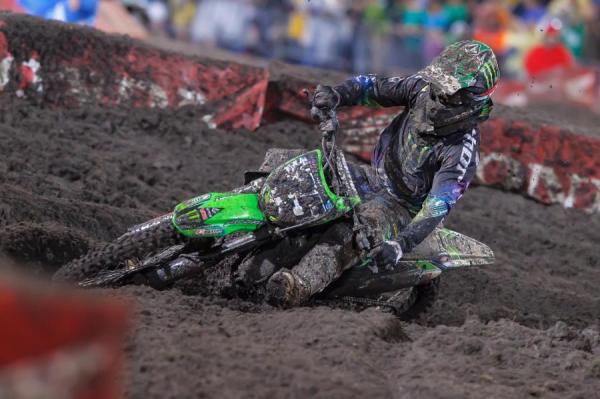 Durham came through the pack to finish third.
Cudby photos
Durham started pretty far back but logged a hard charge, passing Red Bull KTM's Ken Roczen and Rockstar Suzuki's Blake Wharton to take third. Roczen was fourth and Wharton fifth.
The series now, mercifully, heads back indoors with next weekend's Indianapolis Supercross at Lucas Oil Stadium.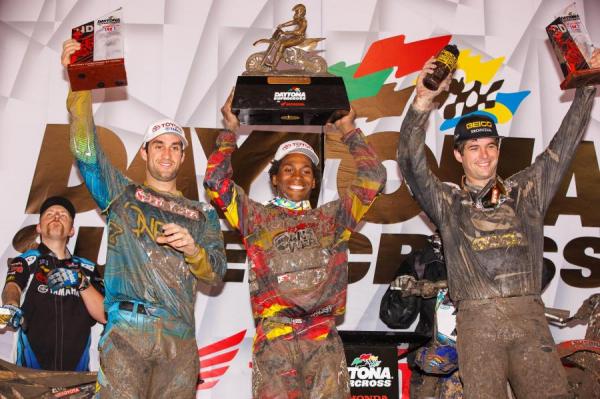 The SX podium.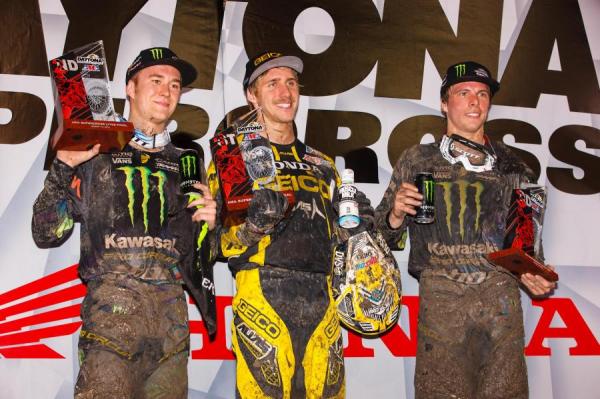 The Lites podium.
SX Class Results
1. J. Stewart
2. D. Millsaps
3. K. Windham
4. M. Musquin
5. R. Villopoto
6. M. Alessi
7. J. Weimer
8. B. Tickle
9. M. Goerke
10. B. Metcalfe
11. N. Wey
12. K. Chisholm
13. K. Regal
14. G. Faith
15. J. Sipes
16. J. Brayton
17. C. Seely
18. R. Clark
19. W. Peick
20. R. Kiniry
Lites Results
1. J. Barcia
2. B. Baggett
3. D. Durham
4. K. Roczen
5. B. Wharton
6. J. Canada
7. K. Cunningham
8. M. Stewart
9. C. Thompson
10. T. Weeck
11. L. Smith
12. S. Sewell
13. A. Martin
14. T. Bowers
15. J. Starling
16. P. Larsen
17. K. Peters
18. J. Bogle
19. J. Gibson
20. P. Nicoletti
SX Class Standings: 1. Villopoto 221, 2. Dungey 192, 3. Stewart 177, 4. Windham 143, 5. Weimer 134, 6. Millsaps 131, 7. Reed 128. 8. Metcalfe 124, 9. Brayton 121, 10. M. Alessi 113.

Lites Class Standings: 1. Barcia 100, 2. Durham 76, 3. Roczen 75, 4. Wharton 72, 5. Baggett 62, 6. Canada 56, 7. Bogle 46, 8. M. Stewart 42, 9. Cunningham 42, 10. Thompson 32.