Daytona International Speedway
Daytona

,

FL
Daytona
Monster Energy AMA Supercross Championship
By: Jason Weigandt and Steve Matthes
The continually revolving door of satellite teams kick started some bench racing about great squads that have come and gone. Here's part 2 of the series, click HERE to read part 1.


Mach 1 Yamaha:
This team came on strong quickly, and left just about as fast. After Nick Wey survived having Steve Matthes as his wrench in 2002 while winning the SX Top Privateer Award with Moto XXX, he and Heath Voss signed up with the new Mach 1 team for '03, which had some access to factory support. For 2004, Ezra Lusk took Wey's spot and Mach 1 had full factory stuff for him and Voss (Ezra was on a YZ250 and Voss on the big thumper). Ezra was blazing fast in pre-season testing and many thought he could give Chad Reed a run for the title, but an early crash sent his season spiraling downward. He returned for one last race at Washougal on the four-stroke -- Ezra's first race ever on the thumper. He rode well, but his broken leg still hurt, so he called it quits. Voss, meanwhile, delivered the World SX GP title. Then just like that, the team went away, as Lusk didn't race in '05 and Voss was absorbed into the factory Yamaha rig.
ECC Suzuki:
Run by California's Escondido Cycle Center, the enigmatic Sting Ray, Mike Craig, was team manager of this team, which ran some of the most colorful bikes on the track. One year, they got some press out of buying an insurance bond that would pay a whopping $1 Million if one of their riders won a championship. They didn't really come close, but veterans like Steve Lamson as least gave the team some cred, and Shae Bentley even delivered a few podiums in supercross.
Bill's Pipes/Rockstar Suzuki:
It is nearly impossible to keep up with the evolution of the various Rockstar-backed Suzuki teams. Even today's Rockstar Suzuki team has no connection to this Rockstar Suzuki team of 2006, and what's more, there was another Rockstar Suzuki team in 2007 (with Michael Byrne in the 450 class) that also wasn't connected to today's team. Today's team is actually an outgrowth of the old Canidae Kawasaki team, which actually took the place of the Kawasaki team owned by Motosport.com...where were we? Oh yeah, the '06 Rockstar Suzuki team wasn't just the best of the Rockstar Suzuki teams, it was the best team ever. At least for excitement! You had Jason Lawrence, Ryan Mills and Sean Hamblin teamed up with Mike Brown, and those '06 Kawazuki hybrid 250Fs were, um, not that reliable. Once again, the reality show cameras missed out big time on this effort. This was a one-and-done team, but I would have paid good money to watch it all destruct throughout the season.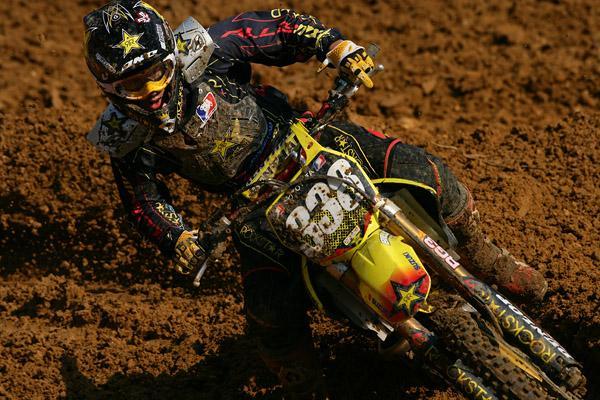 Jason Lawrence was a member of the now defunct Rockstar Suzuki team in '06.
Photo: Simon Cudby
Noleen Yamaha:
Noleen Yamaha was a powerhouse team in the mid-90's and featured riders such as Larry Ward, Larry Brooks, Kyle Lewis, Shaun Kalos, Tim Ferry and others. Noleen was a successful suspension shop up in the high desert owned by Clark Jones and went the privateer route for many years riding Yamaha's. They even managed to get backing by the restaurant chain of Sizzler for a few years. The high point for the team was having Larry Ward finish in second place in the supercross series and Tim Ferry finishing as the top privateer in 7th place in 1999.
The team also competed in the Ultra-Cross races (remember those?) and won some titles with Brooks and Lewis. All in all, the Noleen team outperformed their expectations almost every year they raced.
Blackfoot Honda:
Blackfoot Honda was a team based off a dealership in Calgary, Canada and their main focus was the Canadian nationals. For a few years they took a run at AMA Supercross with riders like Jean-Sebastian Roy and Heath Voss among others. They had some good finishes and were even named the Team of the Year at the awards banquet at Las Vegas after one season. Of course up in Canada they continued on racing and racking up wins and titles up north until this past fall when they pulled the plug on the team.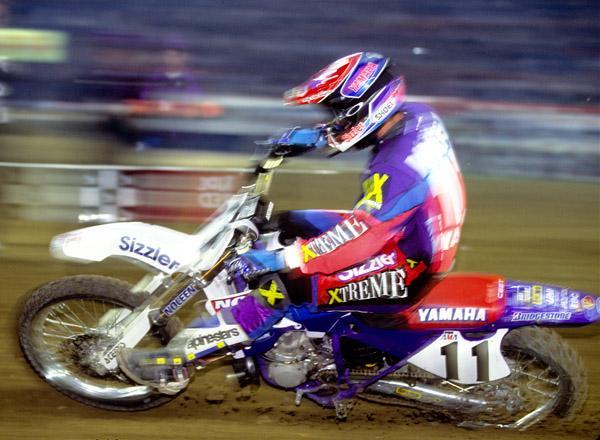 Larry Ward riding for Noleen Yamaha in 1995.
Photo: Moto Verte
Plano Honda:
Plano Honda was owned by Steve Johnson out of, you guessed it, Plano, Texas. Johnson had a shop and wanted to give back to the sport in the from of having a race team. Competing on Honda's and 125's for its entire existence, Plano's legacy will be that it was the first team for Ivan Tedesco as well as a couple of podium finishes here and there. They were sponsored by Shark Energy Drink but then when that funding never came through, the program took a big hit. Some of the riders to ride for them were Tedesco, Paul Currie, Travis Elliot, Casey Johnson and Scott Sheak.
FMF Honda:
FMF Honda formed in the 1998 season as a satellite team for the Honda factory. First year riders were Jason McCormick, Broc Sellards, Danny Smith, Scott Sheak and our own David Pingree. The team went for three or four seasons and won a couple of races with Michael Brandes and Casey Lytle as well as enjoyed some success with ex-GP rider Tallon Vohland who won some motocross races for the Southern California pipe shop.
Sadly, despite some serious potential, the plug was pulled on the whole deal after a few years. FMF's long legacy in racing still remains strong, just not with a team.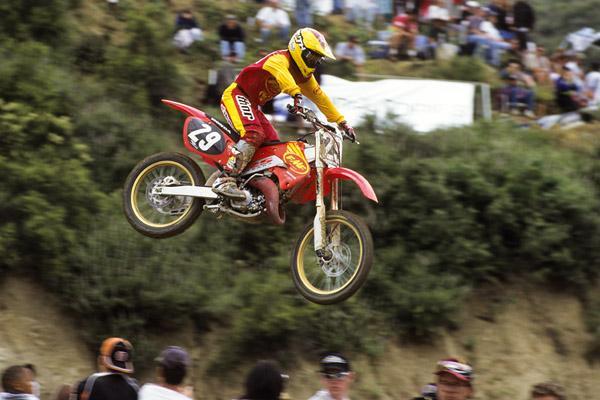 Our own David Pingree was a member of FMF Honda.
Photo: Racer X Archives