Daytona International Speedway
Daytona

,

FL
Daytona
Monster Energy AMA Supercross Championship
Lost amidst the Kevin Windham 200th main event celebrations and columns, was the fact that another rider hit the 150 mark in career main events this past week in St Louis. Team Motosport.com/Ti-Lube/Foremost Insurance rider Nick Wey crossed the 150 mark with a tenth place in the main event and is looking to keep racking up the starts. Starting in 2002 as a full-time 250/450 class rider, Wey's been quietly racking up results the last decade with some solid rides that have netted him podiums, top fives and numerous top tens.
We thought a call to the two-seven to talk about his feat was in order. In between him hitting us up for a magazine feature and pumping us up on his new Michigan Mafia-based Mafia Crew gear (check it out HERE) we got Wey to give us his thoughts on his career.
Racer X: Nick, 150 main events. Congrats, it's impressive for sure.
Nick Wey: Thanks, I feel like I've been racing for a while now. I didn't really know where I was at but my buddy BJ Smith called me and said that they were looking at [Kevin] Windham's starts and Chad [Reed] and I was at 148 after Dallas and so this past weekend, I hit it. It's a big milestone and I guess I'm pumped. Is there a bonus check involved in this?
No. But you're getting paid in the fact that you have to be proud of this.
Yeah, I am. I think I'm most proud of the determination that it takes to race this long and for me, it doesn't come as easily as it does to others. I put a lot of work into this and for me, sometimes I had awesome bikes but a lot of times, not so much. For me to keep grinding it out, I'm proud of the work that it takes to do that.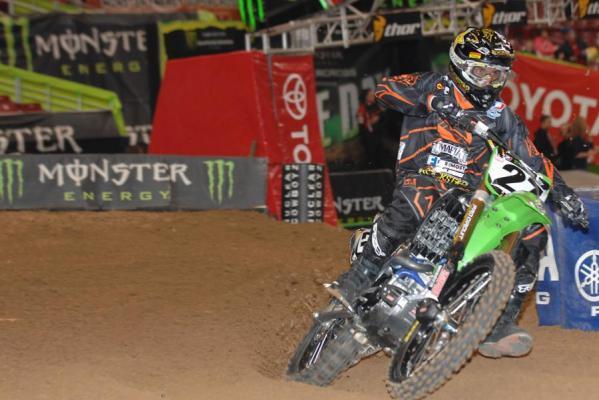 St. Louis marked Wey's 150th main event start.
Photo: Carl Stone
And another skill you have is to stay healthy. You've had a couple of injuries here and there but for the most part, you've been able to line up unlike so many of your peers.
Yeah, I missed most of the season in '05 when I got my ACL done. And in '07, I tore some ligaments off my thumb -- that turned out to be a big deal. Both of those years I was on the MDK team. Other than that, it's been pretty good. I got hurt in the Lites class a bit but yeah, I've been fortunate.
What about 200? It's four seasons away.
Yeah, I don't know about that one. That seems pretty far away and may be a bit unrealistic. I feel like this year, once the season started rolling, I've been improving and getting inside the top ten. I'm pushing to be better and I don't want to just race to be there -- I want to stay competitive. The Motosport guys have been behind me this year and we're working away trying to get better.
I was your mechanic for your first full-time year in the big bike class in 2002 but you did a few races for Yamaha of Troy when you were a 125 rider, right?
Yeah, I did the whole West Coast swing for those guys and I actually rode some big bike races for Pro Circuit in 2000 -- like two races or something. And then with the YoT guys, I did a bunch. In that 2001 season, I pointed out of the 125 class and I knew I was going to be moving up and I could have taken a dive to stay down in the class but I just thought it was time. I wasn't able to get a win in the 125 class but I was competitive every time I raced.
In 2001, when it came time to switch to the East Coast, I was seventh in the series in the 250's so I was pumped on that and I was good on the bike, so I figured I could be successful in the 250's. And I was hoping to have more support for that '02 season than what I ended up getting.
Yeah, I was supposed to work for Ryan Hughes on the McGrath team but then he retired and I was going to be your mechanic on that team before everything folded and we both ended up in a box van for Moto XXX.
The Moto XXX thing worked out for us and we made the best of it. I worked my way up from there each year trying to get some support and here we are, ten years later.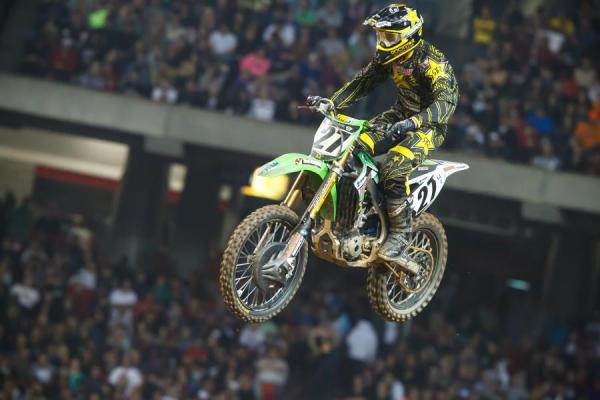 Wey has three top tens through nine rounds in 2012.
Photo: Simon Cudby
What are some of your highlights from your 150 main events?
The podiums I made, I think three or four, are right there. That was super hard to get and I had to work hard for those. And I have a ton of top fives and a lot of top tens. I've been top five in the series three different times, which is pretty good and top ten in the series most of the time. I'm most proud of the fact that it doesn't come easy for me like some of the other riders. It's always tough to race against the best racers in the world and to get 150 says a lot. It's not like I was coasting into these mains, you know?
You've switched bikes and teams a lot, but you're always there. That can't be easy.
I'm not always in my best-case scenario in terms of a bike and team over the years. But I always try to make the best I can of any situation I've been in. That's my M.O.
You've picked it up recently. What do you attribute this to?
Yeah it was a rough start and like we talked about, some of the shortcomings in switching teams is getting comfortable enough soon enough. I think the slow start is due to getting used to things, although I rode Kawasakis in 2010, the new bike is different and it took me some time to find the set-up for that. Obviously, we didn't have everything perfect when the season started and we worked some bugs out and I've been more competitive lately. David Vuillemin has been helping me out with riding technique and things like that. I was eighth in timed practice and for me, that's an improvement because I'm not always the best in those. DV's been a big help to me no doubt.
You're down at Ryan Villopoto's this week. How's that going?
Yeah it's fun, I'm currently taking Team Ti-Lube in the BroDozer to run some errands and ship some stuff. Riding down here is always fun. They had a stock Kawasaki 450 here so I threw my suspension on it and have been doing some motos. It's always good to get some time in the sand and although Daytona isn't as gnarly as it used to be, it's beneficial to get some time in down here before the race.