Star Valli Yamaha Rockstar Amateur Results - Freestone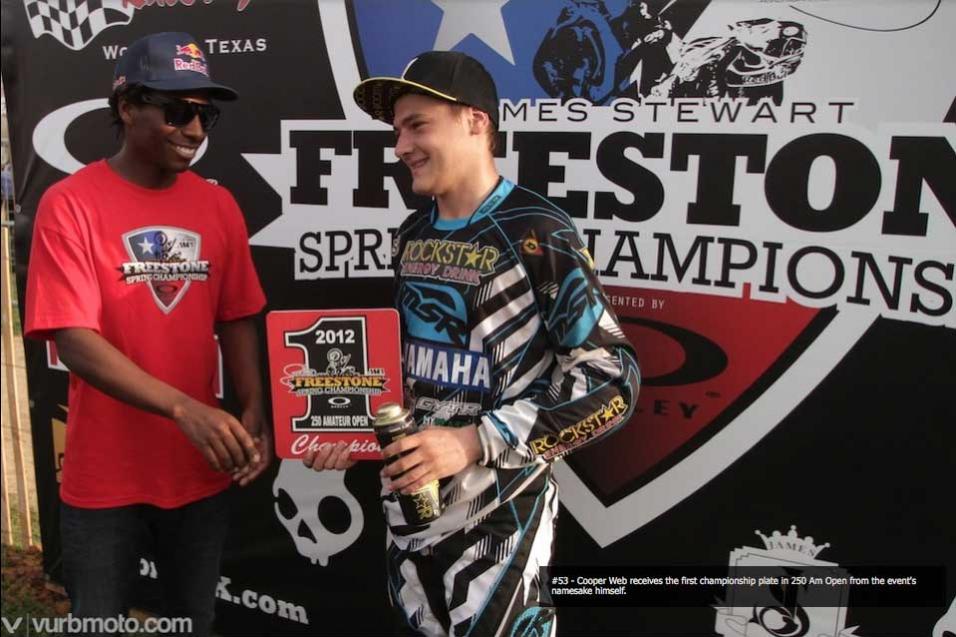 The amateur "stars" of Star Valli Yamaha Rockstar Racing Team, Jeremy Martin and Cooper Webb, were shining "big and bright, deep in the heart of Texas" this week at the 2012 James Stewart Spring Championship held at Freestone Raceway. Martin and Webb won 5 total Championships for their team with Martin winning the 250 A, 450 A, 450 A/Pro Sport classes and Webb winning the 250 B Mod and 250 Amateur Open classes.
Jeremy Martin absolutely dominated the field in the A classes and Webb proved himself a force to be reckoned with in the B and Schoolboy classes.  The event's namesake, James Stewart, was present at Freestone before flying to St. Louis to race Supercross and awarded Cooper Webb the first Championship plate of the week. Webb said, "It was very cool to get the award from James Bubba Stewart himself." Star Valli Yamaha Rockstar Team owner Bobby Regan was at Freestone as well and said, "We really appreciate what Tony Miller has done with this track. Amateurs racing on a Pro track that got deeply rutted and was maintained like a National pro track was great. It gave Amateurs a chance to ride on a true Pro caliber track. I really enjoyed it out there with the kids and being in a different atmosphere. Star Valli Yamaha Rockstar is actively looking at Amateurs for future years. We wish all Amateurs well in upcoming races."
So, as the lyrics to the song go, "the stars at night are big and bright, deep in the heart of Texas..." We will expect BIG and BRIGHT futures for Jeremy Martin and Cooper Webb.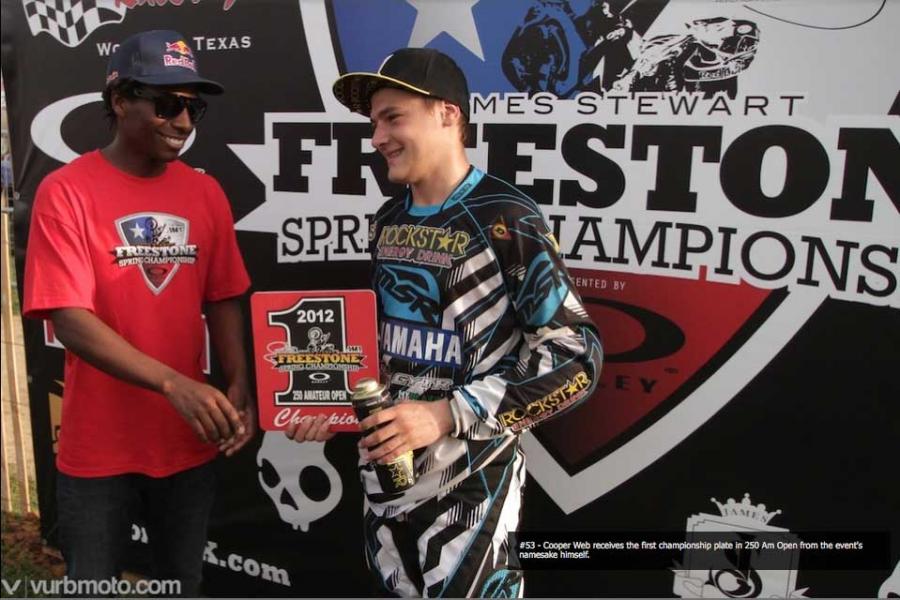 Photo Credit - VurbMoto. For complete coverage visit vurbmoto.com