Edward Jones Dome
St. Louis

,

MO
St. Louis
Monster Energy AMA Supercross Championship
Ryan Villopoto
seemed set to right the wrongs of last week's Atlanta Supercross at this Saturday night's St. Louis race. After taking a second last week, the points leader and defending Monster Energy Supercross Champion logged a near-perfect race day at the Edward Jones Dome, logging the fastest laps in both timed qualifying sessions on his Monster Energy Kawasaki, and then winning his heat race. With 59,000 fans on hand, JGR/Toyota Yamaha's
Davi Millsaps
grabbed the holeshot in the main event, but Villopoto was soon on him and around him for the lead, and then took off with his fifth win of the 2012 Championship.
It looked close at the end, though, as Red Bull KTM's Ryan Dungey logged a strong second half of the race to close to within two seconds of Villopoto at the final lap. Dungey, the winner of last week's Atlanta race, started about fourth and had to work his way past Millsaps, and then Honda Muscle Milk's Justin Brayton, who had passed Millsaps for second. Dungey finally made the move on Brayton for second on lap 13. The track had gotten rough, with the riders digging all the way down to the concrete floor in spots, so Villopoto played it safe. He also ran into some lapped traffic in spots, allowing Dungey to close. But with Villopoto's convincing speed all day and his superb win record this year, the outcome was never much in doubt. Dungey took second.
"The track was tough tonight," said Villopoto. "I tried to ride smart and consistent, paying attention to where (Ryan) Dungey was at. I was able to hold on for another win and my first-ever in St. Louis"
"It was tough to make passes out there," said Dungey, who was nursing a bit of a shoulder injury coming into the race, but one that didn't seem to hamper him during the event. "I am happy with second tonight even though I wasn't able to get to the lead. This track is one of a kind, and I had a blast riding on it."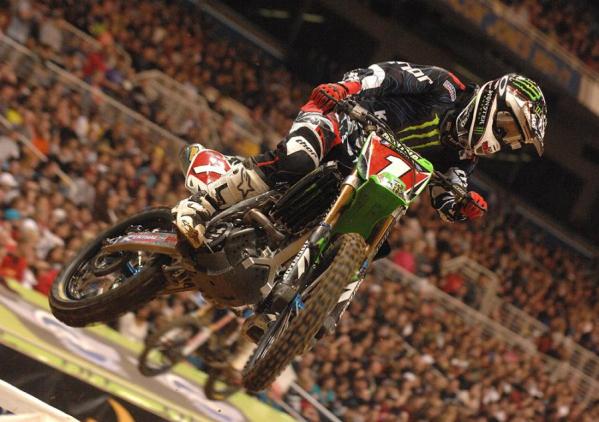 Villopoto was fast all day.
Carl Stone photo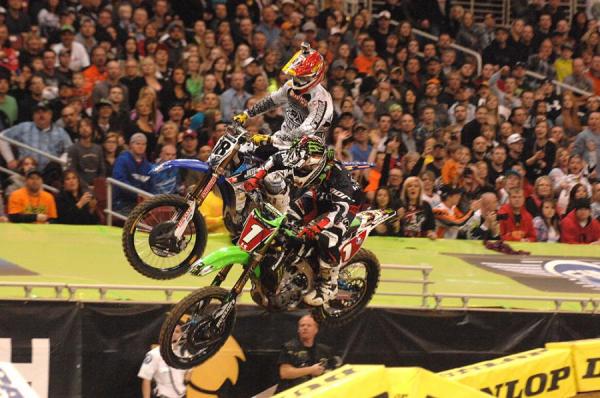 He made an early pass on Davi Millsaps to get the lead in the main event.
Carl Stone photo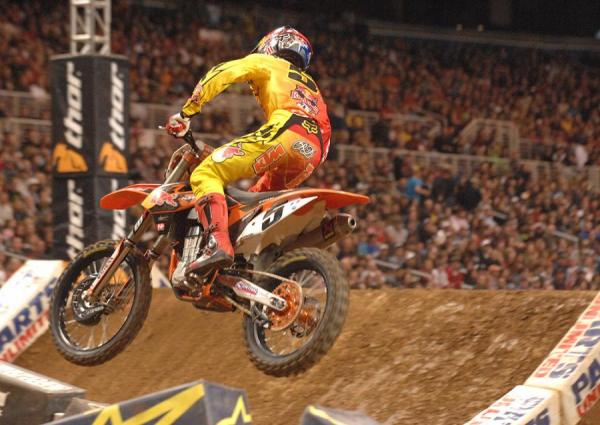 Ryan Dungey started around fourth and made his way up to second, but there was no catching Villopoto on this night.
Carl Stone photo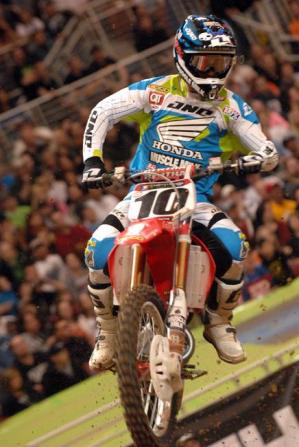 Justin Brayton landed on the podium for the first time this season.
Carl Stone photo
Brayton—still riding through the pain of a small fracture in his leg—held on for his first podium of the season with third. He credited actually getting in some riding on Thursday for helping knock the rust off of his riding, as he had not ridden during the week dating back to a big crash three weeks ago in San Diego. GEICO Honda's Kevin Windham took a solid fourth in his 201st career SX Class start.
JGR/Toyota Yamaha's James Stewart won the other heat race, but suffered yet another terrible start in the main, and then crashed on the first lap—all stories too familiar to Stewart this year. He picked himself back up to go from 18th to fifth, but now sits over 50 points—the distance of two full races—behind Villopoto in the standings.
Millsaps ended up sixth, ahead of Monster Energy Kawasaki's Jake Weimer, who won a battle with Yoshimura Suzuki's Brett Metcalfe. Marvin Musquin had a solid debut on his Red Bull KTM 350 SX-F to finish ninth, with Nick Wey tenth on his Motosport.com/Foremost Insurance/TiLube Kawasaki.
Last week's surprise leader in Atlanta, Cole Seely, rode well again and ran with the Dungey/Brayton/Windham/Millsaps pack early in the race before crashing on the over/under bridge. Seely was luckily able to downside the big jump with his feet and literally run down to the bottom as he tossed his bike away. He didn't finish the race, but was uninjured.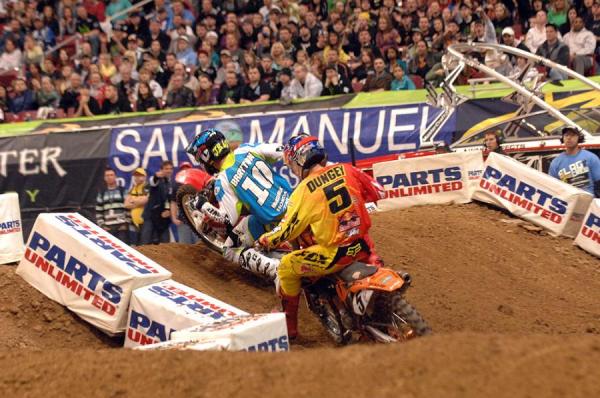 Dungey pressed Brayton hard before finally making the move on lap 13.
Carl Stone photo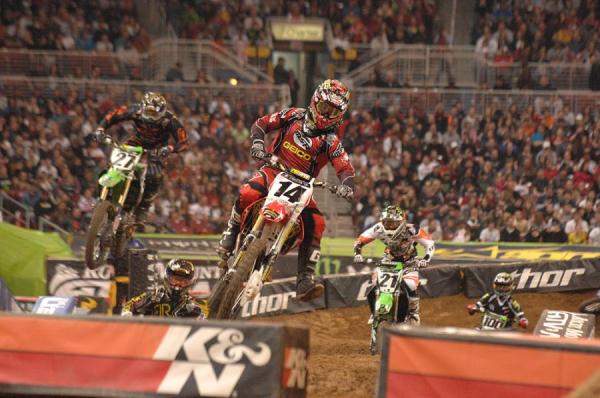 Windham stayed close to Brayton but ended up just off the podium in fourth.
Carl Stone photo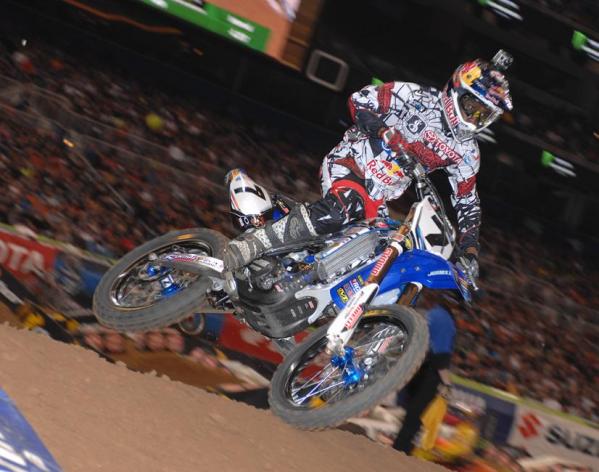 Stewart started way back and then crashed on the first lap. He climbed back through for fifth.
Carl Stone photo
As much command as Villopoto had of the SX Class, Justin Barcia was basically able to match in the Lites division. The GEICO Powersports Honda rider was not quite the fastest in practice—his teammate Justin Bogle edged him for that honor—but Barcia grabbed another of his seemingly patented holeshots in the main event. His primary challengers, Bogle and Red Bull KTM's Ken Roczen, were right behind him off the start, but Barcia wasted no time simply checking out from the whole field en route to his third win in three races. Roczen and Bogle battled seemingly the whole way, staying within bike lengths of each other for 14 laps with Roczen just holding onto second. On the last lap, Bogle tried to make something happen and crashed on a double, and then crashed again trying to pick his bike up and get going too quickly. He ended up throwing away a sure podium finish and taking fifth. Rockstar Suzuki's Blake Wharton took advantage to steal third.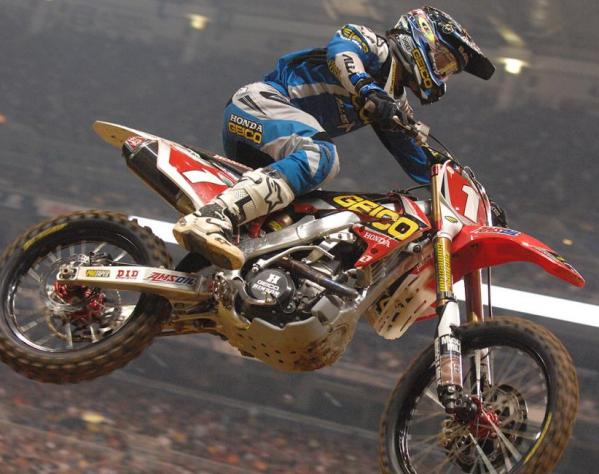 Barcia! Barcia! Barcia!
Carl Stone Photo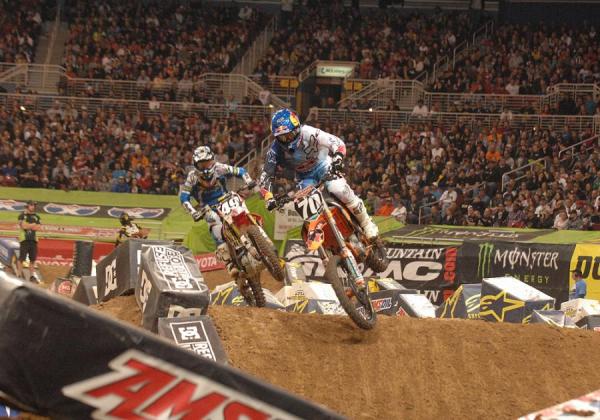 Ken Roczen and Justin Bogle were this close through most of the main event.
Carl Stone photo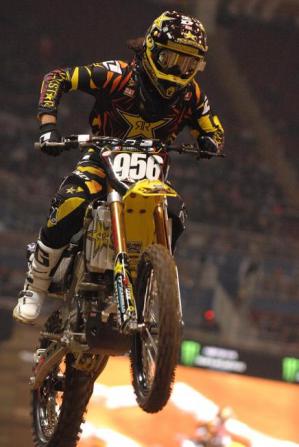 Blake Wharton put his Suzuki on the podium.
Carl Stone photo
Monster Energy Pro Circuit Kawasaki's Darryn Durham took fourth ahead of Bogle. Durham's teammate Blake Baggett was expected to be a contender for this year's east title, but had another subpar night from a bad start, finishing ninth.
The field heads to the most unique event on the tour, the rugged Daytona Supercross in Florida, next weekend.
SX Class Results

1. R. Villopoto
2. R. Dungey
3. J. Brayton
4. K. Windham
5. J. Stewart
6. D. Millsaps
7. J. Weimer
8. B. Metcalfe
9. M. Musquin
10. N. Wey
11. B. Tickle
12. M. Goerke
13. M. Alessi
14. R. Kiniry
15. J. Sipes
16. K. Chisholm
17. G. Faith
18. J. Albertson
19. C. Seely
20. J. Hansen
Supercross Class Season Standings
1.      Ryan Villopoto, Poulsbo, Wash., Kawasaki - 205
2.      Ryan Dungey, Belle Plaine, Minn., KTM - 192
3.      James Stewart, Haines City, Fla., Yamaha – 152
4.      Chad Reed, Dade City, Fla., Honda - 128
5.      Kevin Windham, Centreville, Miss., Honda - 123
6.      Jake Weimer, Wildomar, Idaho, Kawasaki - 120
7.      Justin Brayton, Murrieta, Calif., Honda - 116
8. Brett Metcalfe, Lake Elsinore, Calif., Suzuki - 113
9.      Davi Millsaps, Murrieta, Calif., Yamaha - 109
10.   Mike Alessi, Hilliard, Fla., Suzuki - 98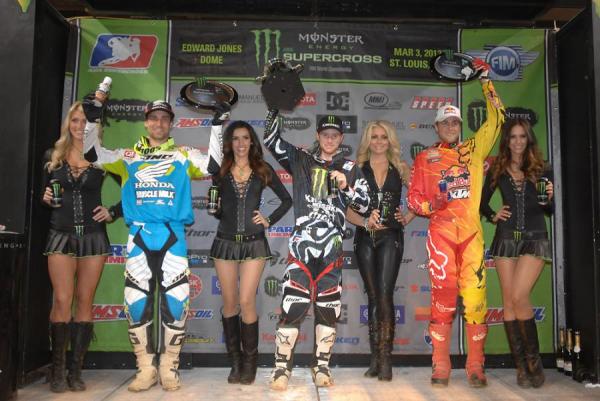 The SX podium.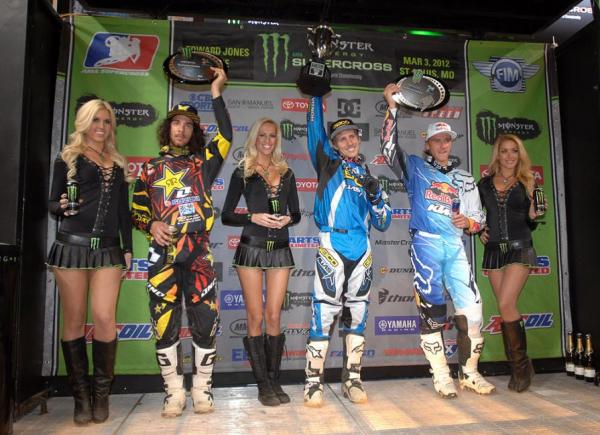 The Lites podium.
Lites
1. J. Barcia
2. K. Roczen
3. B. Wharton
4. D. Durham
5. J. Bogle
6. J. Canada
7. M. Stewart
8. K. Cunningham
9. B. Baggett
10. A. Martin
11. M. Lemoine
12. H. Hewitt
13. C. Thompson
14. A. Catanzaro
15. J. Gibson
16. A. Politello
17. P. Larsen
18. B. Ripple
19. P. Nicoletti
20. T. Bowers
Eastern Regional Supercross Lites Class Season Standings
1.      Justin Barcia, Ochlocknee, Ga., Honda - 75
2.      Ken Roczen, Murrieta, Calif., KTM - 57
3.      Darryn Durham, Butler, Pa, Kawasaki - 56
4.      Blake Wharton, Pilot Point, Texas, Honda - 56
5.      Justin Bogle, Cushing, Okla., Honda - 43
6.      Jake Canada, Sun City, Fla., Honda – 41
7.      Blake Baggett, Grand Terrace, Calif., Kawasaki - 40
8.      Hunter Hewitt, Pilot Point, Texas, Suzuki – 31
9.      Malcolm Stewart, Haines City, Fla., KTM - 29
10.   Kyle Cunningham, Aledo, Texas, Yamaha – 28