Georgia Dome
Atlanta

,

GA
Atlanta
Monster Energy AMA Supercross Championship
Boy did we need the Atlanta Supercross. Just a few weeks ago, "four winners in four races" set the Monster Energy Supercross hype machine to Linsanity. We were just as pumped on 2012 as we were on 2011, which had provided a Tebowmania dubbed "The greatest season ever." But then came one section of track—the San Diego whoops—to reset the field.
Ryan Dungey
struggled in that section, and with that, the hype died a bit—maybe Dungey's new KTM wasn't as ready was we thought? A few laps later,
James Stewart
crashed in the same section, reigniting all the troubles of Stewart's past: he crashes too much, and/or that YZ450F sucks.
Which left Villopoto and Chad Reed pulling away from the competition. Reed, in fact, was better in those San Diego whoops than RV, and while he didn't win the race, he came close enough to keep things exciting. Then he and RV battled some more in Dallas—until Reed crashed out of the series. Meanwhile, Dungey took a distant second and Stewart had more troubles en route to sixth. After the first four rounds produced four winners, the next three produced just one, and Villopoto went from two points down on Reed and Dungey to leading everyone by 13. Were we set for a runaway?
Luckily, Atlanta showed up to provide the shot in the arm.
Some races can do that. I think back to Anaheim 1 of 2009. By the end of 2008, new economic realities were hitting hard, and it seemed like all of the motocross news centered around slashed budgets, doom and gloom. After a solid ten years of growth stacked on growth, no one was quite sure what to expect for the '09 season. Would the stands look empty? Would team morale be down? Would the racing be any good?
Well, it was all good. Stands packed as usual, teams looked as big as usual, and Stewart and Reed put on a wild battle that put them both on the ground, opening the door for Josh Grant's all-time dramatic first career win. It was awesome and exciting and no one talked doom and gloom for the rest of the year after that one.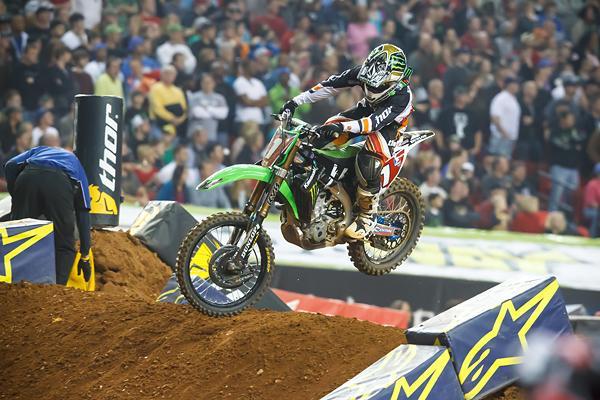 Villopoto was the favorite heading into Atlanta, but Ryan Dungey was there to answer the bell.
Photo: Simon Cudby
It Atlanta, it started with the atmosphere. Let me repeat this for the 973rd time: Atlanta has become Anaheim east. There's a palpable "you gotta' be here" tone to this event unlike any other besides the opening and closing rounds. That's pretty impressive for a race that sits smack dab in the middle of the season. You see tons of industry types here even though the event is far, far away from the California motocross hub. And if you do live east, you will be at this race. When supercross rolls into town, Atlanta is suddenly a day's drive from anyone, and the fans come from all over. You'll hear southern drawls, New York accents and Pittsburgh-ish dahntahners. Back when I lived in New Jersey, I drove to the Atlanta race, even though it took about 11 hours to get there. Seemed reasonable to me.
The fans here are hardcore, too. Out west, people wear shiny new threads as if it's the first day of school. Hair is fresh cropped, bills are billiard-table flat, skate shoes fit to eat off of. In the ATL, fans proudly display their old jersey collection by wearing it, usually with colors that you forgot used to be cool (neon orange or hunter green). By my estimates, 70 percent of the Damon Bradshaw jerseys and t-shirts still in circulation were worn to the Atlanta supercross this weekend. The DMXS guys tell me a fan showed up for a Friday night Honda dealership autograph session running an old MSR jersey and pants, prompting Kevin Windham to say, "Wow, you're all geared up, aren't you?"
This is a destination. A lot of people head to the Atlanta SX en route to get some winter riding in down in Florida—or people who have already stationed themselves in Florida drive back up to Georgia to catch the race.
The pits are incredibly, massively packed in the Georgia Dome. The line around the JGR truck was so big that team guys couldn't even get out while Stewart was signing, literally trapped between a five-deep wall of people on all sides.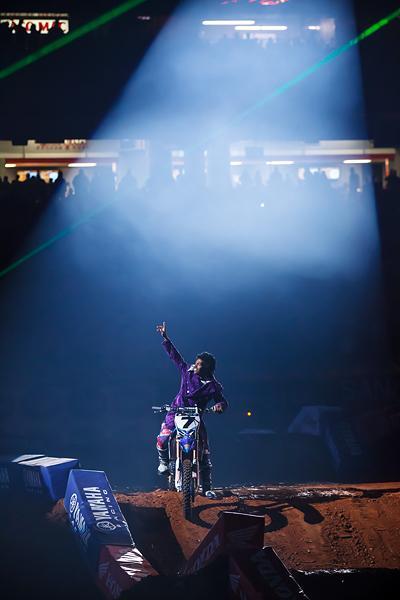 James Stewart, aka Prince, during opening ceremonies in Atlanta.
Photo: Simon Cudby
Then opening ceremonies began, and you could tell some of the same videos, pyro and lasers that ran for seven weeks out west were fresh again—most of these fans were seeing a live supercross for the first time this year. Then Windham, heading into milestone SX number 200, did his transfer and the place went nuts. Stewart rode out to Prince's
Let's Go Crazy
, donning a crushed velvet purple jacket and a 'fro. Then things really did get crazy with a pair of Lites heat races that no one wanted to win—two crash fests the likes of which we haven't seen since the glory days of
Dirt Bike Magazine's
special
Crash and Burn
editions.
Yeah, so Justin Barcia led from gate to flag in the Lites main. Okay cool, there were still 71,000 people in the building and they didn't seem worried. They had watched all of this great racing for seven weekends out West, and they wanted to get their fair share.
They got it. Cole Seely (!!!) led while Villopoto and Stewart tried to work their way from the back. Bench racing discussions broke out mid race as Dungey was either A) looking good by putting himself up front with his rivals way back or B) was blowing his opportunity by not taking the lead immediately. Villopoto was making moves, Stewart was making moves. Then Dungey would close on Seely. All three stars had their moments of looking good and being the fastest man on the track, but all three also made mistakes. Dungey finally forced his way around Seely (that's a few weeks in a row where Dungey has run the wheels in on someone—leopards do change spots). Villopoto got close. Stewart got close. Halfway through, it would have been realistic for any of the three to win the race as they exchanged fast lap times. This is what the fans wanted.
Then we had a little controversy with "red light gate" over a triple. Stewart's chances were looking fairly slim, but they were completely finished after that. And I did, sadly, see a few people actually get up and head for the exits at that point—not kidding. Hey, I know Atlanta traffic is bad, but I also know Villopoto isn't just going to sit 1.9 seconds behind Dungey for the last few laps and not put in one last push.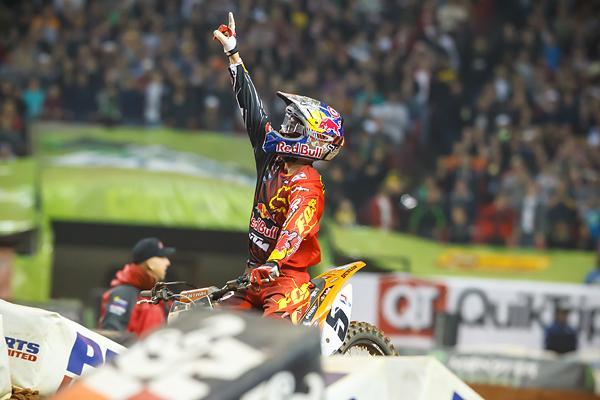 Dungey held off a hard charging Ryan Villopoto to capture his second win of the season.
Photo: Simon Cudby
He did. By about lap 15, Villopoto tucked in for one last mega-push. He knew this one win for Dungey could change the momentum of the whole series, and he wasn't going to just let that happen. He closed in, and Dungey started making more mistakes. Now the bench racers had last year's Steel City race in their minds, as RV got within striking distance on the last lap. If Dungey blew this one, RV would officially be made of steel. But instead, Dungey responded by logging his fastest lap of the race on the last lap, while Villopoto, pushing hard, bobbled in the sand. That was it, Dungey had it, but it took 19.5 laps to know for sure. The fans went nuts when it was over.
What changed? Villopoto still holds the points lead and still came from way back to catch Dungey—and he logged the fastest lap of the race. But those are just numbers. The feeling is that we have a series again, and no one is sure who will win this weekend in St. Louis. It's a feeling that, for a moment, seemed to be lost.