Georgia Dome
Atlanta

,

GA
Atlanta
Monster Energy AMA Supercross Championship
Ryan Dungey
still wants to win and still wants to work. But, just for a moment, he wants to be happy with what he's already done, instead of putting everything on how to win the next race.
After all, he and his new Red Bull KTM team are sitting second in the Monster Energy Supercross Championship, they've already won a race, and they've collected five podiums. It's not a bad way to start this new venture, even if Ryan Villopoto has been winning all the races as of late.
"What we have is so cool because it's so one of a kind, and every achievement we make is history," said Dungey on Saturday night in Dallas. "So yeah, I want to win, but at the same time I have to look at things and how great these circumstances really are and how great we are really doing. There's always that need, the desire, to keep getting better, to say, 'Oh if I just accomplish this I'll feel complete.' But the truth is, you're not going to accomplish everything and feel complete. You know, you have a five million dollar house, and then you'll think of how great it would be to have a ten-million dollar house!"
Dungey took a big risk switching to KTM in what should be the prime of his career. So far, it has gone well, but even his short moment of reflection won't let him get complacent.
"The bike suited me pretty quickly right off the bat, and I was actually really surprised. I really expected something completely different," he says. "Although it was different just sitting on it, it wasn't like 'Oh gosh this is way too far gone.' Every bike feels a little different. And the power was good, the motor was good, the suspension was good. Starting from that was good, but you know the speeds we are going nowadays, you have to keep improving. But that's with anything in life. If you don't keep improving, you're going to be far behind."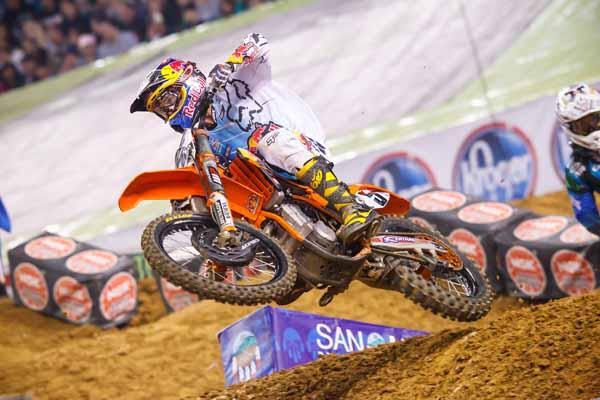 Dungey has accomplished a lot in his short time with KTM, but he's looking for more.
Photo: Simon Cudby
When Dungey jetted off with a holeshot and a win in Phoenix, and left holding a share of the points lead, it looked like all was well with the new team. But while the next few races have been good, a pair of fourths followed by a third and a second, they have not been as great. After Dallas, I asked Dungey about adapting to different tracks and obstacles each week. Other teams have mountains of old test and race data to sort through in search of the right changes. With a new program, Dungey's team doesn't have that luxury. Is that a problem?
"Yes and no," he says. "It would be great to go back on this stuff, but at the same time, I think everyone is doing a great job considering this is a brand-new 450. Yes, maybe that's a disadvantage to having a new bike, but at the same time, I've got guys, like Roger [DeCoster], who has taken teams to the number-one spot. I feel like if we have a problem, and we need to pin point it, we can do that. We have great guys, and we're all thinking. Even if we win, we've got to keep an open mind and know we have to keep pushing. And I think that's what has helped get this bike so far so fast—the people around it. That's the thing when I signed with this team, I knew if anybody was going to be able to do it, it was these people. Before I signed my name on the dotted line, you know, you have to believe you're going to be on the best bike out there."
Hard to say Dungey's bike is the best, but it clearly is competitive, and in this short amount of time, that's an accomplishment. But it's one Dungey is not going to rest on for long.