AT&T Stadium
Arlington

,

TX
Arlington (Dallas)
Monster Energy AMA Supercross Championship
One race does not make a series, but we can't help but do some old-fashioned bench racing after the first round of the Monster Energy Supercross Lites East Region Championship in Dallas. Our edit staff shares their early thoughts here--be sure to tell us what you think in the comments section below.
Davey Coombs:
I think a lot of guys learned a lot of things in Dallas. Barcia learned that he doesn't have to go all Bam Bam to get by people and win races, and that spells trouble for everyone in the future -- near and far.

I think Darryn Durham rode very well in his first big race for the big-time PC squad. Remember, he hasn't won a trophy as a professional! He rode tight but smart, and the look on his face while standing on the posium--a tell-tale smile--showed that after a slow start to the day, he was feeling very comfortable by the end. The Eleven-10 Mods men must have been smiling for their old friend.

The superb import Ken Roczen learned that he can't wait around to make passes, spending way too much time behind the SX debutante Justin Bogle, who in turn learned a valuable lesson most big-league players know: It's the guy who reacts to offense who looks worse in the public eye. His head slap on Malcolm Stewart was not a good image for people to take away from an otherwise impressive start to his career. As for Mookie himself, he obviously knew that he screwed up big time...

Not sure what Blake Wharton learned in his frantic comeback ride for fifth, but that was the fastest we've seen a Suzuki go in this class in some time. As for Blake Baggett and Kyle Cunningham, they probably didn't get to learn much from this opening night in Dallas and just want to get it behind them as soon as possible.  They will hopefully have that chance in six days in Atlanta.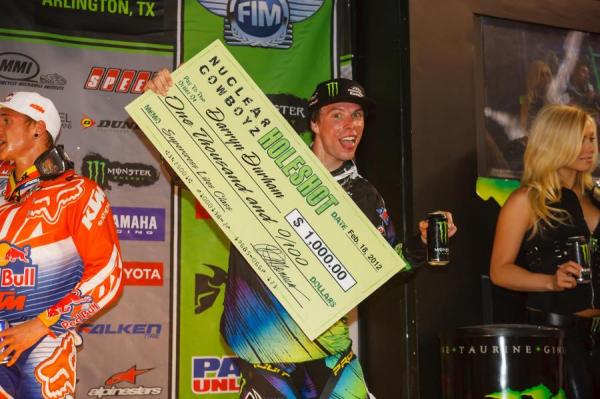 DC thinks a holeshot and podium finish has released some pressure on Durham.
Looks that way!
Cudby photo
David Pingree:
What a crazy opening race. The difficult part about these shorter 250 series is that you can't give up a ton of points at any one race. Blake Baggett and Kyle Cunningham know that all too well and I'm sure they would give anything to have a Mulligan on last Saturday night. Still, riders have rebounded from big deficits and Tomac is still in the hunt on the west after dropping 24 points in one night.
I think we all knew Barcia would be good. I didn't see anything there that surprised me, including his aggressive passes. Durham was a big question mark coming into the opener. He's been flying way under the radar, especially since his injury, so I wasn't sure how he would do. He rode great though and I think with the pressure of his first podium finish off his back he will really let it rip in the coming weeks. Roczen was calm and calculated in his first race back. I think he knows he needs to ease into this one since he doesn't have a lot of seat time yet. By round three, my guess is he will be scrapping with Barcia for wins.
I thought the best ride of the night might have been Rockstar Suzuki rider Blake Wharton. Blake has been on the cusp of breaking through the past few seasons but injuries have slowed him down. If his speed on Saturday was any indication he is poised to have a breakout year.
Bogle rode very well and I expect him to be on the podium soon. Malcolm Stewart's pass attempt on Bogle was poorly thought out and I commend James Sr. on his against-the-wall time-out after the race. Bad Mookie.
It's tough to nail down all the what-ifs in one night of racing. By round three we should have a good idea of who is going to do what.
Aaron Hansel:
Well, the first Eastern Regional Supercross Lites race has come and gone, and while it wasn't surprising to see Justin Barcia top the field, with Darryn Durham and Ken Roczen rounding out the podium, there were a few surprises elsewhere in the results.

Topping the list of good surprises was Phil Nicoletti, who has been absent from AMA supercross for quite some time. Nicoletti's fifth place is a career high, and is made even more impressive by his privateer status. In fact, Nicoletti doesn't even have any sponsors listed next to his name on the official AMA results sheet. If the New Yorker keeps garnering top fives, it won't be long before he has sponsors clamoring to associate their name with his success. Nice ride, Phil.

Canada's Cole Thompson also earned himself a spot on the nice list by taking ninth place in his very first supercross race. Less than a year ago, young Thompson was turning heads in the B class in the amateur ranks. Now, he's got a top ten finish in one of the most difficult forms of motorcycle racing there is. Nice!

Surprises that weren't so great include Kyle Cunningham's DNF on the first lap and Justin Bogle's aggressive reaction to Malcolm Stewart's silly move that left them both on the ground. I don't have a ton of interaction with Bogle, but I have interviewed him a few times, and each time he came across as very intelligent and even-keeled, so I was surprised when I saw him lash out physically at Stewart before returning to his own bike. Still, these guys are extremely young, and with it being Bogle's first supercross race, it's somewhat understandable that his emotions got the better of him. For those of you who find Bogle's actions utterly inexcusable, don't worry, there's no doubt that by now, Bogle wishes he could go back in time and react differently.

The best part about the opener out east? We get to see it happen all over again in less than a week.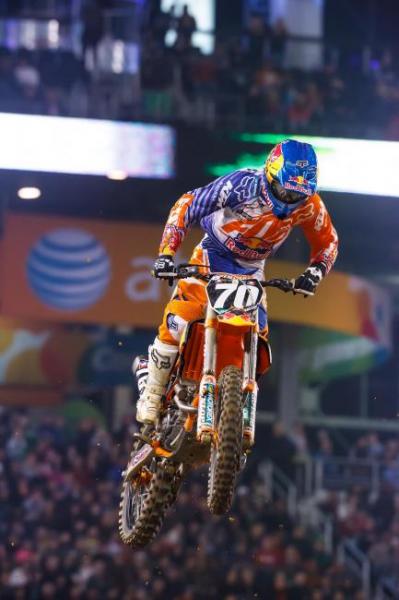 Roczen was darned close for a guy who was set back by an off-season injury.
Cudby photo
Jason Weigandt:
I was surprised how many riders told me they were tight, nervous and not showing their A game at the opener. There are always some jitters in the first round, but this was exceptional--both Barcia and Bogle told me they were probably more nervous for this race than any other race they have ever been in! Strange.
So that means we can't take too much out of it--once riders relax, the pace could change. Barcia looked pretty good (he didn't look tight to me, although he said he was) but I think Roczen, Bogle and Durham will have much more under the hood, as they never looked very aggressive. I think Malcolm Stewart will be better, too, I know he has great flashes of speed in him, but he didn't choose to bust them out in Dallas.
And Blake Baggett wasn't himself pretty much from the start--he crashed early in practice and never seemed to recover. Then, any attempt at salvaging a solid points day went out the window in the chaos of a first-lap crash.
To me, all this opener did was give us bad intel--any judgements based on this race will ultimately be bad judgements. Soon, we'll see who really has game soon, but we definitely haven't yet.