AT&T Stadium
Arlington

,

TX
Arlington (Dallas)
Monster Energy AMA Supercross Championship
The nine-race run to the East Region SX Lites Championship in Monster Energy Supercross begins this weekend in Cowboy Stadium. Who is racing where, and who is expected to go for the win? Use this massive scouting report as your guide.
GEICO Honda
Justin Barcia won last year's title by coupling his talent and aggression with superb starts, and that helped him stay consistent. He was also dealing with a wrist injury for most of the season, and many think that injury actually helped him in the classic "slow down to go faster" sense. Combine last year's championship with some big strides on a 450 outdoors last year, and Barcia now has the total package—not just speed, but smarts, starts and experience.
What to Watch For: As aggressive as Barcia is, he's actually not a huge crasher, so don't expect him to throw this away. If he fails to defend, it will only because of someone else stepping up.
From what I hear, Justin Bogle is packing the speed to do what only a few rookies can do, and that's contend for a title in their first supercross campaign. Like his fellow Oklahoman Trey Canard did in 2008, I would not be shocked at all if Bogle came out of the blocks with a win.
What to Watch For:
Test track lap times are one thing, but the pressure of an actual race is another. If Bogle can transfer his skills into a race without a hitch, look out.
James Decotis was ready to make BROtocross and the rest of his New England brood swoon in West Lites, but an injury has knocked him back. We hear Jimmy D may not be on track until Atlanta. – Jason Weigandt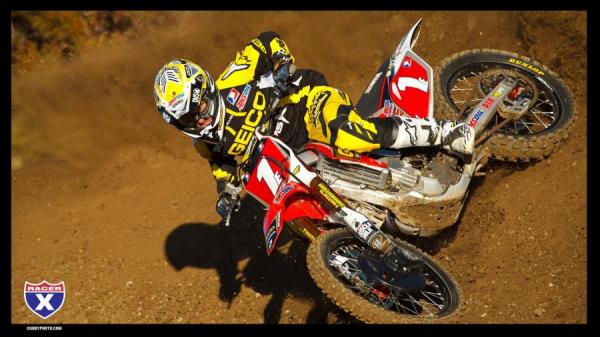 Barcia will begin his 2011 title defense this weekend in Dallas.
Photo: Simon Cudby
Monster Energy Pro Circuit Kawasaki
As usual this teams' riders will be in the mix for race wins and titles, and leading the way is Blake Baggett. Baggett, going into his second year on the team, was right in the points battle last year against Barcia and Dean Wilson after Daytona where he ripped off an impressive win. But then things fell apart in the form of crashes and bad starts and by the end, he was fourth in the points despite two wins and four more podiums. A DNQ at Jacksonville ruined his title chances.
What to Watch For: Baggett's in great shape, works hard and has speed in reserve. Add in the fact that his bike is one of the best in the class and he's going to be there until the end. With KTM's Ken Roczen expected to be a bit slow out of the gate due to injury, in my opinion, it's Barcia and Baggett at the beginning and middle, with some Roczen in the end.
Darryn Durham is new to the team and although the funny guy had a ride with Star Racing Yamaha when he first came up, it will be interesting to see how he handles the pressure of a Pro Circuit ride now. Many guys adapt just fine but others, like Troy Adams, don't do well with the 24/7 attitude of the team and its desire to win.
What to Watch For: Durham has a beautiful style (so says 1997 125 East Champion Tim Ferry, by the way) and has been in the trenches enough as a privateer to know that this is his best and maybe only shot at stardom. I'd look for DD to be on the box a lot and maybe take a win or two. He's got the one thing that you can't buy and that is talent. – Steve Matthes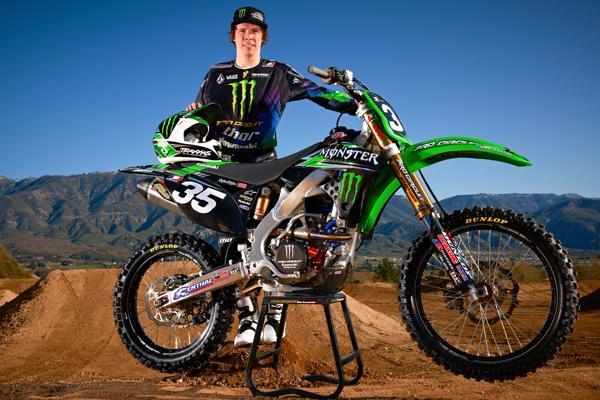 Durham makes his debut for Monster Energy Pro Circuit this weekend in Dallas.
Photo: Pro Circuit
Rockstar Energy Suzuki
Longtime GEICO Honda standout Blake Wharton will make his highly anticipated debut for the Rockstar Energy team. Shoulder injuries derailed Wharton in 2011, but after off-season surgery on both shoulders, Wharton should be 100 percent for his home race. Joining Wharton on the east coast will be Hunter Hewitt, the OG of the Rockstar Energy Suzuki team. Although Hewitt spent last year on a privateer Suzuki, he has been around the program since its inception and should have no trouble getting re-acclimated to the team.
What to Watch For: Wharton is a bon-a-fide title contender when healthy. By all reports Wharton is healthy and stronger than ever. He should mix it up with the front-runners and could win a race, but bringing home a title may be a stretch.
Hewitt had a career year last year finishing 10th in points—including five top tens. If Hewitt can repeat his 2011 campaign it would deemed a successful reunion with the Rockstar Energy team. - Chase Stallo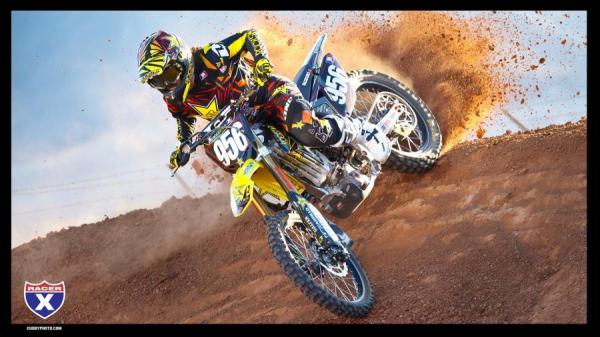 Longtime GEICO Honda rider Blake Wharton has made the switch to Rockstar Energy Suzuki for 2012.
Photo: Simon Cudby
Red Bull KTM
Ken Roczen finished off his first supercross season with a win in Las Vegas last year, then went back home to win his first MX2 world title. He definitely has the potential to be at the top. He's still young, though, and one season's experience doesn't mean his consistency on the track will improve dramatically—remember riders like Baggett and Barcia have an extra year of supercross on him, and Roczen is coming off of an arm injury that knocked him out of Lites West.
What to Watch For: Roczen's got a major international spotlight on him. He's proven that he can win a supercross race, as well as an outdoor title. Providing he has had enough time to recover from his arm injury, he should be a front-runner – Haley Whisennand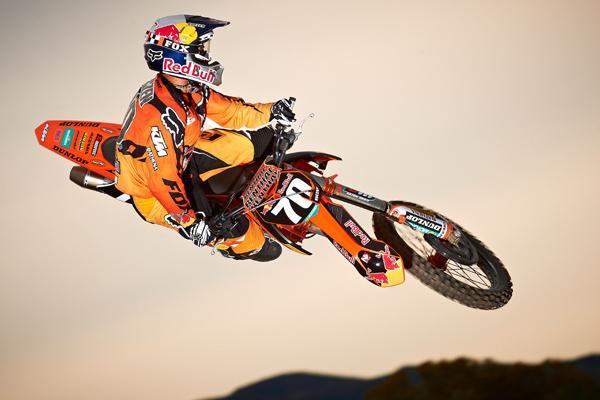 Big things are expected of Roczen in 2012.
Photo: KTM

Rockstar Energy Star/Valli Yamaha
Although he finished a strong fifth in last year's 250 Lucas Oil Pro Motocross Championship, Kyle Cunningham has fallen off the radar for a lot of people. But Cunningham has shown that he has the speed and the stamina he needs, all he has to do is start strong and stay on two wheels. Last year's supercross season featured a bunch of crashes, as he finished eighth overall in the west.
Cunningham's teammate, Kyle Peters, is fresh off the amateur circuit. He raced for Star Valli Yamaha for the last two outdoor nationals of 2011 and earned enough points to receive a top 100 national number. Though he was at the top of the amateurs, Peters hasn't had any real supercross experience. Just like most of the other fresh recruits, he'll take some time to learn the ropes.
What to Watch For: Proving consistent outdoors, Cunningham will want to clear crashing rep in supercross. As long as he gets decent starts and stays off the ground, look for him in easily the top five, if not on the box, and his first win is not out of the question. As for Peters, he might make the main, but this rookie might have some trouble with the change for the first couple of rounds.  There's a steep learning curve in supercross, what matters is how quickly he adjusts. – Haley Whisennand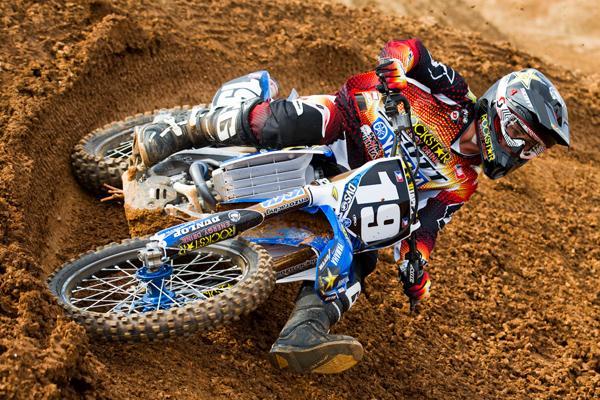 Can Cunningham bring home a title in 2012?
Photo: Garth Milan
J-Star JDR KTM
This team just grabbed its first podium in San Diego with Matt Moss and hopes for even better with Malcolm Stewart and PJ Larsen in the east. Larsen is coming off of a hand injury but has been back on the bike for a few weeks, he should be solid. But Mookie Stewart holds some real upside, as he proved he could go crazy fast in his rookie season last year. Could we be set for more Mookie Fever? The east series holds the potential to take this team to another level in the eyes of the industry.
What to Watch For: Larsen had high expectations last year but he, ironically, tangled up with Stewart at the opener and had to ride through injury for most of the year. He has the speed to go top five in this deep pack, but a win will be tough against this kind of talent. Stewart, at any given race or on any given lap, could go as fast as anyone, but he'll have to keep it off the ground to contend. It's worth noting that Mookie did improve his consistency dramatically through last summer's outdoor tour, so he seems to be improving in that area. – Jason Weigandt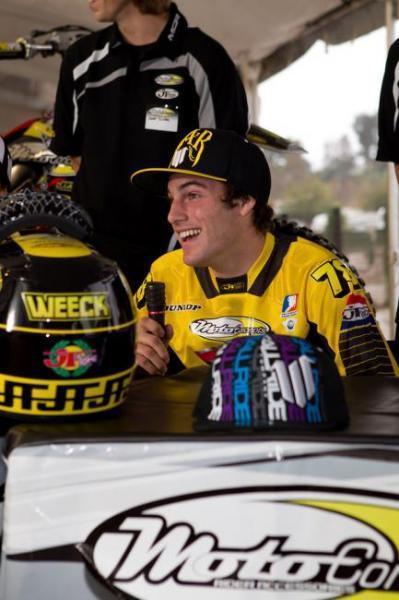 Weeck is one of the newest members of MotoConcepts for 2012.
Photo: Carlos Aguirre
MotoConcepts Racing
The MCR boys are going with a couple of solid riders who should, with everything taken care of as far as bikes and support, be able to just focus on working hard and trying to get better. Jake Canada is probably the lead rider on the east side and he's a top ten guy most nights. Canada (who's NOT from Canada by the way although that would be awesome in my opinion if he was) seems to be getting better each year. He's not going to wow you with raw speed but he seems to on the right track.
What to Watch For: A lot of top tens on the MCR bike and maybe Jake takes that next step up to be a 5-6 guy every weekend now that he's on, in my opinion, the best team he's ever been on.
Tommy Weeck is a local Pacific Northwest guy that scored an impressive fifth in a moto at Washougal last year. Weeck made four mains last year in the west series with his best being an 11th so clearly he can ride indoors pretty well, too. Only trouble is a wrist injury a few months back, but he should be ready.
What to Watch For: If he makes the top ten, that's the first step for Tommy. On a team like he's on with the support he's got, main events shouldn't be a problem. It's just working on it from there. – Steve Matthes
Ohlins USA/Langston Motorsports KTM
Grant Langston is running the show here as team manager, and he decided to wait until the east to give the team time to be fully ready. Les Smith is poised to be the lead rider, and he's coming off of some top-ten motos on a 450 outdoors as a fill-in with JGR. AJ Catanzaro and Taylor Futrell are also capable, so it's good to see riders who needed to catch a break actually catching one.
What to Watch For: Smith has always been on the verge of stardom both in his final expert years as an amateur and his first years as a pro—he needs to go up one notch to make a breakthrough, and if he does, he could get top fives. Catanzaro won an Arenacross Lites title in 2010 and Futrell is just two years removed from a great amateur career. They need the confidence boost of a few top tens, first, and then the team will go from there. – Jason Weigandt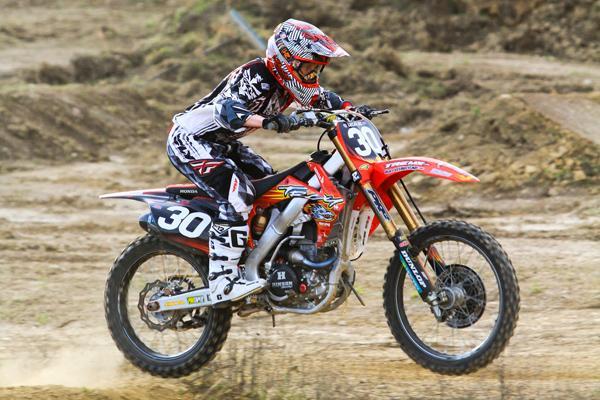 Alex Martin is hoping for a breakout SX season in 2012.
Photo: Zac Lowery
Eleven 10Mods
Alex Martin returns to the Eleven 10Mods team after a breakout year in 2011…outdoors. Supercross was a different story. The Millville native could only muster three top tens and finished 14th in points. The Eleven 10 team is also operating at a higher profile this year thanks to the success of Martin and Darryn Durham outdoors. They'll add Phil Nicoletti to the squad, a rider who had no problems pulling down top tens in some fill-in rides for KTM In 2010. Veteran Jeff Gibson will join up when the Arenacross tour ends in two weeks.
What to Watch For: The determining factor on Martin's season will be how he has adjusted to the whoops. If he has found a way to conquer that monster in his closest, expect a couple of more top tens out of Martin in 2012. Nicoletti did some racing in the Australian Super X Series and Gibson is in the Arenacross hunt, so they'll be ready, too. - Chase Stallo

HRT Racing
After a couple of up and down seasons to begin his pro career Matt Lemoine was finally able to hit his stride in 2011. Eight top ten finishes in nine rounds—including three top fives—helped Lemoine to a career best sixth in points. Joining Lemoine on the newly formed HRT team will be Nick Myers. The former MTF rider made three main events last year, with a season's best, 18th, coming in Atlanta.
What to Watch For: With great success come great expectations. Lemoine no longer has the luxury of sneaking up on anyone in 2012. Top tens are no longer the aiming point for Lemoine. He's looking for top fives and podiums. The only question that remains is; can he live up to the high expectations?
If Meyers can build off his three main event appearances last year, and make a majority of the mains and contend for top 15's, 2012 will be deemed a success.  – Chase Stallo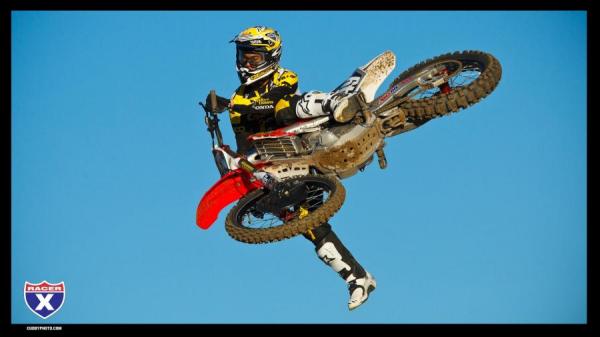 Justin Bogle will make his SX debut this weekend in Dallas.
Photo: Simon Cudby
Zack Freeburg
Freeburg will be making his first run at supercross this year aboard a Suzuki City RM-Z250. Michael Nasakaitis of Suzuki City says that despite Freeburg's limited supercross experience, he is a hard worker and is willing to do anything to make things happen. As an amateur, he was definitely fast.
What to Watch For: Expect 2012 to be a learning year for Freeburg. – Aaron Hansel
Justin Starling
Although 2012 will be Starling's rookie year in supercross, he grew up racing supercross and even has some international experience in Germany and Canada. Currently, Starling does not have a ride, and will be contesting the series as a true privateer.
What to Watch For: Starling may suffer without team support, but the experience and confidence he brings to the line puts him a step ahead of the other rookies he'll be facing this year. Starling expects to be in the top ten at every round, except for Dallas, which he will be sitting out. – Aaron Hansel
Violation1.com/Shea Racing/Travisa/National Switchgear Powered by SMS Racing
Jeremy Huddleston will be racing his first season of supercross this year, and his main focus probably won't be on making top tens, although his team says he has a very strong work ethic and a strong desire to excel.
What to Watch For: Huddleston's team wants Jeremy to get into the night shows, and work on getting the experience necessary to become competitive. In other words, 2012 is a learning year for Huddleston.
Sean Lipanovich broke his collarbone and had surgery just a few weeks before the start of the Eastern Regional Supercross Lites series. He will miss Dallas, and possibly Atlanta, but is expected to be back by St. Louis at the latest.
What to Watch For: Lipanovich has had top ten finishes in the Lites class before, but his recent injury will likely have an effect on his initial results. Expect Lipanovich to start slowly and gain momentum as the season progresses.
Like his teammate Lipanovich, Shane Sewell has had some top ten finishes in the Lites class before, and his team says his work ethic is beyond question.
What to Watch For: Sewell has a decent amount of supercross experience, and should have no problem getting into the mains on a regular basis. Expect him to garner a few top ten finishes throughout the course of the season. – Aaron Hansel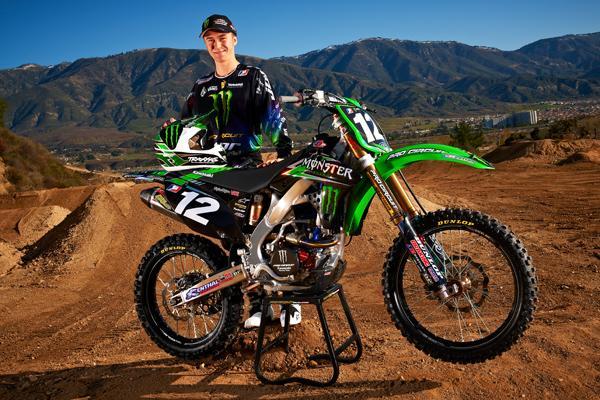 Baggett is hoping to make a run at the championship in his second year under Pro Circuit.
Photo: Pro Circuit
Dragon Fuels/AG Motorsports/Cernic's KTM
After winning the prestigious 450 A title at Loretta Lynn's in 2010, Gannon Audette was a hot commodity entering 2011. Signed by DNA Shred Stix/Star Yamaha, Audette experienced his share of rookie troubles early in the season. The Minnesota native was able to rebound late, though, finishing inside the top ten in three of the last four rounds.  Audette and Star Racing parted ways after just one year, and he signed with the Dragon Fuels/AG Motorsports/Cernic's KTM team for 2012.
What to Watch For: If Audette can avoid another slow start to his season, and stay consistent, look for him to improve upon his 13th place finish in points last year. – Chase Stallo
Munn Racing KTM & Moto Innovations
Sean Hackley Jr. missed all of the 2011 supercross season after suffering a torn labrum in his shoulder. Hackley would rebound outdoors, garnering a two-digit number for the first time in his career. Joining Hackley on the Munn Racing KTM & Moto Innovations team will be Lance Vincent, who quietly had a tremendous rookie season. The Louisiana native was the second most productive rookie in Lites East last year, finishing eighth in points, one spot behind Malcolm Stewart. Vincent scored three top tens during his maiden supercross voyage.
What to Watch For: It will take some time for Hackley to find his wings in supercross, after missing all of 2011. If he can find his momentum early and challenge for top tens, the Munn Racing KTM & Moto Innovations team will be happy.
Expectations are high for Vincent entering 2012. If Vincent can consistently run inside the top ten, and finish inside the top ten in points again, 2012 will be seen as a success.  – Chase Stallo
Cole Thompson
One rider that is flying so far under the radar that he's nearly crashed into the ground is Cole Thompson. The Canadian kid is going at his first supercross series as a full privateer on Hondas and hopes to make enough of a mark to get some interest from a team. He's an accomplished amateur racer who won a title at Loretta Lynn's. There's no doubt he'd be a top racer up in his home country (and be on a team drawing a salary) but instead chose to take the tough route and privateer it in the U.S.
What to Watch For: Thompson has been on the verge for a few years of breaking out as an amateur and although some thought he should stay down another year and get some more plaques, he's taking it to the big time. And with his program, I think some top tens would be great for Cole.  – Steve Matthes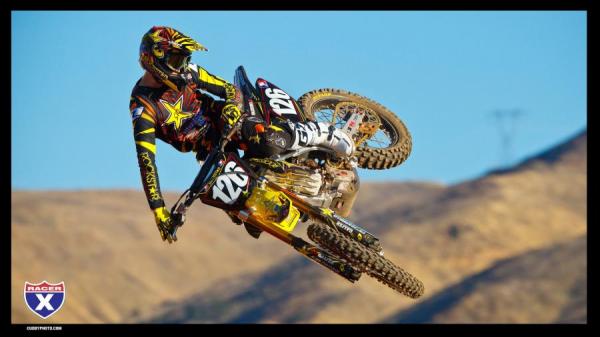 Hunter Hewitt returns to the Rockstar Energy Suzuki team for 2012.
Photo: Simon Cudby
Team Tedder/Monster Energy Kawasaki
Dakota Tedder was expected to contest the West Region alongside his brother Matt, but a wrist injury relegated him to the East Region. Dakota made three main events in 2011, with his best finish (16th) coming at the season finale in Las Vegas.
What to Watch For: Dakota was just cleared to begin testing a few weeks ago, so expect some early struggles from the California native.  – Chase Stallo
Reed and Reese KTM
Once poised for a breakout as an amateur, Mike McDade went down the wrong path and seemed to dissapear from the scene. Now he's back and packing an Arenacross Lites Championship. The Reed and Reese KTM team will support him through East Lites once the Arenacross tour finishes in two weeks.
What to Watch For: McDade has talent, but this sport waits for no one and the field will be going fast once he jumps into the supercross game. Making main events consistently will be a good start for the Pennsylvanian. – Jason Weigandt
James Justice
Justice is another rookie flying under the radar entering 2012. Justice had some bright spots as an amateur, but should expect a steep learning curve in his rookie season.
What to Watch For: Justice should look at 2012 as a learning year, where making mains is the ultimate goal. – Chase Stallo