100% Announces Addition of Scott Watanabe In Conjunction with Dealer Expo Launch
February 15, 2012 10:10am
Following the successful launch of the brand new line of MX goggles, 100% is taking another big step forward with industry expert Scott Watanabe joining the new venture as Senior Advisor.  Scott will join his longtime friend and former employee, Bevo Forti, who was announced as joining the company last month.
Scott brings over 30 years of experience in the industry, specifically in the goggle market managing the moto department at Scott USA.  He has been involved in all aspects of the product life cycle, from product conception all the way through the final sale.  His extensive background will be integral in the future development of 100%.
100% will display its entire line of new products at the upcoming Dealer Expo in Indianapolis later this week.  Dealers will have the opportunity to check out the goggles, preview upcoming products, and meet Scott, Bevo, and the rest of the team.  100% will be located at booth #1531.  Stop by and check us out.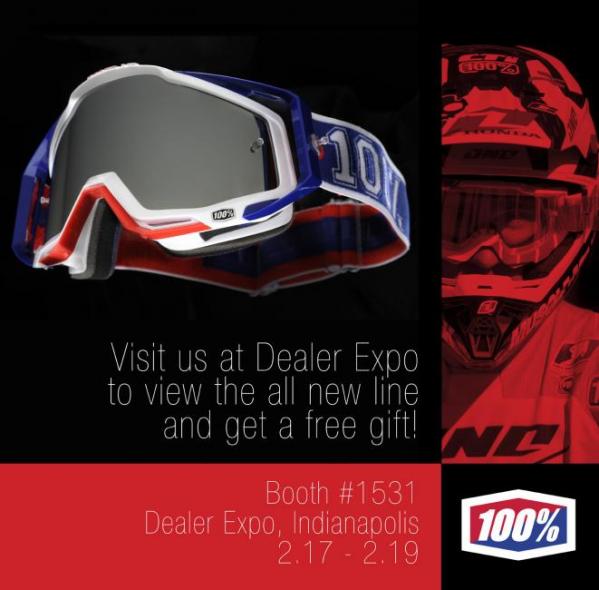 About 100%:
The 100% brand has always been synonymous with motocross Americana and has been linked to many iconic moments that have built the roots and history of what is modern motocross.
The roots of the 100% brand date back to the early 1980's when the popular logo graced the factory racing equipment of the biggest names in motocross.
Thirty years later the passion for the spirit of racing remains.  Today, 100% is about to inspire a whole new generation of racers and ask them the original tag line, "How much effort do you give"?
100%.  The Spirit Of Racing.
For more info, contact info@ride100percent.com
www.ride100percent.com