AT&T Stadium
Arlington

,

TX
Arlington (Dallas)
Monster Energy AMA Supercross Championship
The 2005 AMA Supercross season was supposed to be an epic one, but the hype quickly fizzled. James Stewart's debut in the 250 class ended with a practice crash and a broken arm in Phoenix. And the Ricky Carmichael/Chad Reed rematch, last seen in 2003 when Reed dropped six-straight wins while Carmichael snared the number-one plate, wasn't living up to expectations. Reed's front brake locked up in the Anaheim 1 mudder, leaving him with a 16th place finish. Worse yet, at the next few races, he proved unable to match Carmichael's pace. Coming into San Diego, Carmichael had hung up five-straight wins and already held a massive points lead.
And the San Diego event reeled off like the previous five rounds, with RC building a lead and Reed trying in vein to match him. They were both flying! Reed was riding the wheels off of his YZ250, but Carmichael was going every bit as fast, if not faster, on his RM250. Reed hung tough, staying close enough to capitalize if something went wrong. Reed needed to make up some ground, but he had two things on his side: the whoops and lapped traffic.
A lot of lapped traffic. As the duo pushed each other harder and harder, faster and faster, and they lapped further and further up the field. Finally, they started lapping really fast guys. They went past fifth-place Kevin Windham, and fourth-place David Vuillemin before closing on third-place Mike LaRocco. They were on the verge of lapping everyone!
They were also lapping slower riders two or even three times, and Carmichael got jacked enough for Reed to close in. With the white flag out, Carmichael left the door open, Reed jammed to the inside, stole the lead and jetted off to the win. They had also lapped all but one rider on the track. [Watch the full race below.]
The San Diego win didn't launch Reed into a heroic win streak or an epic championship comeback. The next weekend, RC responded by passing him twice to take the win in Atlanta.
But the San Diego win did help Reed escape with his rep intact. At least, after that race, everyone knew he was giving it his all. In a normal year, when one rider finds another gear and reels off a bunch of wins, criticism is heaped on everyone else. They don't want it bad enough. They don't train hard enough. On it goes.
This was worse during the RC era, because Carmichael hung his hat on fitness and work ethic. If you couldn't beat him, you were deemed to not be working hard enough (even though this ignored the fact that Carmichael also came equipped with plenty of natural-born speed that no amount of training could teach. You don't dominate the 80cc classes on fitness alone).
Back in those days, a rider couldn't say 10 words without two of them being "hard work." Everyone just kept marching out the hard work thing, because Carmichael put his competitors in constant defense of their training.
Carmichael won the 2005 SX crown and then went on to dominate outdoors, like he always did. But Reed fought valiantly enough to avoid the "if he would only work harder" tag. Instead, we all saw the season for what it was: Reed rode awesome, but so did the other guy. The next year, Stewart got into the big bike game for real, and pushed Carmichael to another level. Reed won scarcely, but it wasn't from lack of trying.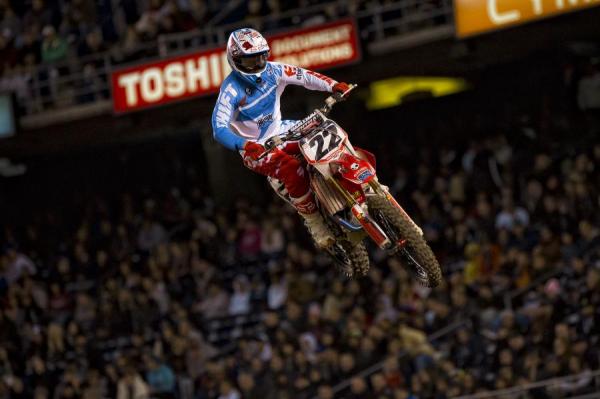 Reed matched Villopoto step for step in San Diego, but came up just short in the end.
Photo: Garth Milan
Saturday night's thriller in San Diego unfolded much like the 2005 race. Villopoto held the series' lead through the early going of the season, and held the lead in the race. But Reed had his San Diego magic going—he stayed close, using, again, the whoops and lapped traffic to make a move. It was eery: I remember well announcing the '05 race on the old Supercross Live! Webcast as my co-host Jim Holley screamed, "Reed put RC up in the corner!" And as Reed grabbed the lead amidst traffic and big whoops this time, it was like Déjà vu—until Villopoto responded with a stunning combination of aggressive yet clean riding to get the lead back.
After that race, one guy had won and one guy had lost, but no one could claim both didn't try as hard as they could. Villopoto is a darned machine, as cold-blooded of an on-track killer as they come. He has the ability to make everyone look lazy, except we know that even the riders he beats are trying their hardest.
I think it's permeating the sport right now. Yeah, there are probably a few riders out there giving it less than their all, but on the whole, the top ranks seemed filled with riders pushing their limits. Lazyness? It's not in season. We know Villopoto and Reed are pushing it, and third-place Ryan Dungey is certainly no slacker. James Stewart had another bad result, but I don't think he's sitting on the couch all week in Florida eating ice cream and drinking beer. Something seems to be off there, but I can't imagine lazyness is the reason.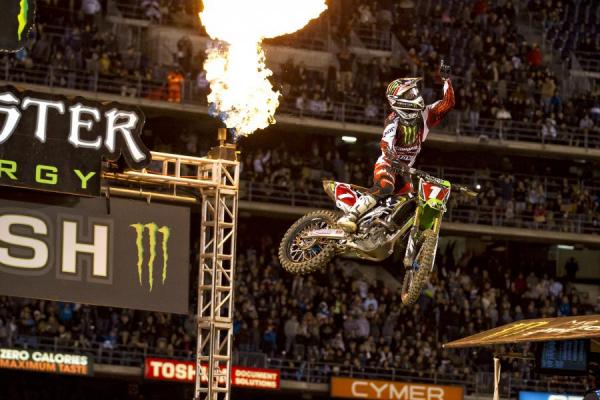 Villopoto captured his third win of the season in San Diego.
Photo: Garth Milan
Brett Metcalfe finished fourth on Saturday, and we know he leaves no stone unturned in the battle to be better. Heck, Josh Hansen has been a revelation on heart and grit compared to his checkered past. Davi Millsaps is a leaner, meaner machine this year. And do you think the likes of Brayton, Short, Windham, Weimer, Wey, or Chisholm are leaving anything on the table? Heck, Weimer employs the same trainer and rides for the same team as Villopoto.
Back in the Lites West ranks, we all know Eli Tomac runs a bulletproof program. His American bad-ass dad is the general (or The General), with training in Ryan Hughes' gym and riding touchups from Buddy Antunez. One big crash in the whoops may have changed the complexion of this championship, but not because Eli didn't want it badly enough. We all know Dean Wilson's program works, as proven by winning a grueling outdoor championship. Cole Seely has risen through the ranks like few others. These guys are doing all they can to be the best they can.
Back in the days of 2005, the cash was flowing through the pits. Some riders tried hard and succeeded, others tried less hard and had less success, but a whole bunch of them made money, regardless. You saw a real diving line between the workers and the slackers, because the comfort of next year's paycheck made for a soft landing from harsh results.
We wondered a few years ago what would happen as the money was drying up. Would you see more riders fighting harder for their paychecks? I think the proof is in the racing.