Qualcomm Stadium
San Diego

,

CA
San Diego
Monster Energy AMA Supercross Championship
After a rousing 20-lap duel with Chad Reed, Monster Energy Kawasaki's Ryan Villopoto emerged with his third win of the 2012 Monster Energy Supercross Championship. A few days earlier, RV also had a visit late at night from the World Anti Doping Agents (WADA), so we talked to him about the race and a variety of other topics for this week's Monday Conversation.
Racer X: So where the lappers hard to get by?
Ryan Villopoto: Yeah, I mean some of them were alright, but some of them were really hard to pass. [Mike] Alessi was bad and I think [Weston] Peick was fairly bad and it made it tough.
Are you able to tell who is going to be bad when you come up on them? Like, if they're close together, do you think, "Man, these guys are racing each other, it's going to be bad?"
Well, that's the thing. There are some guys that move out of the way some weekends and then other weekends they don't. And then there's the standard guys that just race always.
So it's not just that they're battling each other, certain guys are just tough, no matter what.
Yeah, you kind of know who's going to get out of the way. It seems like Peick's normally the one that capitalizes on the guys that slow down for us and then he passes them because he's still racing.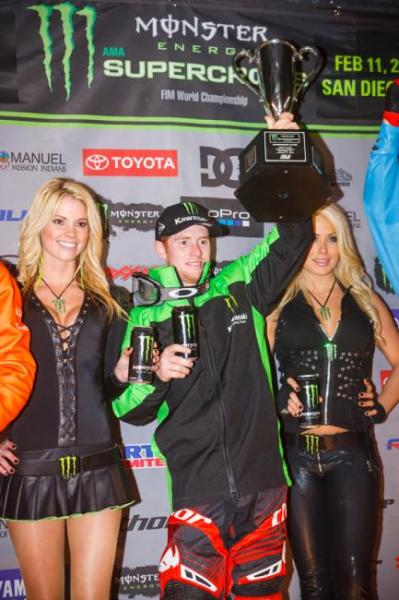 Villopoto captured his second consecutive win, third overall, Saturday in San Diego.
Photo: Simon Cudby
Has there been a whoop section that weird and gnarly in a long time?
No, the whoops were bad tonight. They were long and San Diego's dirt is always weird. It looks really tacky, it feels pretty good, but then it's really slippery. And then the whoops were long on top of that, and they were fairly big and cupped out. You go into them slow and steady instead of just going in there hauling. Some of them [whoop sections] we don't even think twice, but these ones you really thought about going into them smooth.
Talk about that back and forth with Chad.
It was good. Obviously it was like on lap 18 when he got me, right toward the end. Really it was just that once he got me, I was like, okay, stay on him and pass him right away. Obviously the race was coming to an end and on top of that, he's kind of a hard guy to pass and then once you follow him, you can get stuck behind him. So I wanted to pass him right away and obviously the race was coming to an end, too.
Afterwards he'd said he felt like he played it a little too nice, and now the nice will kind of go away for the season.
Yeah, I mean, I don't think there's any "nice" when the season starts, but there's respect. I didn't touch him at all, so I think that's respect. Obviously if you come in there and if you're hitting each other and this and that, then that's where people start to think, "Okay, well was that respectful?" Are you respecting each other or not? But it's racing and you never know, so that's why you have to watch your back.
You seemed a little emotional at the end of the race. What does this win mean to you?
I've never won San Diego in the 450 class. Chad's had a serious run here on wins. To stop that was great, to get my first win here was great, and then obviously, with a race like that, it's obviously better. I got into the lead and led pretty much every lap and he was able to get me. I can look back and say I was maybe a little bit slower in the whoops and then the lappers where what really caused me the serious problems.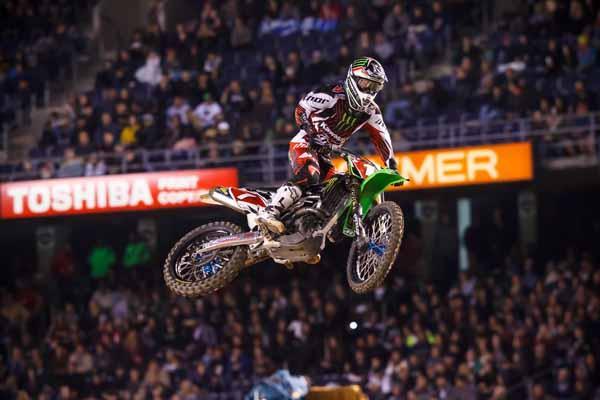 With his win in San Diego, Villopoto now leads Chad Reed by six points in the standings.
Photo: Simon Cudby
When you take off after the podium, you want to get back to the truck and get warm. Is that part of managing the season and staying healthy?
For sure. It was pretty cold today and tonight. It's like, you come off the track and you're all sweaty and hot and then obviously you start to cool down fairly quick. Then you have to put your jackets on and get out of the cold.
Talk about that WADA doping control this week. Did you get a visit late at night?
Yeah, around 10:30 or 11 o'clock, they rolled up to the gate and rang the gate call. It was alright, I mean I understand it. Luckily, they weren't bad about it, they were nice. The people that showed up were really cool and we talked about cycling and all kinds of stuff, like Lance [Armstrong] and then [Alberto] Contador. They were really cool and we talked for a while, because I couldn't squeeze enough out and I had to go back again and fill the jar!
Was that a surprise to have a visit at home?
It was, I mean I know that last year that we talked and they didn't even test because the FIM and whoever they hired they had a tiff and they didn't even test. So you went through all that. Now you have to tell them every day where you're at for a whole year.  And outdoors isn't even involved in it, but this goes for a whole year, so you have to go through all summer and keep telling them where you are, and possibly get a test done at the nationals, even though WADA is not even involved in that sport [Note: WADA is part of the FIM regulation of supercross, where motocross is only regulated by the AMA]. So it makes it difficult, because I think they should just do the top ten and then randomly do the rest of the pack. Just every weekend do the top ten and then randomly do the pack. They will say, "Well then you know its coming." Well you'll catch them. What if they can't resist smoking weed or whatever the case may be? And they can pull blood occasionally, and that's where they can find other stuff. If they just do pee, it's just weed and drugs and whatever else you may be on or doing.
So it was urine only?
It was urine only this time, but if they have a nurse, they can draw blood.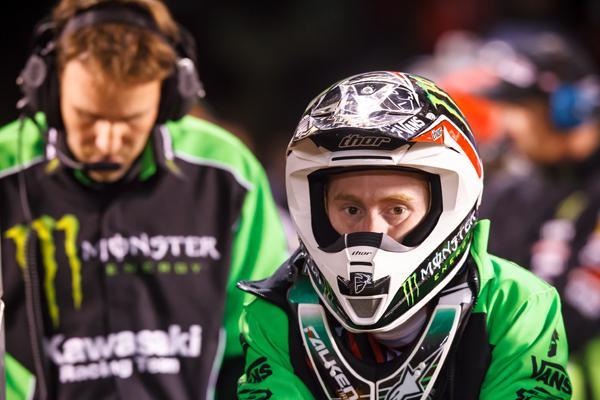 RV got a visit from WADA last week.
Photo: Simon Cudby
Do you ever get worried? We hear that there's a whole list of weirdo masking agents that are not allowed, like herbal cold medicines and stuff. Do you worry about accidentally taking something like that and getting caught?
Well, you have to be careful. And we talked to them. I know that Contador, he got caught for a blood transfusion and then on top of that it was a steroid from the meat. And he said that particularly where that blood went was a new machine that if it went to the old machine, it would have never been detected. So it went to the new machine and it just so happened that his blood went there. That's what these guys said and that's what brought it up. I asked them if can you get it from meat and he said you can. Most of Europe and everywhere else bans it, but I don't think we do.
So what do you do?
Well, it's more like red meat and stuff. They've heard it going to chickens too, but mainly red meat.
Do you not eat much red meat anyway?
No, not really.
So you happen to just coincidentally be okay with any problems with meat. But there's got to be a list of things that you've got to avoid.
Oh, like cough medicines and all sorts of stuff. Yeah. You've got to try and stay out of it.