Qualcomm Stadium
San Diego

,

CA
San Diego
Monster Energy AMA Supercross Championship
The night seemed to hold a special edge. Opening ceremonies seemed to be brighter, the fireworks were bigger, the fans a little louder. It's as if everyone knew California's grand finale of Monster Energy Supercross would bring something special. Those feelings turned out right, as the Supercross Class main event hosted the best race of the young season—the best race in a long time.
The San Diego Supercross hosted a three-way duel between Kawasaki's Ryan Villopoto, TwoTwo Motorsports' Chad Reed, and the gnarliest whoop section yet seen this year. The whoops tripped up even the best riders, which meant no lead was safe. Even though Villopoto grabbed an early lead and held a two second gap for most of the race over Reed, a few bobbles through the whoops allowed Reed to close up. Then Villopoto caught lapped traffic late in the race, allowing Reed to close in completely, setting up a three-lap mad dash to the finish.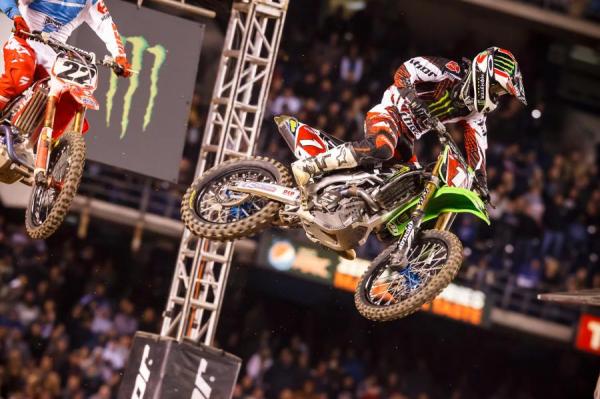 It was thisclose between Villopoto and Reed late in the race.
Cudby photo
By then, Villopoto and Reed had left the rest of the field well behind. Red Bull KTM's Ryan Dungey sat a distant third, never able to get comfortable in the whoops. And earlier, JGR Toyota Yamaha's James Stewart went down in the whoops while running third, and lost a full lap before he could get untangled from his bike and get back into the race. Yoshimura Suzuki's Brett Metcalfe holeshot the race and also ran up front for awhile before eventually falling into a battle with GEICO Honda's Kevin Windham. Then Windham, too, took a digger in the whoops. Metcalfe took fourth behind Dungey, with Dodge Motorsports Hart & Huntington's Josh Hansen a solid fifth. Stewart took 15th.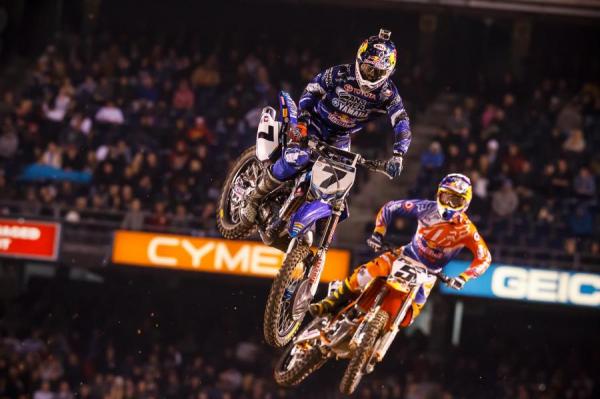 Stewart led Dungey in a battle for third, but they were losing time to Reed and Villopoto.
Cudby photo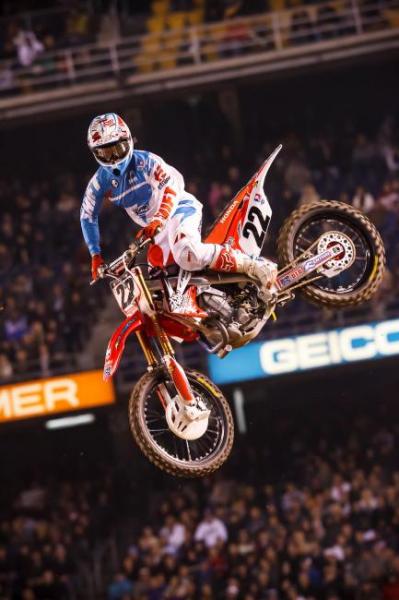 Reed gave it all he had but came up just short of another San Diego win.
Cudby photo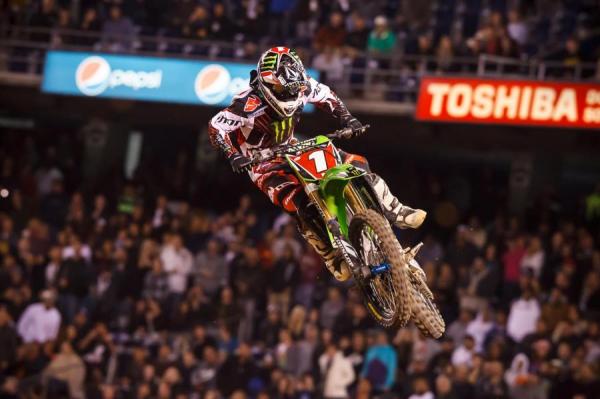 Villopoto never let the pressure from Reed bother him.
Cudby photo
But all eyes were on the Reed and Villopoto battle. Reed was quicker through the whoops, and he used aggression through that section to cut Villopoto's 2.7 second lead down to nothing. Then the two stars kept pressing each other while also trying to weave through lapped traffic, which held them up badly in spots. Reed pulled up alongside across the start straight, but Villopoto shut him down. The crowd started getting louder, the atmosphere had an edge again, and Reed finally closed in and made the pass for the lead in the whoops. Villopoto quickly reset himself for one last attempt, and with the white flag within sight, he found a line on the inside of Reed and pulled off a block pass. Reed was unable to triple coming out of that corner, allowing Villopoto to open a few bike lengths as the last lap began. Reed dug deep to catch him, and tried one last charge through the whoops. He got close, but not close enough to get a wheel in. Reed then tried the inside in the last corner, but Villopoto sailed past en route to his second-straight win.
"The whoops were treacherous tonight," said Villopoto. "I knew it was important to be consistent every lap. Battling Reed on the last few laps was exciting and I was able to make a good pass."
The Lites class also offered up an exciting race, but more on paper than on the track. The actual racing part featured Dean Wilson grabbing the early lead on his Monster Energy Pro Circuit Kawasaki and checking out. Wilson crushed the whoops and rode unchallenged, with Lucas Oil Troy Lee Honda's Cole Seely in second. Then came the drama, as West Region Lites points leader Eli Tomac seemed set for a third-place finish until he crashed in the whoops. Tomac dropped his front end in a bump and went down hard. He eventually got back up but couldn't get his bike restarted until he had fallen several laps behind in last place. He rode his damaged machine back to the pits.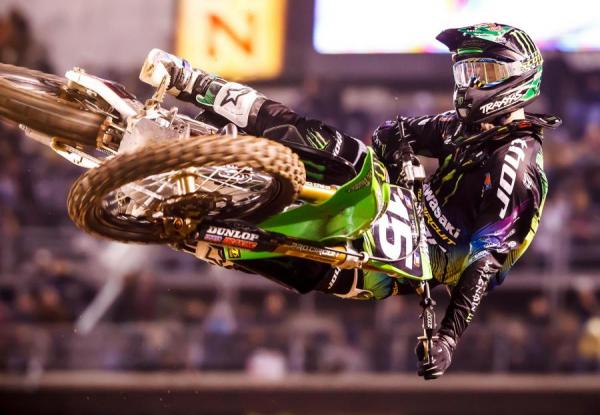 Wilson said he needed to get back to having fun and relaxing again at the races. He did, and it worked.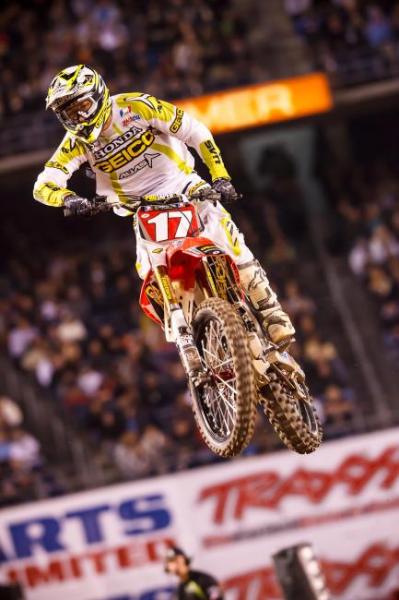 Tomac saw his entire points lead blow up with one big crash in the whoops.
Cudby photos
Just like that, Wilson gained 24 points over Tomac and took over the points lead in the West with three races to go—but none of them until after a nine-week break. J-Star JDR KTM's Matt Moss took third in the Lites main, the first podium ever for Moss and his team. Rockstar Valli-Star Yamaha riders Gareth Swanepoel and Nicco Izzi rounded out the top five.
The series begins its voyage east next weekend with the Dallas SX at Cowboys Stadium in Texas.
SX Class Main Event
1. R. Villopoto
2. C. Reed
3. R. Dungey
4. B. Metcalfe
5. J. Hansen
6. J. Brayton
7. D. Millsaps
8. K. Chisholm
9. M. Alessi
10. N. Wey
11. J. Thomas
12. C. Mackie
13. W. Peick
14. R. Kiniry
15. J. Stewart
16. K. Windham
17. M. Goerke
18. B. Tickle
19. K. Partridge
20. J. Weimer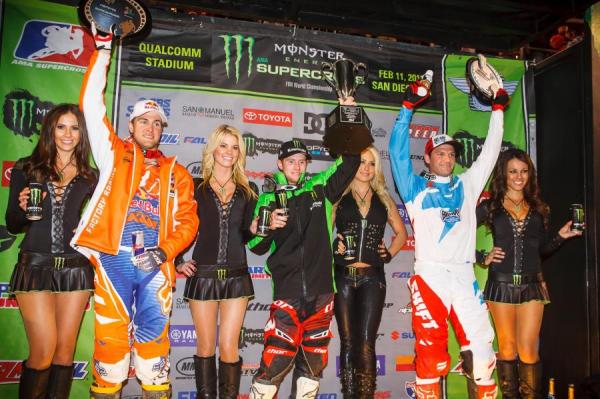 Dungey, Reed and Villopoto on the podium.
Cudby photo
Lites Main Event
1. D. Wilson
2. C. Seely
3. M. Moss
4. G. Swanepoel
5. N. Izzi
6. G. Faith
7. B. Laninovich
8. T. Baker
9. V. Friese
10. N. Paluzzi
11. K. Beaton
12. B. Rutherford
13. M. Antsie
14. K. Rusk
15. M. Davalos
16. M. Musquin
17. J. Anderson
18. J. Ramos
19. S. Champion
20. E. Tomac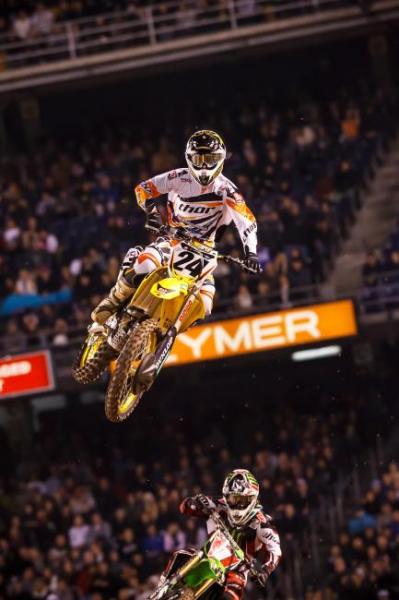 Metcalfe grabbed the holeshot and scored a career-best fourth in the SX Class.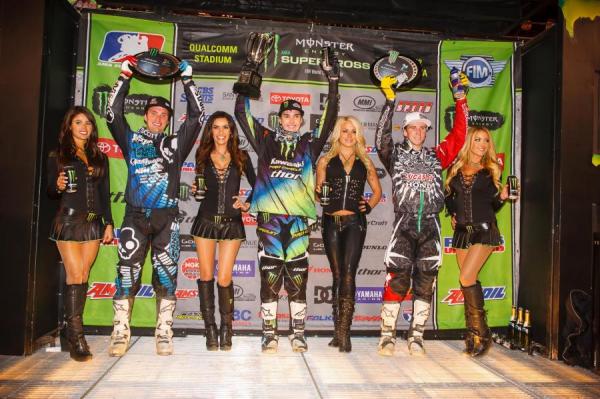 Wilson in the center, flanked by Seely and Moss on the podium.
Cudby photos
Supercross Class Season Standings
1.     Ryan Villopoto, Poulsbo, Wash., Kawasaki – 133
2.     Chad Reed, Dade City, Fla., Honda – 127
3.     Ryan Dungey, Belle Plaine, Minn., KTM – 123
4.     James Stewart, Haines City, Fla., Yamaha – 101
5.     Kevin Windham, Centreville, Miss., Honda – 78
6.     Brett Metcalfe, Lake Elsinore, Calif., Suzuki – 75
7.     Jake Weimer, Rupert, Idaho, Kawasaki – 72
8.     Davi Millsaps, Murrieta, Calif., Yamaha – 70
9.     Justin Brayton, Murrieta, Calif., Honda – 68
10.  Josh Hansen, Elbert, Colo., Kawasaki – 64
Western Regional Supercross Lites Class Season Standings
1.     Dean Wilson, Menifee, Calif., Kawasaki – 116
2.     Eli Tomac, Cortez, Colo., Honda – 114
3.     Cole Seely, Murrieta, Calif., Honda – 101
4.     Marvin Musquin, Murrieta, Calif., KTM – 89
5.     Nico Izzi, Menifee, Calif., Yamaha – 78
6.     Matt Moss, Sussex Inlet, NS, KTM - 73
7.     Zach Osborne, Chesterfield, S.C., Yamaha – 67
8.     Travis Baker, Temecula, Calif., Honda - 63
9.     Tyla Rattray, Wildomar, Calif., Kawasaki – 60
10.  Jason Anderson, Edgewood, N.M., Suzuki – 58