Qualcomm Stadium
San Diego

,

CA
San Diego
Monster Energy AMA Supercross Championship
Welcome to Racerhead and the near-conclusion of the California supercross season. Tomorrow night's San Diego SX, which will air live on SPEED (10:30 p.m. in the East, 7:30 out West), marks the last round of 2012 in the Golden State.
Matt Francis was there yesterday for press day, which featured a whole bunch of riders—Eli Tomac, Marvin Musquin, Cole Seely, Andrew Short, Mike Alessi, Travis Baker, Jason Anderson, Myles Tedder, and more—and he came back with this Racer X Film that shows you some of the completed track:
Ryan Villopoto now holds the red plate alone, and rightfully so. He's the first man to win two AMA Supercross-class mains, and he's now three points up on Chad Reed. James Stewart, who crashed heavily in his heat race, managed to finish second in the main. His violent crash happened right in front of our man David Pingree, who was working the infield as part of the Asterisk Mobile Medics crew. "He's really, really lucky he landed on a Tuff Block," Ping told me this week. "If he would have hit the deck he might really be hurting."
Actually, he may be hurting more than we know, as a rumor was swirling through the ranks that James might have broken his navicular in that crash. If he did, he hid it well in the main event!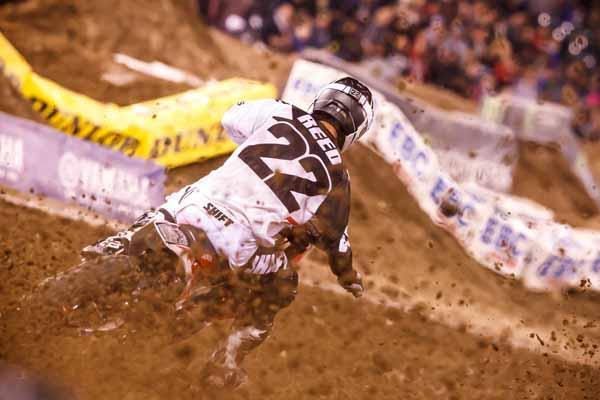 Chad Reed was among the top racers that were tested for performance-enhancing drugs this week, according to FIM guidelines.
Photo: Simon Cudby
It was a busy week for top riders peeing in cups. WADA, the World Ant-Doping Agency, visited at several rider, including Ryan Villopoto and Chad Reed, plus third-ranked FIM MX2 rider Tommy Searle. RV tweeted: "Loved the visit from WADA #worldantidopingagency at 10:30 as i was about to go to bed."
The morning after RV's tweet came this from tommysearle100: "Wow just had 3 doping officers turn up at my front door at 6am!! To do a random urine test for the FIM worldchampionship! that's kinda crazy"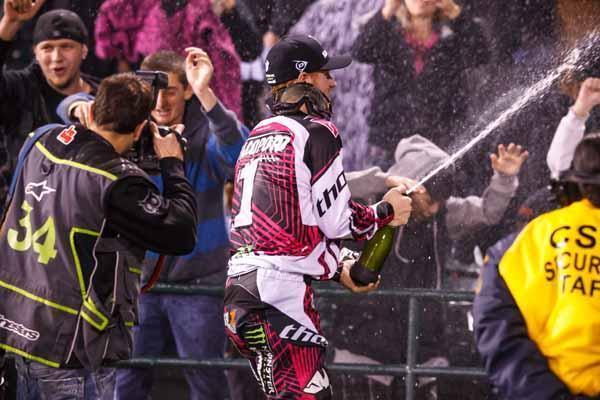 Ryan Villopoto went from spraying champagne for winning at Anaheim 2 to peeing in a cup this week.
Photo: Simon Cudby
According to FIM rules, WADA reserves the right to show up at any given moment on the doorstep of a top-three rider in a world championship series. Last year Kevin Windham was on call, though it was problematic since he lives in Centreville, Mississippi, and his phone (or his old one anyway) barely has coverage way out there in the country. Add the fact that he has four small children and ... well, it was some work. And when he was surprise-tested at the New Orleans SX, he was so dehydrated that it took some time to urinate into the little plastic cup, causing him to miss much of his own post-hometown-race get-together at Razzou's down on Bourbon Street.... Which is actually a small price to pay to ensure an even playing field, now that I think about it.
No word on whether Reed, RV, or Tommy had any problems passing the test, but it's doubtful they would be tweeting that it actually happened if there were any questions in their own minds! But here's a thought: Urine tests are one thing, but a blood test would be much more conclusive.
Want to know what WADA is looking for? Check out the "The List" on the official website (and maybe ask your pharmacist to interpret).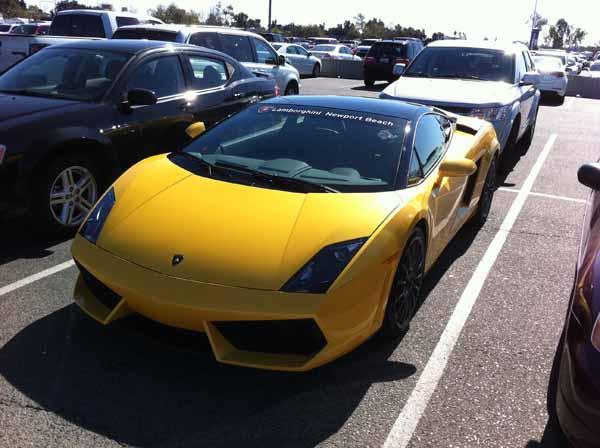 When James Stewart rolled into the Anaheim parking lot in this car, it led Kevin Windham to compare cars.
Did you catch the dust-up between James Stewart and Kevin Windham over tweets about cars? In case you missed it, Windham....
Kevin Windham @kdub_14: "@js7 just pulled in the stadium in his 
Lamborghini as I pulled out in my 1995 Toyota Tacoma with 187,000 miles"
James Stewart @js7: "Funny how others roll around in Exotic cars & nothing is said. I do it & I'm spoiled? Well If hard work makes me spoiled then ur right I am."
Windham told me he didn't mean to make James look bad for having an amazing car, and he was actually driving his buddy Dano's old truck, which he thought was funny, but then people starting weighing in and giving James grief on their own tweets. Windham felt bad and later apologized to Stewart for the whole misunderstanding, telling James it had nothing to do with him in the first place, and that others piled on anyway.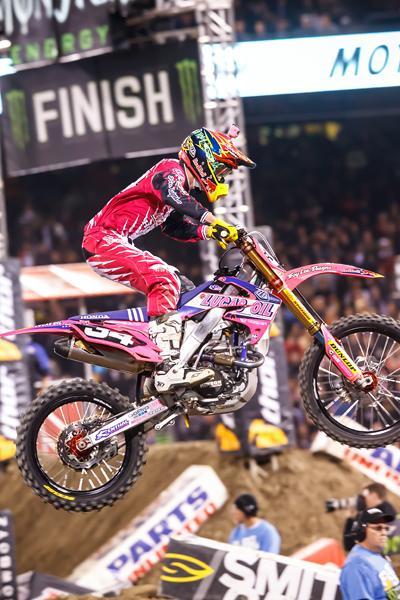 Cole Seely ran pink to the podium at Anaheim 2.
Photo: Simon Cudby
The Anaheim 2 race was originally thought to be a pink race, but it didn't quite work out as planned. Nonetheless, a lot of riders and teams put on the pink to support Breast Cancer Awareness, including Lites main runner-up Cole Seely of the Troy Lee Designs Honda team. After the race, the team donated the pink helmets and gear at A2, TLD is donating the items to the Susan G. Koman Foundation to be auctioned off. Check them out here and see if you want to help out a great cause and get some cool stuff.
Guess what's coming up next weekend: The annual arenacross known as Motorama in Harrisburg, Pennsylvania. Held at the Pennsylvania Farm Show Arena, this could very well be the first Arenacross race in history, dating back to the mid-seventies.
The Vets Motocross des Nations at Farleigh Castle in England was a big hit last year, with Team USA heroes of yesteryear like Jeff Stanton, Chuck Sun, Scott Burnworth, and Jim Gibson competing against past stars from Europe. Well, the race is shaping up to be even better this year, with not only Stanton and Sun confirming, but also Hall of Famers Jeff Ward and Trampas Parker. And I got a call this week from Ryan Hughes looking for an '89 Kawasaki KX500 to buy for this race (anyone want to see Ryno a bike? Letters@racerxonline.com.) If you find yourself in England in the middle of September, check this race out. It looks like a lot of fun!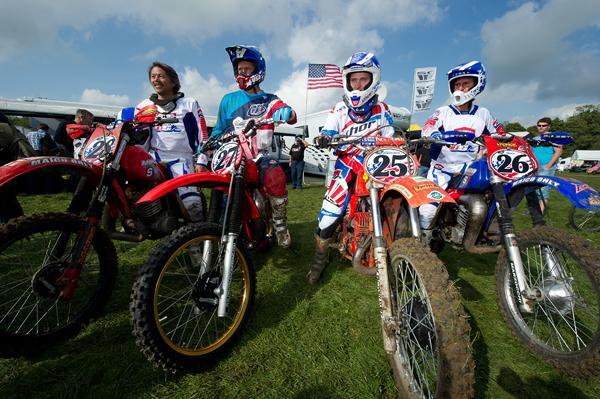 Team USA at last September's Vet MXdN at Farleigh Castle in England.
On a totally different subject, did you see the brutal video of the FMX rider that nearly killed himself at the Shrine Circus in Saginaw, Michigan? He got up in the rafters, pretty much, and hit a cable he didn't see. Josh Headford fell some 25 feet to the ground, landing in a crumpled mess (and on YouTube). I will post the link here because he thankfully did not get hurt worse than a broken leg, shoulder, elbow and wrist, according to the Associated Press. Here is video from a person in the crowd: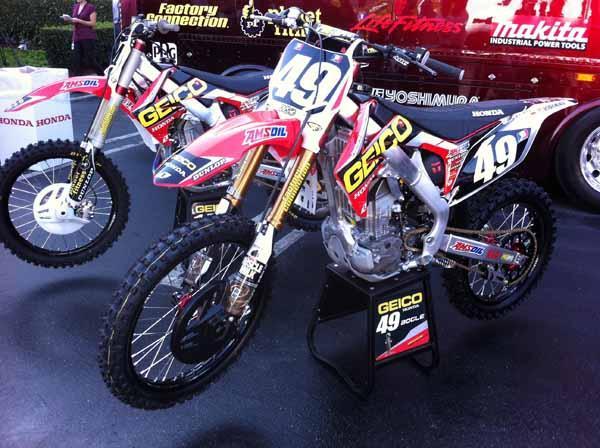 Just eight more days until we see a whole new pack of Lites riders, including rookie Justin Bogle.
Photo: Simon Cudby
In previewing next weekend's Dallas Supercross and the East Region opener I got a chance to do a little interview with defending champ Justin Barcia last week at the American Honda intro that took place at their headquarters in Torrance. Barcia looks fit, he says he feels fast and he must be the favorite going into the opener. Here's the film by Simon Cudby:
Obviously the Monster Energy/Pro Circuit Kawasaki riders
Blake Baggett
and
Darryn Durham
are going to be fast, and so will Barcia's GEICO Honda teammate Justin Bogle, who we've yet to see on an SX track but has been riding a bunch with his good friend Dean Wislon. And I think the whole world is waiting to see how
Ken Roczen
looks in the stadiums—he won Las Vegas last year, and he's probably gotten faster since! And then there's my long-shot pick:
Malcolm Stewart
. If he rides as well as I've been hearing, well, he and his big brother James could join soon join Tyson and Tallon Vohland as the only brothers to have ever each won an AMA Supercross main event.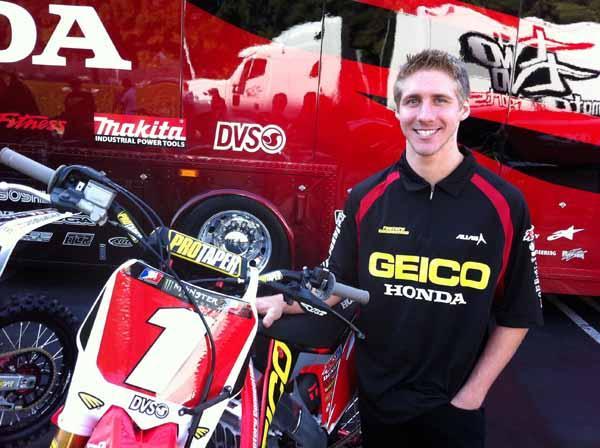 Justin Barcia will be rockin' the #1 in Dallas, as well as a shorter 'do.
Photo: Simon Cudby
Okay, let me turn this over to
Ping:
The San Diego SX always makes me nervous. I don't know what it is about that stadium, but over the years there sure have been some crazy things happen there. For me, it started when I grenaded myself on a hay bale in 1996 during practice. I broke a femur and three bones in my hand and blew out a knee in one ugly yard sale. That sucked.
But then Jimmy Button injured his neck in a simple crash during practice that forever changed his life. James Marshall was paralyzed in one of the ugliest crashes ever during a heat race there. And Jason Ciarletta died in a routine qualifying-race start—the first and only death supercross has ever had. I'm sure there are war stories from every stadium and race facility around the world, but Qualcomm, formerly known as Jack Murphy Stadium, still gives me the chills when I walk down the tunnel. Let's all hope that this weekend has plenty of good racing and very few injuries.
Speaking of injuries, Ryan Sipes went down this week during practice and broke his hand and separated his shoulder. That is a bummer for Ryan, who was already struggling a bit this season with results. He has been fast, like always, but not getting the finishes he's capable of. Hopefully they put him on a 450 outdoors and he can have a good summer.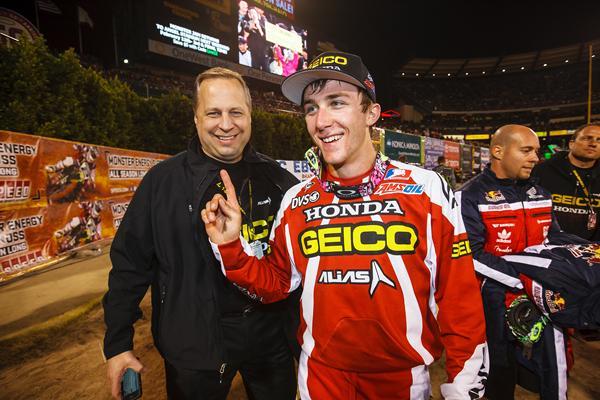 Eli Tomac is working on a fourth win in a row tomorrow night, but then what?
Photo: Simon Cudby
I'm hearing rumors that Wil Hahn may jump in and do some East Coast rounds on a 450 when he feels ready. I've never seen Wilbur ride a big bike, but it would be cool to see him out there. There is still plenty of speculation over who will fill the vacancy left by Trey Canard at Honda. Most pragmatists think it would be silly for Tomac to risk injury when he has the West Region title in hand. Those people would suggest Cole Seely, who has already ridden under Honda's tent, or Wil Hahn or Christian Craig, who have nothing to lose and everything to gain by throwing down on a 450. Others will say that you can get injured just as easily practicing during the week, and with Eli looking at moving into the premier class in the near future this would be a great opportunity to showcase his 450 skills. Tomac rides a 450 when he's at home in Colorado because the elevation makes his 250 seem very slow. He's comfortable on the big bike, and he showed that he could ride it this winter during a couple different trips to Europe. Look for a press release next week on just what Honda decides to do.
Here's Steve Matthes:
We're going to San Diego this weekend for round six of the AMA Monster Energy AMA Supercross series, and what are we going to see? Well, I'm no Nostradamus, but I bet we'll see Chad Reed at or near the front of the pack. We don't have enough stats in our sport due to lax stat-keeping over the years, but the stats that are produced show that Reed has a 75 percent winning percentage at San Diego and a 25 percent winning percentage in his career. So clearly something is going on at San Diego for Reed, and I had my Twitter followers tell me everything from "Reed is going to own it" to "I believe Reed winning there is all coincidence."
The truth in there probably lies in the middle, and Reed does enjoy San Diego and is in a great state of mind, but things don't always work out for him because he's in San Diego: He's a great rider no matter where the race is. His podium percentage is so good that by default, he's going to be up front there. But no matter, it's a cool stat and let's see if he can build on that this weekend.
We had Ping in-studio this past Monday on the PulpMX Show and it was a good time as usual. We asked him his opinion on the Reed/San Diego thing and he thought there definitely was something to it.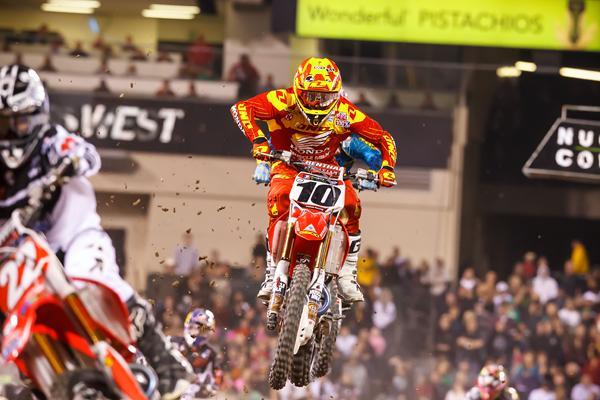 Justin Brayton is hoping to build off last week's fifth-place ride.
Photo: Simon Cudby
I can remember when I wrenched for Tim Ferry (insert everyone groaning here as I tell yet another Ferry/Matthes story but seriously, stay with me here) and being from Florida, Timmy hated going to the cold-weather races. Minneapolis, Indianapolis, St Louis, Europe—he was always in a bad mood and had a bad attitude. He didn't do well in the cold races because, in my opinion, he didn't want to be there. Sure, we had a few podiums at these races (you can't always keep a superteam down), but generally he wasn't very good.
Like DC mentioned above, I'm hearing that JGR Yamaha's James Stewart may have hurt his wrist in that heat-race crash last weekend and that it may be the same one he hurt a couple of years ago. We'll see what we can find out, it may be bunk but it came from a pretty good source and let's keep an eye on James and see if that affects his riding at all this weekend.
James is doing another dinner for the fans this weekend in San Diego, and if you ask me, that's pretty cool. It's a neat promotion and I think he and Red Bull deserve kudos for doing this. I did this once but the only guy who showed up was Weege. Nothing stops that guy from collecting on a free meal.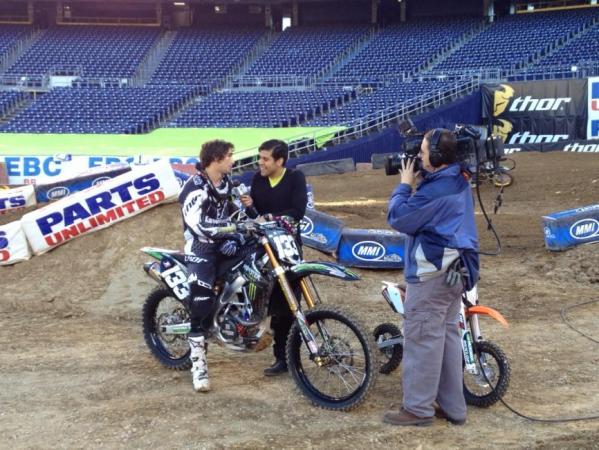 Myles Tedder chats with the local San Diego news crew.
Check out this column I wrote about Yamaha's YZ450F and the effect I believe not having a factory race team has on its development.
We had Nick Wey, Andrew Short, and as I said above, Pingree on the PulpMX Show this week and it was a good time. After the show, Ping and I recorded a PulpMX Classic Commentary where he takes us through Anaheim 1996 125 and 250 main events. In this race, Ping makes what might be the biggest banzai move in the whoops ever that does not pay off. Good times, look for that next week on Pulpmx.com and we'll put up a link on Racer X as well.
Do you have an Android phone? Good, that means you can now get the Pulpmx App from the app store. It's $1.99 and gives you access to some bonus podcasts, all the Racer X Podcast archives and the Pulpmx Show. Check it out.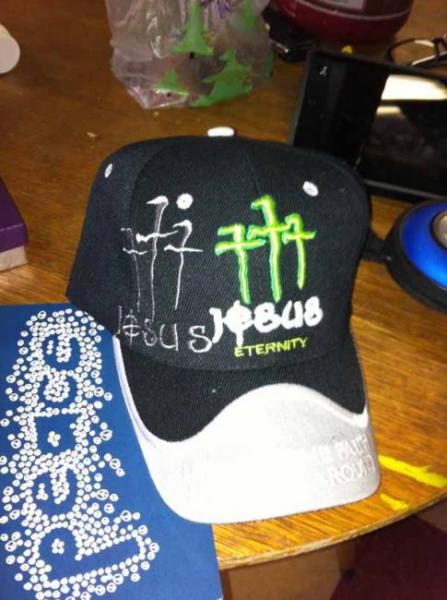 Wonder if they knew about the Monster Girls before they ripped off the hat design?
One of the websites I write for is Alex Gobert's Motoonline.com.au, which is a site dedicated to what's going on Down Under. Alex was just here for a few weeks and has a good handle on what's going on over here as well. My story this week was an interview of Red Bull KTM's Ken Roczen, who is going to be making his East Coast debut next week.
Guess I won't stop the self-promotion now: Another thing I do is write for Adam Wheeler and his very insightful On Track/Off-Road Digital Mag. Wheeler follows the GP's around and one day, I may be able to write as well as he can. Anyways, check out his latest issue here, where I write about A2, MotoConcepts Racing and a few other things.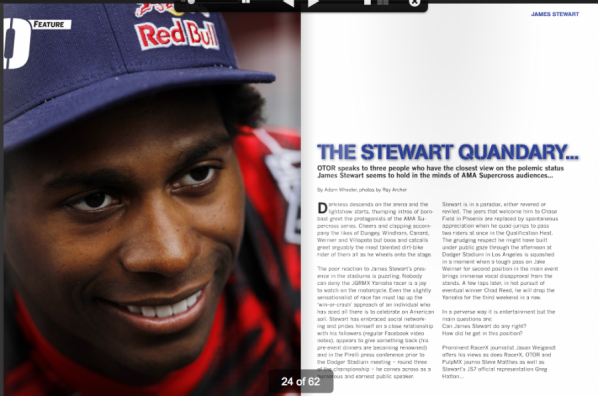 There's a very interesting James Stewart feature in the new On-Track/Off-Road Digital Magazine
Here's the new girl, Haley:
Going to a race just reminds me why I want to go into the business full-time. For those who have never been, I still highly suggest saving up the money to go to a supercross race soon. A2 was amazing. Not only was I lurking around the pits in a very creepy fashion as I normally do, but I was also sending out live-image tweets previewing the pits before anyone else. And I'm pretty sure I was the first to officially show the full-on pink of the TLD bikes.
Either way, I finally felt like I'd broken into the mainstream supercross media a little. People were responding to my tweets, which is a big deal for me, and thanking me for the coverage. It may not seem like much, but those few thanks were a reminder that this was what I always wanted to make a career in.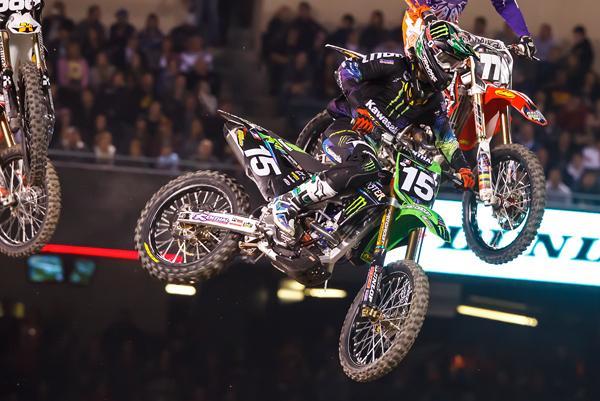 Dean Wilson would like to end the California Supercross season with a win.
Photo: Simon Cudby
The actual race was awesome. The track had its good and bad points. I thoroughly enjoyed the sand turn coming out of the straight with the whoops, as it seemed to present a decent amount of challenge for riders. I also liked the whoops as they were in the beginning of the day, before they added the pre-whoop. They were so gnarly that only the riders in the 250 A class could get through them at a decent speed, and even then it wasn't their normal pace. That had the potential to be a big obstacle in the night show. But instead, the track guys decided to make it a little easier.
Eli Tomac's "turkey" wins aren't much of a surprise to anyone. I think he's finally found his spark, and whatever it is, I'm pretty sure he'll keep it going. E's a chill, down-to-earth personality, but he's definitely got the heart and will to win. And that's exactly what he's been doing. So, coming into San Diego, there are a few questions revolving around the 250's. Can Tomac get four consecutive wins? Will Wilson finally get back on the podium? And what about Cole Seely?
Wilson hasn't exactly been performing the way anyone expected him to coming into the year. If anything, people were calling him the one to beat for the championship. But now, five rounds in, he stands in second and 22 points behind Tomac. Unless he can find some lost fire and something happens to Tomac, it's almost guaranteed that he will be fighting for second, not first.
As for Seely, I can't be too sure. While last week's ride was an impressive bounce back from his three races off the podium following the first win of the season, I'm still not sure that Seely has what it takes yet to ensure that he's consistent and steady, whether or not that means he's on the top of the podium. Like every other rider in the 250s, he has a lot of work to do before he can hope to win a championship. With the slight chance of rain on Saturday, that might only inhibit Seely's chances of stability even further.
And then there's Tomac. I'll be the first to say that my family has known the Tomac family far longer than Eli's been racing professionally. But that connection doesn't alter my opinion about Eli as a rider. Before this season, I was a little uncertain about whether or not he could truly pull off being a championship contender.
Last supercross season ended in a huge disappointment for him, and then was followed by a less-than-stellar outdoors season. I knew that he still had a lot to learn. But something must have happened to him that put a little more edge to his riding. With this new edge that he has, it's clear to me that Tomac has all the tools he needs to get a fourth win in a row. All he has to do is execute.
Okay, here's my prediction for this weekend's 250 podium in San Diego:
1. Eli Tomac
3. Nico Izzi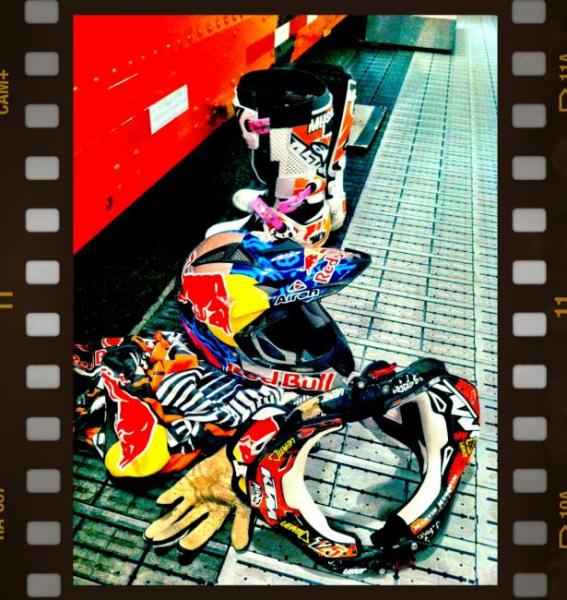 This gear belong to Marvin Musquin, whom Haley has pegged for second tomorrow night.
Photo: DC
I wish I could send out live tweet updates from the races every weekend, but sadly, being a college student, I don't have the kind of money required to travel every weekend. But I'll still be putting out live updates from what I can gather in my dorm room. So keep checking @heyitshales for all the latest info.
Oh, and also be sure to check out what I've got to say about some of the industry's top news stories and rumors at Pro Moto Talk.
Thanks, Haley. Okay, here are some closing notes:
Only a month left to the Ricky Carmichael Daytona Amateur Supercross Championship! Don't miss your one and only chance this year to race a pro SX track the day after the athletes of The Monster Energy Supercross Championship do! By registering in advance, you will save $20 and get a free entry to Saturday's Pro SX. Register here.
See you in Daytona!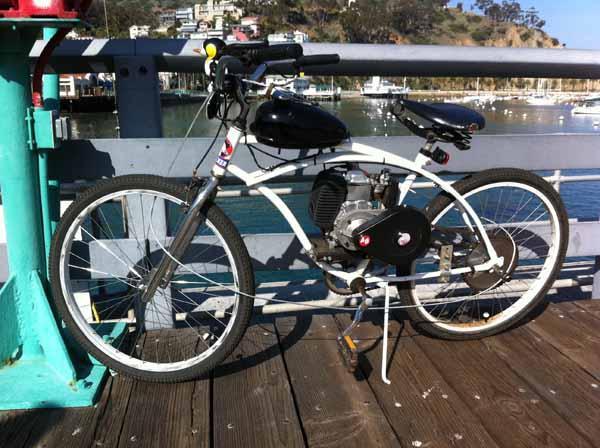 Is this the long three-stroke we've been hearing about?
Preparations are underway for the 5th annual Racer X Inter-AM, to be held March 31st-April 1st weekend at the OMC track in Boise, Idaho. This is the first round of the all new PACNW VMX Series.
Racer X Publisher Scott Wallenberg reports a star-studded cast of rider entries have already been confirmed. How about former 250cc MX World Champion/500cc National Champion/MXoN winner Danny LaPorte with his MXoN teammate, 500cc National Champion Chuck Sun? Then there's former 125cc MX National Champion/Supercross star Ron Lechien and "The Beast from the East" Damon Bradshaw! A few race sponsorships are available if your company would like to be involved just email scottw@racerxonline.com.
Look for more updates, as more past champions and industry luminaries are on the invite list.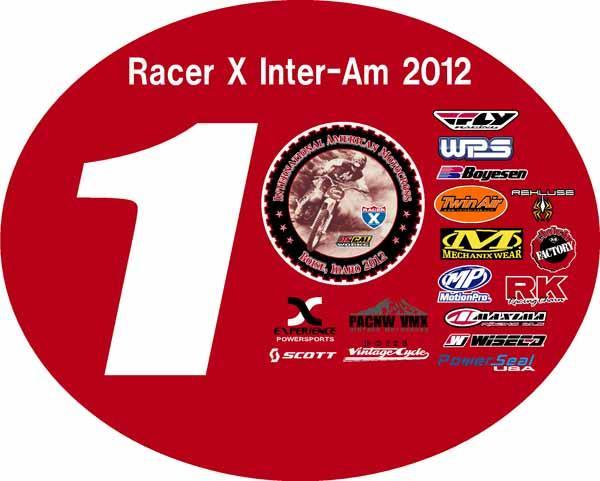 Chuck Sun, by the way, has launched a new website: www.chuck-sun.com.
Be sure to stop by the Racer X booth this weekend to get your free Vintage MX Fleece Blanket with your paid subscription. We've sold out the past two races, and this will be the last race where we'll have the blanket with our subscription deal, so make sure to stop by early! The booth will be open for business at noon sharp.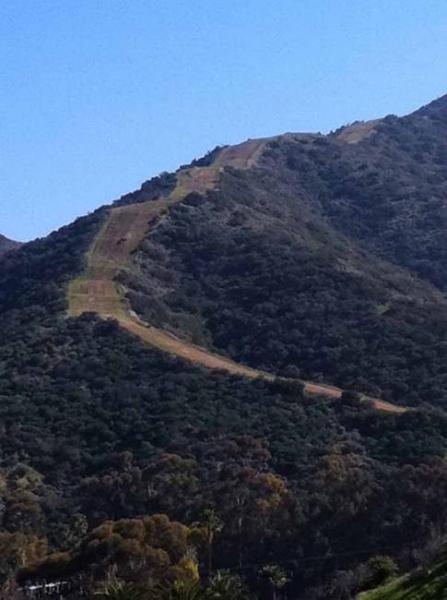 Catalina Island would make a great motocross track...
Here's a cool, extended interview with Chad Reed by the guys at Vurb Moto:
And speaking of Chad, if you've read this far, here's a present: a glimpse at the new Racer X Illustrated cover. It's a start shot featuring three-fourths of the frontrunners in Monster Energy AMA Supercross, with Chad being the only one missing (he started in a different spot at Los Angeles from these three cats). Since he's been on two covers since June—and he's on the February cover—please don't be too harsh on the fact that he's not in there with #1, #7, and #5.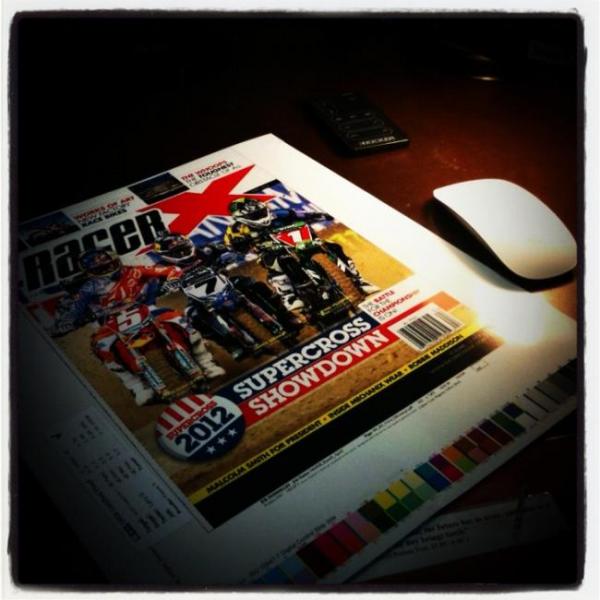 Finally check out Red Bull's highlights of the 2012 Le Touquet Beach Race on the Atlantic coast of France.
That's it! Thanks for reading Racerhead. See you at the races.