Qualcomm Stadium
San Diego

,

CA
San Diego
Monster Energy AMA Supercross Championship
Christina Denney wears many hats. Whether she's traveling from race to race as the manager of Rock River Powersports, handling the day-to-day responsibilities associated with running Roost MX, the graphics company she and her husband own together, or helping out Yamaha privateers in the pits, Denney always stays busy. Luckily, for this week's, Between The Motos, Denney was able to spare a few minutes of her time to answer a few questions about the Rock River team, and what it's like being the only female team manager on the circuit.
Racer X: Let's start off by talking a little bit about the team. How and when did it get its start?
Christina Denney: 2010 was our first year. The owner of the team, Mike DuClos, owns a Yamaha dealership in Jefferson, Wisconsin, called Rock River. He developed a really strong amateur program, and when one of his riders, Ben Lamay, first turned pro, Mike hated the fact that he couldn't really help him anymore. He wanted to put a team together so the up-and-coming amateur riders that he had supported would have a place to go. And that's still the premise of the program, to bring amateur Rock River riders up through the pro ranks. Hopefully from there, they can turn around and get some exposure by getting some good results in, and ultimately get picked up by a factory team. It's a no pressure environment. We give them the tools they need to do their best and show up at the races without having to worry about all of the things a true privateer has to worry about.
Is Rock River a Factory Yamaha supported effort?
We are able to purchase bikes at a racer discount, so that alone helps a lot. We carry parts on the truck, and our riders are able to purchase parts through Yamaha at a much better discount than they would get through the dealership. We also sell parts from the truck to any privateer on a Yamaha for a discounted price.
So in a way, you're like a Parts in the Pits vendor for all of the Yamaha privateers?
Yeah. At the races, I'll walk around the back pits, and if I see a privateer Yamaha rider, I'll introduce myself and let them know what we're doing. Those guys aren't going to have extra radiators or sub frames, so this allows them to keep racing on that particular day. It has made a difference, and I've had several riders switch from other brands because of this program.
Does Yamaha have an influence on the team roster?
No, but they have suggested certain things at certain times. They don't provide monetary support, but from day one, those guys have been awesome. For me coming in as a true outsider, I couldn't have asked for better guidance. They saw the potential of the team, and they backed it up with their support. Any questions I've ever had, great or small, they were there, especially at the races. If we have a motor problem, or a even a little concern, I'll call them and they'll come right over. They've got our back for sure, and for me, that's better than any other type of support we could get.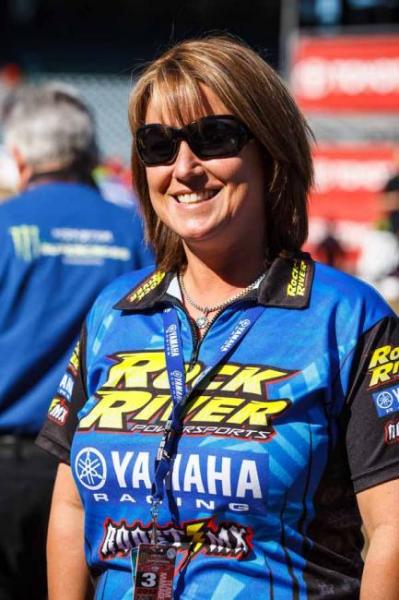 Denney is currently the only female Team Manager on the circuit.
Photo: Simon Cudby
What did you do before you managed the race team?
I'm still currently doing what I did before. I'm a wife, mom of a 12-year-old, and my husband and I own Roost MX, which is the graphics company that supplies all of the graphics and wraps to the team. We're going on our fifteenth year. I still do that job, I just have to fit a five-day work week into three days when the team is active. I still have a crucial part in the day-to-day operations of the business. Fortunately, we've got great employees that have my back and are able to pick up where I can't, and continue with our amateur support and customer service.
As far as becoming involved as the team manager, Mike from Rock River and I have had a business relationship for eleven or twelve years. He was my very first dealer that I started selling graphics to. I met him at Loretta's when we were just starting Roost MX, and we clicked right away. When he asked us to be part of the team in 2009, as far as supplying graphics and wrapping the semi, we said no at first because we wanted to stay true to the amateur side of things. Then we thought about it, and we didn't want anyone else to do it. We had worked so hard to get the amateur program up and running with him, and we didn't want another company to come in and run what we had developed. So we decided to do it. At this point, A1 was right around the corner, and the driver Mike had hired four months in advance pulled out a week before Christmas! I had to get a driver for the truck, and get the truck, which was completely empty, ready to go to Anaheim. We got it there, and I showed up at A1 to make sure everything was going to get set up right. All we had was an awning, no barriers or anything. I went to the second race, then the third, and quickly realized that someone was going to have to always be there. From there, I became the team manager because that's what I was doing already without officially having that role.
What's it like being the only female team manager on the circuit?
I don't get treated differently at all. Everybody obviously is polite, but I don't get any kind of special treatment. I've never felt out of place, except for when I won the manager of the year award (Denney received the 2011 MX Team Manager of the Year award from MX Sports), it took me two minutes to even grasp the concept that I had won the thing! I didn't want anyone to treat me any differently because I'm a girl, and it's never been that way. I guess a lot of people come to me regarding the WMX. We've had two girls on our team, and going into our third year we have an up-and-coming girl as well. Receiving the WMX rookie of the year award both years has proven that we believe in the WMX, and it's just as much a part of the team as the guys are. As far as supercross goes though, I'm just one of the guys. It's not like they have to create a whole separate bathroom in the staging area or anything. One cool thing is when Dave Prater sends out emails to all the team managers. They always started with, "Gentlemen," but one day I got one that started with, "Lady and Gentlemen." I laughed, and I thought that was the coolest thing, and he still continues to do it.
Who is helping the team out this year?
Rock River Powersports, Yamaha Motor Co., Roost MX, GYTR, Dunlop, FMF, Hinson, K&N, MotoStar, Renegade Fuel, We Are MX, Xtrig, Yamalube, Black Ops Moto, Boyesen, EVS, GUTS Seats, Hammerhead, Hot Cams, Hot Rods, LiftMaster, MotoConcepts, Pivot Works, UFO, Vertex, LightSpeed, CV4 and Tokyo Mods.
Thanks for your time, Christina.
You're welcome, and thank you.