Qualcomm Stadium
San Diego

,

CA
San Diego
Monster Energy AMA Supercross Championship
The one problem with parity: it makes a lot of people look dumb.
Listen, I'm a New York football Giants fan, but I'm not going to write a "nobody believed in them" column. And I'm not going to write an "annoying guy who just watched the Super Bowl and is now pretending to be a dammed NFL expert" column. Stay with me—this all pertains to Monster Energy AMA Supercross an FIM World Championship.
Anyway…the Giants had rough moments throughout the NFL season. I'm a fan of the team, and I'm no smarter than the experts who saw losses to crappy teams (looking at you, Washington and Seattle) as a sign that the G Men just didn't have it. But this wasn't a surprise—coming into the season, no one expected the Giants to be title contenders, anyway. The attention was on the Philadelphia Eagles, who signed a bunch of talent, including Giants receiver Steve Smith, which led to the following stories heading into the season for Giants fans: "Has this franchise just given up?" Oh, and, "Did Eli Manning really just try to say he's at the same level as Tom Brady?"
Stay with me.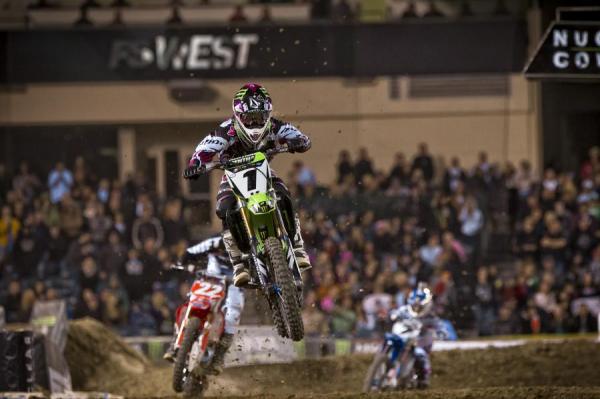 Villopoto regained the points lead with his second win of the season.
Photo: Garth Milan
When you lose games, people have a right to say you're not very good, and the Giants lost seven games this year. Analysts can't keep saying, "It doesn't matter because in this league anyone can win on any given Sunday." Keep repeating that and you'll never look dumb, but you'll also end up in the unemployment line. People want to hear something, and there's no better way to start forming opinions than to gauge wins and loses.
So we all do it. As fans, we overanalyze every loss and get overly excited about every win—fan is short for fanatic, you know. And the media does the same, feeding the machine with over analysis of the losses and wins. We want to know more, because we're searching for something more than just results. We're looking to find out what each loss means, and what clue it provides for future events. That is what being a fan is all about, and that is what bench racing is all about. If you have a pulse, if you have a passion for the sport, you have to come up with something. Otherwise, why are you watching?
So we're all on board, the fans and media, overanalyzing every performance to look for clues. Which is fine, and fun. Except we run into a brick wall in the form of parity. The NFL is designed to create that "Anyone can win on any given Sunday" mentality, which means that even though the Green Bay Packers go 15-1, the next game could be their last. So you celebrate Green Bay's greatness, even knowing that in a few days, you could be discussing why Green Bay sucked.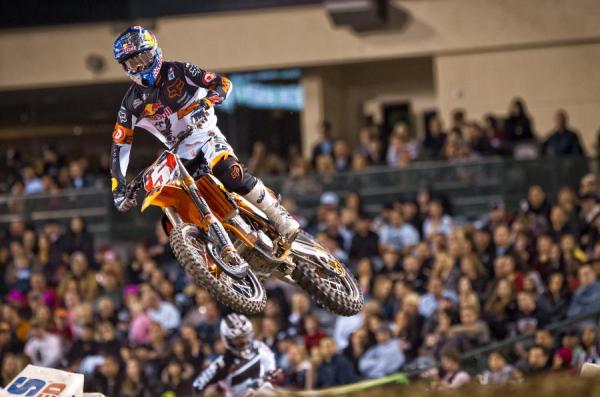 Dungey is searching for his first podium since L.A. after back-to-back fourth place finishes.
Photo: Garth Milan
But the real answer is parity. Green Bay wasn't quite as great or as bad as it seemed. Same for New England.
This over analysis creates the same problems at Anaheim 1. After that race, Redux discussed how badly we want the opening round to give us answers, and yet, how the riders do everything in their power to downplay its importance. The riders don't want that kind of pressure. They don't want months of testing and training and riding to be judged on one performance in one race. But we do! As I wrote then:
For those of us on the outside, we see Anaheim 1 as an explosion, a line shooting straight up. For the riders hoping to win a title, they need to see the season as a straight horizontal line—you don't want to get too high or too low during a long championship slog.
The rule is the same during a season of great parity like this one. If you're in Ryan Villopoto's camp—Ryan himself, his team, his trainer, his surrounding cast—you can't get too excited about winning Anaheim 1 or Anaheim 2, because you know races like Phoenix, Los Angeles and Oakland are coming, too. If you act like every win is huge, then you must act like every loss is big, too. Luckily, this year's title contenders are smarter than that.
During last season's epic SX slugfest, RV ran off a mid-season win streak based on both speed and consistency. He was winning while the competition was crashing and taking each other out. Ryan was Mr. No Drama. Then he failed to qualify at Jacksonville. Suddenly, no less than a six-time AMA National Champion told me in an interview that this was unacceptable, inexcusable. He criticized RV's starts. Criticized everything. Because of one race! RV opened a big points lead through smart riding, but in one weekend was suddenly reckless!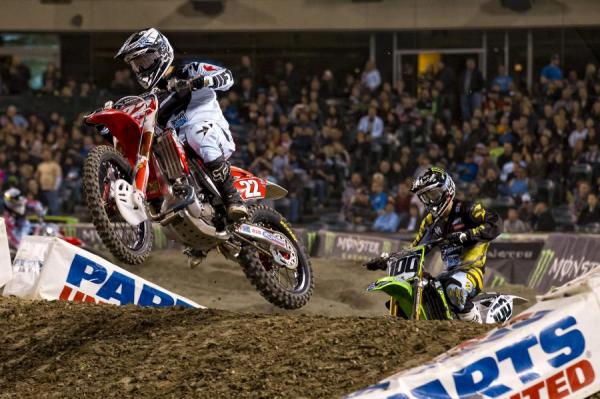 Reed lost his share of the points lead after a third place finish at A2.
Photo: Simon Cudby
If you're in RV's camp, you can't be that way. You have to shrug off the losses and the wins. Put too much stock in pulling away from Reed and Stewart at Anaheim 2, and you have to put stock in Reed and Stewart pulling away from you in Oakland. See?
But that is only the case when there is parity. We've seen many seasons where one rider does dominate. If you're Jeremy McGrath winning the first 13 SX races in 1996, it really is a big deal when you lose one. Same thing during Carmichael or Stewart's undefeated seasons outdoors—had someone beaten them straight-up there, it would have been huge. In those seasons, one rider has a decided mental advantage over the competition, so losing even once can change everything. Jeff Emig beat McGrath one time during the 1996 Supercross season, but later beat him for the 1996 AMA 250 Motocross Championship, and then both the 1997 Supercross and Motocross titles. The dominant rider needs to keep winning every weekend so he can make sure the competition never, ever gets the hope that they will ever beat him.
It's not that way right now. No one can dominate like that in this field. Villopoto can be the star of Anaheim 1, but the very next weekend, Ryan Dungey can single handedly wipe out 20 years of struggles for a brand in 20 laps. Chad Reed can stake his claim in Los Angeles. And James Stewart can silence "he's done" talk with 10 solid laps late in Oakland. Green Bay can go 15-1, get praised and favored, and then eliminated with one bad game. Meanwhile, the New York Giants can struggle at times, hear rumors that their coach will be fired, go into the final game of the regular season struggling to get in, pull out a close one, and then go all the way to the Super Bowl. In the course of two months, their coach went from "probably going to be fired" to "probably going to the Hall of Fame." But he was the same guy all along, and he probably didn't care about that stuff. He was just trying as hard as he could to win football games. I'm sure it's the same for the top riders this year. We overhype their strengths and weaknesses, while they just go about doing their job, ignoring all of that analysis. That's how it works on this side—the side of the fans and press. We overanalyze, over think and over hype both the good and the bad.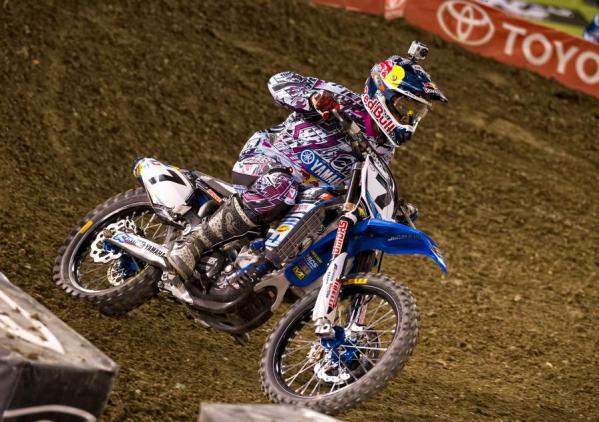 A second place finish at A2 helped Stewart gain valuable championship points on Reed and Dungey.
Photo: Garth Milan
And you know what else? Last year the Giants choked at the end of the regular season and missed the payoffs, allowing another team to sneak in during the final game of the regular season—the Green Bay Packers, who went all the way to the Super Bowl. The Giants were losers and the Packers were winners.
Last week James Stewart was the star and Ryan Villopoto was third. This week Ryan Villopoto is the man. When parity is the game, anything can happen, and just about anyone can be wrong. Until next week!