Angel Stadium
Anaheim

,

CA
Anaheim II (A2)
Monster Energy AMA Supercross Championship
Matt Moss, JDR/J-Star/KTM, 7th place in SX Lites class
Racer X: You got a 5th last round, right?
Yep.
…And a 7th this round, which seems pretty good. How do you rank that?
It's pretty good. I crashed in my heat race, had to fight from last back to ninth and then the same thing in the final. I had the worst gate pick; I was pretty much dead outside. I stalled it in the first corner, someone hit me and bent my back brake, and [I] crashed in the second corner so I was dead last by a long way. I'm happy with my efforts getting back up to seventh with the caliber riders that are around, you know? All in all, I really believe I'm a podium guy. It's sort of frustrating, but it's a learning year for me. I'll definitely be with this team next year, so [I'm] just trying to learn as much as I can, and get fitter as the day goes on and get faster and learn as much as I can. All in all, the JDR/J-Star/KTM guys have done good and I'm just looking forward to next weekend, you know, put this behind me and I really want to get on the box.
It seems like there are just a few guys that can move through the pack like you did tonight. Do you think a start is all it's going to take to finally put things together and get you where you really want to be?
Oh definitely. Last weekend I got a great start and I was in third for a while, and then I faded a little bit; I got a little tired. I wasn't used to being up there, but now I believe I should be there. Today was just disappointing but, you know, there are so many fast guys here. To come through to seventh was a great ride for me, but I just really want to get on the box. I can't wait to get there and I think San Diego is the place to do it.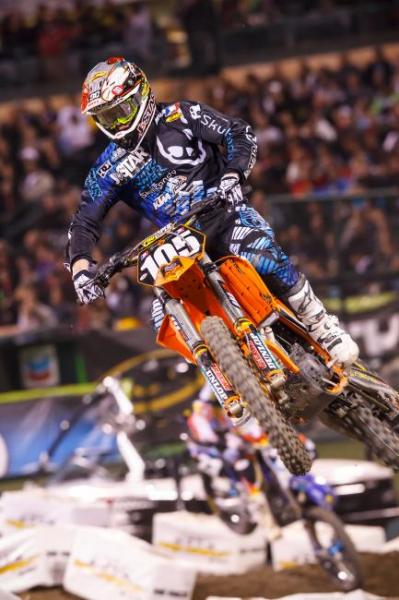 "All in all, I really believe I'm a podium guy." - Matt Moss
Photo: Simon Cudby
Marvin Musquin, Redbull/Factory KTM, 3rd place in SX Lites class
Racer X: You've been having a great first supercross season here in the States. You got another podium finish tonight. How did the race go for you?
First of all, it was a tough day. Practice was not easy. The track was really hard pack and I did some good lap times, in the top six, but racing is different. I got a really good start, so that's a good thing because I work [a lot] on my starts. It was a good night, a good heat race, and main event. I started third and I stayed third. Tomac and Seely were riding really well. They were faster than me. Wilson was behind me, but I pushed all the way to the finish. Another podium is good for the championship and it's a good feeling.
You look pretty comfortable out there; you have good style on the track. Even though you have the GP Titles, do [technical] supercross tracks suit your style better than motocross, or are they the same? How do you feel about that?
My dad built me a [supercross] track when I was ten years old and I used to ride supercross. I love supercross because it's more technique than outdoors. I love the jumps. I love it here in the U.S., the stadiums and all the other stuff, and supercross is really famous here. But I'm good outdoors, and supercross now, so that's a good thing.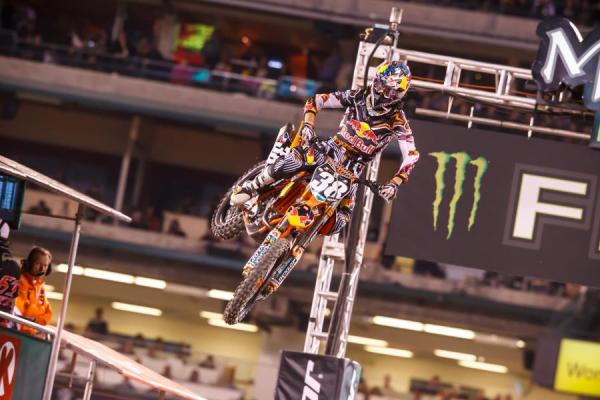 "Another podium is good for the championship and it's a good feeling." - Marvin Musquin
Photo: Simon Cudby
Nick Wey, Motosport.com/TiLube/Foremost Kawasaki, 13th place in SX class
Racer X: This year may not have started out the way you wanted it to - a little rocky. Things are starting to look like they're coming together a little bit better – [you're] making the mains in the heats, finishing closer to mid-pack, and just working your way up [as the season progresses]. Do you feel like things are coming together better?
Yeah, I mean, obviously without the help of Motosport, TiLube, and Foremost I wouldn't have the opportunity to be out here, but luckily MSR and these guys have been behind me for years and are still with me. It's a privateer program and we're working to improve every week. It hasn't started out the best but we're working super hard. Hopefully [in] these next couple weekends I can ride a little better and get up there where I want to be.
What do you think the missing links were at the beginning of the year?
Well, it's a new bike for me. I rode the bike in 2010 but I really didn't have a lot of time on the privateer setup so we're still working on that stuff and getting it to where I can ride it to my potential. Basically, from there, it's just [that] the class is pretty tough. I feel like I'm riding really well during the week. I just need to kind of bring that to the race, and it's easier to say than do.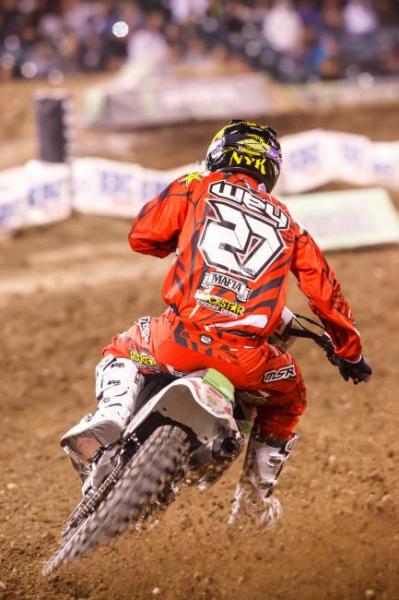 "I feel like I'm riding really well during the week. I just
need to kind of bring that to the race..." - Nick Wey
Photo: Simon Cudby
Scott Slocum, AMA Transport Driver, 2011 Transport Driver of the Year
Racer X: Alright Scott, you're coming off of the 2011 Transport Driver of the Year award. This year has been alright, but there's been a lot of buzz in the pits that you've switched to a new rig mid-season. Is there any truth to that?
Yes there is.
We saw a similar scenario last year when Factory Kawasaki switched to the 2012 model mid-season. That move proved beneficial after the team started reeling in better finishes and ultimately won the championship with Ryan Villopoto. Are you trying to follow that same success model?
Um, ok. Yes.
You're not helping me out much.
[laughs] I don't give good interviews.
I've also heard the new model – and I don't know, this is all hearsay – gets better starts off the red light. It there a different starting mechanism, possibly a Launch Control Mode?  Has the ignition mapping been altered? Does it go faster?
Uhh, no. It doesn't go faster, it goes slower.
Ok… Good luck defending your title.
[laughs]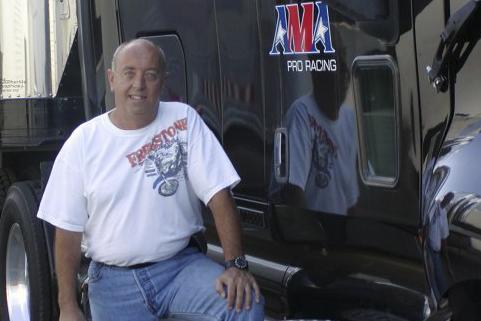 "I don't give good interviews." - Scott Slocum