Mad Skills Motocross Tournament Opens
It's finally here -- the first-ever Mad Skills Motocross tournament has begun!
To play in the tournament, which is free for anyone with the full iOS game, simply get the latest update of the game and hit the "Tournament" button on the main menu. Once you've registered, you'll have access to the first round, which features an all-new track and three progressively more difficult opponents.

You will have access to the Round 1 track for exactly one week, during which time you can play as many times as you want to compete for bronze, silver, and gold medals. Once you've schooled the computer competitors, face off against other players' best times as you move your way up the leaderboards.

For full details on how to play, check out the Mad Skills Motocross Tournament rules.You can also simply hit the Tournament button on the main menu of the game, and you'll be presented with the official rules and regulations.
If you're competing in the tournament, be sure to sign up for the Mad Skills newsletter and you'll be reminded every Saturday when a new free track is released.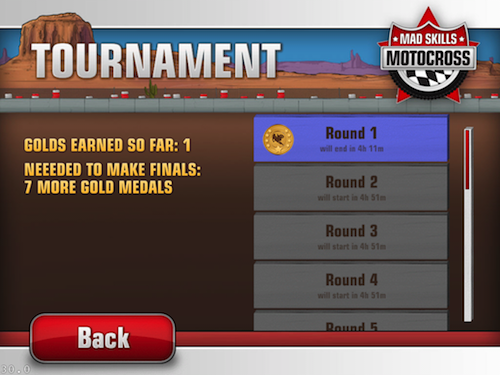 This week's prizes include:

$25 iTunes credit: Best overall legitimate time
$20 iTunes credit: Random gold medalist
$15 iTunes credit: Random silver medalist
$10 iTunes credit: Random bronze medalist

Week 1 winners will be announced on the @madskillsmx Twitter profile, our Facebook page, and in next week's Tournament email.

When you win the bronze on Round 1, you're automatically entered into the drawing for the $10 iTunes credit. When you win the silver, you have a chance to win the $15 credit, and so on.

What are you waiting for? Open Mad Skills Motocross and go get those medals!