Angel Stadium
Anaheim

,

CA
Anaheim II (A2)
Monster Energy AMA Supercross Championship
Welcome to another week of Racerhead, and another Anaheim. I know over the years there have been complaints about too many races at Angel Stadium, but after going to the Dodger Stadium race for the first time two weeks ago, I have to say I am happy to be going back to Anaheim. It's closer to everything, it's a better building, and you know there are going to be lots and lots of people there. It may be on the other side of town from Los Angeles' venerable old Dodger Stadium, but it's a different world, and I believe this one works much better for Monster Energy AMA Supercross.
In case you missed the OG red arrow virtual race track, here's what we're looking out for Anaheim 2.
Of course we have an amazing battle coming up tomorrow night, as four men—Ryan Dungey, Chad Reed, James Stewart, and defending champion Ryan Villopoto—are all race winners in this 2012 tilt. I missed Oakland, and it got bumped by my local CBS affiliate last Sunday, so I missed seeing JGR Yamaha's Stewart turn his season around with an excellent ride, so I will let the other guys weigh in on that.
What I did see this week (my last in California—too much of a good thing, and time to go home) was Trey Canard walking around at the American Honda "parking lot party" on Wednesday. Canard looked better than I expected, and he took some time to talk to me and Simon Cudby for this Racer X Film: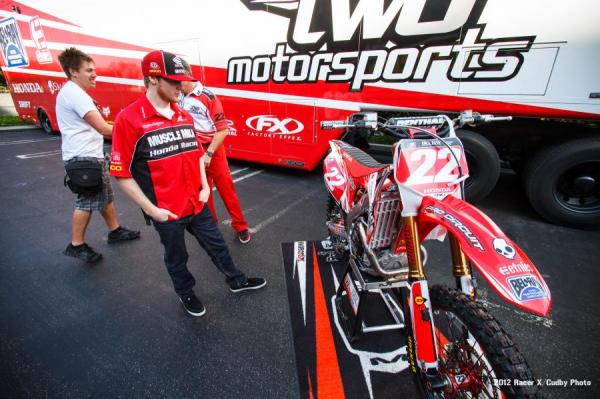 Trey Canard eyes up Chad Reed's bike at the Honda parking lot party.
Photo: Simon Cudby
As I mentioned last week, the folks at Feld Motorsports are now strapping down as many Tuff Block covers as they can, and hopefully the "hanging chads" of SX are a thing of the past.
Chad Reed and his rig were also at American Honda in Torrance, and the series points co-leader leader was presented a very cool and rare watch by Honda's Bill Savino in commemoration of scoring the company's 200th AMA Supercross main-event win back in Dodger Stadium. Reed was seated next to Jeremy McGrath in the autograph line there and mentioned how cool it was that he grew up watching and worshipping MC, and now here he was seated next to him after all these years.

Chad Reed with the watch he was presented from American Honda for landing that 200th win.
Photo: Simon Cudby
Ashley Fiolek was also on hand, and I did not get a chance to visit with her with what I believe will be good news for WMX riders: They will run two motos this summer after all. After making some tweaks in the afternoon schedules for the 2012 Lucas Oil Pro Motocross Championships, the girls will now run one extended practice on Saturday morning, then a first moto that goes right before the LCQ races for the 450 and 250 classes. Their second moto will be during the intermission; they will only run at the end of the day if we get into a weather delay or a TV timing issue for the live broadcast races.
I know that some won't be happy with that either, and some would just prefer that the WMX race on another day, but this compromise came after input from the riders and sponsors themselves. It will make for a hectic day, sure, but we're up for it.
I am also happy to report that Red Bull is the new energy-drink sponsor for the whole series, having signed a multi-year deal to bring their full arsenal to Lucas Oil Pro Motocross and help us expand our global presence through their vast multimedia channels.
The press release also included this quote, which is a really cool development for the series and the sport: "Red Bull has been such a big part of motocross for so long that it's a natural fit for them to partner with Pro Motocross," said James Stewart, who will make his full-time return to the series.... The brand has been a great partner to me personally and I'm really excited that the whole sport will benefit from their involvement."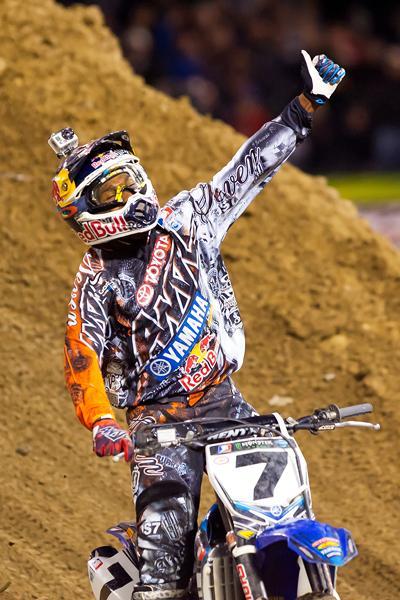 The former three-time AMA Motocross Champ is coming back to the great outdoors.
Photo: Andrew Fredrickson
I can't tell you how hard everyone at MX Sports and Alli Sports has been working to make that happen....
Last night was another cool one in Southern California. After returning for a short trip to Catalina Island (thanks, Matt and Christina) I met up with Simon Cudby at the Fox Racing launch party for the Instinct boot. It was another one of those industry get-togethers that people who are always out here might take for granted, because the seem to happen weekly! Reed was there, along with all of the other Fox Racing riders: Ryan Dungey, Ken Roczen, the injured Ivan Tedesco and Tommy Hahn—even Carey Hart and Jeff Emig were there hanging out and chatting with friends and fans.
At one point Pete Fox asked me to come upstairs to show me the present Chad Reed surprised him with. Pete had left the building to run home and grab his wife, Sally, so Reed and his TwoTwo Motorsports/Bel-Ray crew members Dave Osterman and Lars Lindstrom took one of Chad's CRF450Rs and pushed it up the stairs and stuck the bike in Pete's office. When Pete returned, he was absolutely shocked to see the gift there. Reed does some pretty cool stuff!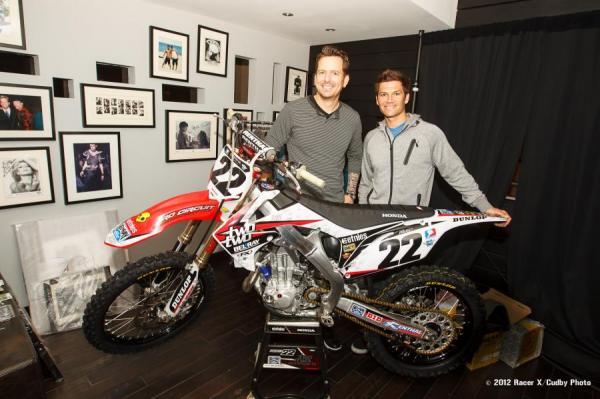 How would you like to find Chad Reed's bike in your office? That's what Pete Fox did last night!
Photo: Simon Cudby
But there is one other thing that's come up that has caused confusion: Anaheim 2 was originally scheduled to be a "pink race" for Breast Cancer Awareness, as it has been in the past, but then there were some complications with the plan and it was decided to put the pink race on hiatus. The word did not make it all the way around the industry, so some companies like Troy Lee Designs and Dubach Racing ramped up some pink pieces for the event and will likely run them anyway, which is cool of them for sure!
And a tip of the visor to my friend Steve Bauer, the former fast guy from SoCal who goes way beyond the call of a goodwill with his Kids Big Air Fair at Loma Linda Hospital out in Riverside today. We will have full coverage of it later on, but well done, Mr. Bauer.
I am in the process of packing up here and then getting over to a long-awaited trip to Disneyland for two well-behaved (albeit homesick) kids, so let me turn this over to everyone else. Remember to check in with Racer X Online all day tomorrow for news and info and photos and videos from the Anaheim Supercross!
Let's start with Ping...
"The Bay Area has been hit pretty hard with rain in the past week or so and I'm guessing the dirt will be softer and a bit more Stew-ish, for lack of a better term. He's nearly a whole race down in points so he has to start making moves. I think we'll see a different letter from the COW this weekend...."
That's from last week's Racerhead. For my next trick, I will predict the next Mega Lotto numbers. Pay attention.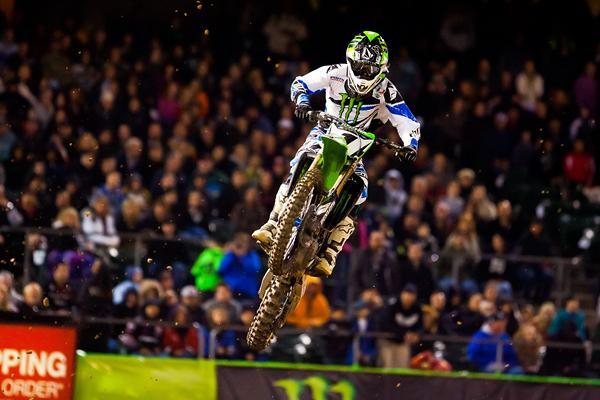 Villopoto looks to get back to his winning ways in Anaheim.
Photo: Andrew Fredrickson
Unfortunately, I don't think we're going to see a new winner this weekend. The top four are just in a class of their own, and while it isn't impossible to see a fifth winner this year, I would say the chances are about as good as winning the lottery without me telling you the numbers. Andrew Short had a great ride in Oakland. There is definitely going to be some good racing for the fifth spot this season. Kevin Windham is always up there, Justin Brayton will get things going soon, Weimer has the speed, and Alessi has been getting good starts again and could be in that mix. Keep an eye on that race just behind the leaders, because it will be good.
Last week I also said Tyla Rattray was due for a win. Instead of winning in Oakland, he crashed and broke his neck. That's three fractured necks in two different weeks, for those keeping score. Thankfully, it was only a fracture to the spinous process and he will make a full recovery. Still, scary stuff. Heal up quickly, Tyla.
The 250 class was looking great two rounds in. There were five different riders who could win and the points were crazyballs close. Now ... not so much. Seely has had a couple bad rounds, Tyla is out, Musquin DNF'd in L.A., Hahn is out, Wilson has had a couple bad ones, and since they don't award points for heat-race wins, Davalos is not in contention. This is Eli Tomac's title to win. He is riding with more confidence and aggression than anyone. He has proven he is one of the few, if not only, who can cut through the pack after a crash or a bad start. If he can stay out of major trouble, he should be champion in May.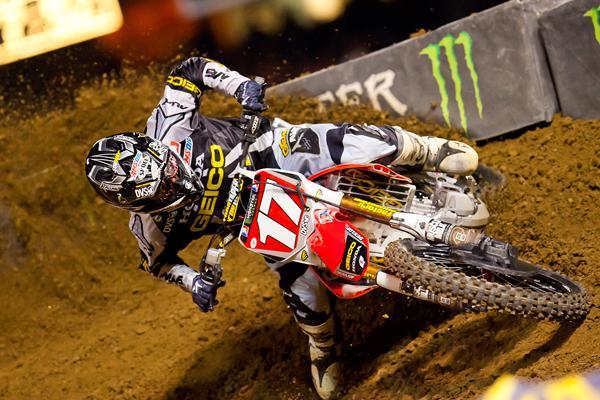 Tomac looks to extend his points lead at A2.
Photo: Andrew Fredrickson
Let the bidding war begin for the Rider Formerly Known as Snack Pak. Zach Osborne has been the surprise of the series, in my opinion. He has been on the board in timed qualifying nearly every week and backed that up with two podiums in a row. He'll finally get that second chance here in the U.S. that he deserves (remember, he had a YOT ride in 2008 but was injured early). Good for him. Now go win a World Championship, Zach!
Here's Steve Matthes...
Well, four down, thirteen to go in this wild and crazy Monster Energy Supercross Series brought to you by the fine folks at Feld. And we're really no closer to solving this thing than we were four weeks ago. Every time it seemed that we in the media were ready to crown someone as "the guy" (RV's the man! No, it's Dungey! Chad's Back! James is James again!), someone else steps up to take the mantle the next week.
As I wrote in an upcoming digital issue of On Track-Off Road (GP journo Adam Wheeler's excellent project), parity is alive and well here. We need this after years of one- and two-man runaways. Yes, RV has come from the back twice to get near the front, but I'd still say that the guy holding the #1 plate at the end of the year is very hard to predict. We're not quite there yet, and even though Ricky Carmichael once said that you have to get to Daytona before you really know how the series is going to shape up, I'd say barring injury, we're still not going to know—and as Weege and the gang pointed out on The List yesterday.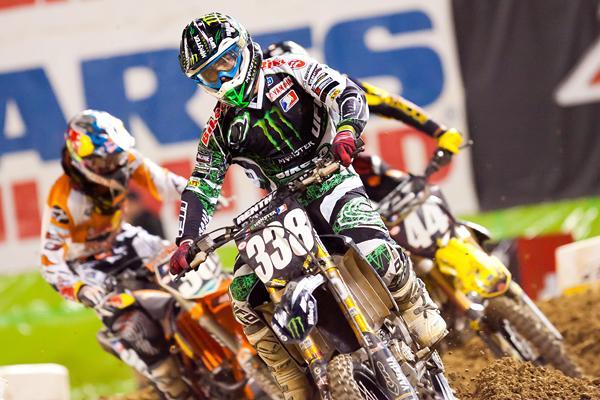 Although he currently sits third in points, Oakland was Zach Osborne's last race in the States, as he leaves to contest the GPs.
Photo: Andrew Fredrickson
Villopoto has been the fastest man in all four main events. When he gets starts (like he did at A1), he's got to be the favorite.
I do believe we'll see our first two-race winner this weekend in Anaheim, though. The "big four"  have all won a race, and I don't see anyone beating any of those guys unless something weird happens, like all four guys get stuck on the 405 freeway at 7 p.m.
I was very impressed with Stewart last weekend. He held off the pressure of Villopoto, gained on Chad Reed, and then pulled away for the somewhat easy win. It was a remarkable bit of calm from a rider who hasn't always been. There was no crazyballs jumping, no almost-crashes—none of the stuff that we've seen from the seven. It was just clicking lap after lap away and putting the hurt on the rest of the field. It was very Dungey-like, if I do say so myself.
BTOSports.com/BBMX rider Michael Byrne and I spoke this week, and he's getting to a doctor this week to get a checkup on his own neck injury and make sure everything is going well there. If everything goes well, look for Byrne to get back on a bike soon and maybe in four to six weeks we'll see him at the races with the #26 Suzuki. As it is now, he'll be at A2 hanging out and signing autographs.
His team is having a little pit party this weekend at A2, where they'll be helping out the fans who have always supported the team. Go by and check it out, but don't expect Jason Thomas to smile or acknowledge you. On race day, he's got Rocky-style focus.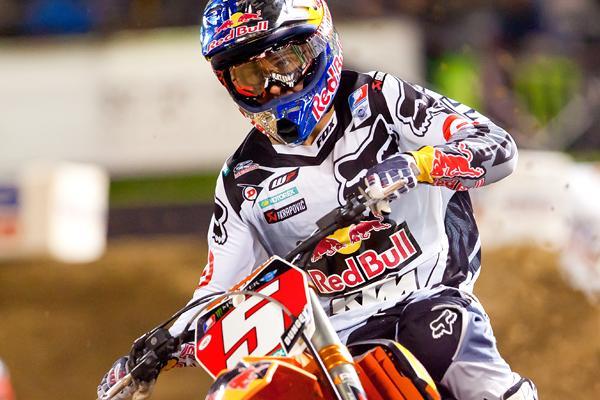 Ryan Dungey will share the red plate with Chad Reed this weekend at Anaheim.
Photo: Andrew Fredrickson
The team picked up Matt Goerke last week and he did pretty well, just missing out on the main event. I imagine he'll keep the fill-in spot until Byrne comes back and that should be three BBMX bikes in the main event pretty regularly. Thomas hasn't made one yet, but he's close; Jimmy Albertson made the first two. Goerke, well, he's only raced two and has come very close to making it in both.
What's going on with Star/Valli Yamaha? I'm not sure, but I did hear from a couple of people that Austin Stroupe may be on the verge of being let go. Then again, Stroupe was "being let go" about 732 times last year. Still, a couple of people who would know told me that.
Check out Pulpmx.com for more stuff about the sport, and this Monday we're going to have Racer X's own David Pingree coming up and sitting in on a show. Always a good time when Ping brings it.
Speaking about the Pulpmx Show, my co-host (Kenny Watson) on the show is always talking about his wrapped coolers and B-to-B (whatever that means) and showed up at the studios with a Pulpmx Show-wrapped cooler. Instead of Basset Hounds or beer, we decided to serve the cooler up for an eBay auction with all proceeds going to injured rider Ryan Morais of the Star/Valli team.
And it's going for some good cash already! Check it out here. Also check out Promototalk.com for a good recap of some moto stories from this website and many others that you may have missed during the day.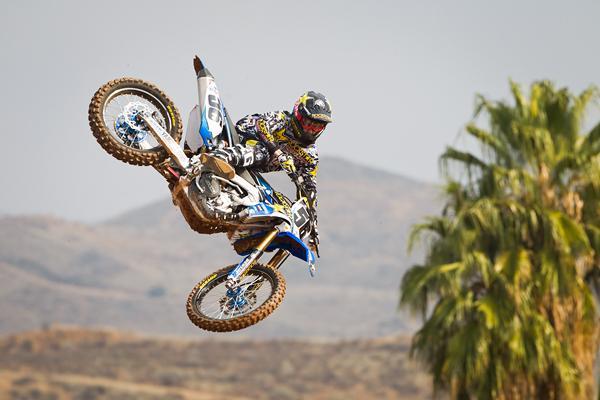 Will Austin Stroupe be under the Star/Valli tent when he returns from injury?
Photo: Simon Cudby
Over to Aaron Hansel...
Is it just me or does A2 feel a lot like A1? Coming into the opener, all the riders are tied for the lead with zero points and everyone is waiting to see who's going to draw the season's first blood. Just like A1, A2 is guaranteed to produce a change in points leadership, and somebody is probably going to walk away with more race wins than anyone else.
That said, I think there's a pretty good chance Stewart is going to take the win at A2. (I know, way to go out on a limb.) In Oakland, Stewart seemed like a different rider than he was during the first three rounds, and if you saw this week's Monday Conversation, you know Stewart feels as though he and the team have reached a turning point.
"We struggled in the beginning part of the year, and now we're starting to make breakthroughs, and we'll continue to get better," Stewart explained. Plus, he had a pretty convincing win last year at A2. No matter what happens, though, you know it's going to be fun to watch!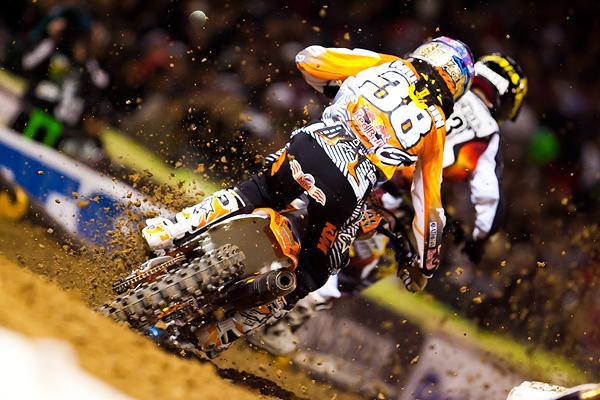 Musquin is looking to put a halt to Tomac's winning streak at Anaheim.
Photo: Andrew Fredrickson
If you want to know what I think about the Lites class this year, just reread the part in Ping's entry above where he talks about Eli Tomac and the Lites championship. Yeah, what he said. Not only does Tomac have the speed to win every time he lines up, all of the other title contenders have experienced at least one disastrous ride (except for Zach Osborne, of course, who is pulling out of the series anyway). As it stands, Wilson still has an outside chance at the title, but he literally has to perform flawlessly in the rest of the western races if he wants to get back into contention.
In Star/Valli news, team co-owner Chad Lanza says Austin Stroupe has been clared to ride but has had very little time on the bike and most likely won't be racing this Saturday. Most likely filling in for him tomorrow night will by Kyle Summers, who has spent the last several days out testing supercross with the team. Next week, Summers will go race a WORCS race, followed by a hare scrambles race the weekend after that. Talk about living the dream!
Here's Weege:
Hansel and Matthes mentioned Stroupe's concussion from Phoenix. We are now seeing the impact of the new baseline test the Asterisk medic staff has instituted at the races—appropriately enough called the Impact Test. Riders have to take a test before they begin their racing season, and then take it again after a hit to the head. If the test results are not similar, they can't race. After the Phoenix LCQ, Stroupe tweeted "Docs won't clear me to race."
And there it is. Decisions are no longer in the hands of riders and teams, but doctors and test results. If you don't think a rider in the past has suited up to score some points while not 100 percent safe, you're kidding yourself.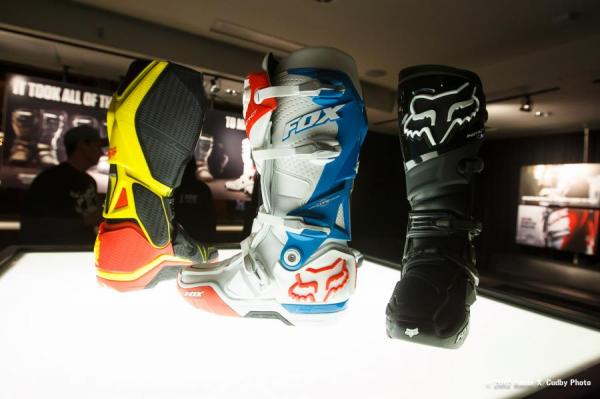 Fox Racing held a launch party last night for the new Fox Instinct boot.
Photo: Simon Cudby
This is the same dilemma the NFL is facing. With every other injury, suiting up and gritting it out is rewarded. But not head injuries. And just like in the NFL, missing one game (or race) can have a massive impact on an entire season. No one will argue the decision to sit out when a bone is sticking out, but what about when a machine says you're not allowed to try?
We put our high-end statistical supercomputers to work again this week. That machine already told us that only five of the last thirteen round-one winners have gone on to win the SX title, but ten of the last thirteen round-three winners have taken the championship. This week's stat: The first repeat winner of the year also went on to take the championship in ten of the last thirteen years. Also, the first repeat winner of the season has gone on to win the last nine championships. Check out the whole chart here.
Here's our intern Haley the New Girl:
It's time for week four and, honestly, it couldn't some sooner in my mind. Not only is it my second race of the season that I'll get to be attending live, but it's also the one that's closest to my heart. A2 has become synonymous, at least in my mind, with breast cancer awareness being supported by sports. Even if not all of the teams are as into the pink as some might like, it's still a time to show support for a cause outside of the motocross community. Coming from a family which has experienced its share of breast cancer, outside attention that is taken so well is always a little pleasure of mine.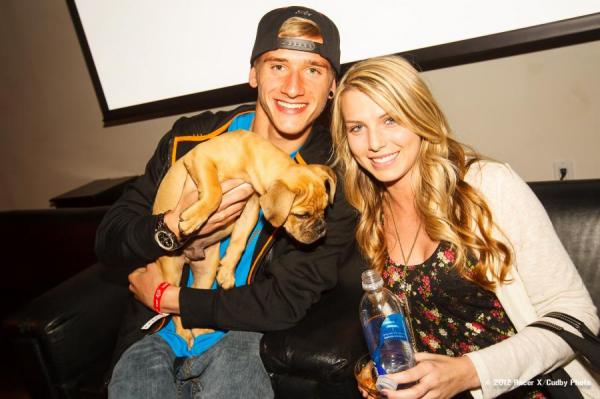 Ken Roczen hanging out at the Fox launch party last night.
Photo: Simon Cudby
Troy Lee Designs has already announced that they're going to be auctioning off some of their gear from this weekend's race, including helmets and graphics. No doubt more teams will be putting out their stuff for auction after the race. It's fun to have the riders mix it up a little bit. More often than not, I see the riders getting a little too much enjoyment out of wearing pink gear and riding pink bikes.... There's something in every guy, I think, that secretly loves the color!
Either way, I can already tell this weekend is going to be one to remember. With four different winners in the supercross class and three in the 250's, it's still anyone's show. I'm looking at everyone predicting James Stewart will come back to Anaheim and follow up his win from last week. But I can't say I agree; James has been known more recently as the dirt sampler. His main event crashes outnumbered him last season and already four rounds into this season, the ratio still stands. While I have no doubts that he is still a top competitor for the championships, I haven't been convinced that he's able to win two weeks in a row.
For me, I'm feeling the KTM on top yet again. Dungey has been looking strong through all of the rounds with last week being his worst week yet. While he may not be the most exciting rider to watch out of the group, Dungey definitely has the determination to make another win happen. And coming off of his first week off the podium, I think it's the perfect time for him to step it up.
Normally, I would be routing for Ryan Villopoto. The Washington native is finally proving that he may be the new fastest man on the planet. But with his unfortunate starting luck the past few weeks, he's been lacking, ending up with thirds and a fourth. It's time he bit the grit and got his starts down to a T. Once he gets his starts cleared up to where he doesn't get mixed up in the crowd and shuffled back, then he's an easy choice for a win. But until then, he'll be looking at the bottom of the podium, I fear.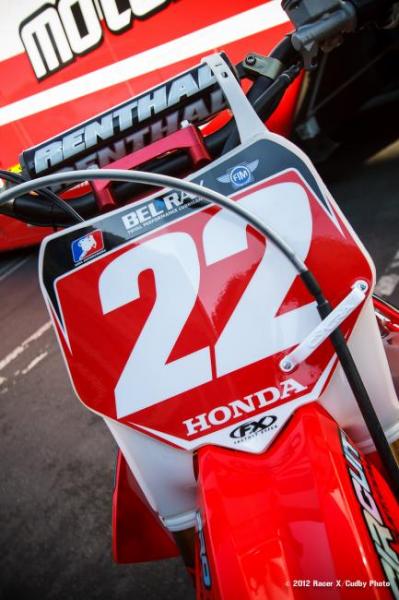 Reed had the red plates on display yesterday at the Honda Team day.
Photo: Simon Cudby
I'll be tweeting everything I do come Saturday. Check out @heyitshales in the morning and afternoon for all your latest news on what's going on in the pits and up in the booth. Once the night show starts, I'll then be switching over to @MXInsight for all your live race coverage needs.
Until next time, everyone! Hope this week gives us all something to talk about!
We will close with some miscellaneous notes:
The countdown begins for the 5th Annual Racer X Inter-AM Vintage MX in Boise, Idaho. This year's event is set for March 31st-April 1st weekend.
Guests of honor include Danny LaPorte, Chuck Sun, Damon Bradshaw, Ron Lechien, and JT racing founder John Gregory. Check out this year's souvenir sticker artwork designed by one of the sponsors DeCal Works. The race is the first round of an all new Pacific NW VMX Series. For more information go to pacnwvmx.weebly.com.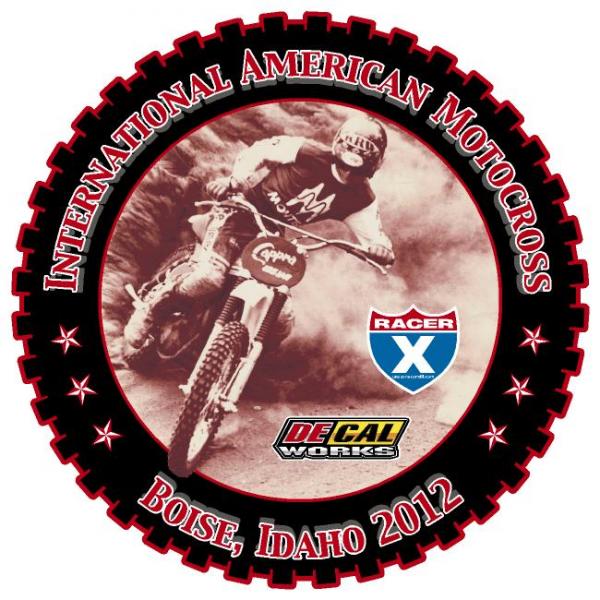 Check out James Hanson's very cool 125 Vid:
Stop by the Racer X Booth this weekend to replace your Snuggie with a free heavyweight Vintage Motocross Fleece Blanket when you sign or up renew your subscription to Racer X Illustrated! The blanket comes in a small, easy to carry tote which can also conveniently store your first free issue. It's great for the races, looks good in your home, and can be all yours (unless your significant other decides to nab it) if you stop by our booth Saturday 12-6pm.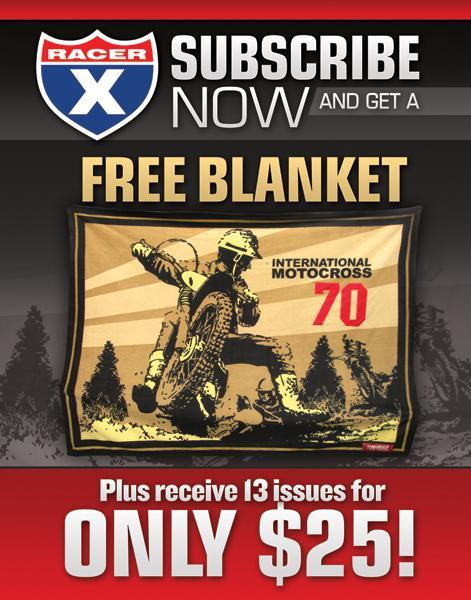 That's it from SoCal. Thanks for reading Racerhead. See you at the races.