Angel Stadium
Anaheim

,

CA
Anaheim II (A2)
Monster Energy AMA Supercross Championship
Four rounds, four winners, four brands. That's the big story in Monster Energy Supercross and if we had a dollar for each time we'll hear this stat over the weekend, we could build a domed stadium out behind the office and hold a supercross in Morgantown. Maybe even get a Super Bowl or two.
Yup, this one is going to be talked about quite a bit, and we should savor this week since four winners in four races hasn't come around since the U.S. bicentennial more than 35 years ago. Thirty-five years! Kevin Windham wasn't even born the last time this happened.
But just imagine if the unthinkable happened. What if someone else won this weekend? What if we pushed it to five winners in five rounds—and even crazier, what if a fifth brand peeked through and collected a win?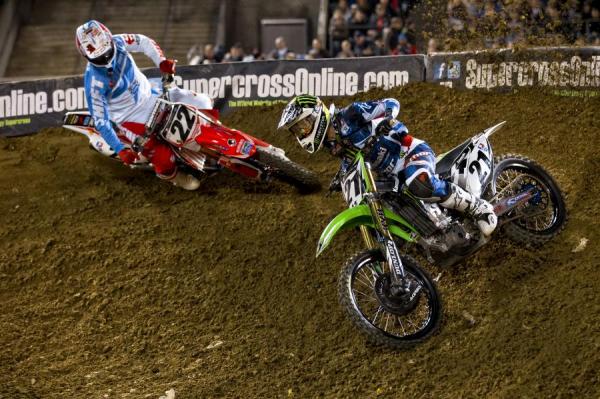 Can Weimer find a way to stop the momentum of the top four?
Photo: Garth Milan
Well, that would mark the craziest start of all time, because even in '76, someone (Jimmy Ellis on a Can-Am) repeated by round five. Since Husqvarna, Husaberg, TM, Aprillia, Cannondale, ATK and others have not really found much success in AMA Supercross, we're going to put the onus on Suzuki to deliver win number five. So that means we're looking at you, Brett Metcalfe. Or you, Mike Alessi. What's that? Mike's team says he is riding a MotoConcepts Racing 450? Well, maybe Mike and Metty can both get wins and take us up to six.
Mike started the season with some decent rides but has since hovered around the top ten. Metcalfe started slowly but has come around as of late. But a new winner this weekend, regardless of brand, would be a shakeup. We know Trey Canard could get it done, but he's going to be out for awhile. So that leaves the likes of Kevin Windham, Andrew Short, Justin Brayton, Jake Weimer, Metcalfe, Josh Hansen and Davi Millsaps to get a win. 'Saps and K-Dub have done it before, but so far no one but Weimer has shown the stuff to mix it up with front pack. But he wasn't happy with his Oakland ride, which included a heat race where Dungey, Windham and Reed went past him, and an eighth-place finish in the main. We also hear Hansen wasn't pumped about getting the start in the main, then heading backwards fairly quickly, and he'd like to do more if he gets another shot.
Yup, plenty of motivated riders in this pack, but so far nothing this season has shown us that anyone besides Villopoto, Dungey, Reed and Stewart will get the W. Doesn't mean we aren't hoping someone else can get one, though. Imagine how dollars we'd make with all the five-in-five talk next week!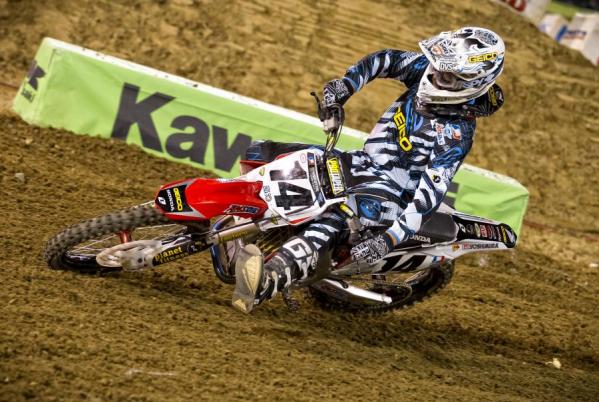 Can Windham be the fifth winner in as many weeks?
Photo: Garth Milan