Angel Stadium
Anaheim

,

CA
Anaheim II (A2)
Monster Energy AMA Supercross Championship
The 2001 AMA Supercross Series started out with the usual plot—lots of hype about lots of contenders, and then Jeremy McGrath goes out, hammers them at round one and ends the talk.
When McGrath took his Mazda Yamaha to the Anaheim 1 win, it sure looked like he was set for an eighth career championship. His 2000 title drive started the same exact way. But '01 would prove to be different. Ricky Carmichael struck back for a win the next weekend in San Diego after a great duel, setting up another showdown for round three, held once again in Anaheim.
The showdown delivered, as McGrath and Carmichael hooked up in a 20-lap battle that had the Angel Stadium fans screaming the whole way. McGrath grabbed the holeshot but Carmichael jumped into the lead before turn two. A few laps later, McGrath closed back up on Carmichael and took the lead. From there, RC kept the heat on MC, staying glued to his back tire all the way around the track. With a few laps to go, Carmichael switched lines to the inside in a bowl turn, and McGrath's line intersected, leading to a collision. Carmichael took the lead momentarily, but decided he did not want to do it in that manner. Carmichael stated that if he won, he wanted to do it clean, so in the next turn he basically pulled over to let McGrath have the lead back!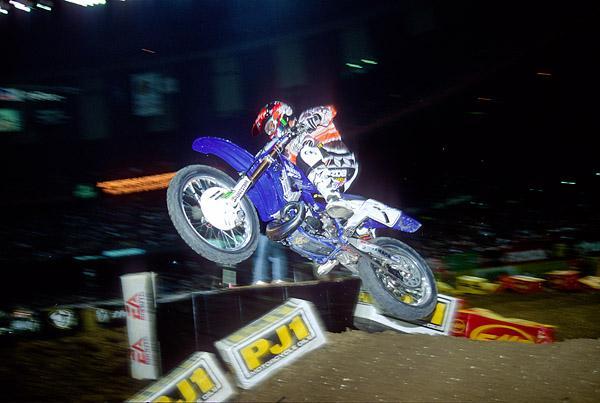 The year 2001 would mark the final time McGrath would stand atop an SX podium.
Photo: Chris Deutschen
For the final two laps, Carmichael looked for an opening to try to make a clean pass, but McGrath held him at bay, winning by just a few tenths of a second. "If we have to fight for it, than that's what we'll do," said McGrath after the race.
It was another Anaheim and another win for McGrath. He still held the series' lead, too. But this night would be far different than any other—this night would end up hosting McGrath's last-ever supercross win. The following weekend in Phoenix, Carmichael took off from the start and won, and then at Anaheim 3, he rocked the foundation by coming from way behind to catch and pass McGrath for the victory. Carmichael ended the year on a 13-race win streak.
Back then, McGrath surely wasn't happy about seeing his long reign come to an end. But looking back now, Anaheim 2 marked his 72nd career supercross win, and it's that mark that still makes him the unquestioned all-time King of Supercross.