Angel Stadium
Anaheim

,

CA
Anaheim II (A2)
Monster Energy AMA Supercross Championship
The 2012 Monster Energy Supercross Series is now officially in full swing with four rounds down. This past weekend we were in Oakland which is the house that Al [Davis] built, the house that is committed to excellence and me being a Raider fan, I immediately dove into the black hole and started yelling obscenities at the riders walking the track.
Although I loved San Francisco's ballpark and the surrounding areas, in many ways Oakland is better for the series (although probably not better for chancibility of being stabbed) because of the size of the floor and stadium. San Fran's floor surface is just too small and the lap times there dipped into the low 40-second range which in my opinion, is not long enough. Oakland holds more people (and therefore is more profitable) and has a huge floor which makes for a better track and that my friends, is why Oakland is *winning.*
Speaking of track lap times, this week in Oakland was, in my opinion, the best track of the series. It was technical and challenging for a couple of reasons. First, it had fun rhythm sections and second, the soil was soft and broke down by the main events. The ruts and bumps combined with the rhythm sections make for a challenge and the cream rises to the top. The whoops were still not really challenging for the guys but other than that and the fact that the over/under bridge was gone (RIP my little friend, you were like a shooting star. One moment you were there and shining brightly in all your glory and seven days later, you left our lives) I liked the track.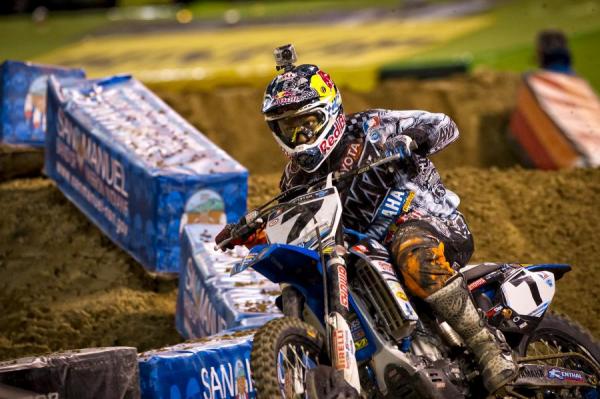 Stewart was finally able to break through and get his first win of 2012 in Oakland.
Photo: Garth Milan
After a sub-par (for him) start to the season JGR Yamaha's James Stewart had a lot of people talking about him. This is normal. But this time it wasn't, "Did you see that?" it was, "What's wrong with him?" Some of the old magic that Stewie has produced hasn't been there on the JGR bike. Well, after Oakland maybe that talk should stop because we saw a solid, steady ride from Stewart. It wasn't a flash and crash ride, it was a calculated charge to the front holding off two title contenders that showed he's...
A- Still got it
B- He's in shape (that talk can stop)
C- His bike is capable (although we kind of knew that)
D- He can win on Pirelli tires
Stewart was caught from a ways back by Ryan Villopoto in the heat race, and it didn't look good for the main event, but according to his team manager, they changed a rear tire for the main and that obviously helped as Stewart moved up early, withstood RV's challenge, worked on Chad Reed and made a sweet pass to grab the lead. From there he slowly pulled away for his first win of the season in what was a dominating performance.
That's four winners in four races and we'll soon see who is the first of the big four to grab their second win. Congrats to the guys at Pirelli who have definitely taken some shots early in the year from fans, media and people in the pits. On a track that didn't have perfect traction, they proved that they can win.
I really thought Ryan Villopoto was going to win the race. In practice he was the only guy to consistently lap in the 54-second range, and he was flying in the heat race when he caught Stewart. But his start did him in. He was probably around seventh or eighth early on and that's all it takes with the depth and parity in the class. He worked his way up to third, put pressure on Stewart and Reed at different points, but wasn't able to get around. He was blazing fast in the whoops but his line put him on the outside of Stew and Reed, and there was nothing he could do to follow up—they would just shut him out. (And Reed, being the clever veteran, actually changed his line to RV's line a few times to box him out. The game within the race is always fascinating). Once RV had a few sketchy moments on the deteriorating track, he was forced to settle for third. All in all a nice ride by Ryan, but he's got to be feeling a little jinxed right now.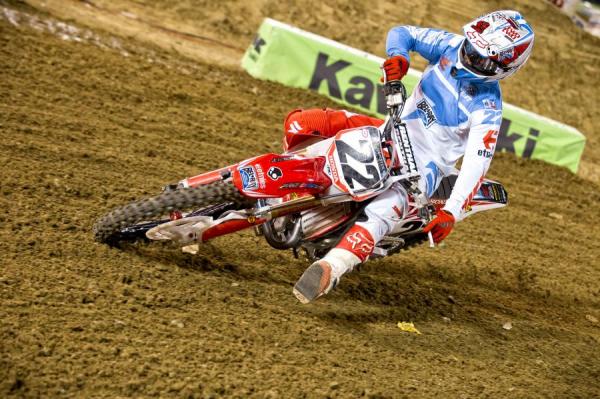 Reed finished second in Oakland and now holds a share of the points lead.
Photo: Garth Milan
Reed wasn't happy with his ride after the race but I think he should be. I suppose if you're Chad Reed, and you win last week and then lead this race for a long time and get passed, you're pissed. But sometimes you just got to give it up to the guy who won for being better that night. Reed's ride was still strong and he fought off RV with some cagy moves like I mentioned above. It reminded me of Indianapolis last year when Reed frustrated Ryan Dungey to no end. He's just smart, he knows where you're going to be and he always, always likes to say on the podium "Catching me is one thing, passing me is another…" and then smiles while the guy behind him smashes his champagne bottle over his head.
TOMAC! TOMAC! TOMAC! The GEICO Honda rider certainly has nothing to worry about right now being 15 points up after four races. He won in Oakland when, as he told me, he got a gift when Dean Wilson crashed. And Martin Davalos pulled a "Martin Davalos" and dropped back. Tomac was once again on another level like he was at L.A. and his third and fourth at the first two rounds are but a distant memory. He looks very sharp and although he had a big-poop-your-pants-almost-crash moment in the main, he pulled it together to win.
There are rumors in the pits that Tomac may go to the vacant Honda 450 that's there now that Trey Canard is hurt (according to Canard, he's probably done for the year). I thought it was risky last year when they put Justin Barcia on it while he was still capable of winning races in the 250s but it looks like Honda (and GEICO and the Tomacs) are all okay with this. Nothing's official but in my opinion, I think we'll see this happen.
Marvin Musquin should be second in the points after four rounds. The two-time MX2 World Champion got his second podium of the series and if you give him the easy fourth that he had last week (and it may have better if he could have caught my little twinkle-toes, Zachy "Poo" Osborne) then he's second in the points and eight back of Tomac. Instead, he crashed out last week while running fourth. And then again, if my aunt had, you know, she'd be my uncle. As it is, Musquin is pretty much what we all thought he'd be—a solid podium contender in SX.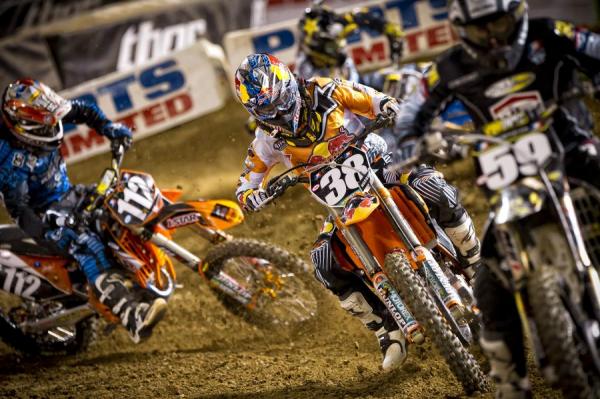 Musquin continues to improve, finishing a career best second in Oakland.
Photo: Garth Milan
After the race his mechanic, Frankie, at KTM said that Musquin asked him why "Ze Pulp guy doesn't ever talk to me?" or something like that (Frankie being Frankie, he might have made this up. In fact, there's a 73 percent chance he did). Anyways, Marv and I are cool, I talked to him at Steel City, at Hangtown and both years that I was at Bercy with him. I don't know what he's talking about. I like Moving Marvin The Martian Musquin. He reminds me of a young DV934 where he knows other riders, the sport, the history and all that. He's not only fast, but friendly and gets the PR side of the sport. So yeah, he's exactly the opposite of Christophe Pourcel.
Bad deal for Tyla Rattray, he went down hard in the main and broke his neck. Yes, I said broke his neck. This follows last week's broken neck from Ryan Morais and Canard's broken back. Been a rough patch for the supercross racers in the last two weeks and if the steady, consistent, not going to go balls-out Rattray can get hurt, well then anyone can.
After the race the relief at the JGR team was measurable. From team owner Coy Gibbs to manager Jeremy Albrecht to Stewart's mechanic Patrick Barker, you could tell that it was a relief that they finally won. Plus add in the fact that the team lost old crew member (and Stewart's practice bike mechanic) Mark Adams to a car accident earlier in the week and the emotions the team had been feeling had to be immense. I was a mechanic for 11 years and I can tell you for a fact that you spend more time with your team than you do with your family. The race results become you, they are what you many times measure your self-worth by (I never had this problem being as cynical as I am, but I've seen this many times). After the race, the pressure was relieved.
Good for those guys, from Coy on down, the JGR Yamaha crew is a good bunch of guys and a whole lot of teams would have had their panties in a huge knot over the tiregate issue at round one but they took the criticism and the heat, they never changed the way they acted to us media people doing their jobs and moved on from there.
You know what I feel like? I feel like the first guy that worked in the battery shop who spilled acid on his jeans and decided he liked the look and produced a few pairs. He then helplessly watched as acid wash jeans swept the country. This is how I feel when it comes to Zach Osborne. I haven't known him for that long but at the USGP at Glen Helen, he somehow found me through the massive crowd and introduced himself to me. I've always been a follower of the GP's and to me, any American that leaves to go compete in that series deserves props. Zach's trainer lives in Vegas and he's done some in-studio podcasts at my house, he has come on the Pulpmx Show and he wears X Brand goggles which is a company that I do some side work for. So Zach and I are friends. I like his outlook on things and he's a pretty funny guy.
He hasn't gotten that World Championship yet (and on that note, his eyebrows could definitely give America's first World Champion Brad Lackey's signature beard a run for its money) but his supercross results have probably gotten himself a ride back here in America in 2013. He hasn't really told me yet what he's going to do but he has to ride 450's next year in Europe and like any human being, he wants to live in his home country (Why would Zach have to race a 450 in Europe next year? Because there is an age limit in the 250 class in the GPs. That's one of the dumber rules there is in our sport. Good job, Europe!). He's been fast every weekend and made his first podium last weekend and his second this weekend. And that's it folks, he's going home now as the four-race deal he made with his British GP team is up and even though he's third in points, he's made a big enough statement and is done over here for the year. Congrats to his team owner Steve Dixon for putting the effort into this program as his Monster Yamaha team showed it can compete on either side of the ocean. (And after the race Steve told me it was strange that no one from Monster had even spoken to him once in four races despite Osborne's success and even though his team name is Monster Bike-It Yamaha. I was left there to kick rocks in the parking lot and explain that "we" were sorry.)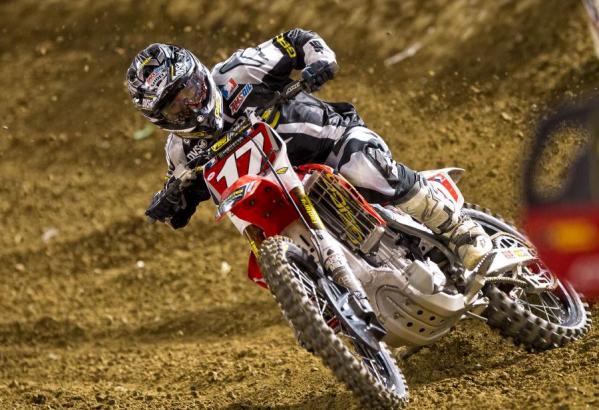 After his second consecutive win, Eli Tomac now holds a 15 point lead out west.
Photo: Garth Milan
And now I see that everyone has jumped on that Osborne train. He's doing other radio shows, more interviews and I feel like the acid-wash jean guy. I hope he remembers me when he gets big, I was there from the start.
Let's take a look at the results shall we?
Lites West Overall
1. Eli Tomac Hon
2. Marvin Musquin KTM
3. Zach Osborne Yam
4. Ryan Sipes Yam- Sipes not making a podium in the first four races is as shocking as when Stallone first met his son in "Over the Top". You really just can't believe it.
5. Matt Moss KTM- This ride kind of came out of nowhere and good for Moss. His "Greatest Highlights of Racing in America" DVD can now contain him signing his factory Suzuki contract in 2010 and Oakland SX.
6. Travis Baker Hon- I like T Bakes, he's a good dude and I got to know him when he rode for MotoConcepts in 2010. He's got some skills and I thought he'd really be a guy on the rise with a better bike but he sort of stalled in his development. This year, his second on the TLD Honda team, he's got to make it happen. And in Oakland, he did. Best ride of the year for Travis and let's hope he keeps it up.
7. Nico Izzi Yam
8. Max Anstie Hon- Not many people are talking about Anstie but he's been solid through the first four races and is top ten in the points. I don't know, maybe no wants to say something bad and have his dad (who is legendary in the pits) come down on them. Best to treat Max like an angry beaver and leave him be.
9. Martin Davalos Suz- I challenge anyone to find any rider in history to have a weirder series than Davalos. He's been fast, led races, won heat races, pulled holeshots, won LCQ's- you name it, he's all over the podium all day long. Except for the main events where he's thrown it away time and time again. But like I said last week, at least he is getting his sponsors exposure!
10. Dean Wilson Kaw- Wilson had a nice crash (for style value) in the main event and bummer for Dean it might have cost him this West title. I want to see Wilson and Tomac just go at it for 15 laps once in this series. That would be epic.
11. Cole Seely Hon
12. Jason Anderson Suz- Anderson could've and should've had a better result and maybe even had a podium, but tangled with Musquin and went down. And he had to do it from the LCQ (like last week). He was very fast and looks like a different guy this year. Kudos to the Rockstar Suzuki team for not kicking Anderson to the curb after a rough first year. Think of guys like Ben Riddle, Brian Grey and the rest of these kids that get one chance and then are working at 7-11 in year three.
13. Billy Laninovich Hon- The Seabiscuit-like story continues.
14. Gavin Faith Hon
15. Gareth Swanepoel Yam
16. Michael Leib Hon
17. Vince Friese Hon
18. Killy Rusk Hon
19. Ryan Marmont KTM
20. Topher Ingalls Hon- At least Topher won the "Best Looking Bike" Award on the night!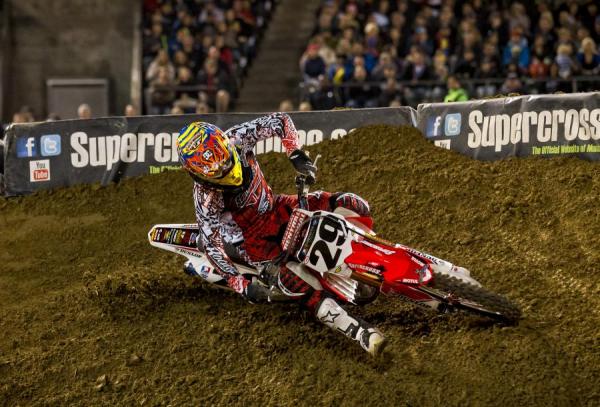 Short had his best ride of the season in Oakland, finishing fifth.
Photo: Garth Milan
Supercross Overall
1. James Stewart Yam
2. Chad Reed Hon
3. Ryan Villopoto Kaw
4. Ryan Dungey KTM- Not where Ryan wanted to be but he was back a ways off the start and made the most of what he could do. Does anyone else think that fourth is going to be the worst finish of the year for him?
5. Andrew Short Hon- Shorty had his best ride of the year and Dungey didn't really pull that much out on him. After the race, Shorty was all smiles. Imagine that.
6. Kevin Windham Hon- KW's not happy with his riding lately but as he said, what are you going to do in such a deep field?
7. Davi Millsaps Yam- That's two decently-strong races in a row for Millsaps now. He's a sleeper.
8. Jake Weimer Kaw- Weimer wasn't happy after the race and he seemed to be riding by himself for most of the race.
9. Justin Brayton Hon
10. Josh Hansen Kaw- I never would have thought that Hansen would be H&H's rock through four rounds. He hasn't been blazing fast and he went backwards faster than I thought he would at Oakland but he's top ten in the points, he's been solid and that's better than I (or most) would have thought he'd be.
11. Mike Alessi Suz
12. Kyle Chisholm Kaw- I'm waiting for the Chiz's breakout ride on his new team. A 16th and three 12th place finishes is what we have so far for the number 11. He's testing with his team this week in the hopes of getting more comfy on his bike.
13. Broc Tickle Kaw- His team manager/owner Mitch Payton put it perfectly this week on the Pulpmx Show. "He's had some good races and some bad races."
14. Brett Metcalfe Suz- Metty was up there but he must have had crashes although no one I spoke to saw it. Remarkable that even his crashes go unnoticed.
15. Nick Wey Kaw
16. Cody Mackie Kaw
17. Weston Peick Kaw- I told Weigandt last week that I was waiting for the "Weston Peick breakout" and he hasn't let me down, two solid rides in two weeks.
18. Robbie Kiniry Yam- Hey! Good job to Bobby for coming out as a fill-in rider on the Rockstar Star/Valli team and making the main on his first try. Kiniry, one of the friendlier guys in the pits, is a good guy and someone to cheer for. He's riding for a Yamaha team in Canada this summer and according to people up there, that's why he has this ride. According to people I spoke to, that had nothing to do with it.
19. Ben Lamay Yam- Congrats to Alaska's own Ben Lamay for his first main event of the year. Too bad his bike blew a head gasket or radiator hose and he was forced to pull off.
20. Kyle Partridge Kaw- Kyle had a rough Oakland in that he went down hard in practice and then again in the main. The crash in Oakland blew his boot buckles off according to his team manager Kent Watson.
Thanks for reading, shoot me an email at matthes@racerxonline.com and we can chat about what this supercross stuff all really means.