Hailing from the small New England town of Bolton, Connecticut, Mike Guerra grew up racing the NESC (New England Sports Committee), which was also called AMA District 1. Guerra enjoyed a professional career from 1975 through 1982. During that time, he scored several top finishes in the AMA and Trans Am Nationals, and spent two years racing the GP motocross circuit, where he won the Spanish GP in 1982. His entire career was spent riding the Swedish Husquvarna motorcycles (note: a different Mike Guerra works for Yamaha). Warren Price, a friend of Racer X, hooked us up with Guerra's contact information, and we gave him a call.
Racer X: Mike, thanks for taking a few minutes to speak with us.  What do you have going on right now?
Mike Guerra: Well, I am in the middle of my work day here. I have an amazing job at Colt's Manufacturing Company, LLC, which is one of the oldest gun manufactures in the world. Beretta is the only one that is older – they are 500 years old, so we don't have anything on them! But we are making two of the oldest guns in production, and one of them has been going strong for 138 years, as well as our more popular and well known gun, the Colt .45. Our products are some of the most collected firearms in the world. We employ about 500 total employees between our two companies. But the cool thing is that everything is made here in America, and in New England.
So, where are exactly are you located then?
(Laughs) Well, I am in "Gun Valley!" No, we are located in central Connecticut, and I am back living in my hometown of Bolton. But between Pratt and Whitney, Colt, Smith and Wesson, a few others, there is quite a little industry here, and all is done within 50 miles of Hartford, which is real close to Southwick. It is kind of similar to how the moto industry is all located in Southern California, all of our other competitors are nearby.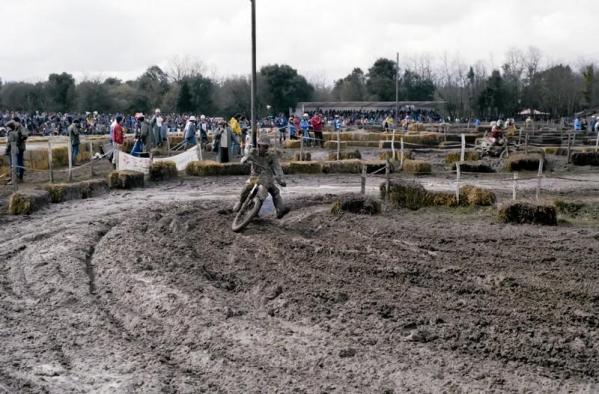 Because he grew up in New England, Guerra was well suited to riding in the mud.
Photo: Courtesy Guerra
How did you get involved with Colt?
Well, I started in sales, and moved over to spare parts sales manager, and now I am the marketing manager. I basically started with one job and have worked my way up. But like working in the motorcycle business, you have to have a passion for guns. I am a hunter and a shooter, so I am still involved on the sporting side as well.
Let's switch gears, tell me a little about your background and how you got started racing.
Well, I was born in North Carolina but my parents moved us to New England when I was very young. In 1973, I started racing in District 1 – the precursor of NESC. At the very first race that I went to, I saw Jimmy Ellis ride. I decided right then and there that motocross was my sport. I got my start by doing lots of riding out here in the New England woods. And with that, my specialty was riding the sand – mostly because here in Connecticut River Valley, we have a ton of sand! But as it was for my generation, we started in the woods. On a side note, I still do that today on an awesome KTM 300.
What about your professional career, what were some of your highlights and how did that start?
I raced professionally from pretty much 1977 through 1982. I raced all the AMA Nationals and Trans Am series, and then in 1980, I raced my first GP. Then in 1981, I got a full Husky factory ride for the GPs, and I went to Europe for the 1981 and 1982 seasons. I was always a top ten guy in the AMA races, and was normally finishing around sixth or seventh place. But then in the fall of 1980, I started to come into my own. I was finding a lot of speed and was winning some of the Trans Am stuff, and I was looking to take the next steps.
You rode Huskys for pretty much your whole professional career. Back then, (and today) such loyalty was pretty rare. Also, from what I know, the Huskys of that time were starting to lag in technology. How was that experience?
You are right, I rode Huskys for my whole career.  Those things were trouble! I have the distinction of being the last rider to win a GP on a Swedish built Husky, before the Italians bought the company in the 1980s. But yeah, toward the end there, there wasn't a whole lot of money being invested in R&D. Electrolux, the company that makes vacuum cleaners, owned them, and they couldn't have cared less about motorcycles. Also, there weren't a whole lot of motorcycle folks at the company as well, which I think really hurt them and caused the demise. We were the last ones to come out with a single shock model, and we were the last ones to come out with liquid cooling. But from 1975 through 1982 I rode those bikes through a variety of support and factory rides. I always got bikes for free, but I started to get a salary somewhere around 1978 or 1979.
Nice! Do you mind me asking – how was the pay?
Not good! My first year was $30,000. But the good thing was we got everything free. All the travel, meals and everything were covered, so that made the money go much further. We also had insurance and access to whatever spare parts we needed, so that helped.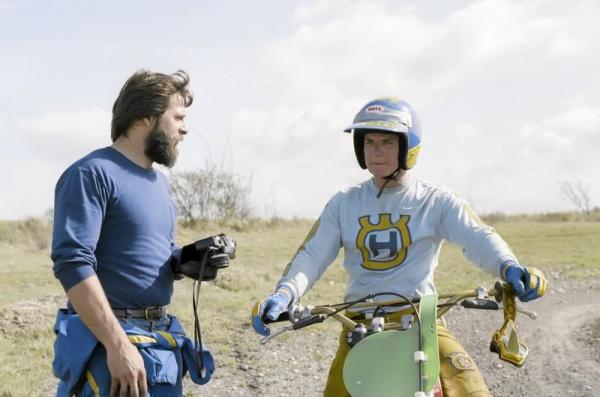 Photo: Courtesy Guerra
That doesn't seem so bad, I bet there are plenty of riders today who wouldn't mind a $30k salary today.
Yeah, you are probably right about that. I guess it was pretty good for the time.
How did you end up going to Europe? Unlike today, and back then, Europe was where many America riders aspired to go, right? Guys wanted to become a World Champion, because back then it meant you were really the best in the world.
Yeah, definately, it is not like today. So, back in 1980, I won the Mid Ohio Trans-Am. I was driving home with Jimmy Ellis, who had always been faster than me. I beat him for the first time and got some confidence. He was okay when I beat him, and I think he was happy for me, as his career was winding down, and mine was on the way up. So, I went from watching a mentor to beating him. After that, I got job offers from Heikki Mikkola and Roger DeCoster, and who was just starting his career at Honda.
So, basically, DeCoster offered me a job riding the CR 125 for the rejuvenated American Honda team for the 1981 season. But during our conversations, he also suggested I should consider to going to Europe. He thought I might do better over there, based on my technique. I was much better on the rougher stuff and sand, which was a product of coming from the nasty New England tracks. DeCoster gave me the number of his manager at the time. She was a women, which was rare for that time! I can't recall her name, but she hooked me up in Europe and I didn't take the U.S. ride.
So wait, you turned down Roger DeCoster and American Honda's offer, and instead went to Europe?
(Laughs) Yup. It just seemed like a better option for me at the time.
What was it like traveling around Europe back then?
Certainly nothing like it is today. For each country we went to, we had to go through the border and security checks. They don't speak English as much as they do today, and communication was tough. But the tracks were very cool, the cities were beautiful and it was an amazing learning experience.
How were your results?
They were okay, but I hurt knee in middle of 1981 season. I had one surgery on it, but I then hurt it again in 1982. I had moved up to the 250 class, and along the way, I did manage to win few motos  and scored four or five podiums. I was leading at the Swedish GP but got a flat, which sucked. I then finally won at the Spanish Grand Prix, which was funny, because it totally wasn't my kind of track. It was hard packed and fast, much like the old tracks of Southern California. I just had some confidence and speed, and it worked out.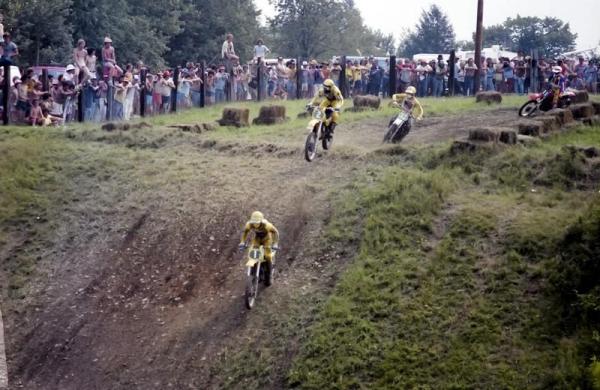 Guerra chases a moto win at Unadilla in 1982.
Photo: Courtesy Guerra
How did things finally wind down for you?
Well, my knee was starting to become an issue. I should have taken a break and had it fixed properly, but you don't think that way when you are 18. I kept riding, but it was really hard. I came home and went to the Olympic facility in Tahoe to get the knee fixed, but it just wasn't right. I then took the 1983 season off, and just never got fully healthy.  I did some real damage to it, and then just decided to get a real job. My first job was with Koni shocks, and that took me into the automobile industry.
So after you quit racing, you immediately moved into the auto business?
Well, not right away. The Koni job was on the motorcycle side for a while, but as I moved up in the company, I moved over to the cars. I was living in North Carolina then, and was offered a job with Volvo in the late 1980's, which I took. That job led me to live all over the world. I started with Volvo as a product information manager, which was pretty much a media relations job, doing ride and drive programs, and many other forward facing marketing tasks. I was moved over the Sweden for a while, which was cool. I was product manager for the Cross Country, which was one of the top selling cars for Volvo.
Weren't you involved with Cannondale as well?
Yes I was. From Volvo and Sweden, I came back to the USA and was working at the Volvo HQ in New Jersey. We put together the Cannondale / Volvo mountain bike team, which was a big deal back in the 1990's. So I first went to Cannondale to speak about sponsoring their bicycle racing team. It turned out to be one of the most successful mountain bike teams in history. But then Volvo transferred to me to Southern California and I started traveling to Volvo dealers. The travel wore on me, and I eventually decided to move on. That was at the same time as Cannondale was looking at possibly starting the MX bike, and they asked me to connect with them with some engineers. Dick Raush was the VP of engineering at the time, and we were friendly. When I was there, it was the discovery phase. But that is a whole separate story. I was with Cannondale for four years though. It was pretty stressful and tough. Everyone tried really hard, but we ran out of time and money to get things right. I left before it imploded, and started my own company doing sales training. My primary clients were Porsche and Turner Binoculars.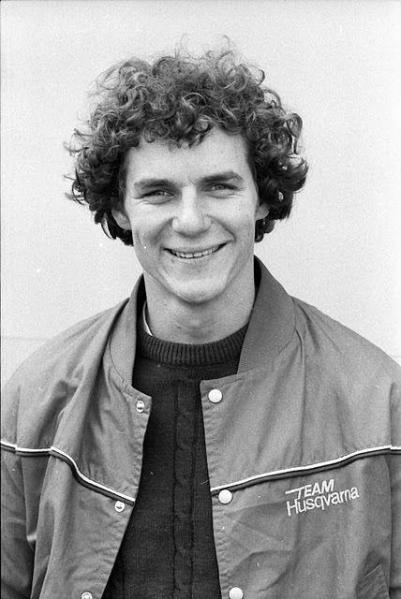 Mike Guerra rode for the factory Husky team his entire professional career.
Photo: Courtesy Guerra
So that brings us back to today…
Exactly. I ran my own company for about eight years. I traveled all over training people about products.  Eventually, I grew tired of the travel again, and I took the job with Colt. I now live back in Bolton, having lived and traveled literally all over the world. I am 53 now, and doing great. I have always had my passions in my jobs. Motorcycles, cars, hunting, whatever. It's awesome and I couldn't think of doing anything different. I still love to ride when I get the chance, and I do mostly woods stuff. But life is good.
Well Mike, thanks for chatting with us, I will let you get back to your day. Glad to see you are doing well, both professionally and personally, and can enjoy your passions.
Thank you. I am very lucky for having the career that I have had, it has been a lot of fun.