O.co Coliseum
Oakland

,

CA
Oakland
Monster Energy AMA Supercross Championship
By Aaron Hansel and Jason Weigandt
What initially looked like a pretty basic and straightforward track in Oakland turned into one of the most technical tracks we've seen in a long time. Not because of crazy rhythm options or intense obstacles, but because of the dirt. Its soft and loamy composition lead to some tricky ruts, and created a track that was ever changing as the racing unfolded.
This season is delivering all sorts of interesting stats, one of them being the fact that Ryan Dungey has not finished in the same position twice so far. In four rounds, Dungey has finished in first, second, third and fourth. How crazy would it be if Dungey took a fifth this weekend at A2?
With less than a quarter of the season completed, we've already seen injuries create rides for several replacement riders. In Oakland, Cody Mackie filled in for the injured Josh Grant on the DNA/Jeff Ward Racing team, Matt Goerke rode Michael Byrne's BTOSports/BBMX bike and Bobby Kiniry rode a 450 for Rockstar Star Valli Motorsports, which was missing Ryan Morais and Austin Stroupe. Mackie and Kiniry faired well; they both qualified for the main and finished in sixteenth and eighteenth, respectively.
Making the main event serves as a worthy goal this year, although a few injuries have thinned the field a bit. Weston Peick made his second-straight main, and Ben LaMay made his first one of the year. Peick finished 17th and LaMay took 19th. In the Lites main, Topher Ingalls qualified for the first time this year and finished 20th.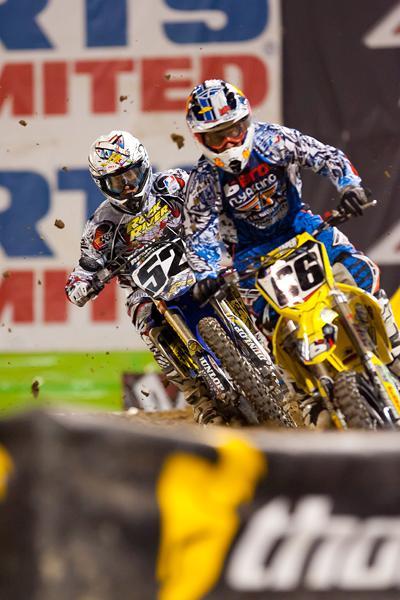 LaMay (52) made his first main event of the year in Oakland.
Photo: Andrew Fredrickson
So far, Rockstar Suzuki's Jason Anderson's results have not been indicative of how fast he's actually been, and Oakland was no exception. Anderson got caught up in a crash on the start of his heat, and missed transferring by one position. After winning the LCQ (for the second-straight week), he was absolutely on fire in the main, and despite a mediocre start, found himself battling with Marvin Musquin and Zach Osborne for second place. Unfortunately, he got the short end of the stick and went down when he and Musquin tangled in a corner. Anderson would eventually cross the line in twelfth, a result that yet again, does not accurately represent just how fast he really was.
Vince Friese isn't the cleanest rider on the circuit, but in Oakland he took it to a whole new level when he managed to take a rider out without even getting near him. After going over a berm when Cole Seely went through on the inside, Friese remounted and steered his bike back onto the track. As he did so, he drug a Tuff Block out with him, which came to rest in the middle of the track right after a landing ramp. Moments later, Ryan Marmont came flying through and with nowhere to go, hit the Tuff Block and went down.
The Lucas Oil TLD team hasn't had much to be happy about since Cole Seely's victory at A1. Christian Craig is out after undergoing surgery on his wrist, and Seely's championship hopes have been all but eliminated by two bad races in a row. The silver lining? Travis Baker's sixth place in Oakland. The result is the best finish Baker has turned in since his sixth place finish in San Francisco in 2010.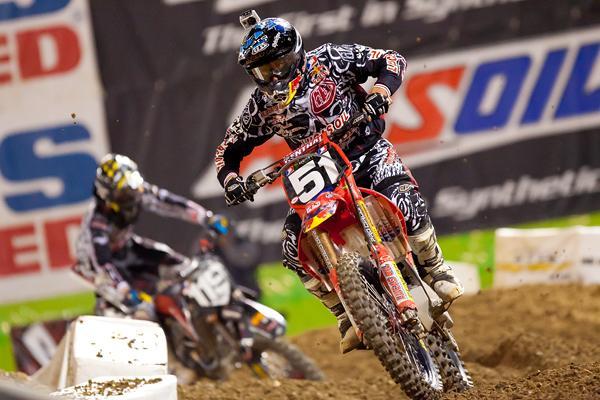 Baker matched a career best finish, sixth place, in Oakland.
Photo: Andrew Fredrickson
Another Lites West title contender took a hit when Tyla Rattray crashed out early in the night. Early reports said Rattray had suffered a concussion, but we hear now that he may also have a small fracture of a vertebrae. We'll have an update in our Risk Racing Injury Report later in the week.
J-Star JDR KTM's Matt Moss is starting to make a move toward the front of the Lites pack, taking eighth and fifth place finishes at the last two races.
Rockstar Suzuki's Martin Davalos has found podium real estate all at four races this year—just not in the spot that really counts. Davalos won heat races at Anaheim and L.A., and topped the LCQ in Phoenix. He also snagged the Nuclear Cowboys holeshot award in Oakland and got to head to the podium to receive it.