O.co Coliseum
Oakland

,

CA
Oakland
Monster Energy AMA Supercross Championship
Things weren't looking that great for GEICO Honda's Eli Tomac after two races of the 2012 AMA Monster Energy Supercross Series. Despite obvious speed, bad starts held Eli to a third and fourth, which wasn't going to get this Lites West championship done. Well, maybe we should all calm down because last weekend in L.A. and this weekend in Oakland, Tomac ripped off a couple of dominating wins and with some bad luck from his main competition he now sits a whopping 15 points ahead of second place. We caught up to Tomac on Sunday afternoon to talk about his Oakland win.
Racer X: Eli, great job on Saturday. Seems like you were in the groove.
Eli Tomac: Yeah I did, I was third in practice and we were all close with myself, [Marvin] Musquin and [Zach] Osborne again. My heat race came and that wasn't very good, I ended up getting second though. That was okay. In the main event, I wanted to be top five off the start and that's what I got. And really, the two guys in front of me just kind of gave it to me the easy way. Deano [Wilson] got crazy, cross-rutted and went flying over the bars. And then [Martin] Davalos, I'm not sure what happened, his hand came off the bars and he was riding one-handed for a bit. I think he was in a daze because he was cruising after that, gave me the lead and I just did my thing after that.
You definitely had a nice sized lead there and you've got two wins so far. You're on a roll these last two races and are dominant.
I thought I should be where I'm at right now at those first two races. You have to get in there off the start and put yourself in a good position or it's pretty hard in this series. I've been able to do that and also, my bike has been great. It's working the best it's ever worked as far as cornering and everything else. We're in a good spot right now.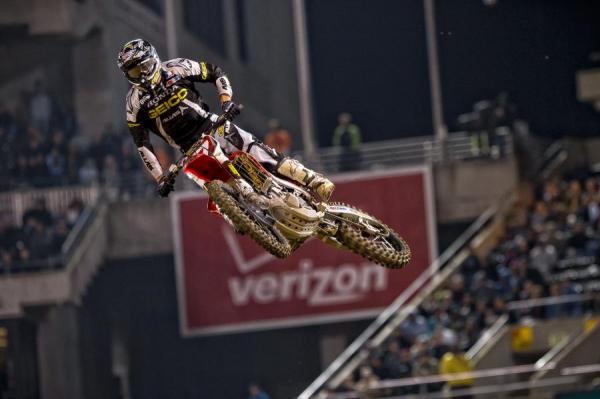 With his second win in as many races, Tomac now holds a 15 point lead over second place.
Photo: Garth Milan
What have you changed, if anything, from the first two rounds?
I changed up my start routine a bit. I got a good routine down and I just tell myself what to do while I'm down there. I keep my left foot down the whole time now before I shift so I'm not off balance at all. This is some top-secret stuff I'm telling you right now for sure (laughs). It just helps me a bit down there when I get off the line.
Now with a 15-point lead, do you ride a little differently?
Yeah, maybe a bit. You think about it a bit and that red plate looks so awesome on the Honda, I think I'll keep it! (Laughs) Obviously it's better to have the lead than to be chasing down the leaders like I was doing last year. It's nice to be the red plate guy instead of chasing it. I don't know if I would have thought I'd have this big of a lead this early but I'll take it.
The 450 guys told me the track was breaking down bad around halfway through their race. How did you find it?
It was getting a little crazy. You couldn't over jump anything out there, it would come back and bite you. I think that's what happened to Davalos where he over jumped the triple and the front end stuck and ripped it out of his hands. It was crazy out there and you have to hit all the transitions in the right spots and be deliberate.
A big surprise for us folks watching, and you racing, might be the performance of Zach Osborne. Did you have any idea who he was?
I never would've expected him to be there at all. It's cool to see a new guy come up that you didn't expect to. The more competition the better for everyone in the series I think.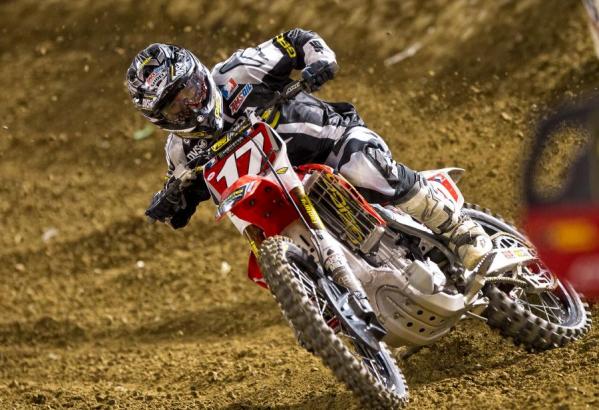 Tomac will try to make it three in a row this weekend at Anaheim 2.
Photo: Garth Milan
How much do you talk to your teammate Kevin Windham about the race and things that are going on?
Not really about the race, we talk a little bit and mainly out of that, it's just goofing around. Sometimes I'll tell him I can quad something or whatever and he'll tell me I'm crazy and need to get that out of my head.
And how's Mike Larocco, your team manager, and working with him?
He's been really good, we all work together really well. The Rock is the Rock. He's getting a little bit better about talking to me but I'm a quiet guy anyways so it works out well.  We're both getting better at talking I think.
Any plans to go to the east coast on a 450 for the factory guys? You know, they probably need a fill-in…
Maybe, I don't know. I can't say for sure right now and yeah, I can't really say. On one hand it would be silly to go out there and get hurt while you have the lead but on the other hand you could go out there at get hurt at the practice track also. We'll wait and see I guess. We'll talk about it and we might have some choices here and there but we'll cross that bridge when we come to it.