O.co Coliseum
Oakland

,

CA
Oakland
Monster Energy AMA Supercross Championship
Interviews by Aaron Hansel and Steve Matthes
Chad Reed, TwoTwo Motorsports/BelRay, Second in SX Class
Racer X: Second place. I thought you rode good. You don't seem that happy.
Chad Reed: No, I'm pretty disappointed. I mean, you get a great start like that and that's what you've been working your ass off for during the week and you don't take advantage of it and you just kind of ride tight. We're thinking about it. It's the first holeshot I've had for a while and the first one where I've lead that early on. I'm disappointed because obviously, you want to win and I just feel like my last 10 laps were pretty solid but the first 10 laps were pretty average. So it's good to learn something. On the flip side, four races with four winners. James [Stewart] had a pretty rough week with the passing of his mechanic. I think that's a cool way to dedicate a win. I didn't know him, but it sounds like he was a good dude. And I'm sharing the points lead, so I can't be too disappointed.
Where do you think he was better at?
I felt like on the parade lap, there were a few lines, like after the first turn, where we were going kind of on to the table, off the table -- like a table, table, single. And then when we did the parade lap I noticed that all the lines on the outside were jacked and then on the inside there was a pretty low line that you could go table to table. I just stuck to that, trying to make it work and I just watched the video a little bit. Those guys kinda didn't use it at first and then they started using it. So I think that when you're in second, you're getting 100 percent feedback on what's working, what's not working. For him, it sounded like he [James Stewart] had Villo [Ryan Villopoto] all over him and he had to go forward as well. For the most part, I just rode a little tight and I was protecting the inside so I couldn't get blown off the track. For the most part, I just took a breath when he passed and then just tried to latch onto him. I made a few mistakes adjusting to his areas of the racetrack that he was a little better than me. Then I felt like we kind of maintained.
One lap I would catch, then he'd take it back out, then a couple more laps I'd catch. But for the most part it was great because through all that we actually dropped RV, so that was nice. Listening to his podium speech, it sounded like he kind of tightened up as well, so we're all pushing hard. The track was difficult. It was a good main event, actually, just from the ending of it. The fact that I fell back and kind of adjusted to some of the lines that he was doing better.
If you would've asked me around lap 10, I would've said that RV might win this whole thing. He caught up to you and, in a sense, you stepped it up and kind of, I don't wanna say broke him, but you made a move, so that's a good point.
I think it's almost like we had flipped races, basically. He was charging and riding decently at the beginning and I was charging at the end. And then at the beginning, I had that same feeling like I just wasn't charging and I wasn't hitting the marks like I need to. You're mind's saying do this, do this, and you're not doing it. That was frustrating to me. But luckily that happened for me in the first 10 and I was able to flip the switch and actually ride decent at the end and kind of hold him off and try to get back on James.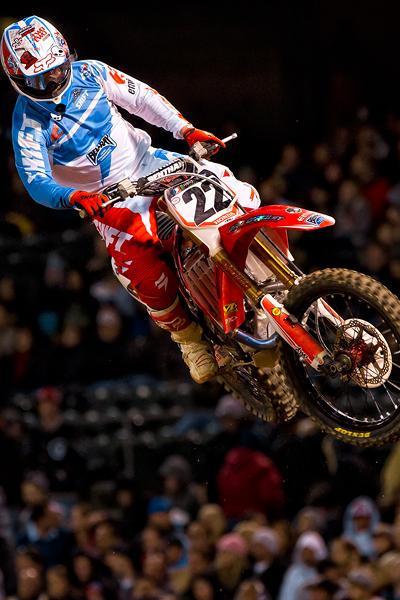 "But for the most part it was great because through all that we actually dropped RV, so that was nice." - Chad Reed
Photo: Garth Milan
Track got rough, but I think overall, best track of the series? It was cool.
Yeah, I think it was pretty cool. There are a few things here and there that they could have made a little different or a little better, but for the most part, I thought it was awesome. Hard to judge how the dirt was last year because we had rain off and on, so this year it was kind of nice. I did press day on Thursday. I actually thought it was going to be a lot softer because it was gnarly rutty on Thursday. But they did a great job of just working it, working it, working it. By the main event, we had a pretty nice racetrack. I didn't even know who else was fourth, fifth, or whatever. For the most part, the three of us podium guys checked out a little bit and rode strong. I felt like I had a lot more to offer in the heat race. I just said in another interview, we wore a path in the pavement here over to the Dunlop truck because I was chasing something with my front end all day long and then for the main event, I ended up just going to the normal tire we had raced a majority of the season. We just made a fork adjustment and it made a quite a bit of difference for me and was allowing me to be a little bit stronger.
Two teams I've talked to said you've been a little weird on the front tire selection this year, compared to what everybody else has. Maybe now for the main, you're back to what they're running?
I wouldn't say I've been weird. But tonight, I raced with a 715, which is the hard pack. If you want to talk about weird, I would say that RV's weird more than all of us. He typically, hard or soft, chooses the MX-51, which is, for me, not even a tire that's in the option list. When we do make those routes back and forth, that's not even a tire that I consider. So he's a little left field. Me and Dunge [Ryan Dungey] always seem pretty close, in that the tires I go back and forth with are the tires I see Dunge go back and forth with.
Dean Wilson, Monster Energy Pro Circuit Kawasaki, Tenth in SX Lites
Yeah. I thought it was going to be a good night. I got a good start and was running up front, and I just got a little bit cross-rutted and went into the hay bails and had a pretty good crash. I got up as fast as I could, but you know, I was pretty sore, it was quite a good one [crash]. I charged up as far as I could, up to tenth, which sucks, but I did my best and I never gave up. It was the best I could do, and I couldn't do it without all the boys at Monster Energy, Pro Circuit, Kawasaki, and my mechanic Paul.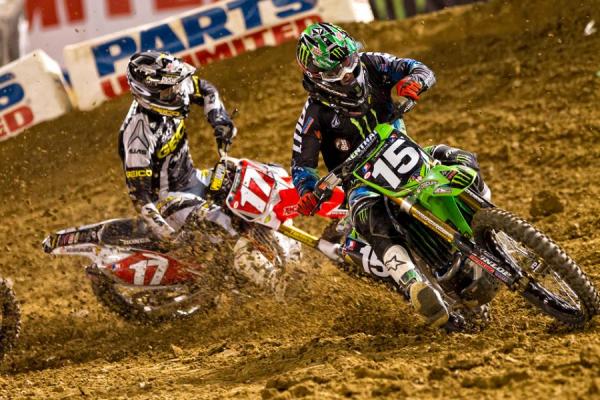 "I charged up as far as I could, up to tenth, which sucks, but I did my best and I never gave up." - Dean Wilson
Photo: Garth Milan
Nico Izzi, Rockstar Star-Valli Yamaha, Seventh in SX Lites
Pretty good, I've been struggling with my starts all year. I've been trying to work on them every week at the test track, and I've got to figure something out. That's really the only thing that's hurting me, my speed is there. I had a decent heat race, and took seventh in the main. I'm staying healthy and moving on to the next round, that's all you can really ask for. Hopefully I can try to figure out the starts. I can't thank my trainer and the whole crew enough, everyone is working hard. I'm not getting tired, I'm definitely in good shape, so I've just got to keep plugging forward.
The dirt looked really good. Was it as good as it looked?
It was kind of soft in some areas, and it got rutted out. The track was pretty technical, you had to be smart and pick lines. The track deteriorated as you went along in the race, so you had to change with the track. It was good though, it made it fun and interesting, and it made for some good racing.
Any lingering pain from your crash in Phoenix?
Yeah. My wrist is still pretty stiff. That's about it, just my right wrist, I came down pretty hard on it. Thankfully I didn't get too busted up there, and I'm still able to race and keep moving forward.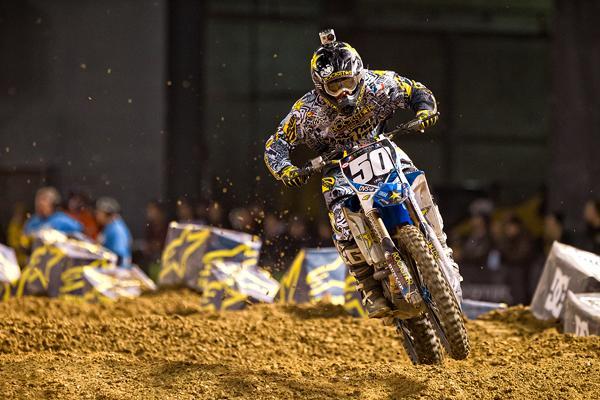 "I've been struggling with my starts all year. I've been trying to work on them every week at the test track, and I've got to figure something out." - Nico Izzi
Photo: Garth Milan