O.co Coliseum
Oakland

,

CA
Oakland
Monster Energy AMA Supercross Championship
Interviews by Steve Matthes and Aaron Hansel
Ryan Villopoto, Monster Energy Kawasaki, Third place in SX Class
Racer X: It looked like you were going to the front but what happened?
Ryan Villopoto: I was running pretty good the first basically half of the race, ten laps. Then I tried to get around James [Stewart] right after the whoops down that straightaway. And then he got around Chad [Reed] and I kind of made a move on Chad in that same spot. But where I was fast was where I put myself on the outside of those guys and obviously that's never where you want to be. So they would just cover the inside and I could never get around them.
And it looked like after you doubled the triple, you kind of lost some time there.
For sure. And the track was really fading. Like the jumps were mushrooming out and getting kickers in them. So from laps 10 to 20, it was totally a survival race, but it was about picking good lines.
That section after the table tops, you were going pretty fast in. What was the secret? Was it just simply grabbing more throttle than those guys?
Yeah, it was just jumping into the whoops. Then that turn [before the whoops] really went away. I don't know what happened to it, but it really got a lot of ruts and got really jacked up. So that made it hard for me to really charge into the whoops and it just made us tighten up, you know? But yeah, lost those guys just a little bit.
Happy with your ride, though?
I'm definitely happy with the first ten laps. Obviously it's never good to tighten up, but that can go away. The breathing side and everything, the fitness side, wasn't even a problem. The track was tough, so it made it harder to do 20 solid laps.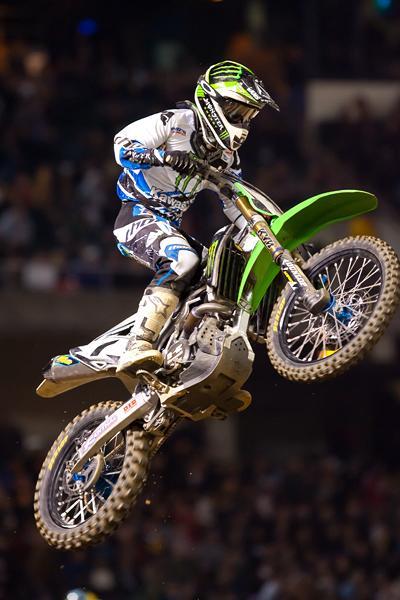 "Obviously it's never good to tighten up, but that can go away." - Ryan Villopoto
Photo: Andrew Fredrickson
Jake Weimer, Monster Energy Kawasaki, Eighth Place in SX Class
Racer X: Looks like you kind of rode out there by yourself in eighth.
Jake Weimer: Yup.
How was it?
[Laughs] Sucked.
How come?
[Laughs] I don't know.
Let's talk about the track. It looked like it got really rough.
[Laughs] Yup.
How was the bike tonight?
[Laughs] Okay, on a serious note. Let's get going here.
Do you want me to start this interview over? Should I leave you alone in your misery?
No no no [laughs]. I kind of struggled all day a little bit. I was chasing stuff around all day, trying all sorts of different stuff, just trying to hope that something would make me more comfortable. It's not our bike. Our bike is really good this year. It was just, honestly, I never felt that good on the track. None of the practices I felt that good, in my heat race I didn't feel that good. And in the main it was just kind of that same thing. It was just a tough track for me.
Maybe you just had one of those days?
Maybe
Could we maybe try to blame it on your mechanic? Is this Dana Wiggins' fault?
We can if we want. "Wiggins Screws Weimer's Hopes in Oakland."
Wow nice, a Cycle News headline, even.
Yup.
Okay well good luck next week, hopefully it will be better.
Yeah it should be.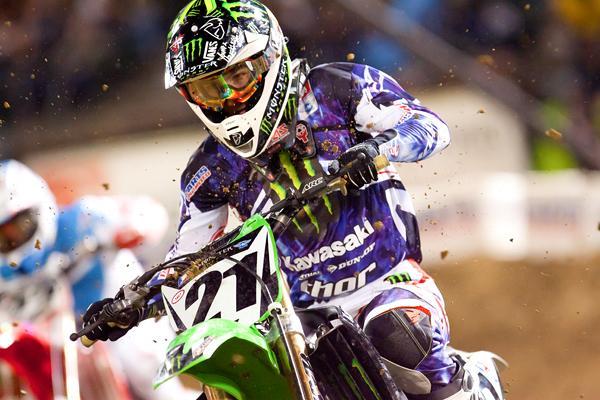 "I kind of struggled all day a little bit." - Jake Weimer
Photo: Andrew Fredrickson
Marvin Musquin, Red Bull KTM, Second in SX Lites
The result was much improved for sure, because I finished the race this time! Last weekend was good, I was behind [Dean] Wilson, and we still had two laps to go, and I made a mistake and I didn't finish. Tonight I came back and got second. I still cannot believe it, because I was around tenth or thirteenth after the start, so that's really good. I found good lines and made some passes, so I'm pretty happy about it.
How are the ribs?
The ribs are good. I'm lucky because in L.A. I broke my chest protector and couldn't breathe after I crashed. I'm lucky because I didn't get hurt, or break anything on my body.
At this point, are you still gunning for the championship, or are you taking it one race at a time?
I want to be on the podium every weekend. I missed a lot of points last week, and the championship is pretty short, nine rounds. But it's supercross, and anything can happen. Like tonight, Wilson crashed and [Tyla] Rattray crashed in his heat and didn't race in the main event. But [Eli] Tomac is leading the championship, and my goal is to win some races and be on the podium every week.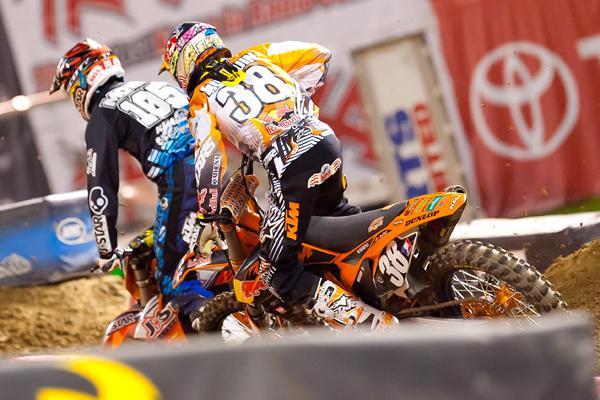 "I want to be on the podium every weekend." - Marvin Musquin
Photo: Andrew Fredrickson
Zach Osborne, Monster Energy Bike It Yamaha, Third place in SX Lites Class

Racer X: What a farewell ride to America. Another podium. Third place.
Zach Osborne: Yeah, it felt great. It's a little bit bittersweet, obviously, because I'm leaving third place in the points and with two podiums in a row now. But it's the plan, we have to stick to what we came here to do and I'm really thankful and blessed to have the opportunity to do these four races. I can't say enough for my team for backing me and putting me in a position to where I could do well.
Marvin caught you, but you retaliated. It was a good battle.
Yeah. It wasn't my best race. I rode really tight. I got into striking distance of Martin [Davalos] and started to charge a little bit and then I got around him and just was feeling the pressure, to be honest. I just tightened up a little bit. I was pretty fortunate with the few wrecks at the beginning. But, had they not happened, maybe I would have rode a little bit better because it wouldn't have been all on me. Overall, I'm really happy and I think it was a solid night.
Track was beginning to get rough at the end.
It was a lot better. It wasn't so rutted as it was in practice, but there were a lot of sneaky grooves where you'd just like dart, so it was kind of hard to ride. But I felt really good in the heat race. That was probably the best I felt since I've been here. I caught Deano and Martin. I think it went really well. It's been a good experience for me and I think it'll help my selling power for next year.
Be honest. Wildly surpassing your expectations being third in the points, two podiums? Did you know you could do it?
I knew I could do it, but putting it together and making it happen in a race situation is a different deal, you know? There are a lot of factors going into it. I knew coming in that my bike would be good and I felt confident with it after Geneva. But to be third in the points and to leave is kind of hard, you know? It has been a really good experience and I'm happy with it, but we'll see.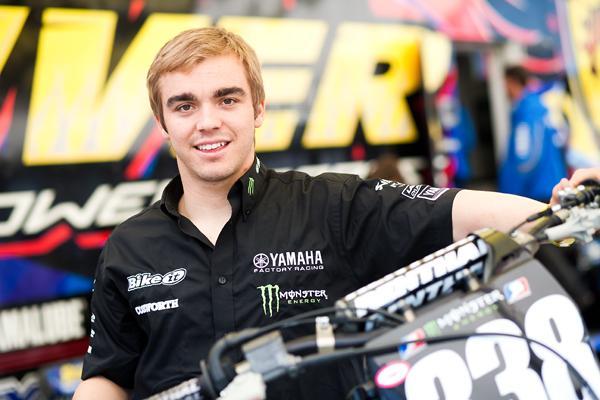 "Yeah, it felt great. It's a little bit bittersweet, obviously, because I'm leaving third place in the points and with two podiums in a row now." - Zach Osborne
Photo: Andrew Fredrickson