O.co Coliseum
Oakland

,

CA
Oakland
Monster Energy AMA Supercross Championship
The first few races in Monster Energy Supercross didn't go the way James Stewart had hoped, but the JGR Toyota/Yamaha rider had maintained that he wasn't worried. He proved why with a solid win in Oakland, where he pulled away from Chad Reed and Ryan Villopoto in the second half of the race. We talked to him about the win, and also about the tragic loss of his home practice mechanic, Mark Adams.
Racer X: Congrats on the win! How was it out there?
James Stewart: The race was pretty good. I didn't get the best start, but I was up there. I made my way up past a few guys, I think I went up to second on lap three or four and got in a good rhythm. I was following Chad, seeing where I was quicker, and where he was quicker, and obviously I felt Ryan [Villopoto] coming up. I could hear the crowd when he put a wheel in, so I stepped it up a little bit. I ended up getting around Chad on this flat straightaway, and just started clicking laps off. I got my lead up to about four-and-a-half seconds at one point, and just maintained from there. It was good.
You looked more comfortable tonight than the previous three rounds. Did you make some breakthroughs in testing? What was the difference tonight?
The difference was that we didn't go down. We got up front. I think I was finally starting to click last week, and obviously I hit that Tuff Block, but I think the track was pretty good tonight; the dirt was obviously awesome. I think the tougher the track is, and obviously it did get tougher in the main event, things seem to lean toward me. I have to give it up to my team. We struggled in the beginning part of the year, and now we're starting to make breakthroughs and we'll continue to get better. It was definitely a nice win for all of us.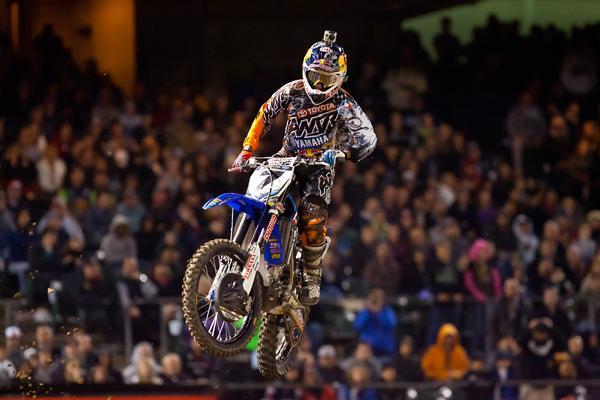 After a slow start to the season, Stewart was able to grab his first win of 2012 in Oakland.
Photo: Andrew Fredrickson
In the heat race Villopoto caught up to you and was definitely putting some pressure on you. How hard were you riding at that point, and did you have another level if you needed it?
I felt like I had enough to win the race. In the heat race, the track was pretty good, and I knew in the main event, it'd be a little tougher to ride. Between practice and the heat race we went the wrong way on the setup for sure, so there was no sense to try to get overconfident. We still would have made changes either way. I got a great start, and just rode. He was there in the main event pretty early actually, and I ended up pulling away from him, getting around Chad, and pulling away from him also. It was good. I think it was a great start, we know what we need to work on, and we'll get better.
After losing Mark Adams, your practice bike mechanic, during the week, how much does this win mean to you?
It means a lot. It's cool to see the motocross community come around me and really support, not only me, but him. I'm sad, but what about his family? We should be thinking about the people, the friends that he knows, just everybody around him. It was definitely special to win the race, and it was definitely tough to hear on Thursday that, out of the blue, he was gone. Definitely, this win was for him. It was really cool to see the team come together, and we'll continue to do it for the rest of the year.
I heard you dedicate the race to him up on the podium.
Yeah, for sure. Even though I hadn't known Tex that long, as long as I have known him, he's been a good guy. What sucks is that he's only two years older than me. He looks older, but he was only 28 years old. It was cool to have some of the riders come up to me…even Ryan Dungey came up to me and said, "Sorry about your loss." It was pretty special, and it was nice of them.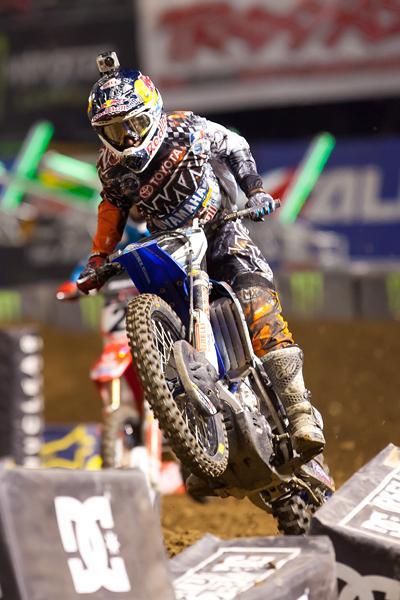 Stewart is now twelve points back of Chad Reed and Ryan Dungey in the points standings.
Photo: Andrew Fredrickson
Can you talk about how the whoops have been?
The whoops tonight were actually really tough. They were really small, but they were high speed and easy to skip. I started slowing down through them, and I got through them a little better. I was making up a lot of time in the corners tonight. Some of them I didn't have that good, but the flat ones I had pretty good all night, at least in the main event. The whoops definitely haven't been as big, except for the ones last week, they were pretty huge. I looked at them and laughed, then I went down on the second lap of practice in them, so I've got to be careful with that!
Have you been having to make adjustments from your practice track whoops?
I think that the track just isn't really the same. I thought this track was going to be pretty fast, which it actually turned out to be, but just because the jumps got worn down and stuff. It's hard to adjust for something when you don't know what you're going to get, but it was good. At least we had great weather. You can't complain when you're in the Bay Area and it's this dry!